It was a night of major firsts for Colette McNally on Sunday at Guttormsen Recreation Center.
Competing in her first Kenosha.com Match Game Bowling Tournament — and therefore her first Women's Division finals — McNally fired her first-ever 800 series to take over first place in the division on the first night of this week's Match Game finals at GRC.
Yes, that's a mouthful of firsts for McNally, who's from Racine but competed in leagues in Kenosha for the first time this season, making her eligible for the Match Game.
On Sunday, she bowled like a Match Game veteran.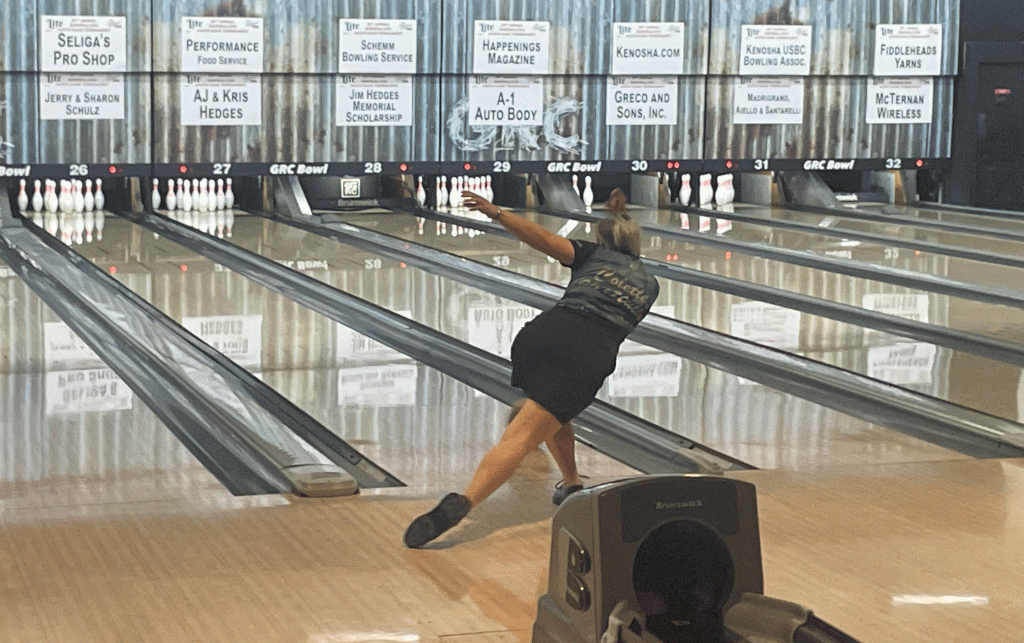 "Well, yes," McNally said after a slight pause when asked if she was surprised by how well she bowled Sunday. "This is my first (Match Game).
"… The shot — at least how it lines up for me — for (Sunday), the stars aligned. I had the right equipment for the right shot and good timing."
In the Match Game finals, bowlers are awarded 30 points for each match victory and either gain or lose a point for each pin over or under 200. In her six matches Sunday, McNally racked up a pinfall of 1,515 — for a nice little average of 252.5 — and went a perfect 6-0 in her matches.
With 495 points, McNally will go into Wednesday's second night of Women's Division finals — in which the champion will be crowned — with a sizable 105-point lead on second-place Crystal George (390 points) and a 119-point advantage on third-place Stephanie Zagar (376).
McNally had a strong opening series on Sunday, tallying a 3-0 match record and a 711 series to sit in fourth place among the 12 Women's Division finalists halfway through the night.
But McNally went nuts in her final three games, racking up pinfalls of 248, 258 and 298, leaving only two pins on her 12th throw of her final game to fall shy of a 300. With that sizzling 804 series, McNally surged into first place at the end of the night.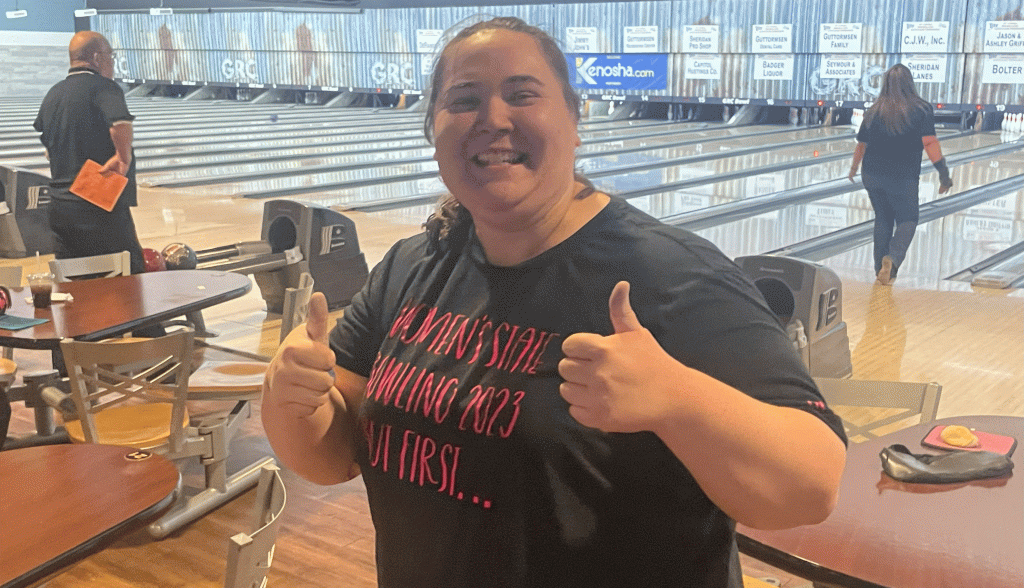 The key to her flourish of a finish? McNally said she was just trying to enjoy herself on the lanes.
"Having fun," she said. "One of the opponents (Sunday) actually kept telling me, toward the end of the night, she said, 'OK, good luck (in) the match.' Then she was like, 'And have fun!'
"… We're here, we're in the finals, 12 of us, just go out and do it."
McNally does have experience bowling in Racine's version of a match game tournament, so she knows there's still lots of work to be done Wednesday night. If someone else has a huge series like she did Sunday, the standings can flip in a hurry.
"It helps to be (in the) top half after the first night, and then some," McNally said. "But anything can happen that second night. It's a different feel, a different day, a different everything."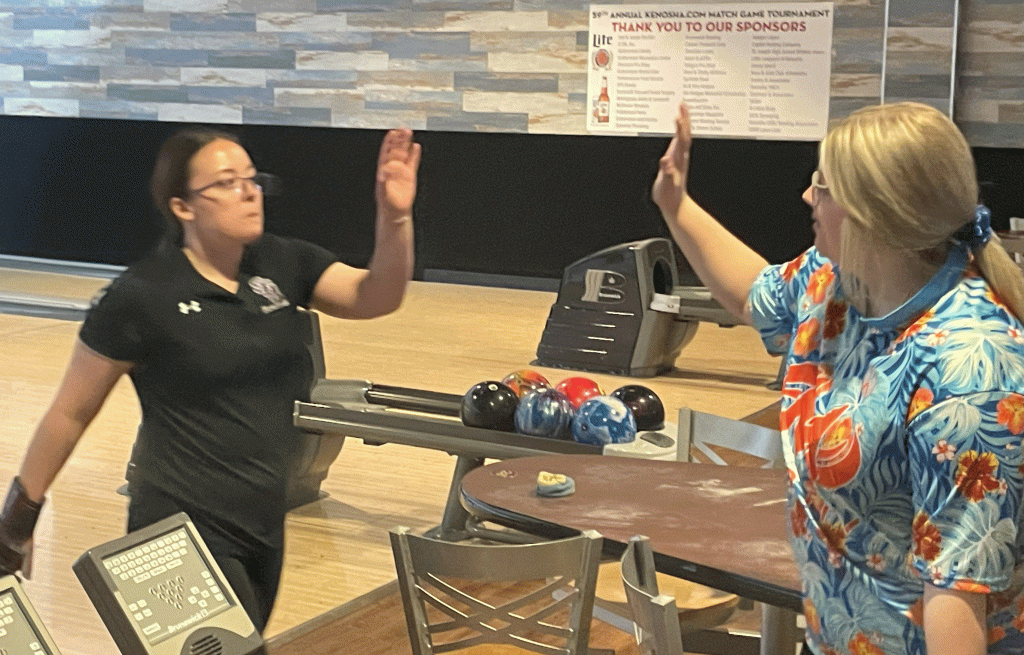 McNally's closest pursuer entering Wednesday night is George, who tallied a pinfall of 1,440 and a match record of 5-1. Zagar, meanwhile, went 4-2 in her matches and knocked over 1,456 pins to sit in third place.
Sarah Pobloski got off to a great start in the Women's Division finals on Sunday with a 3-1 record through four matches, including a fantastic opening series of 792, to hold the lead going into the final two matches of the night. She finished with games of 190 and 213, both losses, to end the night at 3-3 with a pinfall of 1,442. But with 332 points, Pobloski is still in striking distance of first at 163 points behind McNally.
In fifth place going into Wednesday night is RaeAnne Kalsto, a Tremper High School senior who went 4-2 with 1,377 pins on Sunday for 297 points.
Cornell leads Super Seniors
This time, Pat Cornell will have to, well, come from ahead.
Cornell seized the lead in the Dick Reynolds Memorial Super Senior Men's Division after Sunday's first night of finals at GRC. And while that's all well and good, Cornell recalled his previous Super Senior Match Game title — 10 years ago, also at GRC — when he came from 200 points behind on the second night of finals to win.
Perhaps because of that experience, Cornell said after his six-game block Sunday night that he'd rather be chasing going into Wednesday's second night of Super Senior finals.
"Less pressure. You stay more aggressive (when behind)," Cornell said. "I would rather be chasing than have the lead. Anything can change. Who knows if it will be the same Wednesday?"
Well, like it or not, the rest of the 12-man Super Senior finals field will be chasing Cornell on Wednesday after he racked up a 5-1 match record with a pinfall of 1,432 on Sunday for 382 points.
Cornell started slow Sunday, with a 170 and a loss in his first match, before grabbing a pair of wins with a 261 and a 237. Over his last three matches, all victories, Cornell dialed up a 764 series.
"I switched balls," Cornell said. "I started with one ball, and it didn't work. I switched balls, and I found something. I matched up the lanes (well).
"In bowling, you've got to match up. You've got to have the right ball, and fortunately, I did."
What is Cornell looking to do on Wednesday?
"If I could shoot the exact same score, I'd be satisfied with that," he said.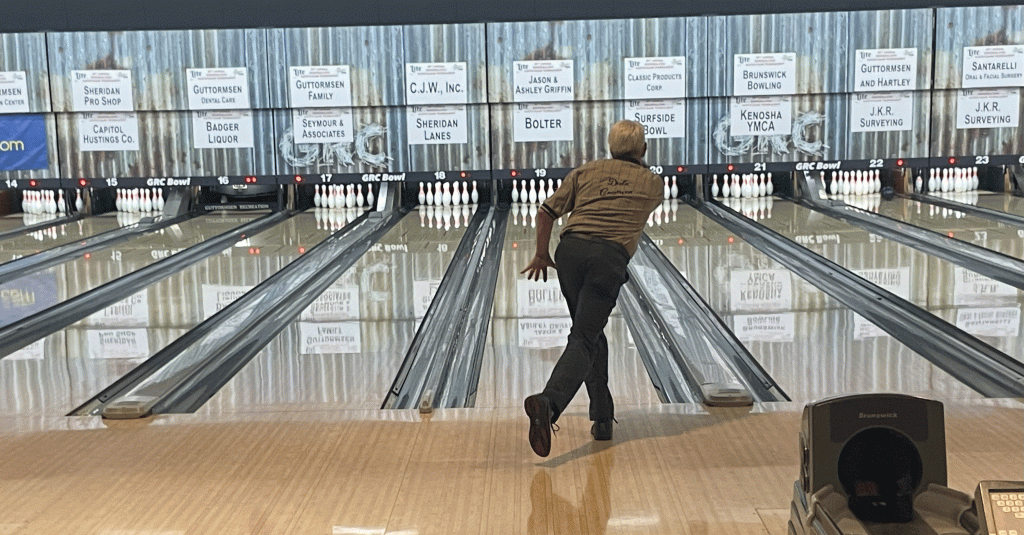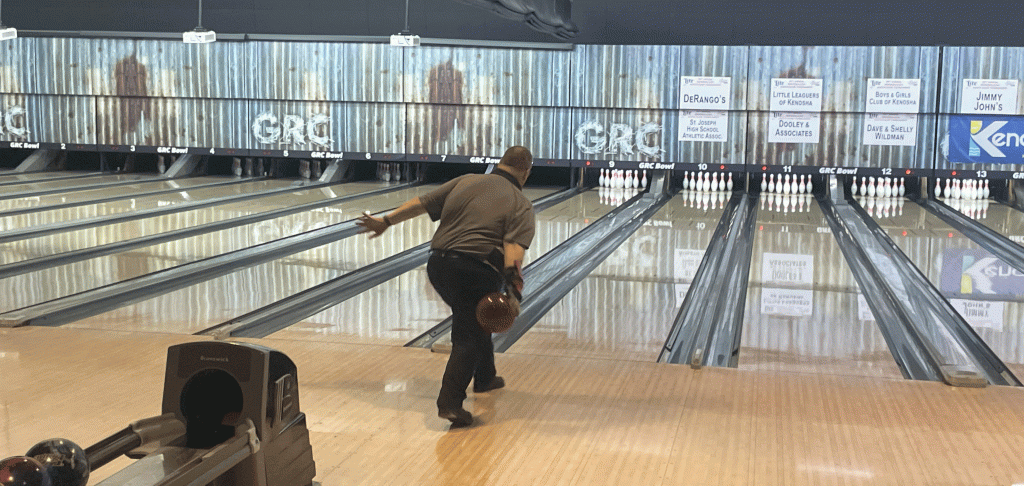 Ken Woods (1,411 pins, 4-2 record) is just 51 points behind Cornell in second place going into Wednesday with 331 points, followed by Butch Smith (1,388, 4-2) in third with 308 points, three-time Match Game champion Ed Seliga (1,386, 4-2) — who took the early lead among Super Seniors on Sunday — in fourth with 306 points and Al Markle (1,348, 3-2-1) in fifth with 253.
Markle, the oldest bowler in the tournament at 82, got into the Super Senior finals as an alternate after Tim Ruelle, who qualified in second place last week, had to withdraw.
The Kenosha.com Match Game Bowling Tournament finals week rolls on Monday with the first night of Senior Men's Division finals, which will entail 16 finalists competing in eight matches each. Bowling begins at 6:30 p.m.
For all the finals week updates, along with photos, videos and stories, visit Kenosha.com/bowling and Kenosha.com's Facebook page.