Family, friends and colleagues gathered Saturday (May 13) for the dedication of a living memorial in honor of late Kenosha Police Sgt. Trevor Albrecht.
An autumn blaze maple, planted recently in the lawn just west of the Paris Town Hall, will stand for many years to come as a tribute to Albrecht, a Paris resident who was killed in a snowmobile accident in January 2021 at age 41.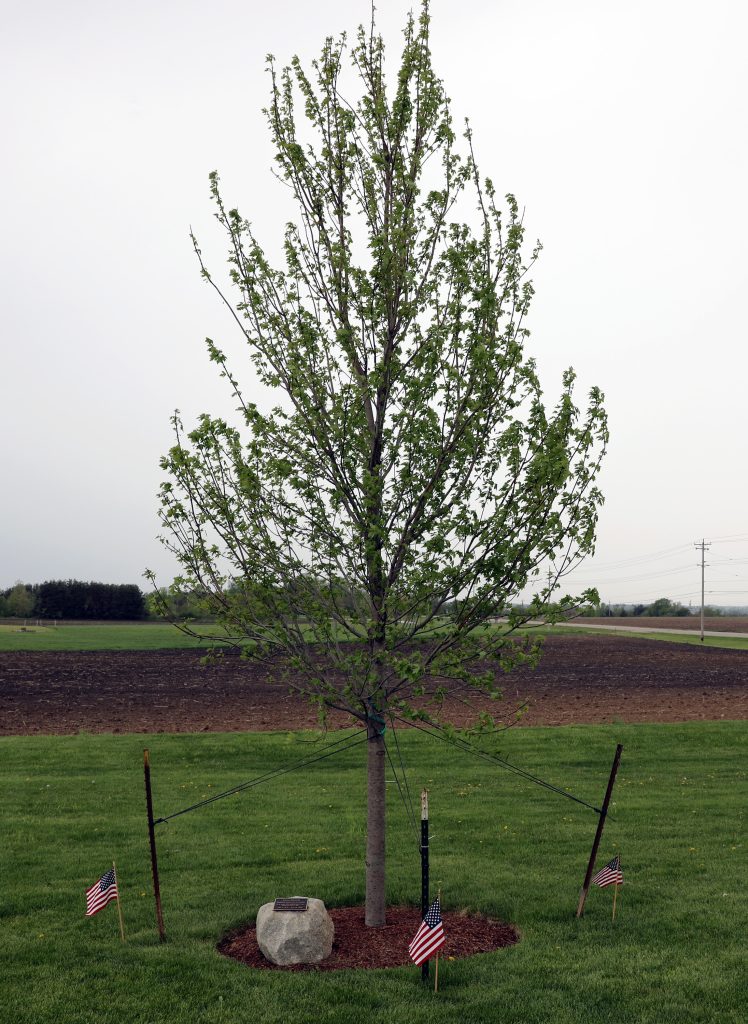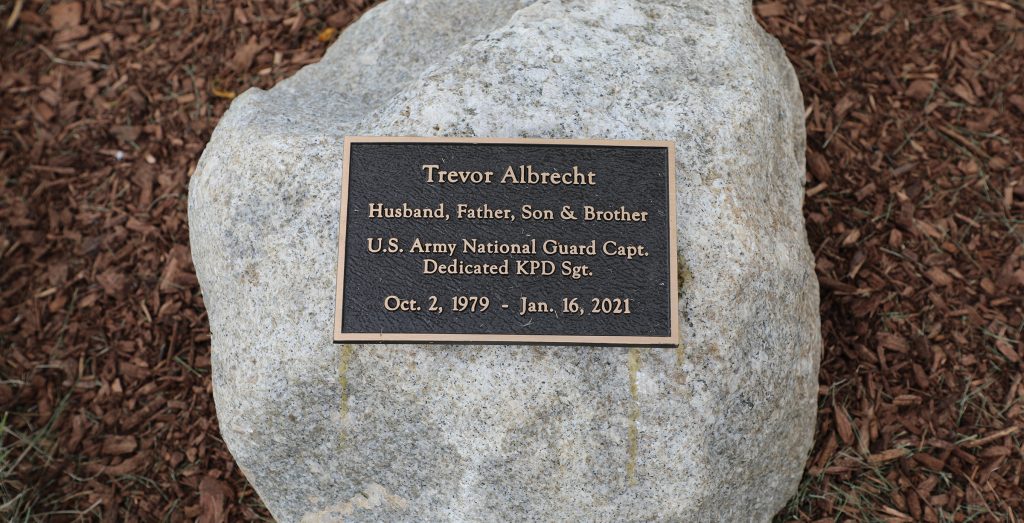 Alongside the tree, a boulder that Albrecht dug out of the ground on the family's nearby property now displays a plaque in his memoriam.
"I hope that Trevor's fellow law officers will take the time to pull in this parking lot from time to time and linger — to say hello and remember and honor," said Paris Town Chairman John Holloway, who helped with the development of the memorial. "You will always be welcome. Places like this are important."
Up front and center at Saturday's dedication ceremony were Albrecht's wife, Jessie, and children Otto, 9, and Iris, 6. In addition to hearing Kenosha Police Chief Patrick Patton's warm memories of their late husband and father, the family received a flag that was flown over the U.S. Capitol and a work of art created by the kids' classmates at Paris School. Other speakers at the ceremony included Kenosha County Executive Samantha Kerkman, Sheriff David Zoerner, and Jessie's uncle, Ed Carlson, who spearheaded the tree project.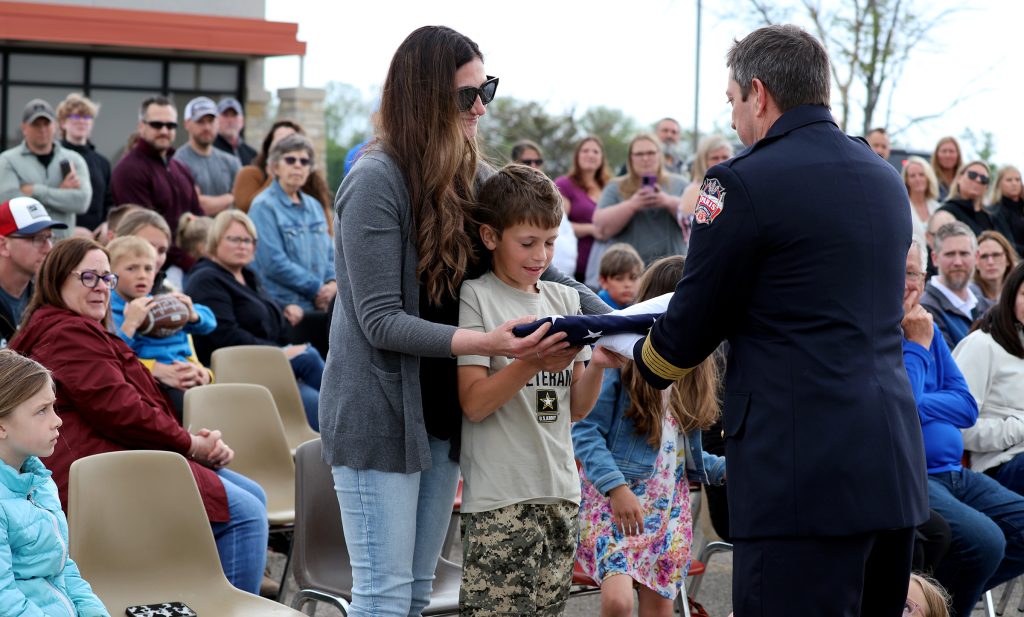 In his remarks, Patton shared a few fun anecdotes about his former colleague, as well as how the memory of Albrecht continues to affect him to this day.
Patton said Albrecht brought both strength and laughter to his work. A tree that will change colors each year is a fitting way to memorialize a man who had many colors, Patton said.
A native of Elizabeth, Ill., Albrecht joined the Kenosha Police Department in 2006. A captain in the Army National Guard from 2001 to 2010, he was a decorated veteran, having earned two Bronze Stars in Operation Iraqi Freedom.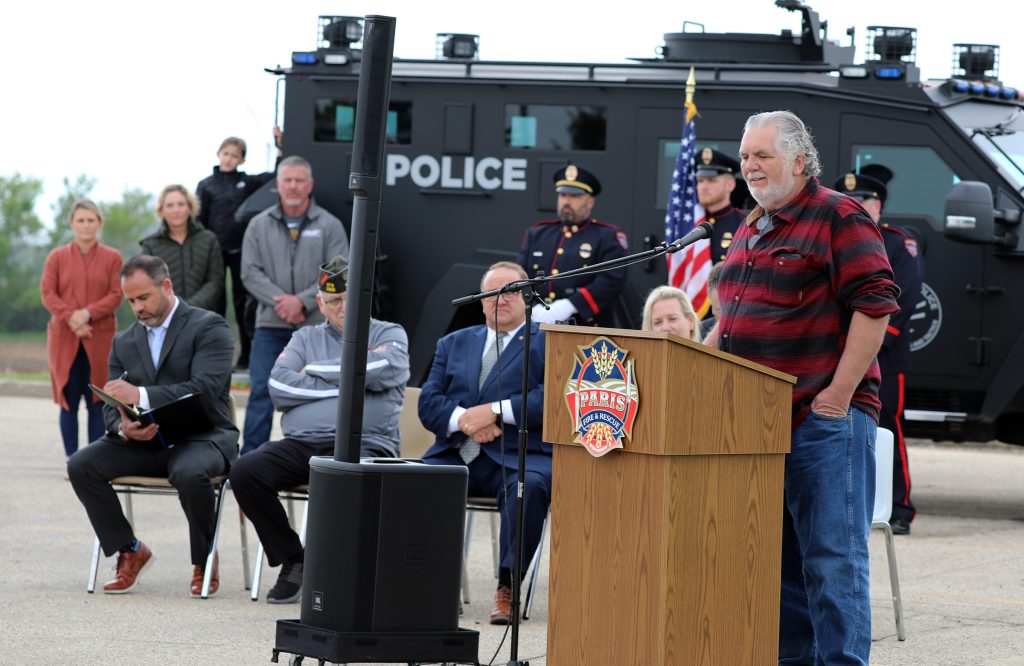 His tree now stands near the Town of Paris veterans memorial, which pays tribute to all veterans with ties to the town, including Albrecht. A swing, donated by the Paris Happy Workers 4-H Club, will also soon be installed nearby, Holloway said.
Jessie Albrecht said it's all a perfect tribute to Trevor.
"This is just so heartwarming," she said.
Visit the memorial:
The Paris Town Hall is located at 16607 Burlington Road (Highway 142). The Trevor Albrecht memorial tree is located on the west side of the building, near the town's veterans' monument.