After a night of big scores in qualifying for the Kenosha.com Match Game Bowling Tournament on Thursday, Scott Hartnell had a reminder that this week is, indeed, just qualifying.
So all that matters is getting to next week.
Not that he wasn't excited about his own huge score Thursday, but Hartnell has competed in the Match Game for decades and has won three titles, two in the Men's Division and one in the Senior Men's Division. So he knows how hard it is to win the tournament, and a great qualifying score means nothing once finals week begins.
With a sizzling eight-game pinfall of 1,972 on Thursday during the fourth night of qualifying at Guttormsen Recreation Center, Hartnell surged into the Senior Men's Division lead with one night of qualifying remaining.
But whether you're the top score to qualify or the bottom — the top 16 in the Senior Men's Division advance to next week's finals — all that matters is making it to next week. Because everyone starts over.
The finals field will be all set at the end Friday night, when the final night of qualifying gets underway at GRC at 6:30 p.m.
"First place doesn't really matter (in qualifying)," Hartnell said right after his big night Thursday. "As long as you get in, it starts all over next week. I was very happy with the way I bowled. You never know. As you get older, you never know who's going to show up."
Now, that's not to say Hartnell wasn't ecstatic with how he bowled Thursday, as he started with a 767 series over his first three games, then — following some adjustments at the end of his fifth game, a 199 — closed with games of 234, 257 and 268.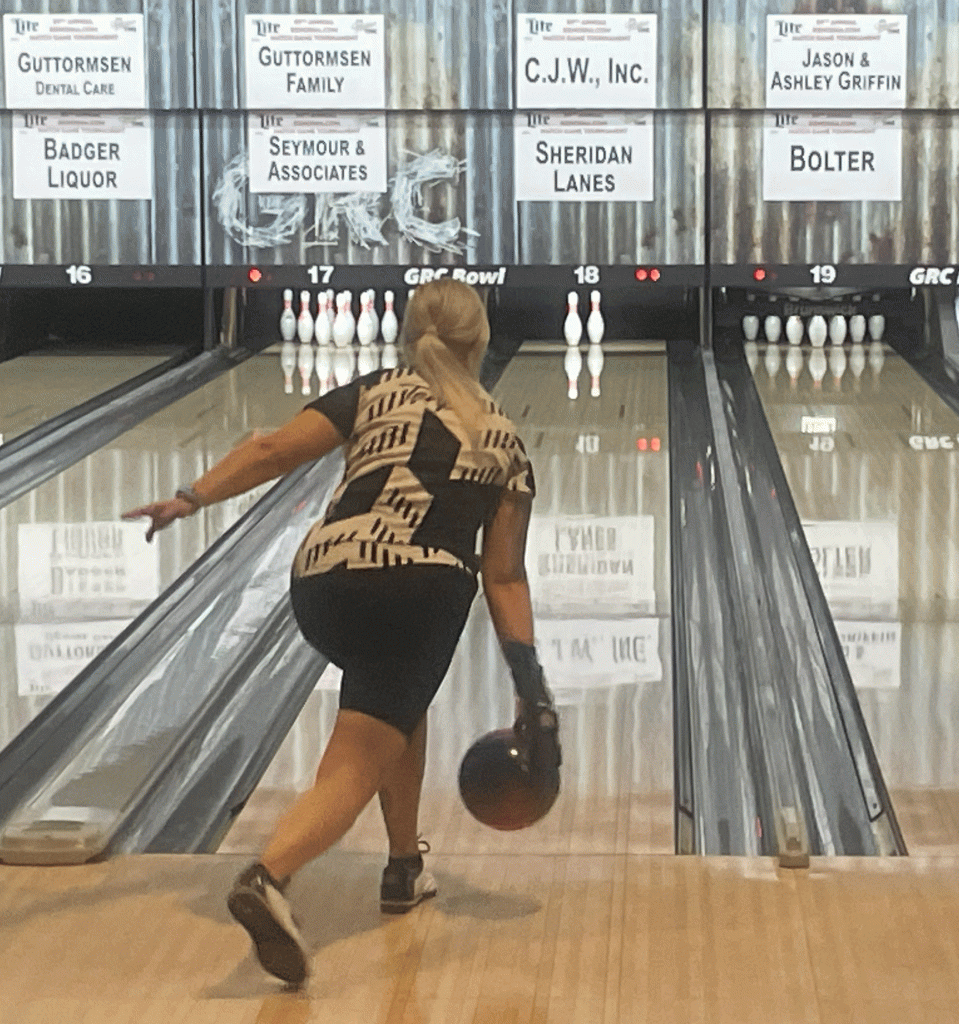 "It was a fantastic night," Hartnell said. "I had good carry, I had good spare-shooting, I threw a lot of strikes. I'm more than happy."
Mike Bain, who led the Senior Men's Division after his qualifying block on Wednesday, moved into second place behind Hartnell at 1,914 pins, followed by three-time Men's Division champion Jeff Rampart at 1,879, Neal Ehlers at 1,875 and Steve Oberst at 1,869.
The Women's Division, meanwhile, was perhaps the big story Thursday night, featuring a number of big performances.
The best was by Courtney Johnson, who fired scores of 299 in her first game and 290 in her last as part of an eight-game block of 1,942 that vaulted her into first place in the Women's Division with one night of qualifying left.
The top 12 in the Women's Division advance to next week's finals.
Johnson competed in the Match Game for the first time last year and did not advance to the finals. This year, she said, she's more focused on what she's doing rather than watching the lanes around her.
"Just tried to stay focused on my lane," Johnson said. "Stopped trying to watch other people. … I just stayed focused on myself and just made the adjustments when I needed to."
Stephanie Frost, bowling her second qualifying block of the week, also had a big night Thursday, firing a 299 in her fifth game en route to a pinfall of 1,927 to move into second place behind Johnson.
Stephanie Zagar bowled for the second night in a row Thursday and had another big eight-block of 1,843. That didn't even surpass her mark on Wednesday, though, when she fired an 1,892, still good for third place.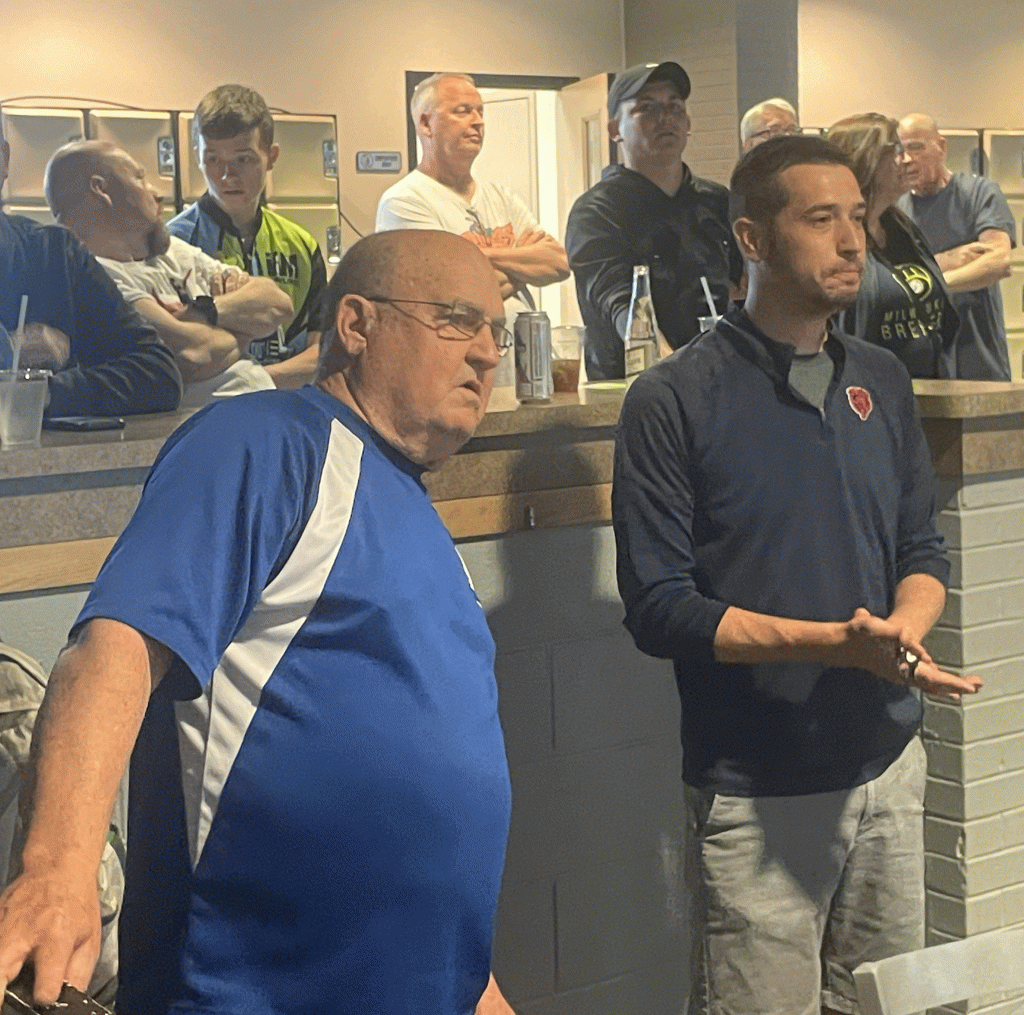 When asked why the Women's Division is so tough now, Johnson — who bowled in high school at Racine Park — said there's just a large group of bowlers in the division who've grown up competing against each other and raising the bar.
"Honestly, I just think they're really good bowlers," Johnson said. "Super good. I bowled with some of them in high school bowling. They were good then, they're good now. So I think just everybody wants to win."
Savannah Gerou (1,804) is now in fourth place in Women's Division qualifying, followed by Crystal Schultz (1,793) in fifth.
The Men's Division also featured some big numbers on Thursday, including 300 games by Jason Griffin and Tony Oliva, an 807 series by Oliva and an 826 series by Justin Smith.
At the end of the night, Ryan Zagar — the 2021 Men's Division champion — had racked up 2,004 pins on his second qualifying attempt of the week to move into fourth place overall in the Men's standings with one night of qualifying to go.
The top 16 advance to next week's Men's Division finals.
The top three in the division remained unchanged from earlier in the week, with Nick DeCesaro still on top at 2,077, defending Men's champion — and Ryan's brother — Kyle Zagar in second at 2,064 and Rampart — who will be in the finals in two divisions next week — in third at 2,041. Zach Sasser rounds out the top five at 1,999.
The Dick Reynolds Memorial Super Senior Men's Division also got into the high-scoring act on Thursday, as smooth left-hander Pat Cornell fired a 300 in his first game of the night for the first perfect game in the division so far in this year's tournament.
Cornell moved into fourth place overall in Super Senior qualifying with a six-game block of 1,403 on Thursday. Tim Ruelle (1,455) still leads the division, followed by Ken Woods (1,426) in second, Butch Smith (1,417) in third and Rick Flocker (1,346) behind Cornell in fifth.
The top 12 advance to the finals in the Dick Reynolds Memorial Super Senior Men's Division.
For all the tournament updates, including scores, standings lane assignments, videos, recaps and photos, visit Kenosha.com/bowling and Kenosha.com's Facebook page.