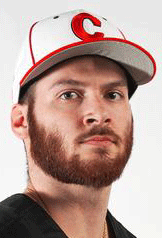 Carthage College senior outfielder Cody Tostrud was the recipient of the College Conference of Illinois and Wisconsin RESPECT award, the league announced Tuesday (May 9).
According to the CCIW: "RESPECT Award recipients have distinguished themselves as an integral member of the team, their institution and community by upholding the values of Responsibility, Enthusiasm, Service, Pride, Excellence, Collaboration and Trust. The RESPECT Award recognizes the intangible traits a student-athlete possesses that exemplify great character and encourages inclusiveness and a positive culture."
A starter in all 38 games this season for the Firebirds, Tostrud batted .350 with 15 doubles, three home runs and 23 RBI. He also scored a team-best 38 runs and had an on-base percentage of .409.
The Bradford High School graduate was a second-team All-CCIW performer as a junior.
Despite being limited to five games during a COVID-shortened season as a freshman in 2020, Tostrud has collected 179 hits in 124 games in his career. That total ranks 20th in program history.