As soon as Millie hears the magic words, she's all business.
"Millie, you want to go to work?" Matt Martin calls out. "We're going to work!"
The 15-month-old black Labrador Retriever gets suited up in her harness and collar, adorned with a blue and gold tag with her name on it.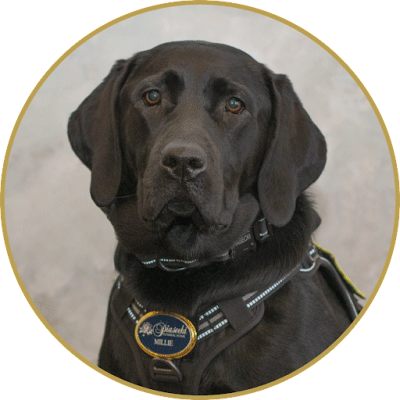 A short time later, Matt and Millie are out the door. There's important work to be done at Piasecki Funeral Home, which has been serving Kenosha since 1931.
Martin, a former lieutenant with the Kenosha Fire Department, came on board at Piasecki in June of 2020. He is a partner in the business and a licensed funeral director.
Millie is a therapy dog. After making her debut at the funeral home on May 5, 2022, Friday (May 5) marked her one-year anniversary on the job. To celebrate, Kenosha.com has named Millie the Kenoshan of the Week.
"It's such a privilege, it really is," Martin said, "because people inherently trust you when you have that harness or that identifier as a therapy dog. They welcome you in without asking any questions.
"Much like the funeral service, where you're based off your reputation and the sign in your front yard, people trust you with the worst time in their life and they trust you with their deceased loved one. It's definitely an honor."
Not only is Millie the first-ever therapy dog at Piasecki, but she is believed to be the first-ever therapy dog to work at a Kenosha funeral home. The only other known funeral therapy dog in southeastern Wisconsin is Bennie with Krause Funeral Home, which has multiple locations in the Milwaukee area. Bennie, a Portuguese Water Dog, replaced Oliver, Krause's first therapy dog, who passed away in 2011.
"I've gone to funeral seminars, and a lot of different funeral homes have taken on therapy dogs," said Anne Wasilevich, the public relations/marketing specialist for Piasecki. "It's just such a nice added comfort for families who are grieving."
Life change
Millie's arrival at Piasecki was born out of tragedy.
While still a member of the Kenosha Fire Department, Martin was dealt a blow when his wife, Cori, lost her battle with cancer at the age of 44 in 2019. It was then that Martin decided it was time for a career change. Cori was a former Piasecki funeral director, while Matt began his relationship with the Piasecki family as a member of the first-call team in 2010.
"I became a single dad (to Gabby, now 15) and said I needed to do something besides risking my life at work," Martin recalled.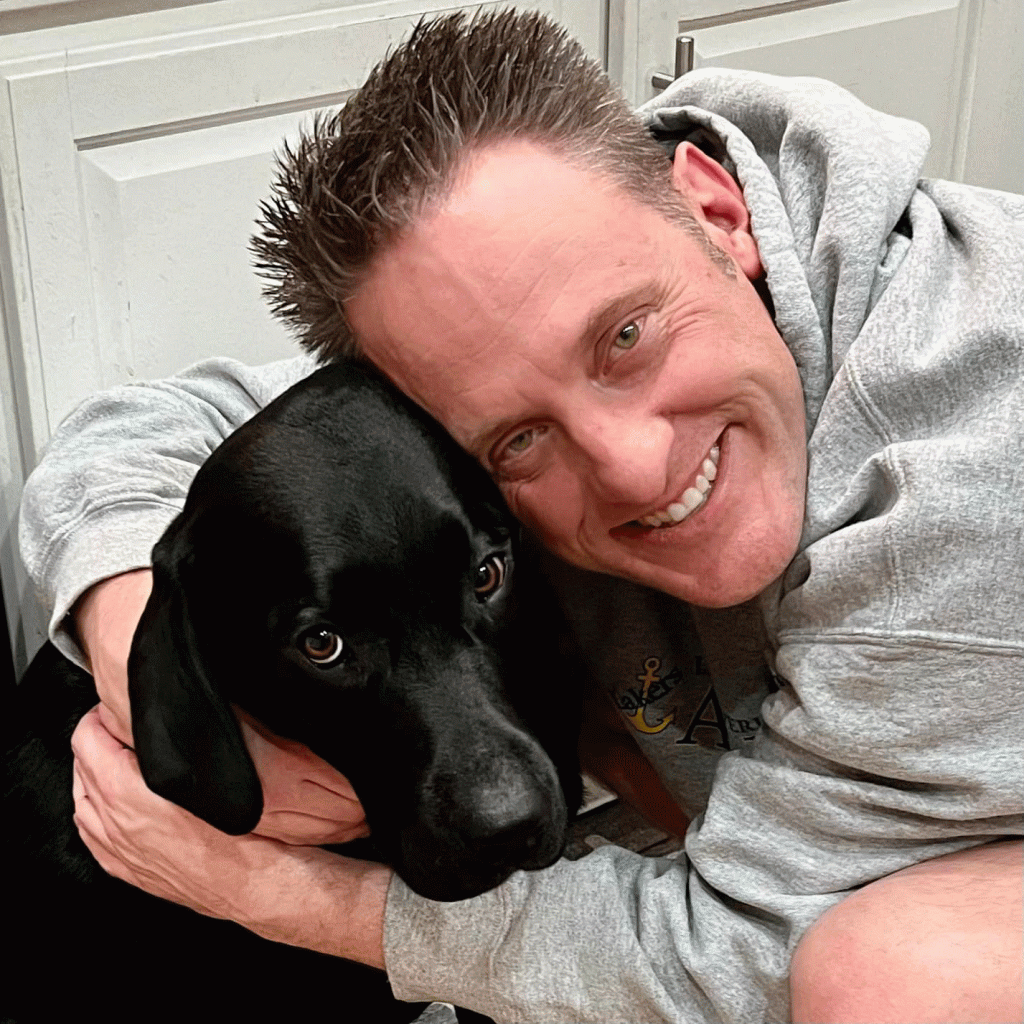 He retired as a firefighter after 23 years on the job and enrolled at Worsham College of Mortuary Science in Wheeling, Ill. He ended up receiving his two-year degree and became a state-licensed funeral director.
While still pursuing his degree and serving his funeral service apprenticeship, Martin got the idea of acquiring a therapy dog.
"It was one of the first things that I asked Nancy (Piasecki) about," Martin said, referring to Piasecki's owner and president. "She said, 'Not yet.' I was just establishing myself. I was going to school.
"There were plenty of things I needed to do as a new business owner, as well as an up-and-coming funeral director. Adding a dog to the mix wasn't in the cards at that moment."
That time came when Martin and his girlfriend, Kelly Clark, lost their German Shepherd and wanted to add another dog to the family.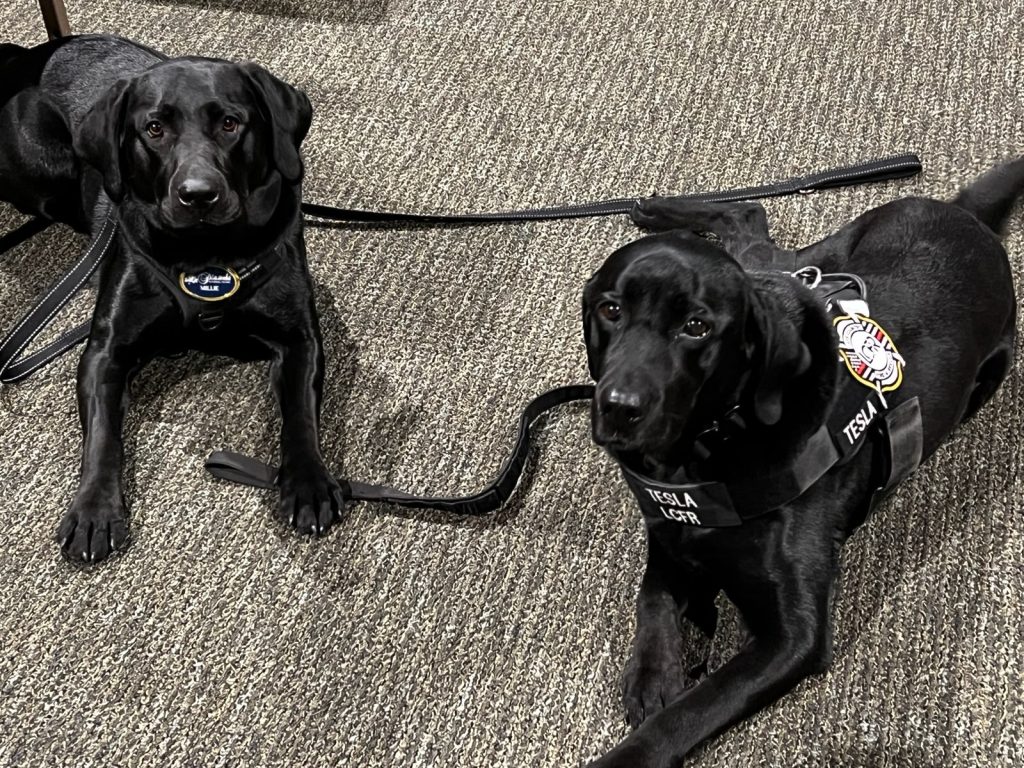 Inspired by longtime friend and former Kenosha Fire Department colleague Matt Haerter, Martin set out to find his therapy dog. Haerter, now the Assistant Chief for Lake Country Fire & Rescue, is the owner of K9 Tesla, who comes from a family bloodline of service dogs.
Using the same breeder as the one that produced 9-year-old Tesla, Millie — a part-American and part-English lab — and Martin were soon a match.
Millie has gone through obedience training at Rettungs-Haus Shepherds in Kenosha with the help of owner/trainer Antoinette Rodriguez. Millie's work in therapy dog training continues.
"She's very passionate about training dogs and getting them to be able to serve the way we want them to serve," Martin said about Rodriguez. "A lot of the training is just repetition and exposure to different environments."
On the job
Millie is now getting to the point where she recognizes the routine and knows what her role is throughout the day. Her workday usually begins with being greeted by staff members in the morning. Then, she can usually be found in Martin's office until it's time to work.
In the arrangement room at Piasecki, there is an 8×10 framed picture of Millie along with business cards.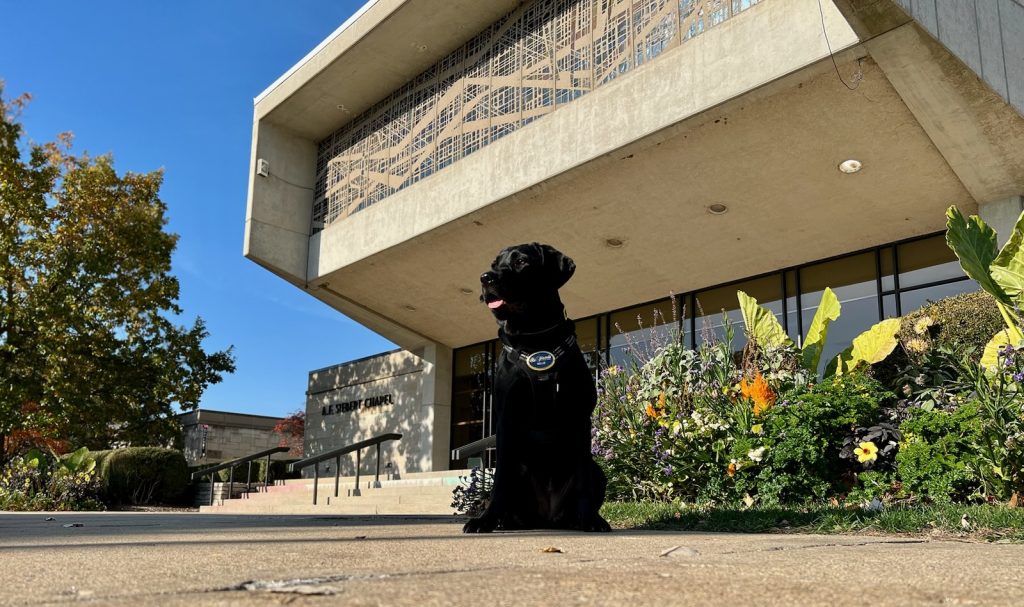 "I never approach a family with her," Martin said. "You never know how someone feels about a dog. I don't want them to feel offended when they walk through our door. I'll introduce Millie through a business card I have on the table. People either ask about her or they don't. It's pretty polarized where they love dogs, or they don't. Those who say, 'Oh, you have a therapy dog!' I'll say, 'She's upstairs. Would you like to meet her?'
"Then I'll go get Millie and say, 'Millie, you want to go see your family?' As soon as I say that, she knows exactly where she's going — down the stairs, across the hall and right into that arrangement room. She nudges the door open, and she knows exactly what she needs to do. She goes under the table and goes to each person. She usually seeks out that person who is having the most difficult time. That is usually the person who engages with her the most."
Toward the end of the arrangement, Martin will circle back and mention that Millie is able to be at the visitation, if interested.
While most of her work is done in-house, Millie has done considerable work in the community. Her first out-of-house service was at Carthage College. She has also attended a couple of cemetery graveside services. Millie has also been a well-received visitor at local nursing homes like Brookdale and Northpoint Senior Living.
As one might expect, Martin has plenty of memorable moments from Millie's first year on the job.
One of the first occurred in her first week or two, when she was just a puppy learning her role.
"Another funeral director was handling an arrangement and learned that the family was a dog family, and they asked to meet Millie," Martin said. "Millie walked into that room and the daughter of the deceased pushed her chair back and got under the table with Millie.
"I still remember the tears that fell out of her eyes. They didn't roll down her cheeks. They were the biggest tears. She cuddled and petted Millie. About a year later, that woman sent a hand-written letter to us about what an impact Millie made on her."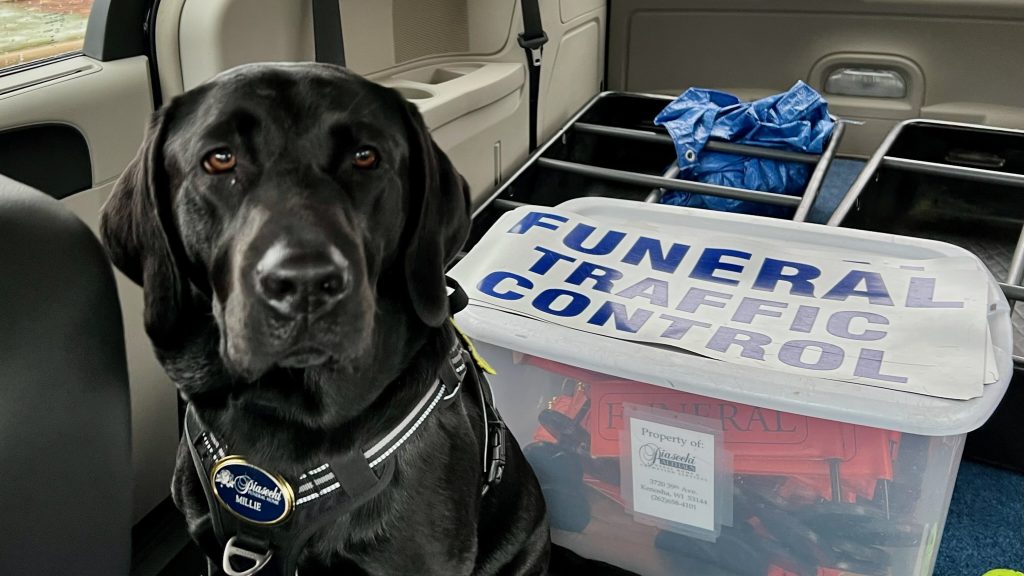 Months later during a visitation, a guest of the family had just put her dog down. Her dog, a black lab/beagle mix, looked just like Millie, except it had a couple of white markings on the chest and paws.
"The woman sat down on the rug in front of our fireplace and was stroking Millie," Martin said. "You could just see it in her face that she was comforted by Millie because of the dog that she had lost."
When not comforting people, Millie enjoys dock diving (she jumped 16 feet at six months old), going to Bark Away Doggy Day Care on Wednesdays, and playing with Pearl and Asti, a boxer and Boston terrier who live with Martin's girlfriend, Kelly, on the weekend.
Martin acknowledged that owning a therapy dog is a lot of work, but it's so worth it.
"I think about how difficult it is to not only be responsible for the business, and be a funeral director, and now I've got to worry about the dog," he said. "At times, it's a ton of work.
"But you have those moments just about every day where she touches somebody's life. She has a huge impact on people."
Follow Millie on the Piasecki Funeral Home Facebook page HERE.