The ELCA Outreach Center, located in the heart of Uptown Kenosha, will host its 10th Annual Spring Benefit as an in-person event on Thursday, May 11 at The Club at Strawberry Creek.  
Though virtual fundraisers offered successful alternatives, according to Executive Director Karl Erickson, attendees and staff eagerly anticipated the return to a live event in 2023.

"This has always been our biggest fundraiser, and it will be great to gather again," Erickson said. "We look forward to an inspirational presentation from this year's guest speaker, Pastor Cindy Aasen, from St. Paul's Lutheran Church, and music to close out the evening from Pastor John Anderson."
A collaborative effort, the Center's Annual Spring Benefit event has grown exponentially since its inception in 2014, and will feature a silent auction. Proceeds raised at the Benefit will go towards final renovation of the stairwells, some upstairs flooring and a ADA compliant concrete walkway to the gazebo in the garden.
Widely known for its Community Clothing Closet, the Center offers gently-worn clothing, outerwear, shoes, socks, and underwear to clients and their families, providing the joy and dignity of a shopping experience, also at no cost.
"We have had a steady flow of clients coming to the Clothing Closet over the past year," Erickson said. "On a slow day, we'll see about 45 to 50 individuals come through. On our busy days, we'll have upwards of 85 people."
Legal Advice Service, which provides free legal assistance to individuals in Kenosha and Racine counties, has also seen continued growth.  Last year, volunteer lawyers helped 230 people navigate legal matters and related documentation.  "The majority of our clients had questions about family court, which often include divorce or guardianship issues," Erickson said.  Additional guidance is frequently provided for renter's rights and eviction, child support, and small claims.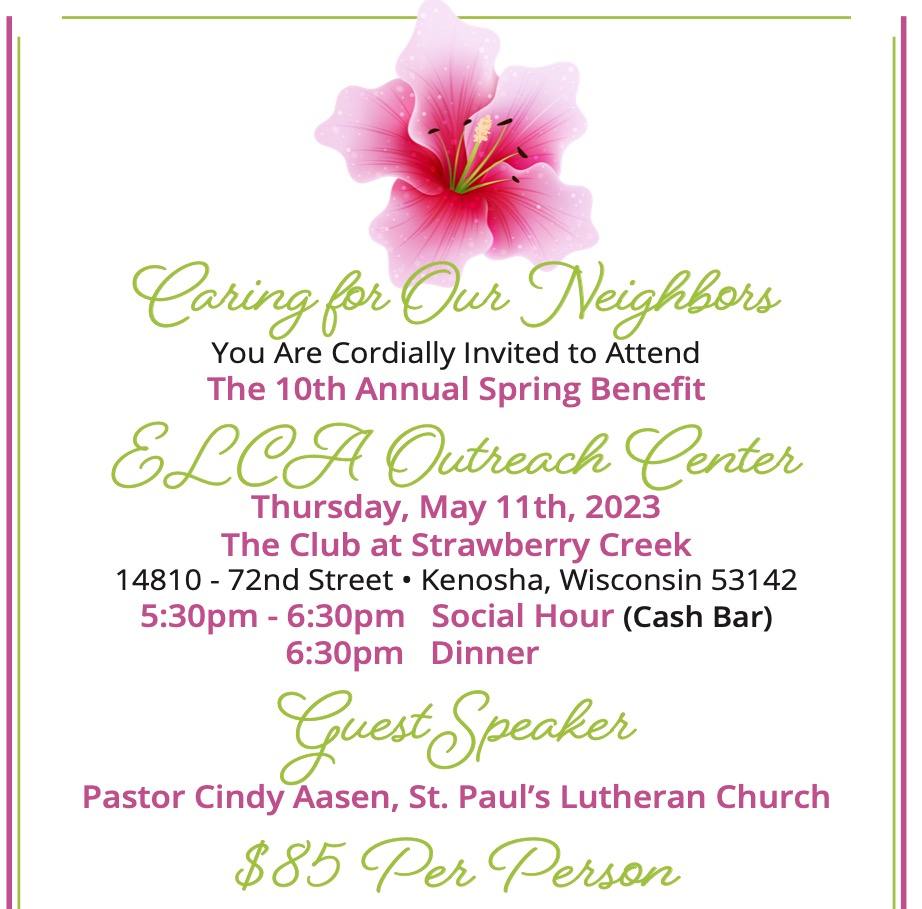 GED Preparation classes, taught in both Spanish and English, are offered on Tuesday and Thursday evenings. "Childcare has consistently been a barrier for people who want to take classes and earn their GED," Erickson explained. "In response, we formed a partnership with the Kenosha Unified School District to provide childcare. It's a game-changer for community parents."
"Summer camp is a happy childhood memory for so many people," Erickson said.  "We have been hosting a no-cost camp for elementary-aged children for years, and will continue the popular program at Kenosha's Brass Community School."
The Center is currently hiring high-school and college students to staff the weekly day camp. Interested applicants can obtain more information on the Center's website: elcaoutreachcenter.org.
The Center also offers two bible studies each week on Tuesdays and Thursdays at 9 a.m., open to anyone interested in attending these informal discussions.
Our theme this year is "Caring For Our Neighbors." Please join us.
To support or attend the 2023 ELCA Outreach Spring Benefit:
Thursday, May 11
The Club at Strawberry Creek, 14810 72nd St., Kenosha
5:30 p.m. Social Hour / 6:30 p.m. Dinner
Tickets are $85 per person or $650 for a table of 8
For more information, click HERE, email kerickson@elcaoutreachcenter.com or call 262-652-5545