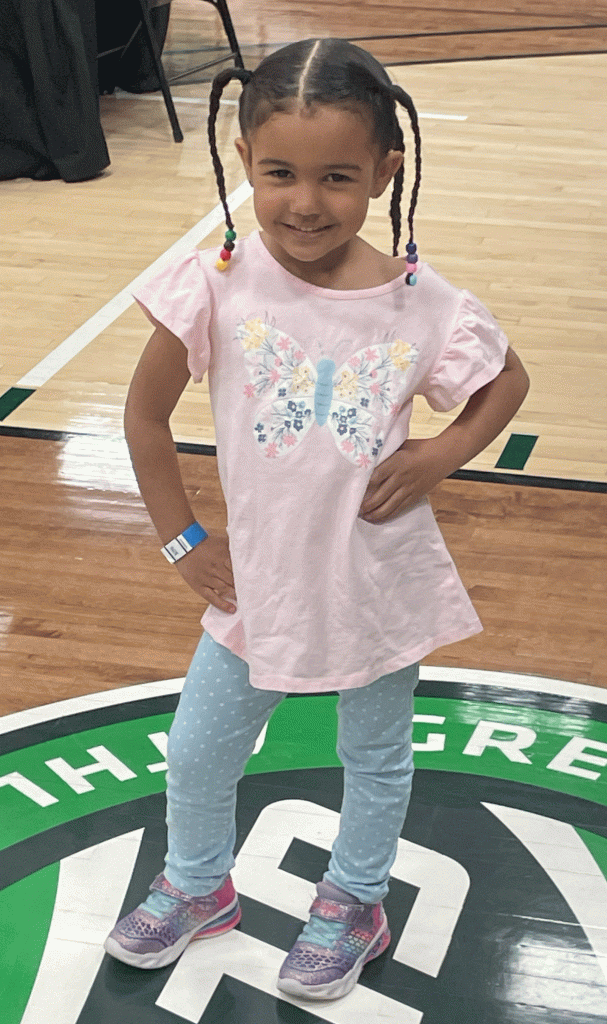 Kaelynn Coon was not shy about seeking out cameras on Saturday at the University of Wisconsin-Parkside's DeSimone Arena.
With her radiant smile and especially her fresh hairdo, 4-year-old Kaelynn was certainly excited to ham things up a little.
As she so expressively showed, smiles, hairdos and bonding were the main themes on Saturday (April 29) at the DeSimone Arena during a unique event geared specifically to help adoptive and foster families.
In yet another example of its commitment to providing help and resources for such families, Jockey Being Family partnered with Styles 4 Kidz — a hair salon based in Oak Park, Ill. — to put on the "Family Hair Affair" workshop, hosted by Parkside at the DeSimone Arena.
The workshop was designed to help and support adoptive and foster families to provide know-how in caring for their children's textured hair.
As Styles 4 Kidz Executive Director Tamekia Swint explained, the goal was to empower adoptive and foster parents to care for their children's hair, and in turn to teach their children how to care for their own hair. Oftentimes, Caucasian parents who adopt or foster Black children simply just don't possess the knowledge of how to care for their child's textured hair, which requires much different care and management to stay healthy.
So Saturday was all about education.
"One of the challenges that foster and adoptive families feel is that they feel incapable, sometimes, because they don't know how to take care of the (child's) hair," Swint said. "So we're making sure that they leave here feeling empowered and capable with the skill set and the tools that they need in order to be able to care for their children's hair properly."
Yakarah Stylz, a natural hair-care specialist for Styles for Kidz with over 20 years experience in the industry, demonstrated moisturizing and styling techniques, as well as how to accessorize the hair, on a mannequin at the "head of the class," so to speak. Her demonstration was projected onto the DeSimone Arena video boards as parents followed along and worked on their children's hair at tables, with Styles 4 Kidz staff walking around to help out.
"Everyone's hair is different," Stylz said. "To know how to properly take care of your hair is great to know, so that you can prevent hair loss. Your hair is your crowning glory, and you want to take care of it and you want it to look great.
"So we want to help these parents help their children get their hair looking really nice and really pretty and keep it healthy at the same time."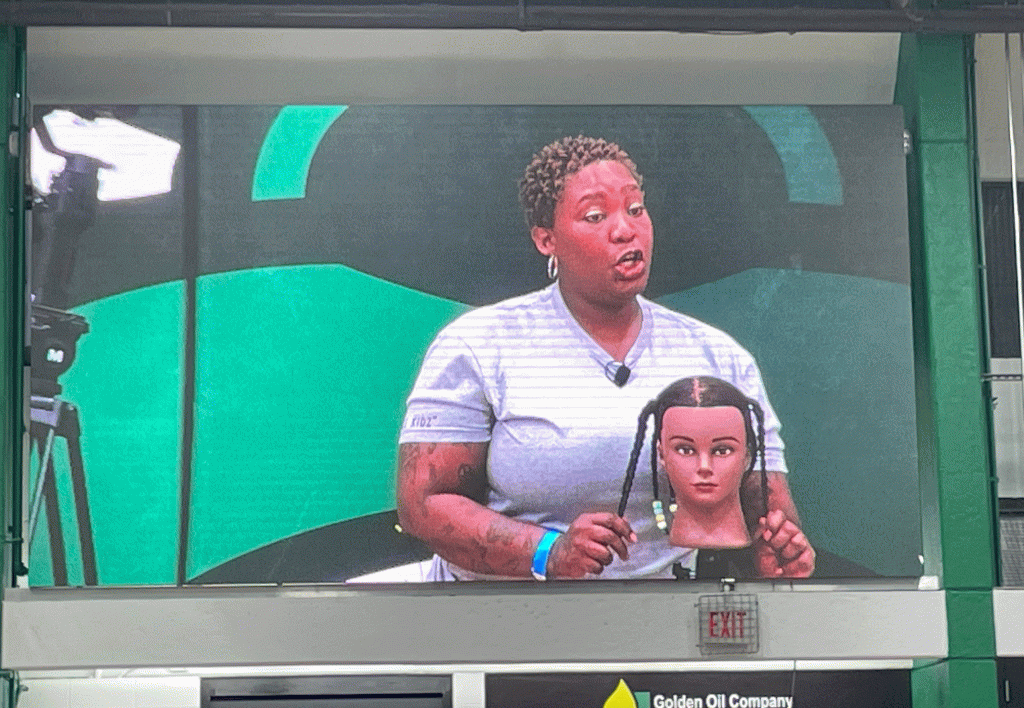 Kathleen Coon, Kaelynn's adopted grandmother, said the education provided at Saturday's workshop is invaluable.
"I was so excited when Jockey sent this out to us," Coon said. "Being a white person with biracial hair is so different. I knew something, but I wasn't doing enough (for Kaelynn's hair). And now I've learned what I'm doing wrong and how to fix it.
"I'll be able to teach her how to take care of her hair as she gets older, and we're both learning together, which is really cool. We had fun with it."
Additionally, LMI Packaging of Pleasant Prairie provided free hair-care kits and Chick-fil-A provided boxed lunches.
"LMI, thank you so much for sponsoring the tools and the products today, so the parents can leave here with the correct tools and products and know how to use them," Swint said.
Bonding experience
In addition to being a learning experience, Saturday's "Family Hair Affair" workshop was also a great bonding experience for adoptive and foster parents and their children.
The smiles were everywhere around the DeSimone Arena.
"As much as she is not super excited about sitting (still) right now, she really loves the end result of having her hair done and spending one-on-one time with me," said Kenosha's Jen Nachtigal while styling the hair of her adopted 5-year-old daughter, Delilah.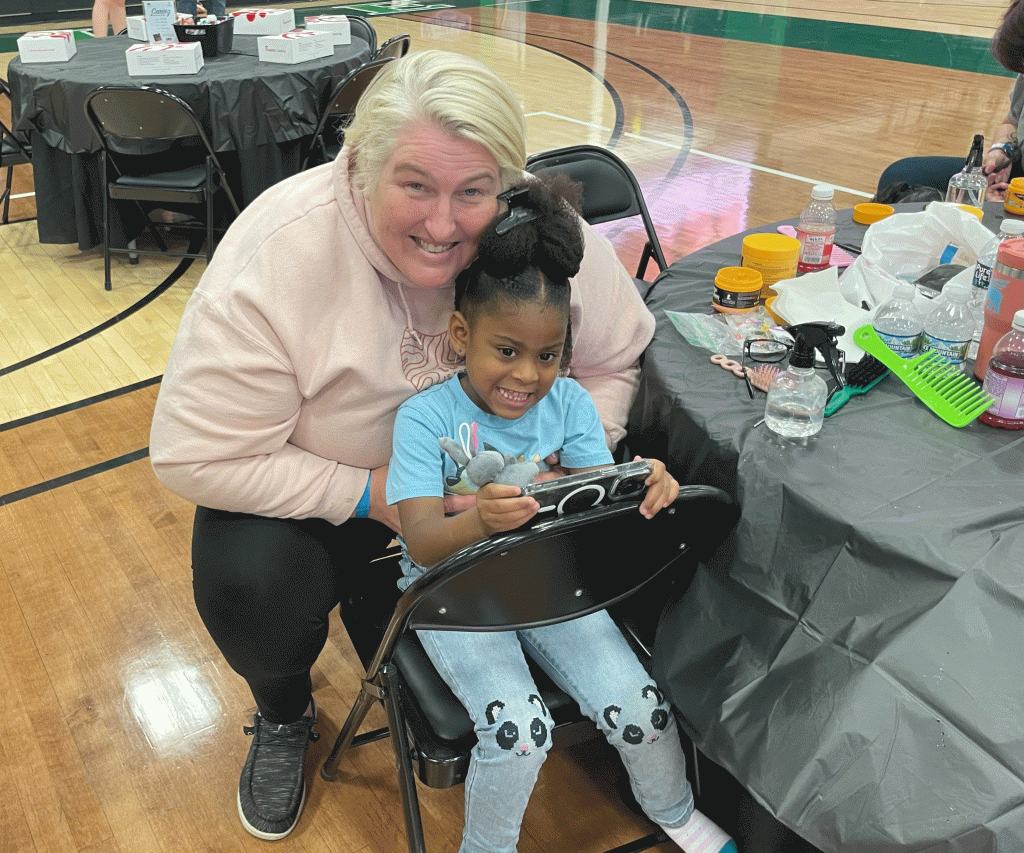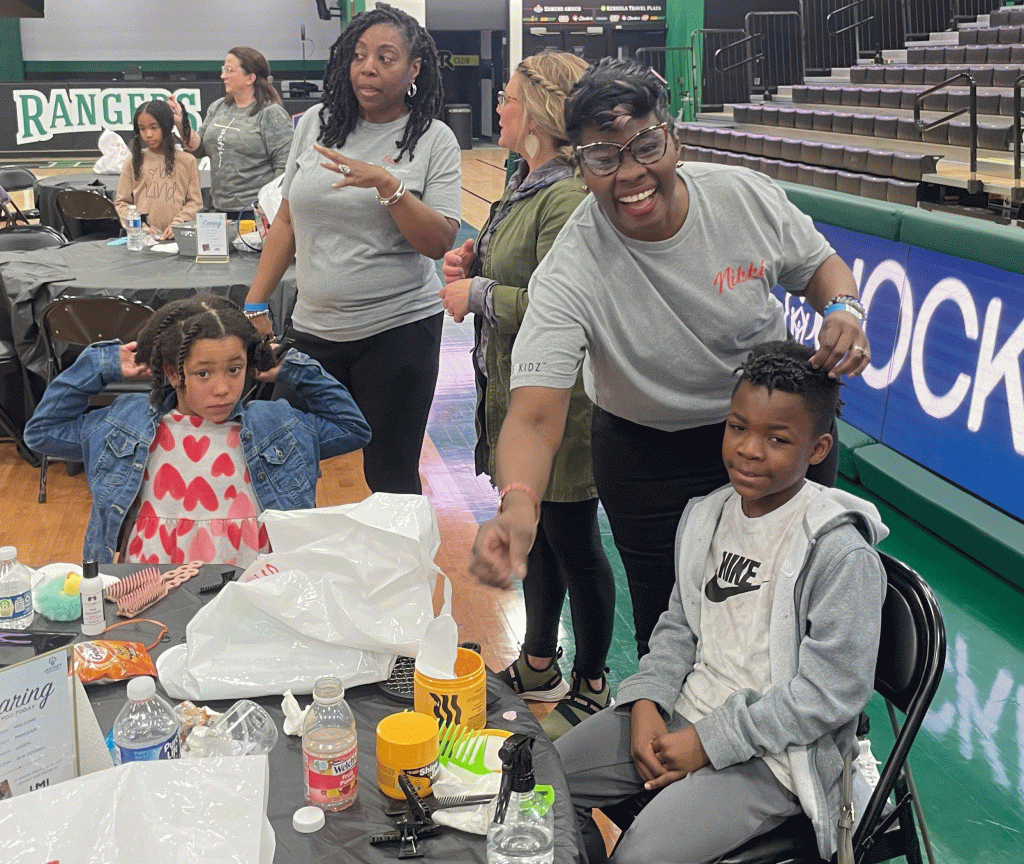 For Black children, especially, proper hair care is important so as to prevent it from drying out and damaging. But it's also critical for their culture and self-esteem.
"It's critical to a child's self-esteem, the development of a healthy identity, and their connection to their culture," Swint said. "All three are essential and important for parents to learn, so they can understand and also be able to teach their kids how to do and take care of their own hair.
"So all of these things are very, very important. I always say: 'Hair is a big deal.'"
That's why Nachtigal and Delilah, who happily played an electronic game while her mom worked on her hair, were there Saturday.
"We are just coming for continuing education, trying to learn how to take care of her hair in the best way possible with the best models — other women who look like her," Nachtigal said.
It was just another way in which Jockey Being Family continues to help adoptive and foster families.
"I can't say enough about Jockey continuing to support parents and grandparents and people that have adopted children," Kathleen Coon said. "Because they find stuff that's important for us."