Don Serkowski was always going to be a basketball coach.
That was surely a logical path after he graduated from tiny Birchwood High School in northern Wisconsin in 1989, finishing that season as the state's third-leading scorer. That was two spots behind none other than St. Joseph Catholic Academy legend and future NBA All-Star Nick Van Exel.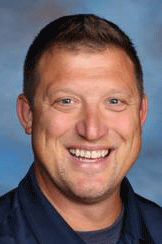 Serkowkski followed his high school career with a standout college career at NCAA Division III UW-Superior, where he was the Yellowjackets' leading scorer for three seasons.
With teaching as a profession and a successful career on the hardwood as a player, it was clear then to Serkowski what he was going to do after college.
"I thought I was going to be a basketball coach my whole life," he said.
Well, all these years later, Serkowski is definitely still a coach, just in a different venue than he expected. But he's also been more wildly successful than he probably could've ever dreamed of as a basketball coach, because Serkowski is presiding over a high school dynasty that's been more dominant than even the most successful high school basketball programs.
A longtime social studies teacher at Wilmot High School, Serkowski — a Kenosha native who attended Lance Middle School before his family moved north and now resides in Waterford — has been the head coach of the school's academic decathlon team since that program started at Wilmot 21 years ago. He has guided the Panthers to a remarkable 10 consecutive Wisconsin Academic Decathlon state titles and four United States Academic Decathlon Division 2 national team championships.
With its latest state title, Wilmot is back at nationals, where the Panthers are going for a fifth Division 2 team championship — they're favored to win, Serkowski says — and a third in four seasons on Thursday and Friday (April 27-28) at the USAD Nationals in Dallas.
It's been an amazing decade for the Wilmot academic decathlon team, which has traveled to places like Hawaii, California, Alaska and, this week, Texas. On Wednesday, Serkowski took his team for a historical tour of the JFK assassination site at Dallas' infamous Dealey Plaza.
Those kinds of trips around the country do not follow up a state basketball title.
"Even when you win the state championship in basketball, you don't get to go all these places," Serkowski said in a phone interview Wednesday afternoon as his team stopped for lunch at a steakhouse in Dallas.
All about the team
Of course, Serkowski points out that the remarkable story of Wilmot's academic decathlon success is not about him, it's about his students.
The nine main competitors on this year's team are Allison Streitmatter, Lorelei Glassmann, Isaac Keen, Emilee Olenick, Evan Kerkman, Daegan Fragale, Mary Catherine Slagle, Mac Keen and Charlie Fielder, with Amanda Rainey and Lucas Olszak as the two alternates.
Isaac Keen, a senior, is going for his second consecutive individual national title in the overall points category, which would make him the first in Wilmot's program history to accomplish the back-to-back feat. He was also a sophomore on the Panthers' 2021 squad that won its second straight Division 2 team national championship and fourth overall.
Serkowski says watching his students come together as a team and enjoying each other's company is the best part of the entire endeavor. The team meets for three or four hours every Monday after school for the entire year and also has a three-week crash course during the summer to study.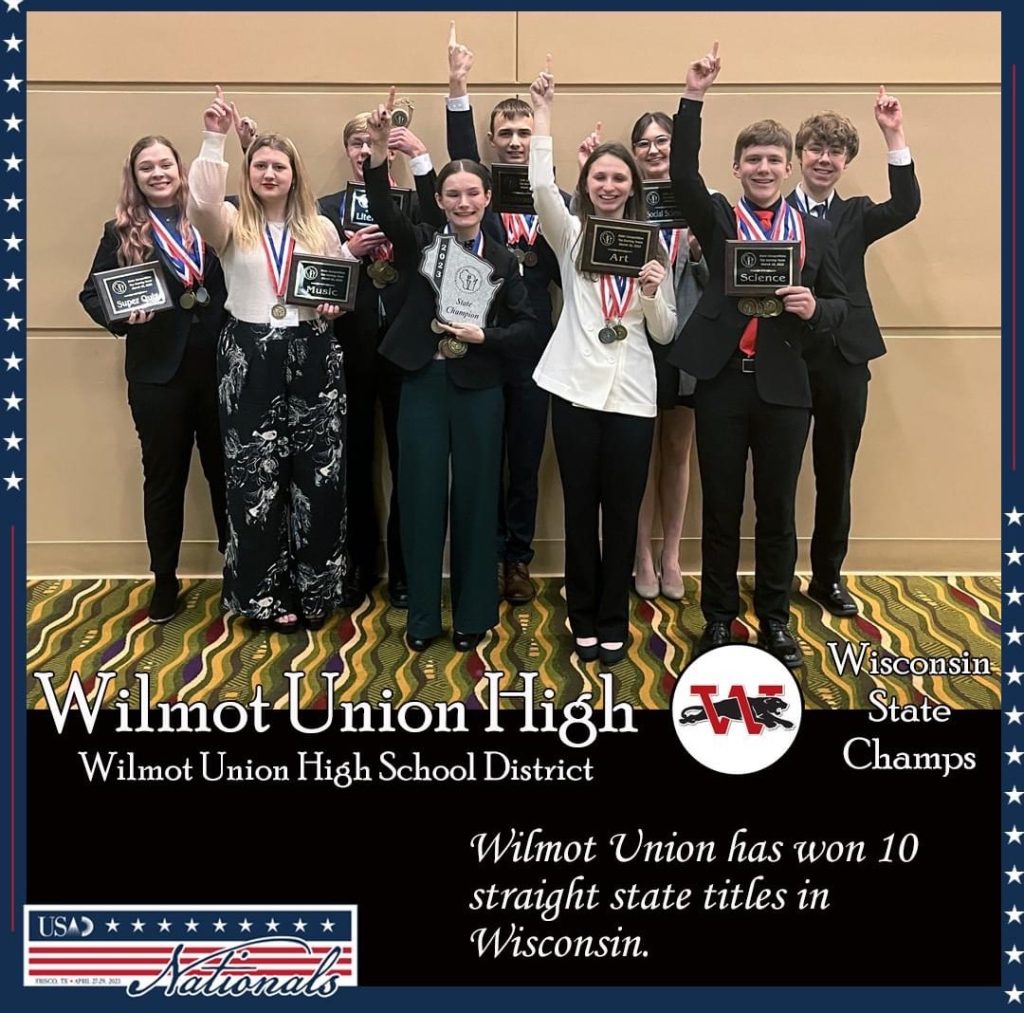 Additionally, the competitors meet on their own on Sundays to get some additional work in, which Serkowski says is the difference between just being a good team and being a perennial state champion and national title contender.
"If we win a national title, that's on them, because I can't make them do that," Serkowski said. "They have to do that. So they meet on Sunday for two hours, after November, when they make the team, until now.
"They have ownership of it, and that is kind of the key, too."
Just like in any sport, it's a big time commitment for Serkowski's "players."
"There's been parents in the past that sometimes will say, 'I don't get to see my kid,'" he said. "But then the kid doesn't want to stop. Because they're working as a team. It's completely a team."
The format
An academic decathlon covers 10 categories: art, economics, essay, interview, language and literature, math, music, science, speech and social science.
At the USAD Nationals, the students first compete in a speech and interview portion. That part of this year's competition is Thursday from 3 to 7 p.m, then competitors will take a battery of tests on Friday morning to complete the competition.
Students already took some of the tests at their home schools, under the supervision of proctors, during the beginning of April, which included art, music, literature and essay. On Friday, they'll complete tests in the areas of economics, sciences, social sciences, history and math.
This is the first time the national competition has been held in person in three years due to the pandemic. So this year's competition included a nice welcoming event on Thursday morning, with flag bearers and an appearance by the Sons of the American Revolution, since the theme of this year's nationals is the American Revolution.
Additionally, there is a Super Quiz on Friday afternoon following the tests, where the schools will square off to answer questions from all the topics covered in the academic decathlon. The Super Quiz is just a fun way to conclude nationals and does not count in the scores, though plaques will be awarded for it.
Friday's Super Quiz can be viewed live on the USAD Facebook page.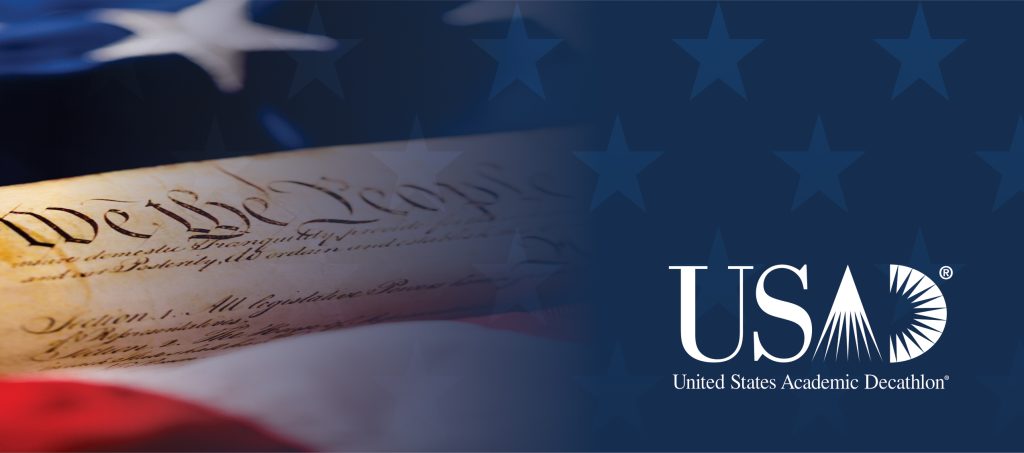 Scores for the competition go up to 10,000, and Serkowski said a score of 8,500 or better is typically what's required to win a state title and be in the mix for a national title.
There is an overall national team champion crowned, as the competition includes high schools with 5,000-plus students. As a smaller school, Wilmot has never quite been able to capture the overall team title, which is almost always won by a much larger school, but the Panthers have become a powerhouse in the Division 2 field.
It's also important to note that you don't simply get to choose the smartest kids in each school, or at least the students with the best grade-point averages. Teams must include some students with GPAs below 3.0.
Serkowski said it's those students who often get the most gratification from competing in an academic decathlon.
"It's usually those kids that it really means a lot to, because they're usually not considered part of that group (at the top of the class)," he said. "There's so much diversity between them at first, and then they become a team and a unit."
And whether you're at the top of the class or not, succeeding in an academic decathlon requires hard work. Serkowski and his coaches push their students to go beyond their limits.
"These are the valedictorians and salutatorians on some of our teams, and they'd never been pushed like this," Serkowski said.
Building a champion
Just like building a successful athletic program, Serkowski's academic decathlon program has been built upon years and years of success, with Wilmot students now eagerly competing to be a part of it.
But it had to start somewhere.
When Serkowski started the Wilmot program 21 years ago, the Panthers had some successful teams, but they were blocked from winning a state title over the first 11 years by a Waukesha West program that was the dominant team in the area.
But when the coach who led Waukesha West left, Serkowski and the Panthers saw an open door. As with any program, the Panthers needed someone to make a breakthrough, or what Serkowksi called "the catalyst."
For the Wilmot academic decathlon team, that was Katie O'Brien. As a senior in 2014, O'Brien captured the overall individual title at nationals, held in Hawaii that year, and led the Panthers to a second-place team finish in Division 2. She graduated after that, but Wilmot won the Division 2 national team title the next two years, in 2015 and 2016.
"She pushed herself a little bit, and everybody came with her," Serkowski said of O'Brien's impact on the program. "And then after you have that one, you hope it's not a fluke.
"Other students in the program said, 'I want to be that person.' I saw it happen, and it's always going to be that case. It's that effect."
Now, Serkowski said, he has 20-plus students who try out to make the team every year. Cuts are made after teams take their first round of tests for state rankings in November.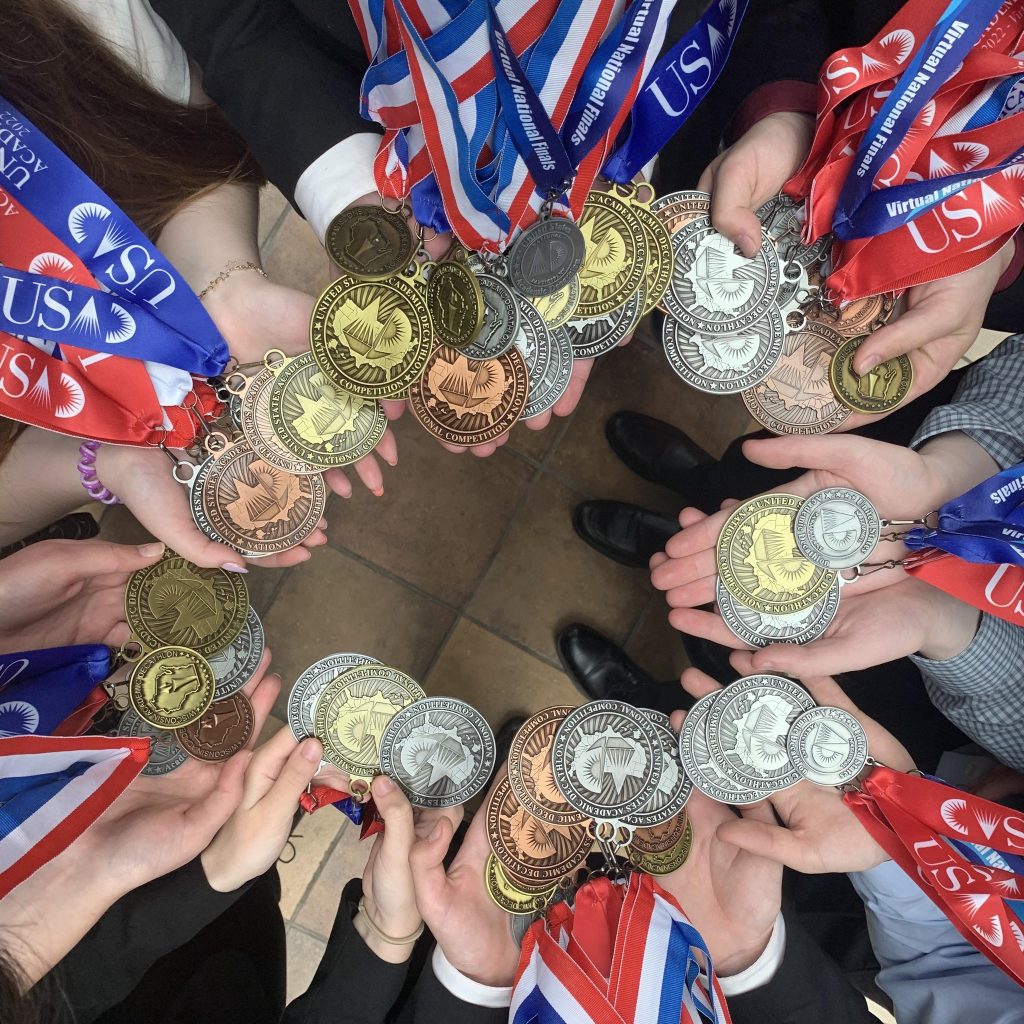 Once you start winning state titles, nobody wants to fall short of that standard. Serkowski said there have been years where he wasn't sure if the Panthers would continue their state title streak, such as last year, when they went into the state competition ranked third.
But they have found a way to keep winning to extend the streak to double digits.
"We pushed them sometimes, I felt, too hard. But (it turned out) you didn't," Serkowski said. (I wonder), ''Will another group do this?' And they just keep finding a way.
"It's kind of magic now."
And it's also brought a ton of pride to Wilmot and the school community, since the academic decathlon team has given Wilmot recognition all over the country.
"I hope it brings (Wilmot) some pride, because that's what my whole purpose was, was to bring that to our community," Serkowski said. "Some of these schools, they're like, 'Where are you guys located? You're in the middle of these farm fields, and you're not the No. 1-rated school in Wisconsin academically?' I'm like, 'No.'
"But you get some like-minded, hard-working individuals, and anything can happen."
For Serkowski, coaching Wilmot's academic decathlon dynasty has provided memories and gratification that any coach or teacher would be thrilled to have. Sure, he could've gained that coaching basketball, too, but sometimes life takes you places you never imagined.
"I've been blessed, to be honest," Serkowski said. "I saw myself going down a different path. But I have a forever — I don't want to say legacy — but with them, I have a lifelong connection with these incredible students that share stuff with me all the time.
"So I'm really blessed. You get that as a teacher, but this is a whole different level."