When you really think about it, it's remarkable — miraculous, really — that Marty Thau was able to speak at the Kenosha Public Museum on Wednesday night.
The series of events that brought Thau to Kenosha — and into this world, in the first place — involve a story of unimaginable cruelty, heartache and pain, desperation, resourcefulness, perseverance, strength, toughness, redemption and love.
And more than anything, survival.
Marty Thau is the eldest son of Charlie Thau, whose story of survival is almost too incredible to put into words.
Born on July 7, 1922, into a Jewish family in eastern Poland, Charlie Thau was one of the millions of Jews displaced in Europe by the German Nazis during the Holocaust in the 1930s and 1940s. After watching his siblings and parents taken away from him, never to be seen again, Thau avoided a Nazi concentration camp or extermination camp by escaping into the vast forest of eastern Poland, where he miraculously survived for 19 months without being captured.
Thau continued to fight and survive by joining the Russian army to fight the Nazis — all the while keeping to himself his identity as a Jew — for which he was first sent to Siberia for training. Wounded twice as a tank commander in the Russian army during World War II, Thau then fought for the Israeli army when Israel was first established as a state before going to America in 1951.
Sponsored by a Jewish family in Sheboygan, Thau eventually settled in Milwaukee, ran a successful business, married his wife, Ida, and had three children.
The oldest was Marty Thau, who today speaks on behalf of his father as a second-generation Holocaust survivor. Charlie Thau would've been over 100 years old if he was still alive today.
The number of first-hand Holocaust survivors still alive is dwindling to a precious few, so it's vitally important to keep alive the memory of one of the darkest chapters in human history, in which more than 6 million Jews were systematically murdered, so that it never happens again.
That's why Marty Thau was at the Kenosha Public Museum on Wednesday night (April 19) to share his father's story.
In a basic sense, though, Marty Thau was in Kenosha on Wednesday night only because Charlie Thau found a way to survive the Holocaust, when millions of others perished.
"He made it," Marty Thau said succinctly of his amazing father. "I don't know how, but he made it."
Holocaust Remembrance Day
Wednesday night's event at the museum was held to mark the worldwide Holocaust Remembrance Day, which was officially on Tuesday, April 18.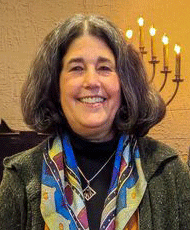 Known as YomHashoah — Shoah is the Hebrew word that refers to the Holocaust — Holocaust Remembrance Day was first established in Israel in the early 1950s, shortly after Israel became a state in 1948.
In the United States, Rabbi Dena Feingold of Kenosha's Beth Hillel Temple — who helped facilitate Wednesday's event — explained that the United States Holocaust Memorial Council, which created the Holocaust Museum in Washington, D.C., designated the week around Yom HaShoah every year to be the days of remembrance of the victims of the Holocaust.
In Kenosha, specifically, Feingold had a proclamation from Mayor John Antaramian declaring the days of remembrance for the Holocaust victims. This is something that's done every year in Kenosha, and it's proclaimed among people of all faiths, not just for those in the Jewish community.
"In Kenosha, we have come together for well over 40 years to make it an interfaith service," Feingold said in opening remarks for Wednesday's program, known as the Interfaith Holocaust Remembrance Service.
This was also the first time in three years the service was held in person due to the COVID-19 pandemic.
"It's a day to remember, to hear the stories of survivors and victims, to make a commitment to make the world a better place and not have any such thing happen again," Feingold said.
"You have to learn from the past in order not to repeat it. As the years go on, the survivors that actually witnessed this, many of them already are gone, and very soon they will all be gone."
The theme of Wednesday's service was the Warsaw Ghetto Uprising, which is commemorating its 80th anniversary.
From April 13 through May 16, 1943, for a month and three days, hundreds of Jewish men and women bonded together in the ghetto of Warsaw, Poland, against insurmountable odds to fight off and resist Nazi soldiers sent to the ghetto to liquidate them.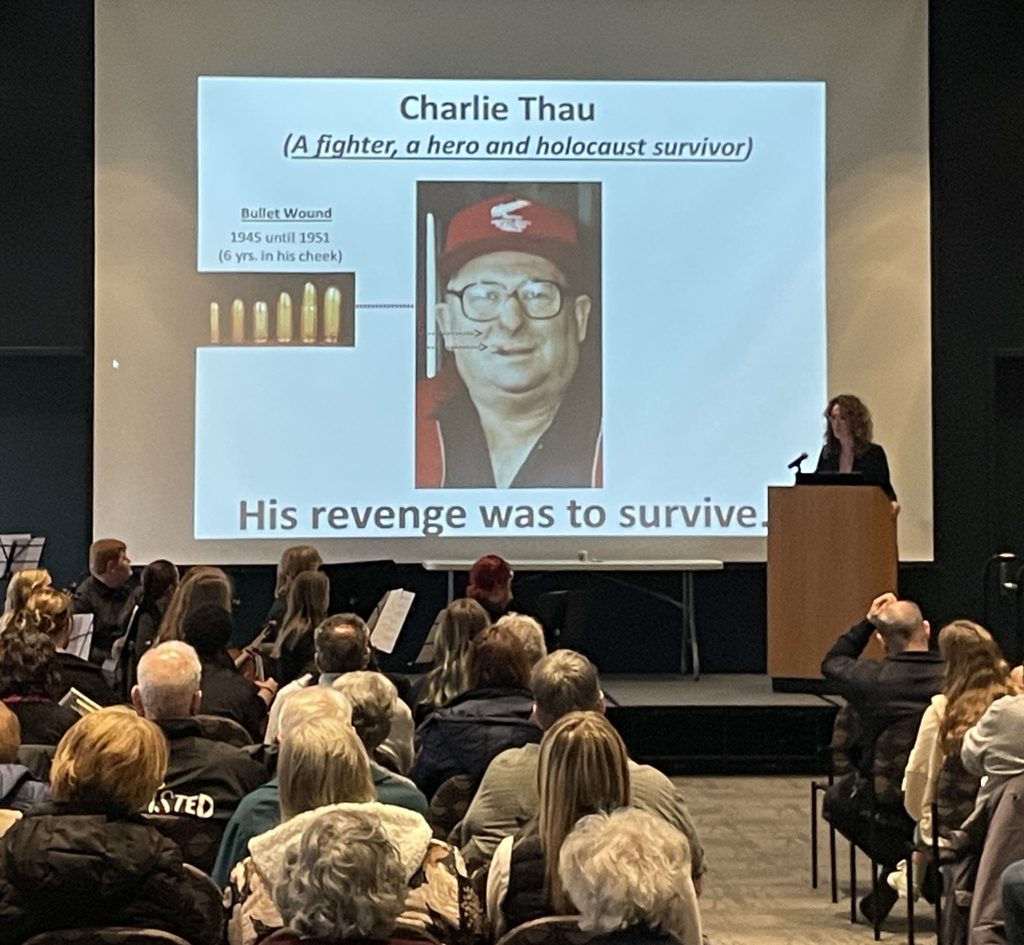 Though the uprising was eventually put down, and 42,000 Jews deported, by Nazi soldiers with far superior numbers and weapons, the Warsaw Ghetto Uprising was a testament to courage and strength in the face of impossible odds.
Dr. Judith Fai-Podlipnik of Kenosha, a Holocaust historian and the daughter of a Holocaust survivor, helped organize Wednesday's program and spoke about the Warsaw Ghetto Uprising on the event's 80th anniversary.
"As a scholar and a professor of the Holocaust, perhaps one of the most prevalent questions that I encountered was, 'Why did the Jews go to the gas chambers like sheep going to be slaughtered?' My response was, 'That's not quite accurate,'" Fai-Podlipnik said in her remarks.
"And the Warsaw Ghetto Uprising was one of the most meritorious examples of Jewish resistance during the Shoah, in spite of its woeful outcome."
Fai-Podlipnik said her father took her to see the site of the infamous Dachau concentration camp in Germany when she was 10 years old. It's not pleasant, of course, to learn or think about the brutal history of the Holocaust, but it's necessary.
"(My father) felt that you need to know," Fai-Podlipnik said. "This is the reality."
Fai-Podlipnik said Holocaust education is more important than ever today, particularly in the face of scary, anti-Semitic fliers that have appeared around Kenosha recently.
"We have to educate people, because obviously people are not educated," Fai-Podlipnik said. "Particularly with the distribution of these pamphlets as of late, it just is extremely disturbing, and anti-Semitism is on the rise. I think people need to understand that we're going in the wrong direction."
Youth education
Of course, there's probably no more important demographic to educate than our community's young people, which made the attendance and participation of Indian Trail High School and Academy students in Wednesday's service so significant.
The Indian Trail Chamber Orchestra performed a selection of music in remembrance of Jewish resistance during the Holocaust, and six Indian Trail students — Quinn Murray, Danny Maldonado, Max Johnson, Marlee Rodriguez, Eric Gosselin and Abigail Shelton — performed readings selected to mark the 80th anniversary of the Warsaw Ghetto Uprising.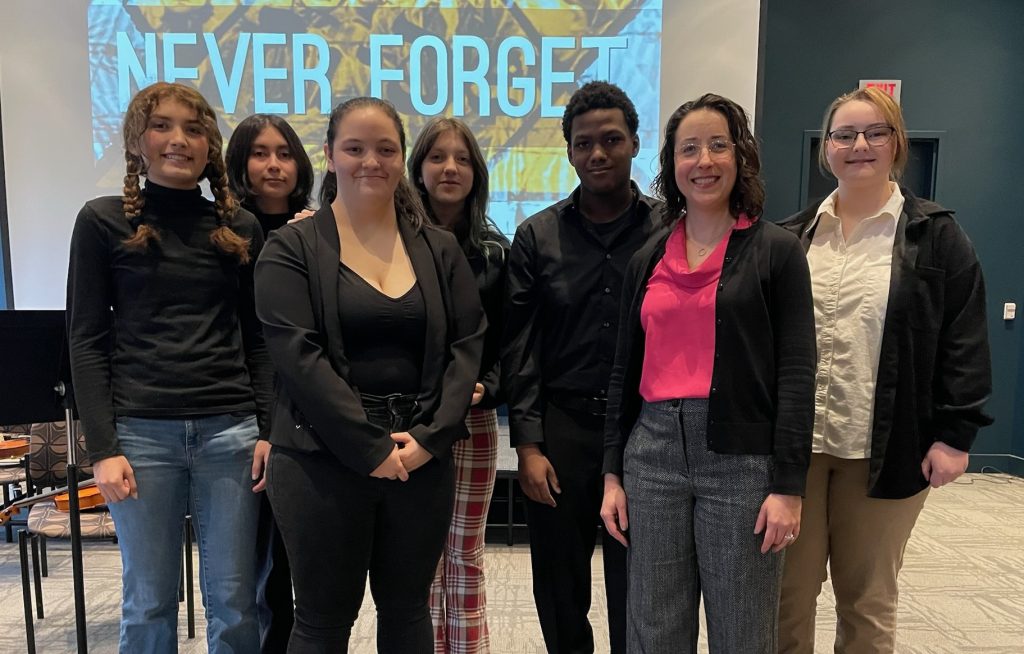 Indian Trail English teachers Amanda Johnson and Janelle Ebner coordinated the Holocaust Remembrance Day events among their students, and Ebner is also a member of Kenosha's YomHashoah board that helped put together Wednesday's service at the museum.
Additionally, on April 27, Indian Trail students will have an in-school field trip to listen to a Holocaust survivor, which will include a presentation and a question-and-answer session.
Ebner, who teaches ninth-grade English and special education at Indian Trail, has her freshmen read the book "Night" by Holocaust survivor Elie Wiesel every year to learn of the uncomfortable, but necessary, history of the Holocaust.
"It's so hard to teach it every year, but it's so important that we teach it," Ebner said Wednesday. "And the students are always so engrossed in everything. They want to learn everything about it. And even though they know a little bit about it, they're still surprised to learn things.
"I think that when we give them an opportunity to participate in something to honor the lives of those lost, they just jump at the chance, because they're all empathetic, and they're touched by the subject."
Especially with the dwindling number of Holocaust survivors still alive today, it's imperative to keep educating new generations about that history. And, oftentimes, it's much easier to teach younger people than those who may not be willing to change their views.
"It's nice to be able to speak to middle-aged people, et cetera, but when they're stuck in their ways, they're stuck in their ways," Fai-Podlipnik said. "I think it's important for us to really indoctrinate our kids to accept everyone."
During Wednesday's featured portion of the program, you could see how much pride Marty Thau took in his father for surviving the Holocaust and eventually thriving with his own family and business in Wisconsin.
By his presence alone, Marty Thau represented the visceral reality of the Holocaust — both tragic and inspiring — reminding everyone of, as we mark Holocaust Remembrance Day, a part of our history that cannot be forgotten, because it must never happen again.
"Now we're on to the next generation, and we now have to transfer it to yet another generation," Feingold said. "Or this will be lost, the stories and the memories will be lost, and the message will be lost."