When Andrew Gavin started his new position as the University of Wisconsin-Parkside's Director of Athletics in August 2017, the department was not exactly in the best of shape.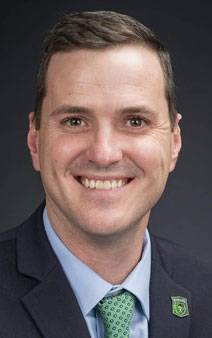 Upon his departure, five-and-a-half-years later, the turnaround has been absolutely staggering.
Gavin came to Parkside — the only athletic program in Wisconsin that competes at the NCAA Division II level — facing quite a reclamation project, as the Rangers were entering a 2017-18 season in which they were ineligible for postseason play due to compliance violations deemed to be committed under Parkside's former athletic administration by its former conference.
During his tenure, Gavin navigated Parkside through that rough first season into its transition to a new conference — the Rangers now compete in the Great Lakes Intercollegiate Athletic Conference for every sport but wrestling, which is in the Northern Sun Intercollegiate Conference — then through the COVID-19 pandemic, all while completing a massive facelift to the school's indoor facilities under the RangerVision 2020 campaign and making invaluable inroads from the athletic department to the Parkside campus and the surrounding Kenosha community.
It's frankly impossible to sum up Gavin's successful tenure at Parkside in just a few words.
"He was great in the community," said Parkside head men's basketball coach Luke Reigel, the longest-tenured head coach in the department, having started in 2003.
"He built necessary bridges across campus. And the facilities have improved so much. We are now a big-time D-II destination."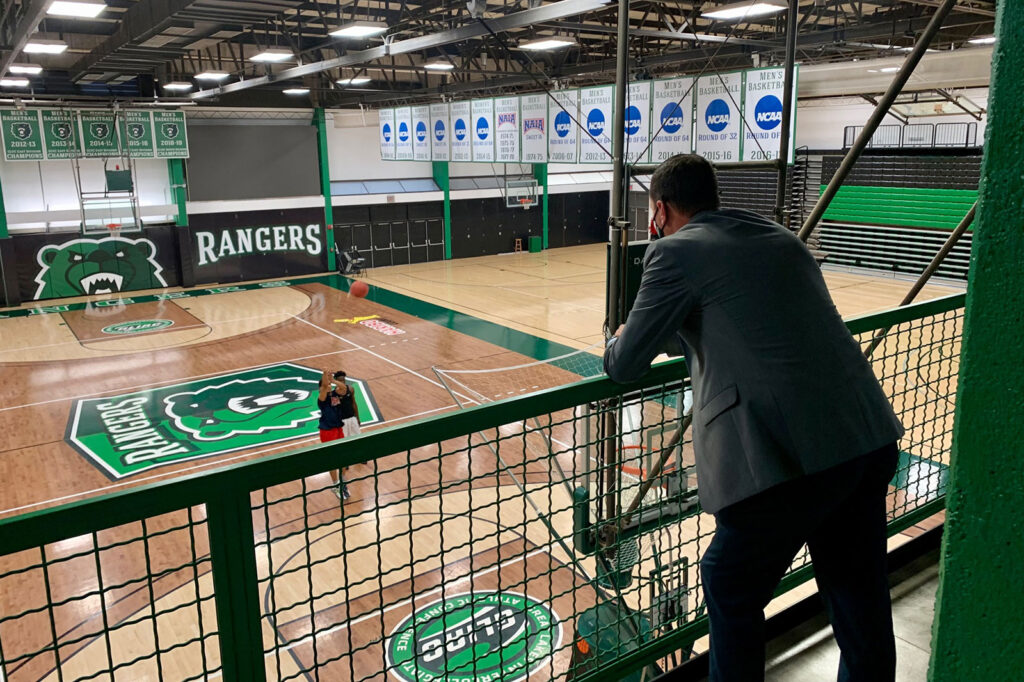 But in college athletics, success brings suitors, which is why Gavin's time at Parkside has come to an end. It was probably inevitable that Gavin would eventually make the career leap to the NCAA Division I level, and that became reality in late February when it was announced that he would be leaving Parkside to take over as the Director of Athletics at Division I Southern Illinois University-Edwardsville.
Gavin's final day at Parkside is Friday (April 7).
For his remarkable contributions to Parkside athletics and to the community in general, Gavin has been named this week's Kenosha.com Kenoshan of the Week.
Family environment
The school honored Gavin with a send-off ceremony on Tuesday night at the DeSimone Arena, one of the facilities that received a much-needed major renovation under Gavin's watch.
Even though he's leaving Kenosha, during a heartfelt speech on Tuesday, Gavin said this truly became home after he and his wife, Ashley, departed their native home area of Kentucky to come to Parkside and Kenosha.
At the time, Gavin recalled, they had a 1-year-old child and Ashley was pregnant with their second child. They have since had two more, making it three Gavin children that have been born in Kenosha and four that have grown up here to some degree.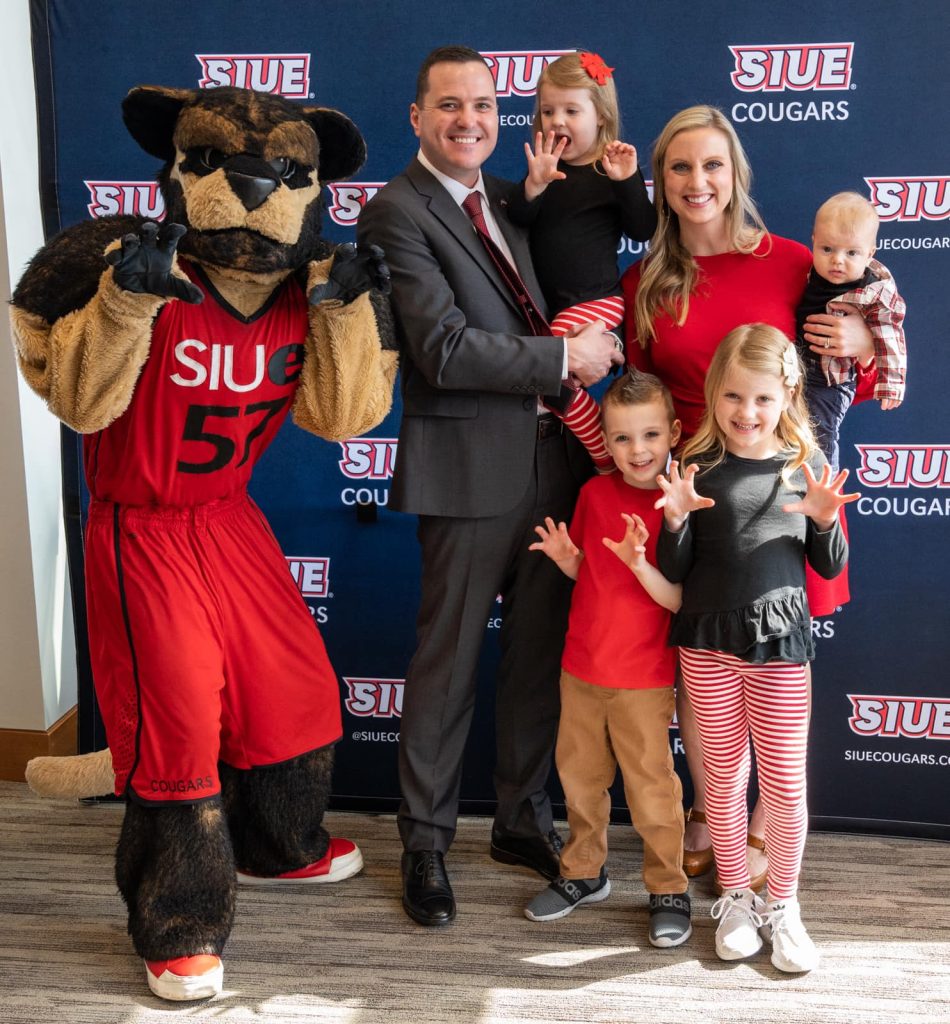 "We're just so grateful for the time here," Gavin said Tuesday. "We've added three Kenosha babies. It's home. It's hard to think about not being home. That's this room. It's Parkside, it's our community, it's all of you guys, the partners, it's the alumni base, it's our staff, it's our church.
"When you move away from family, which we did to come here, it takes a village. It really does. We were so appreciative of you guys and this village that has adopted us and taken care of us."
In fact, Gavin noted that while he's heading down to Edwardsville to start his new job, Ashley and the kids are staying in Kenosha for the time being until they can find a new home and get settled. They would not be staying here for now if they didn't love Kenosha.
"The reason they're staying is because there's so many people here that will literally do anything for (Ashley) and these kids and for us," Gavin said.
The close familial atmosphere that Gavin and his family have felt in Kenosha has essentially been an extension of the familial atmosphere that Gavin has brought to the Parkside athletic department specifically.
If you've spent time around the department in recent years, you may have observed how close the coaches and the staff appear to be. Their families all spend time together, and they're invested in each other's success.
To a person, the coaches in attendance Tuesday for Gavin's farewell said he's made Parkside a place they look forward to coming to work at.
"He's the architect," head women's basketball coach Jen Conely said. "He's created this Parkside family. I love coming to work every day. The other coaches on staff are amazing, the support staff is amazing."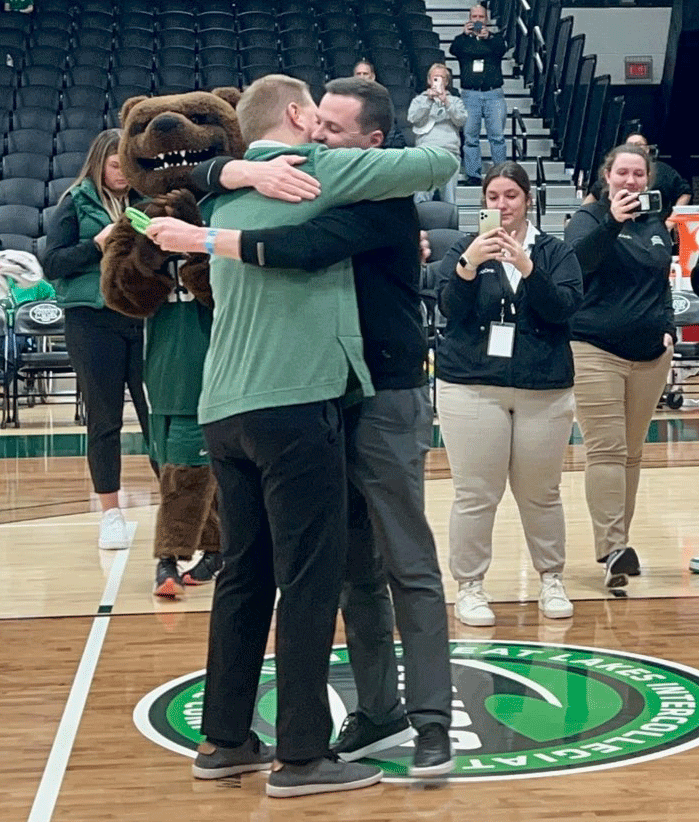 Added head track and field/cross country coach Nick Maas: "I think we've become a family within athletics. … That's kind of cliche, but it really does feel that way."
For Reigel, who's worked under multiple athletic directors during his time at Parkside, the culture built by Gavin is what he's most grateful for.
"What he changed the most was our culture," Reigel said. "He turned our department into a place that was enjoyable to come to work every day. He supports the coaches that are struggling, and he asks the coaches that are doing well, 'How can I help you get better?'"
It was while talking about his coaching staff at Parkside — the people he worked with most closely day in and day out — during his farewell speech Tuesday where Gavin became emotional and choked up.
"I would take any one of you anywhere, at any level in this country," he said. "… There's nobody better than this group. And it's everybody. It's every single person, coaching staff, volunteers, GAs (graduate assistants) — they're Parkside, through and through.
"… We outwork people. We outperform people. We have a chip on our shoulders. We support each other. I'm so grateful to each and every one of you. I can't do it justice. … They're special. They're just special, and I appreciate you all."
Facilities, student-athletes, corporate partners
While Gavin developed a positive culture within the department, it took major fundraising efforts and garnering support — financial and otherwise — from the community outside Parkside that helped make his most ambitious project a major success.
In March 2020, Gavin and his staff launched RangerVision 2020, the largest fundraising campaign in Parkside athletics history, to propel massive renovations to the school's athletic facilities. The first phase of RangerVision 2020 was a $5 million campaign aimed at upgrading the indoor Sports and Activity Center (SAC).
Of course, in a classic "Murphy's Law" situation, the pandemic hit right as RangerVision 2020 was getting underway. But Gavin still oversaw the timely completion of the project.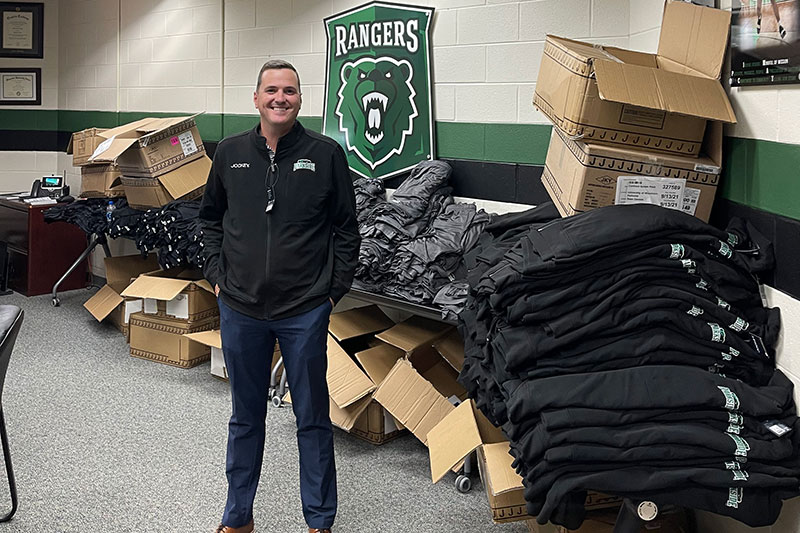 Now, the sparkling new-look DeSimone Arena, the Mark Olsen Indoor Golf Center and the Rick Kilps Indoor Turf Center — all honoring Parkside athletic legends from the past — in addition to the Jim Koch Wrestling Center, the Jockey Sports Performance Center and the Frank Petretti Fieldhouse, make Parkside's indoor athletic facilities a major attraction for potential student-athlete recruits.
"(When) you walk through the SAC now, it looks different, and it has a whole different vibe to it, just the branding," head women's soccer coach Brittany Nikolic said. "Our name is out there more, all around town.
"It's increased our visibility, it's increased our reputation. That's been super positive, and the student-athletes feel that, the coaches feel that. That helps us to make sure we can do more and recruit better and continue to grow."
Head wrestling coach Nick Becker said the RangerVision 2020 project proved that Gavin is a man of his word.
"One of Andrew's big words was 'vision,'" Becker said. "Everyone talks about vision, how they're going to do this and that. But Andrew's a man of his word, and that goes a long way. If he tells you he's going to do something, he does it."
To do that, Gavin picked up major corporate and business partnerships for the Parkside athletic department, partnerships that have been financially invaluable for the Rangers. Major Kenosha-based brands like Jockey and Haribo are now represented proudly all over Parkside's athletic facilities.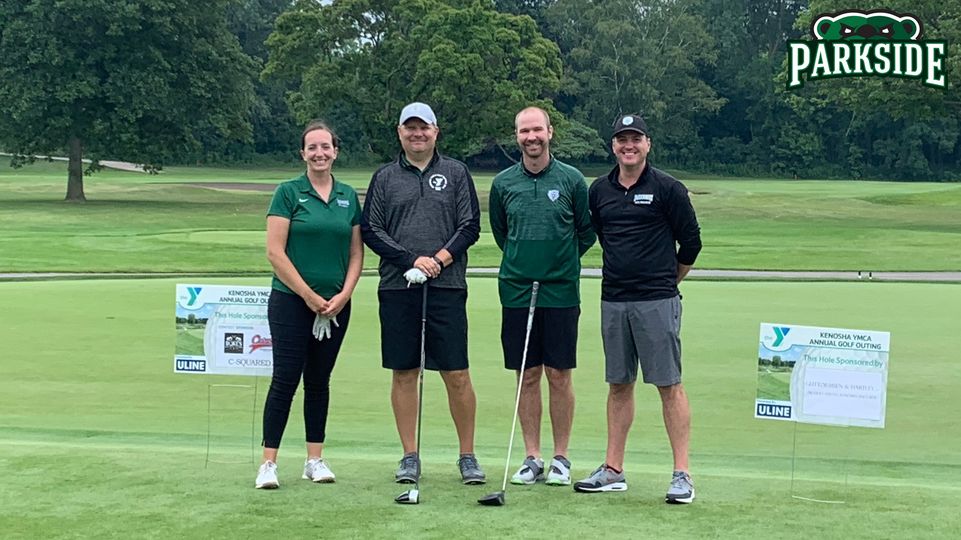 In his speech Tuesday, Gavin said the thing he's most proud of during his tenure is increasing the value of Parkside athletics.
"I think there's a different value on Parkside athletics today than there was in 2017," he said. "There'a a different value on our campus, there's a different understanding on our campus of what a high-level athletics department can bring to an institution.
"… Because Parkside athletics is valuable, it is worth your continued investment. So to our campus colleagues, faculty and staff members, cabinet, please continue to do what I think you've done really well for the last five-and-a-half years, is collaborate together to invest in each other, to invest in Parkside athletics and student-athletes."
And it's the student-athletes who ultimately make college athletics go.
Chancellor Debbie Ford, who herself will be departing Parkside following the school year, pointed out Tuesday that under Gavin, the Rangers had an average grade-point average for each team "well over 3.0."
"It's the highest in the history (of Parkside athletics)," Ford proudly stated.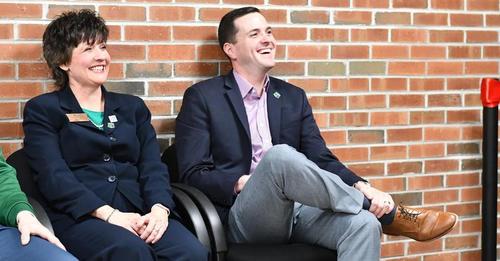 "They're rock stars," Gavin said of Parkside's student-athletes. "They're incredible representatives for our university and our athletics department. The group of student-athletes that we have and have had for decades, they're phenomenal.
"They're hard-working, they're committed, they pull for each other, they do everything they need to do to be successful at Parkside. That's really something to be commended. It's been really fun to get to support them here."
Gavin made sure to point out that Parkside's athletic department has had a long record of success that stretches back decades before he arrived and that the school's alumni have long been proud of that. But he just felt their story needed to be told more, something he always stressed throughout his tenure.
Becker, arguably the greatest student-athlete in program history, won three straight NCAA Division II national wrestling championships at Parkside from 2016-18, going a perfect 89-0 in his collegiate career. Now he sees the impact of Gavin's storytelling approach from a coach's perspective.
"I think we needed that one puzzle-piece that fit everything together," Becker said. "And Andrew was that guy for Parkside, to bring the whole athletic department together with the community and the state of Wisconsin and surrounding areas.
"Obviously, now, we're kind of seeing that all come to fruition and seeing the results of that."
Moving forward
Needless to say, while everyone at Parkside is thrilled for Gavin to be moving on to a Division I opportunity, they're all sad to see him leave.
But he's built such a solid foundation and hired so many great people at Parkside that whoever follows him has so much to work with. The school has not yet released details of its pending search to replace Gavin, but whoever it is will find the athletic department in a position light-years better than it was when Gavin took over in 2017.
"Andrew's done a great job hiring great people, and you win with people," Conely said. "And we've got great people."
There is still much work to be done, however, most notably the same types of upgrades to the outdoor facilities that the indoor facilities received under Phase I of the RangerVision 2020 project.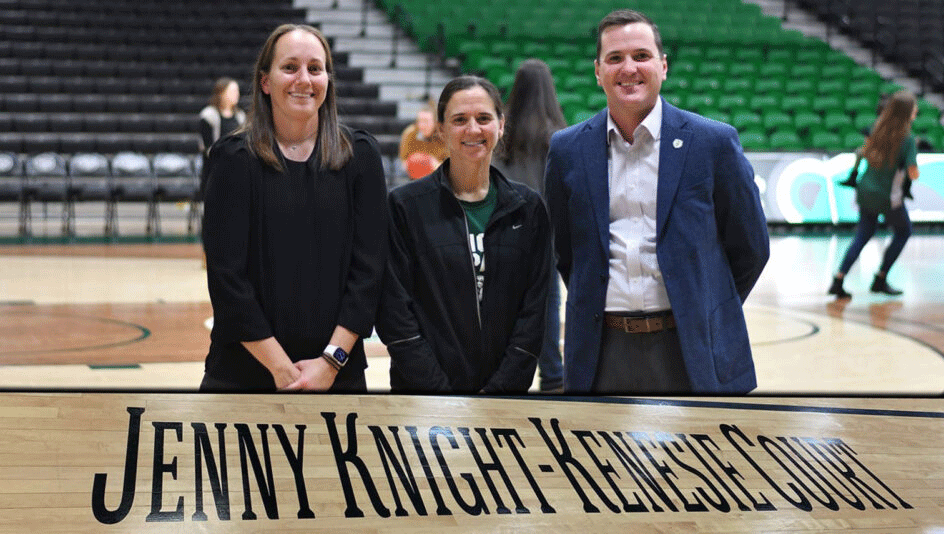 "The goal for the next athletic director is to take this program even higher," Ford said. "With the coaches, with the commitment of our student-athletes, with the support of our community of champions, and with our faculty and staff here at UW-Parkside, we can do it. No doubt."
For Gavin, meanwhile, his challenge is now to bring the same sweeping success he brought to Parkside to SIU-Edwardsville.
And if the mark of success in sports is strictly wins and losses, then Gavin certainly went out with a bang at Parkside. From that postseason-ban debut of 2017-18, Gavin's final campaign in 2022-23 included an unforgettable run to the NCAA Division II Tournament Sweet 16 for the men's soccer team, an NSIC regular-season title for the wrestling team and a GLIAC regular-season title for the men's basketball team.
Talk about leaving on a high note.
"It just means so much, and we're really appreciative of that, so I thank you all for that," Gavin said in his closing remarks Tuesday. "You talk about bringing work and family together, I think that's something that college athletics does really well in general. Nobody does it better than here.
"And Kenosha's a big part of that. It's home, and we really appreciate it."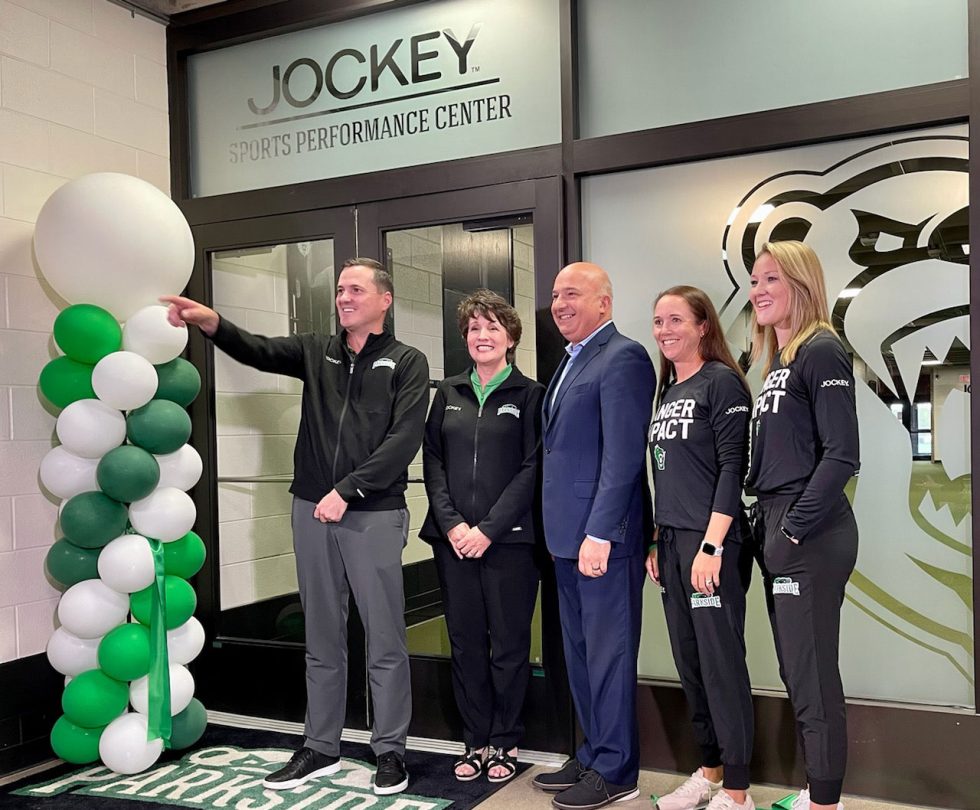 WHAT THEY'RE SAYING ABOUT ANDREW GAVIN
Jake Sutter (Assistant Athletic Director/Advancements & Partnerships):
"Before him, we had no GA (graduate assistant) program. So these people are now trailblazers in the college athletics industry, which is a very unique industry. Thank you, Andrew, for providing the opportunity to learn and grow here."
Debbie Ford (Chancellor):
"We are so appreciative of Andrew and his leadership here as our Director of Athletics. One of the best hires I've ever made. Even though he's moving on, we are so pleased with how he transformed Ranger athletics at UW-Parkside. … Andrew continues to keep students at the center of his decision-making, and we could not be more proud of his success. He will be missed."
Leigh Barea (head women's volleyball coach):
"I was his first head-coaching hire here. I was just a young coach that didn't really know what (I) was doing. But he told me from the get-go that he was going to do it together (with me), and that's what it was. Whatever I needed, whenever I needed it … he was there, always supporting me. It wasn't like a boss (talking) down a level. We were working side-by-side every single day. He was always finding ways."
Jen Conely (head women's basketball coach):
"The culture piece has been really important. Parkside is the fourth school that I've worked at, and (Gavin was) the first AD that's ever asked, 'What do you need?' He really cares about his staff. … That just meant the world."
Brittany Nikolic (head women's soccer coach):
"Both with Chancellor Ford and with Andrew, we just feel like everything's been moving in the right direction, great progress, and we just want to keep it going. … It's a much more attractive position than it was when he started, so that's going to make it a really great job for somebody."
Nick Maas (head cross country/track and field coach):
"I've been doing this for almost 20 years now (at) multiple different schools, and this is the first place where I've been where I feel like everybody cooperates, works together and is valued the same way. I think a lot of that just comes from his energy and his vision for what Parkside should look like."
Mark Olsen (men's golf volunteer assistant coach, head men's golf coach for 17 seasons):
"It's amazing. He just did a wonderful job. He's going to leave a legacy here that's going to be hard to match by anybody else. I just never thought it would be possible to activate the community like he was able to do and get the funds and the donations and make it all work and sell it. It's just been a great thing for the athletic department here at Parkside."
Kristin Ortman (head softball coach):
"Just his support for our athletes and the staff, and seeing what he's done for our facilities — especially for our program, adding the (indoor) turf room has been awesome. He's always been there for us and fights hard for us and has always had our back. He's just been a really great leader for us."
Carly Fehler (head strength and conditioning coach):
"This is a very unique place, not only in athletics, but especially in Division II. It's really a testament to the standard that Andrew has set, that created this culture. To be honest with you, I think that's the biggest thing that people are hoping to be able to carry on now that he's moving on. I think we just want to continue that family-type of atmosphere that we have here, because it's part of what makes this place really special."
Luke Reigel (head men's basketball coach):
"There have been some tough stretches throughout the years, and I'm very happy that Andrew was here to turn things around. He is an outstanding leader and an outstanding person, and me and my family will forever be grateful for his time at Parkside."
NOTE: To nominate a Kenoshan of the Week, click HERE or email Andrew@Kenosha.com.