The annual Visit Pleasant Prairie Egg Hunt — a one-of-a-kind interactive eggs-perience — is taking place through Easter Sunday (April 9).
There are two easy ways to enter:
Head to VisitPleasantPrairie.com/VPPEggHunt to submit your name and email address to be entered to win. Yes, it's really that easy!
More than 30 Village businesses have each decorated a large egg poster for you to find! Find the egg, snap a pic (selfie or not), and post it to your Instagram feed using #VisitPleasantPrairie and #VPPEggHunt.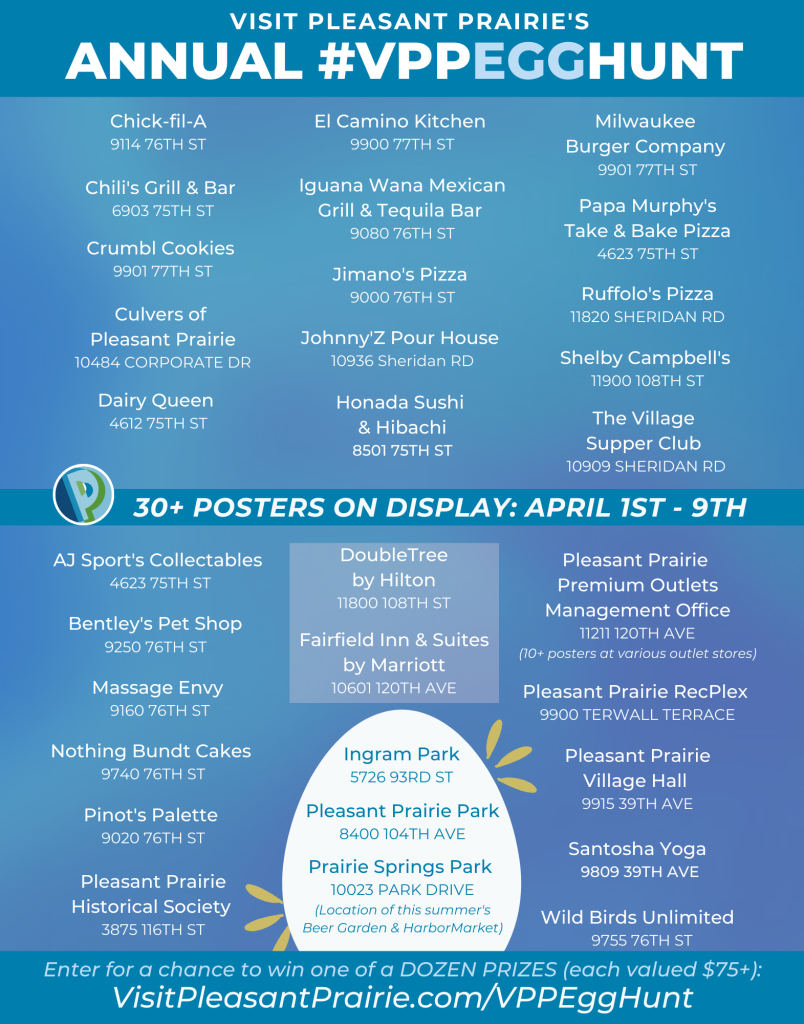 Make sure your Instagram profile is public so we can count your entries! Each Instagram post of a different business poster is considered an additional entry. If you find a Golden egg it counts as five bonus entries! Can you "catch 'em all?"
Each egg poster is unique and worth the stop. Egg posters can be found in storefronts. Be sure to support our local businesses while on the hunt!
Fill out our form HERE to enter our drawing for one of a dozen prizes to win (each package is valued at over $75).
Qualifying bonus entries posted to Instagram between noon Saturday (April 1) and 11:59 p.m. Sunday (April 9) will be eligible. Twelve winners will be electronically drawn at random and announced at 5 p.m. Wednesday, April 12 on VisitPleasantPrairie.com/VPPEggHunt.