For any fowl that may be in danger in the vicinity of Green Bay Road, don't worry.
You have one heck of a wing man in Kenosha's Chad Nate.
For the second time in recent memory, Nate proved to be a friend to local fowl, and this time his act of kindness was caught on the body-camera footage of Kenosha County Sheriff's Deputy Korin Bourdo, who was equally up to the task in a little wildlife rescue.
On Tuesday (March 21), Nate was driving east on Highway S (Washington Road), approaching the intersection with Green Bay Road near the entrance to Wal-Mart, when he heard a thud on the top of his truck.
That thud was a hawk, which may have been swooping down to snatch something from the median when it collided with the top of Nate's truck. The hawk lay flopping in the gutter near the truck, but if you thought Nate would just drive away and shrug off the incident as yet another collision on the intersection between man and nature, think again.
About two years ago, Nate said he and his wife were driving on Green Bay Road, in the same area near Wal-Mart, when a mother duck and her 12 ducklings emerged from a wooded area to cross the busy thoroughfare. So Nate got out and literally stopped traffic on Green Bay Road to help the ducks cross safely to a nearby pond.
On Tuesday, it was an injured hawk's turn to receive Nate's birdly beneficence.
"I'm like the 'bird whisperer,'" joked the 46-year-old Nate, a northside Kenosha resident who works as a superintendent for Stuckey Construction of Waukegan, Ill. — the company he's been with for 23 years — and supervised the construction of Kenosha Fire Station Nos. 1 and 4.
After observing the injured hawk struggling after hitting the roof of his truck on Tuesday, Nate said he pulled into the median and got out to check on the bird. The hawk then scooted across Highway S, just east of Sunset Ridge Memorial Park.
Nate grew up on a farm in a small town just south of Green Bay, so he has experience handling chickens. He said he approached the hawk from behind so it couldn't see him and grabbed it so as to contain its wings.
That first attempt resulted in a mild injury to Nate.
"It flipped over quick and caught me in the hand with its talons," he said. "I'm like shaking the thing off of my hand, and it caught me good. I was bleeding pretty good on my hand. And then it went back down, and I was able to kind of hold it down without getting spiked again. It latched onto my arm. It got mostly my shirt then, but I had a couple scratches on my arm."
What compelled Nate to get out and help the hawk?
"I wasn't going to let something like that (lay there)," he said. "It was a beautiful bird, beautiful hawk. … When I got up and looked at it, it just had a broken wing. It wasn't like it was half-dead or something like that."
By that point, Bourdo had pulled up behind Nate's truck, still parked in the median. To the sheriff's deputy, at first glance the strange scene appeared to be a man who had parked his truck in the median and was wandering about on the side of the road.
"It was a weird sight, because traffic was stopped, so obviously that got my interest," Bourdo said. "But then I saw this hawk flopping in the road and (Nate) chasing it as it was trying to run away from him, so it was pretty comical.
"… I've never dealt with a hawk before."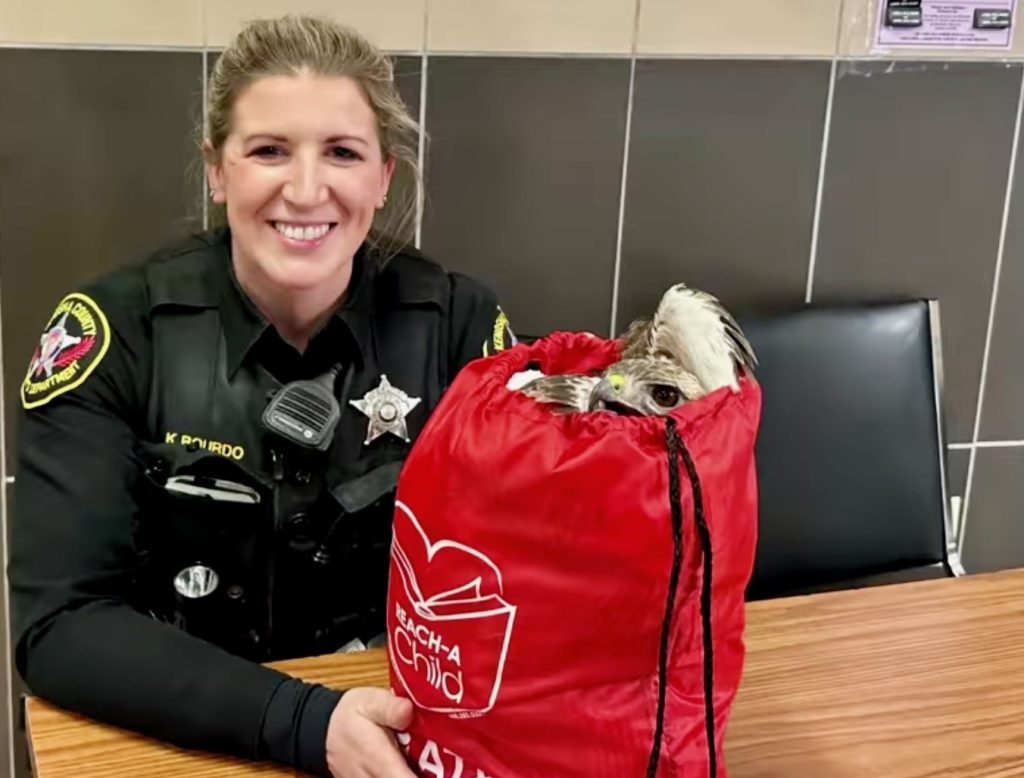 Nate quickly explained what he was doing, and Bourdo jumped right in to assist the situation. Fortunately, the hawk was not injured beyond a broken wing, which spared Bourdo the unfortunate task of having to do what law enforcement personnel sometimes must do with badly injured roadside animals, which is — and there's no easy way to say this — to end their misery.
Instead, Bourdo and Nate put a blanket down in Nate's truck and wrapped the hawk in the blanket, but they realized that it would probably panic and try to escape. So Bourdo gathered up a drawstring bag she found in her car, and they got the hawk secured in the bag so it couldn't escape.
"We made due with a cinch-bag and a blanket," Bourdo said.
Added Nate: "We put the bird in the drawstring, and I pulled it out, and she's like, 'There you go. Bird in a bag,'" Nate said.
Fortunately, Nate's calm demeanor and previous experience with animals really saved the day.
"Thank God for him. He's the true 'G.O.A.T.' (greatest of all-time) in this situation," Bourdo said. "I would've been terrified to put my hands on it. 
"I'll put my hands on a guy that has a weapon, but a thing with talons? That's a whole different story."
Now calm and comfortable, the injured hawk was transported to the Kenosha Public Safety Building, where it was picked up by Fellow Mortals Wildlife Hospital of Lake Geneva, which will rehabilitate the hawk and release it back into the wild upon healing.
"I'm glad I was able to move it to a place where it could be rehabilitated," Bourdo said.
Nate even called Fellow Mortals to check up on the hawk and discovered that it was a male and at least 20 years old.
"I didn't even know that they lived that long," Nate said.
Nate also said Fellow Mortals told him the hawk made it through the night Tuesday. It suffered a compound fracture in its wing, but Nate was told it was scheduled to undergo surgery on Friday and is hoping for a full recovery.
"They said their surgeon that does their pro bono stuff is really, really good with stuff like this," Nate said.
Bourdo called the hawk rescue certainly one of the more interesting things she's done on patrol. Now, maybe she'll be pigeon-holed — pardon that pun — into helping with wildlife rescue, as her Sheriff's Department colleagues teased her during training classes on Friday.
"There was actually a hawk that flew over while we were outside, and everybody's like, 'Bourdo, you got this?'" Bourdo said with a laugh.
As for Nate, his act of kindness made him an instant hit. Bourdo's body-cam footage of the incident has received tons of views on the Sheriff's Department's Facebook page, and TMJ4 of Milwaukee even showed the footage on a newscast.
"I had to call my grandma right away and tell her that her grandson was famous," Nate said.
Merely famous among humans, perhaps. But a legend among the birds.