There might be no more deserving candidate in all of Kenosha to receive the Susan B. Anthony Women of Influence Lifetime Achievement Award than Ardis Mahone-Mosley.
But in preparation to receive this much-deserved award on Friday night (March 24) at UW-Parkside's DeSimone Arena, there's one thing you can be certain that Mahone-Mosley won't be doing.
She won't be getting her nails done.
You see, in her free time, Mahone-Mosley loves gardening, specifically growing vegetables. Admittedly, she loves to play in the dirt, and at 73 years old now, she jokes that she's too old for fancy nailwork, anyway.
"I love vegetables, and I love to play in the dirt," said Mahone-Mosley, a longtime community activist, volunteer and mentor, in a phone interview Wednesday afternoon that was simultaneously inspiring, enlightening and humorous. "… That's why I'll never go to the manicurist and get fake nails or what have you. I love playing in the dirt.
"… I used to polish my nails when I was in my 20s. That was 'used to.' I don't have time for that stuff."
All joking aside, that last statement is true, because Mahone-Mosley spends almost all her time trying to make Kenosha the best place it can be. That's why she'll be honored Friday night during the Susan B. Anthony Awards Dinner with the Women of Influence Lifetime Achievement Award.
That's also why Mahone-Mosley has been named the Kenosha.com Kenoshan of the Week.
Family history
Among a long list of community activist endeavors, Mahone-Mosley is the parent/teacher liaison at Lincoln Middle School, founded and leads the "Dream Girls" after-school program at Lincoln for female student mentorships on everything from academics to the challenges of everyday life and is also a founding leader of the soon-to-open Kenosha Emerging Leaders Academy, which is expected to serve as a place of learning, training and skill-building for youth and young adults in Kenosha.
According to her nomination for the Susan B. Anthony Women of Influence Lifetime Achievement Award, "Mahone-Mosley has dedicated her life to motivating and uplifting Kenosha's youth through her many volunteer roles."
"The depth and breadth of Ardis's devotion and passion to the Kenosha community and to making a difference in future generations is inspiring," says Amanda Blommel, chair of the Susan B. Anthony Women of Influence Awards Committee.
Of course, Kenosha residents familiar with Mahone-Mosley's prominent family wouldn't be surprised by how much she does for the community. And if you're not familiar with the Mahone family, you probably haven't been in Kenosha too long, considering Mahone Middle School is named after Mahone-Mosley's mother, Mary Lou Mahone.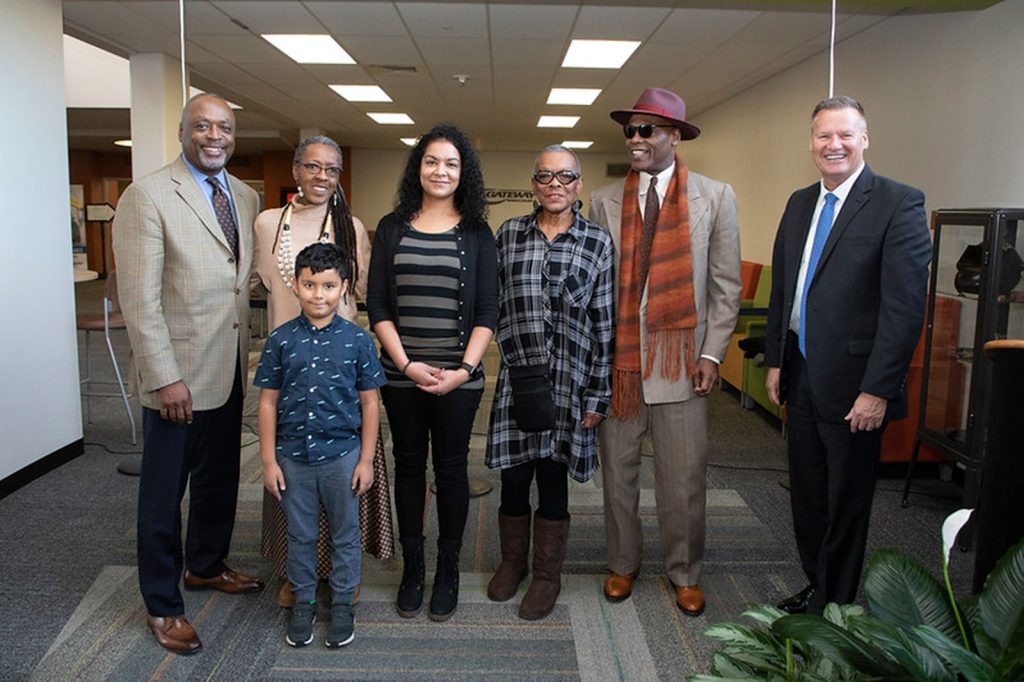 As many know, Mahone-Mosley, born and raised in Kenosha, and her family established the Mary Lou and Arthur F. Mahone Fund — named after her parents — in 1999, which provides educational opportunities for economically and academically deserving youth and healthy lifestyle initiatives for people of color.
It would require entirely separate stories to adequately write about everything Mary Lou and Arthur Mahone did for Kenosha in their time. Mary Lou broke many social barriers as a Black woman by serving in countless leadership positions in Kenosha, while Arthur was a longtime welding instructor at Gateway Technical College who mentored many young men from all walks of life through the martial arts.
So when asked why she's done what she has in the community all these years, Ardis Mahone-Mosley said the answer is simple.
"I was raised this way," she said. "Mary Lou and Arthur raised their children to be activists. We were the kids that when someone bullied another child, we stepped up to the plate to say, 'Get away. Leave them alone.' We've always been the kind of kids that would say, 'Can I help you?' We were always the kids that were always polite to people.
"We were always the kids who our father would get after us when we did wrong. We were the children who Mom would say, 'Go next door and help so-and-so do whatever has to be done with their house.'"
That's not to say that Mahone-Mosley — who attended the old Weiskopf School and then Washington Middle School before graduating from Bradford High School in 1967 — and her eight siblings still weren't regular kids.
"We were still kids that were mischievous," Mahone-Mosley said. "We were still mischievous children. But we knew what it meant to help our neighbor, help someone that was walking down the street, help someone who was being abused, help those less fortunate than what we were."
Being honored with the Susan B. Anthony Women of Influence Award is especially fulfilling for Mahone-Mosley. It means she'll join her mother, who was honored with the award posthumously in 2020.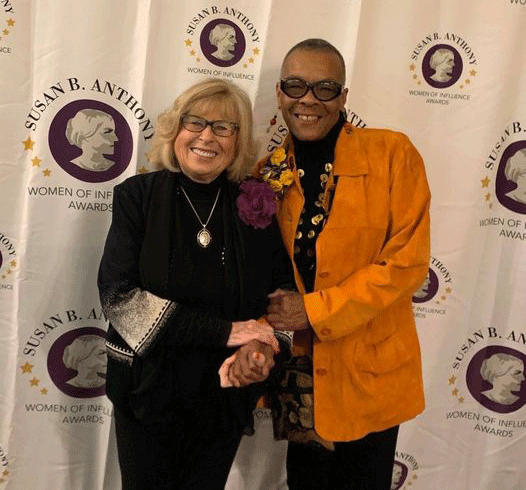 "I just know that my mom is looking down on her children and saying, 'I'm so glad that you've learned a great lesson,'" Mahone-Mosley said. "My father is doing the same. He used to have karate classes with kids out in the neighborhood. If they acted up, he would chastise them, and they would hold their head down, because they did not want Mr. Mahone to be disappointed in them."
And just like her mother, Mahone-Mosley has proven her entire life that women can do anything they set out to accomplish. Which, of course, is what Susan B. Anthony did during her own lifetime as a women's rights and social equality activist.
"Susan B. was a strong woman during her time," Mahone-Mosley said. "She could've been a woman that could've been strung up from a tree, even though she was white. Men did not want women to be as we're supposed to be, human beings, with the right to vote, with the right to have a job, with the right to say no to anything.
"… I'm here to teach, not just the girls, but to teach our young folks that you can have whatever you want. And you can get it. But you have to have that education."
Passion for helping youth
If you ask Mahone-Mosley to share her thoughts on where Kenosha is and where it's headed, specifically relating to its youth, it becomes immediately apparent how serious and passionate she is.
She doesn't mince words or meander to make her points. She calls it like she sees it.
For starters, Mahone-Mosley tells kids that things in life are earned, not deserved, and that they can't gain respect without giving it.
"Our kids feel as if, 'I deserve this.' No, you don't deserve it," she states with conviction. "I tell our kids that they think that life is just about them. And it's not.
"When you can't say please and thank you, when you can't just humbly help someone and not expect anything in return, when you go to school and you disrespect your teachers because you think you can — no, unacceptable. Unacceptable."
Recent years, of course, have been trying for Kenosha, with the COVID-19 pandemic and the riots and civil unrest of August 2020 creating tension and prompting some difficult, uncomfortable conversations. That's why having leaders like Mahone-Mosley in the community is so important, because they aren't afraid to have those conversations.
Without getting stuck on political talking points or "taking sides," so to speak, Mahone-Mosley said she felt the anger as much as anyone in August 2020, as she watched a gas station on the corner near her home get set on fire.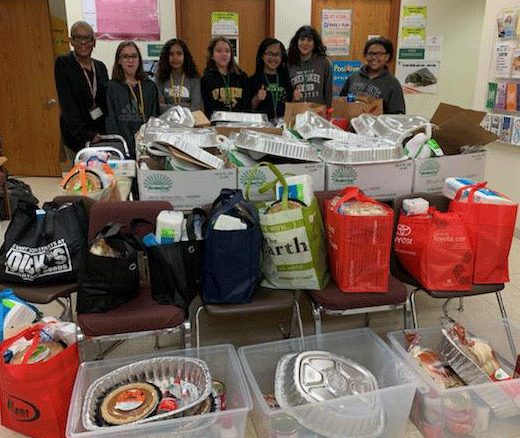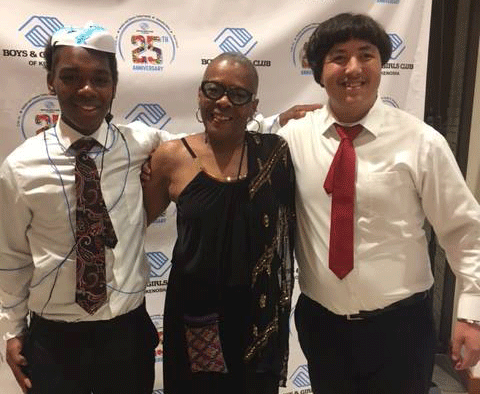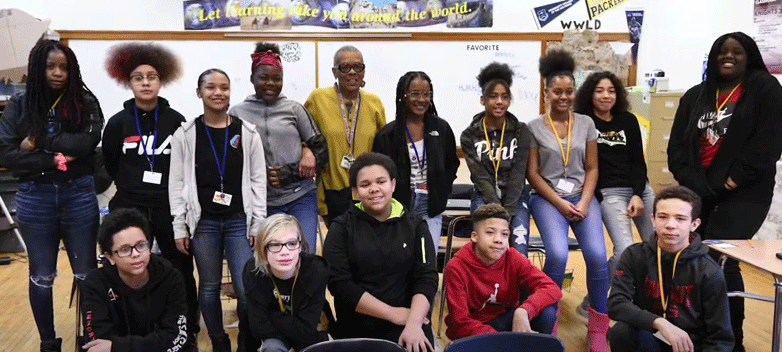 "The anger, the resentment, the small-mindedness," she said. "How dare someone from out of the City of Kenosha come here trying to burn it down? How dare we as citizens of this city not make them be held accountable, and those who invited them into town accountable?"
And while Kenosha continues to move on from those trying times and rebuild areas that were damaged or destroyed, Mahone-Mosley hopes the lessons that needed to be learned won't be forgotten. She's concerned that has already happened among the city's youth.
"I think some lessons could have been taught to our children (on) what this is all about, what it was all about," Mahone-Mosley said. "I don't think we are being honest with each other about how and why it happened.
"… How do we tell our kids that it's not OK to burn a building down and to use guns and what have you, weapons, against each other, so that you can have a healthy life? How do you take their parents and bring them in that circle so they can start doing what is needed as parents?"
But while Mahone-Mosley won't hesitate to tell kids exactly what they need to hear, not what they want to hear, it all comes from a place of love. She has two children and five grandchildren, who live out of state, of her own.
Mahone-Mosley aims to teach all children that true happiness doesn't come from money, looks, possessions or athletic talent. It starts with loving themselves and their neighbors and being happy with who they are as people.
"Not everybody can play ball, not everybody can sing, not everybody can act," Mahone-Mosley said. "There's nothing wrong with being a mechanic. You can make great money being a mechanic. You've just got to be good at it.
"… I tell my kids at school, I have them look at a mirror: 'What do you see in the mirror?' 'I see me.' 'OK, do you like you?' … We have to start teaching our children to love themselves. We have to show them the value of what love is."
Other honorees
In addition to Mahone-Mosley's Lifetime Achievement Award, other Susan B. Anthony Women of Influence Awards will be presented on Friday night to Jean Moran, founder of Building Our Future, in the category of Business/Government/Nonprofit; Deborah Ford, UW-Parkside Chancellor, in the category of Arts/Education; and Brandi Cummings, Head of Community Programs and Partnerships for the Kenosha Public Library, in the category of Woman to Watch (for women under 40).
The money raised at Friday's event will be awarded to local nonprofit organizations serving girls and/or women and their families in Kenosha, as well as scholarships for non-traditional-aged female students.
Heather Krome has been selected as the 2023 scholarship winner. Krome is pursuing a degree in social work from Aurora University.
The nonprofit organizations selected to receive funds in 2023 are Hospice Alliance for its connections program, Shalom Center for shelter bus tokens, Society's Assets for its transitioning to a stable home program, United Way of Kenosha for its VITA (volunteer income tax assistance) program and Women's and Children's Horizons for shelter playspace upgrades.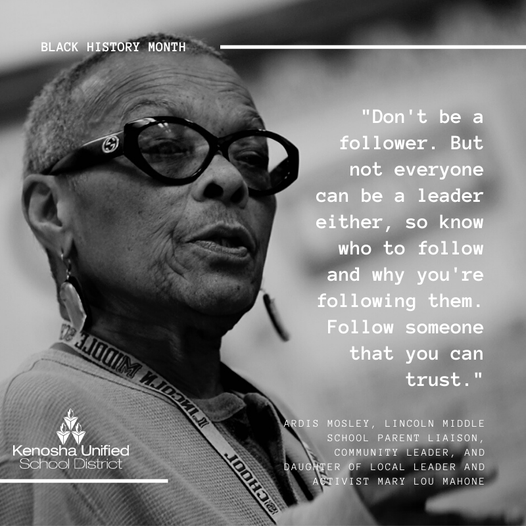 In total, Friday's event is a wonderful way to honor the many women who have done so much to make Kenosha a better place.
There's no better example of that than Ardis Mahone-Mosley, who really doesn't need any fancy manicure to announce her presence Friday night, after all. Her dedication, commitment and years of service to Kenosha speak loudly enough for the legacy of Mahone-Mosley and her entire family.
It's a lifetime achievement award for someone who's dedicated a lifetime to helping others. And she's far from done.
"No one's looking for an award or a hoopla," Mahone-Mosley said. "My mom and dad walked me into this. … What I do is fun, because I get to wake up in the morning and say, 'Touchdown! I've helped someone today.' I'm helping these children, I'm helping their parents, and I'm also helping to improve our community.
"… There should not be one hungry person in Kenosha. There should not be one homeless person in Kenosha. There should not be one person that has mental health (issues) begging just to go in to get some kind of mental health treatment. I, or anyone, should not have to ask for a job. But then I, as a human being, should not be too proud to take any job to help me get to where I want to be.
"I just think that Susan B. Anthony had what it takes to push those agendas, and (we) need to push them hard."