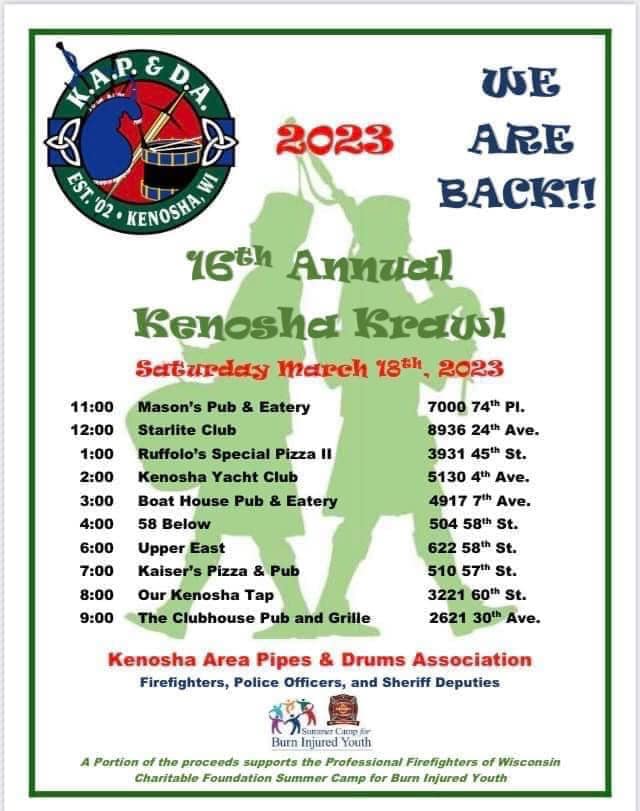 A popular, local St. Patrick's Day celebration is returning following a three-year hiatus on Saturday (March 18).
The Kenosha Area Pipes and Drums Association Kenosha Krawl kicks off at 11 a.m. Saturday with an all-day, citywide musical tour of local businesses.
KAPDA hasn't performed since 2019 due to COVID-19 and safety restrictions.
"It's been a tradition in Kenosha," said Matt Martin, a former Kenosha Fire Department Lieutenant and KAPDA Pipe Major. "People are really looking forward to it."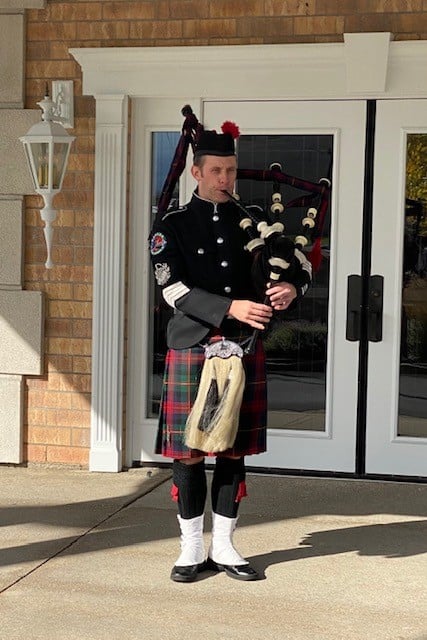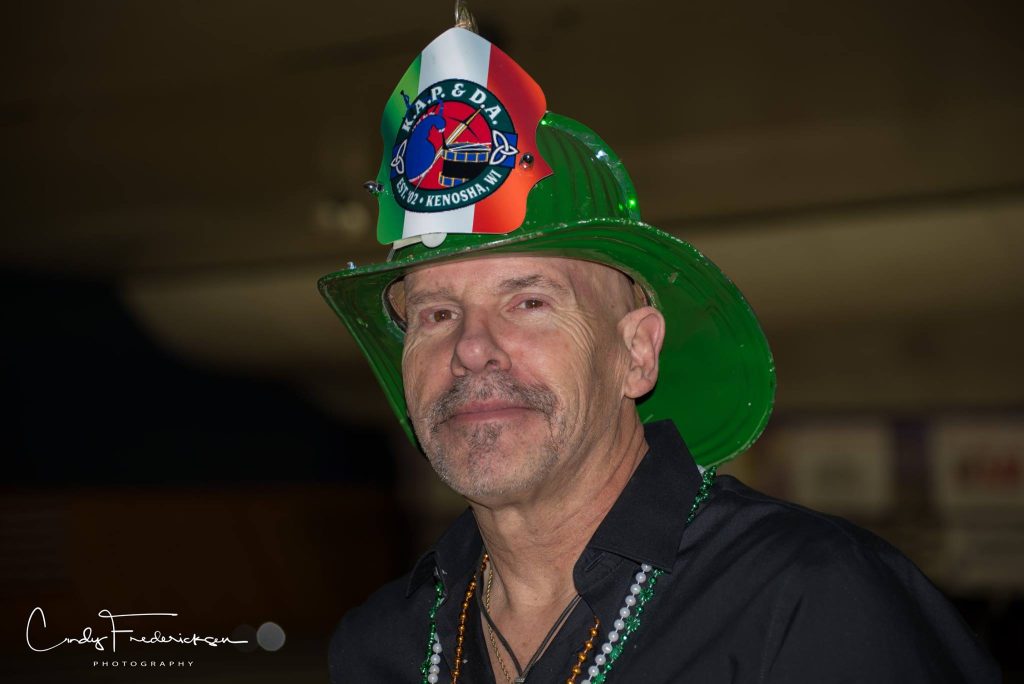 KAPDA was founded in 2002 to honor fallen law enforcement officers and firefighters who have given their lives to service in the community. The group is composed of local police and fire personnel and civilians.
This year's tour starts at Mason's Eatery & Pub, 7000 74th Place and continues with top-of-the-hour stops scheduled throughout Kenosha. A 9 p.m. finale is scheduled at the Clubhouse Pub & Grille, 2621 30th Ave.
Twenty kilt-wearing members perform 27-minute sets at each visit, including a tear-jerking rendition of "Amazing Grace."
KAPDA Al Carr is a retired Kenosha Fire Department captain who serves as the band's emcee. Carr introduces the band at each stop, reveals its mission and invites everyone to raise their glasses to "Amazing Grace."
That's the moment the green beers add a couple teardrops.
"It goes from a party atmosphere to reflecting," Martin said. "What they're reflecting on we don't know. It could be a loved one they've lost.
KAPDA immediately follows "Amazing Grace" with their finest rendition of "Cajun Grace," a fun, uptempo version of the song that brings the party back to life.
"It's an emotional roller coaster for us, but very rewarding," Martin said. "It's something we're very passionate about."
The band has been practicing once a week since January at Piasecki Funeral Home's new carriage house located at 3720 39th Avenue.
"We've been able to use it as our new practice location," said Martin, partner and funeral home director at Piasecki. "It's been wonderful."