This Friday (March 10), from 8 p.m.-1 a.m., the Kenosha Creative Space will host an event for all ages and all dance experience levels to dance to the styles of Bachata, Cumbia, Banda, Salsa, Merengue, Reggaeton and more.
At 8 p.m., dance instructor Erica Ness (who also hosts Salsa & Taco Tuesday dance classes every week at the Space), will teach a class in Salsa and Bachata in Spanish and English.
From 9 p.m.-1 a.m., DJ Rick, visiting from Milwaukee, will play Latin music for an incredible "social dance" experience.
For those who don't want to dance or need a taco break, Taquizas El Güero, a new Kenosha-based food truck will be serving tacos, tamales, and more throughout the night.
This event is $5 at the door, and all proceeds go to support the amazing work of the Kenosha Creative Space to support local artists and grow the creative economy here in Kenosha.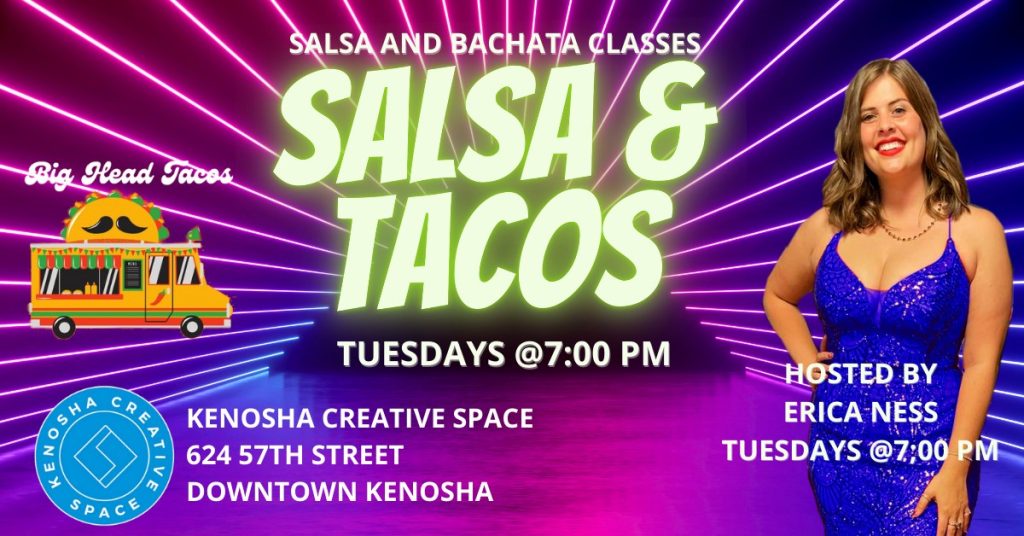 "Whether you are a dancer, a taco lover, a supporter of the arts, or someone who just likes to try new things, this event is for you," Ness said. "This event is family friendly, there will be many amazing dancers for those who are more experienced, and our dedicated team of dance instructors will be there all night to help new dancers learn, even after the class is over."
Can't get enough of Latin dance? In addition to Friday's event, Salsa & Taco Tuesday dance classes are every Tuesday night from 7-10 p.m. at the Kenosha Creative Space. Every Tuesday, a talented dance instructor hosts a class at 7 and 8 p.m. (typically a Salsa and Bachata class), followed by social dancing and tacos.
This is the Kenosha Creative Space's fourth "Vamos a Bailar" dance event, and more will be held throughout the year. Follow Kenosha Creative Space on Facebook and Instagram to learn more.