Somers Elementary School and Root-Pike Watershed Initiative Network (WIN) have announced a partnership to restore 2,000 square feet of native prairie on the Somers Elementary School campus.
As part of the partnership, Root-Pike WIN has secured $10,000 in grants to restore an unused area on the southwest corner of the campus suffering from stormwater runoff issues. The Patch will create a new learning environment right outside students' classrooms, reduce mowing costs, and increase habitat for endangered pollinators.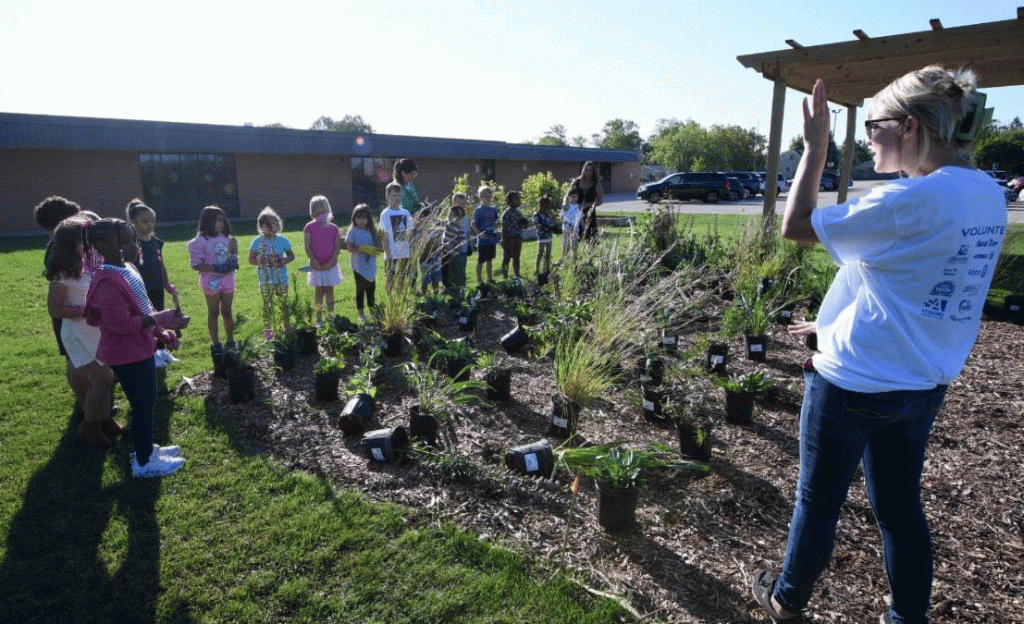 "This opportunity will allow the students at Somers to participate in ongoing caring for our campus," Somers Elementary School Principal Anisa Diaz said. "The Pollinator Patch will help kids understand the diversity of our local land and water connections.
Root-Pike WIN was recently awarded two grants to implement their Pollinator Patch Program on the Somers Elementary campus. $8,000 was awarded from the Western Great Lakes Bird and Bat Observatory / National Fish and Wildlife Foundation. Root-Pike WIN also received $2,000 from the Natural Resources Foundation of Wisconsin's C.D. Besadny Conservation Grants for the Pollinator Patch Program.
"The program allows students to connect with Wisconsin's natural heritage on a daily basis, and brings awareness of how native plants in the landscape help keep our water clean and support pollinator conservation," said Kristi Heuser, Pollinator Patch Program Manager.
The Pollinator Patch Program was created to get kids more involved in their natural community, enhance habitats for threatened pollinators, and rally together to do good in our world. Reducing turf or "lawn" monoculture also reduces runoff pollutants flowing into Kenosha's rivers and lessens mowing costs for the Kenosha Unified School District.
Root-Pike WIN created its first Pollinator Patch at Bose Elementary School in 2022 and has significant Pollinator Patch work in-progress at the University of Wisconsin-Parkside.
Root-Pike WIN will be working with the Somers Elementary faculty to prepare, plant, and integrate local watershed curriculum starting this spring. Root-Pike WIN will be managing the grant funds, planting process, maintenance activities, and educational touch points.
"I am excited to have a place where all of Somers students and staff can learn about pollinators, water quality, and native plants right outside the classroom windows and easily accessible on our school grounds," Somers Elementary teacher Justine Jerry said.
The Pollinator Patch Program works to create living places to learn, play and experience southeastern Wisconsin's natural environment through the re-introduction of native plants.
Is your school, church, municipality, or company interested in a Patch? Contact us today!