As a strong advocate of singing to build community, University of Missouri professor Dr. Brandon Boyd felt right at home on Saturday (Feb. 18) at Indian Trail High School.
Boyd, conducting with confidence and passion, guided approximately 750 elementary, middle, high and charter school students to a memorable performance at the 56th Kenosha Unified School District Choral Festival.
"Some of the most unified moments in my life are in choral settings, where it doesn't matter if you're black, blue, pink, purple, white, Hispanic, non-Hispanic," Boyd said. "It brings us together through this commonality of music."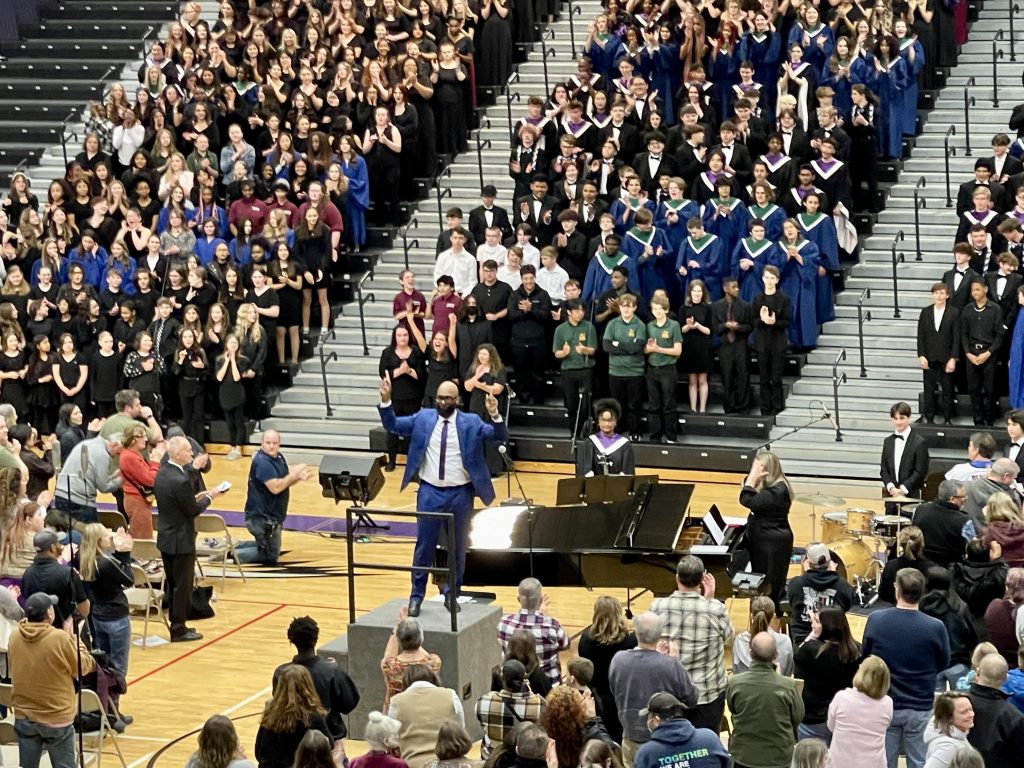 The 16-song lineup concluded with Boyd's original "Sign Me Up" from the combined festival chorus. Written from a gospel song he learned as child, Boyd connected with the crowd and lifted students to deliver one of the night's shining moments.
Boyd addressed the crowd before the finale and credited Kenosha Unified Coordinator of Fine Arts Scott Plank, local directors, parents and students. He expressed his appreciation and described the event as a "well-oiled machine."
"I do a lot of these," Boyd said. "They're never this smooth."
Plank said it was a proud moment watching the students deliver Boyd's own song with precision and passion, evoking participation from the crowd and a rousing ovation.
"It was fantastic," said Plank, who served as master of ceremonies. "It's always great when you have a guest artist with a piece like that, with that kind of power."
Kenosha Unified directors included Bradley Mann, Bradford High School and Bullen Middle School; Kristen Singer, Harborside Academy; John Choi, Indian Trail High School and Academy; Polly Amborn, Tremper High School; Brianna Santelli, Lance Middle School; Emily Armbrecht, Lincoln Middle School; Beth Herrendeen-Smith, Mahone Middle School; and Shannon Robertson, Kenosha Technology Enhanced Curriculum.
Singer served as accompanist for the festival.