Valentine's Day was a sweet one this year for Sydney Ludvigsen.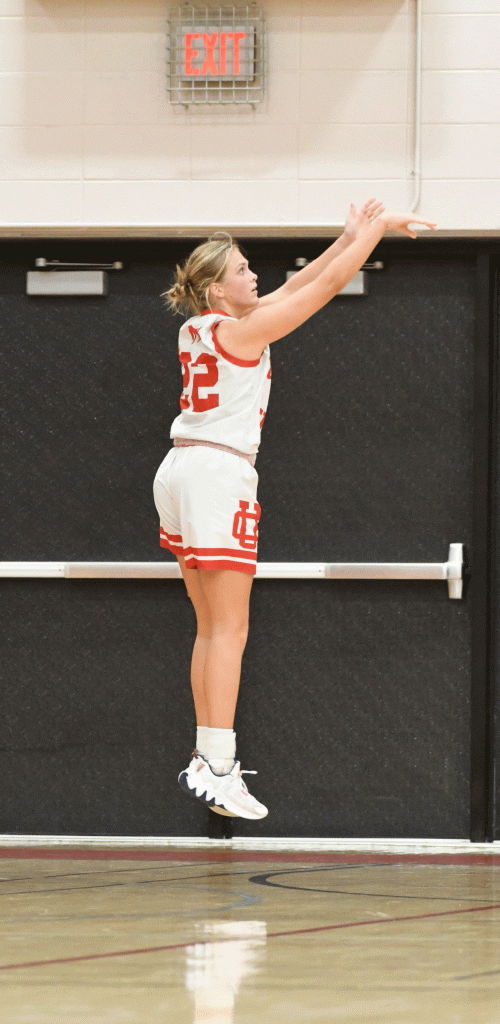 And we're not talking in the traditional manner of cards, flowers or boxes of chocolates. We're talking about reaching milestones on the basketball court.
Actually, one of the milestones was even something of a Valentine's Day surprise.
Last week Tuesday, Feb. 14, Ludvigsen — a senior shooting guard for the Union Grove High School girls basketball team — had a night for the ages in the Broncos' 72-41 Southern Lakes Conference home win over Burlington.
Needing 12 points to reach 1,000 for her standout four-year varsity career, Ludvigsen cleared that milestone easily. But she kept on scoring, all the way to the brink of the single-game program scoring record.
Only Ludvigsen didn't know that. So she was a little confused when everyone was yelling at her to shoot in the final minutes of a game her team had long since put in the win column.
"There was like two minutes left and I had the ball, and my coach was screaming at me to shoot," Ludvigsen recalled in a phone interview Thursday afternoon during another nice surprise, a snow day at Union Grove.
"And I was like, 'Why are you screaming? We're up by 30 already. Why do you want me to shoot?' And then I looked at the bench, and (Union Grove senior forward) Sophia Rampulla's screaming, she's like, 'You need one more point. Just shoot the ball!' So I had no idea I was about to break it (the Broncos' single-game scoring mark)."
Well, Ludvigsen heeded everyone's advice and indeed wound up with the record, finishing the game with an amazing 35 points, to go with seven rebounds, seven steals and two blocks.
"I was like, 'Well, someone could've told me that,'" said Ludvigsen, who will play next season at NCAA Division II Walsh University in North Canton, Ohio, of her postgame reaction to the single-game scoring record.
"I didn't know."
A four-year, two-sport standout for the Broncos in volleyball and basketball who's hoping to help lead the state-ranked and top-seeded Union Grove girls basketball team to its first-ever Wisconsin Interscholastic Athletic Association State Tournament berth next month, Ludvigsen has been named this week's Kenosha.com High School Athlete of the Week.
Kenosha resident
Now, before you wonder why a student-athlete from a Racine County high school is being named the Athlete of the Week for Kenosha.com, that isn't a mistake.
Ludvigsen is actually a Kenosha resident.
Her family lives on the north side of town, in the area that includes Kenosha Country Club, Petrifying Springs and UW-Parkside.
Proving that she's a true Kenoshan, Ludvigsen's favorite place here is a popular destination. When it's not snowing out, of course.
"Definitely the beach, I love going to the beach," she said.
Ludvigsen also said she honed her shooting skills as a youngster by going over to Parkside to practice with her dad during the summer, and she said she and her dad go over to Carthage College now to shoot during the summer when the gym is open.
And Ludvigsen's favorite restaurant in Kenosha?
"My friends and I, we really like La Fogata," she said. "That's definitely a favorite."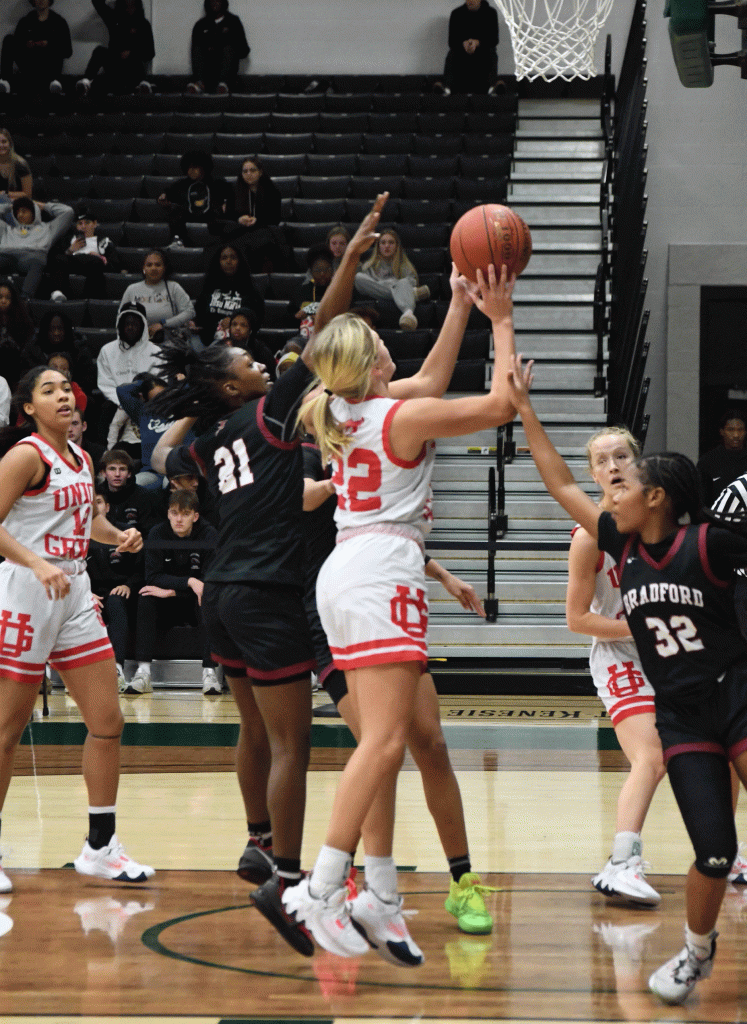 Ludvigsen attended St. Lucy Catholic School in Racine, not far from her home in Kenosha, prior to attending Union Grove for high school. Ludvigsen said she chose Union Grove in part because of athletics and in part because of academics.
On the athletic side, Ludvigsen was a volleyball standout from a young age — she said she always thought she would play volleyball in college, not basketball — and Union Grove was scheduled to have a strong girls volleyball team, including players Ludvigsen had played with in club volleyball, when she was going into high school.
That idea was proven correct, as Ludvigsen was a freshman in 2019 when the Union Grove girls volleyball team reached the WIAA Division 1 State Tournament.
But Ludvigsen's basketball talent had also started to grow in tandem with volleyball. She had played with the Golden Touch Academy club basketball program, helmed by Union Grove head girls basketball coach Rob Domagalski. In fact, two of Ludvigsen's club teammates with that program at one time were current Bradford senior standouts Nevaeh Thomas and Syderah Farmer, both Kenosha.com High School Athletes of the Week earlier this season.
"They're super sweet, and I love them," Ludvigsen said of Thomas and Farmer. "It was definitely fun gaining a friendship from just playing with them for a couple years."
While that pair attended Bradford, Ludvigsen wanted to stick with Domagalski and the Union Grove teammates she had gotten to know at the club level, so she became a Bronco.
In the classroom, meanwhile, Ludvigsen said Union Grove has offered her some anatomy and introduction to nursing courses, which fulfills what's been a lifelong career goal for Ludvigsen. She will study nursing in college at Walsh and said she may become a physician assistant one day.
"My dad's a firefighter and training to be an EMT right now," Ludvigsen said of her interest in nursing. "Whenever he would tell me stories, I'm like, 'Oh, that's so cool.' And then my aunt's a nurse, too.
"So kind of surrounded by it and everything like that. I've always wanted to be a nurse since I was young."
Choosing basketball
Ludvigsen had a standout high school career on the volleyball court at Union Grove, too, as an outside hitter and middle back, earning second-team All-SLC honors as a sophomore and first-team All-SLC honors as both a junior and a senior.
But her love for basketball just kept growing, to the point that she chose to only play club basketball this past summer before her senior year. She had previously played both sports at the club level.
"Playing basketball this summer, I was just thinking one time that if I stopped playing basketball and just decided to play volleyball, I would miss basketball so much more," Ludvigsen said. "I feel like I was pretty equal at both sports, so it could have gone either way, but if I played (only) volleyball, I would miss playing basketball so much more.
"That was kind of the turning point where I was like, 'OK, I want to play basketball instead.'"
Ludvigsen is a dead-eye shooter, which is why it's no surprise that she lists Larry Bird as her favorite athlete. She holds Union Grove's program record for career 3-pointers made with 168 going into the final two regular-season games of this season this weekend.
"I love shooting," Ludvigsen said. "It's one of my favorite things ever, so I would never get bored of it. I think that's what really helped me."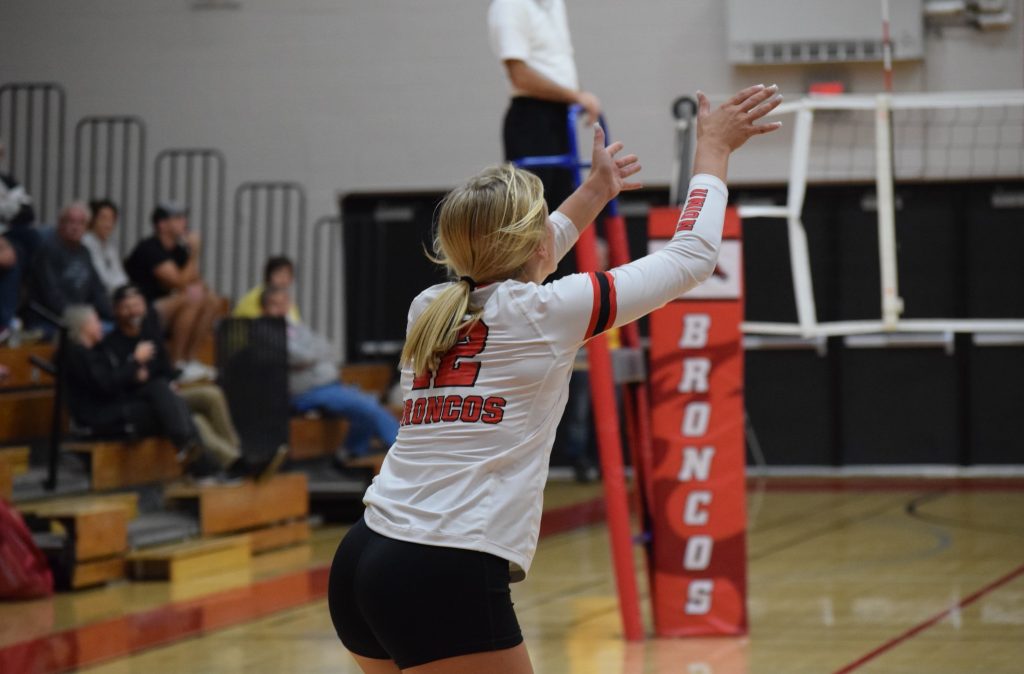 After earning honorable mention All-SLC honors as a sophomore for the 2020-21 season, Ludvigsen moved up to first-team All-SLC as a junior in 2021-22.
She's on pace for high conference honors again this season, as she enters the Broncos' final two regular-season games averaging 15.9 points, 6.0 rebounds, 2.8 steals and 1.4 assists per contest. She's also shooting 81.8 percent from the free-throw line and 31 percent from 3-point range.
Ludvigsen said the idea of being a two-sport athlete in college has occurred to her, but with choosing a Division II program, that means she'll be on scholarship to play basketball at Walsh. Plus, she said, the academic rigors of pursuing a nursing degree make it more manageable to stick to one sport.
As far as choosing Walsh, which competes in the Great Midwest Athletic Conference, Ludvigsen said she started late in the recruiting process. Walsh was actually the last school she visited.
"The coach actually only saw film of me play," Ludvigsen said. "He never saw me in person or anything like that. He offered another girl (a scholarship), but she declined it to go D-I, and then he called me, like, on Tuesday morning and was like, 'Hey, this is the offer. Just let me know in like a week or so.'
"And then the next day, I was like, 'Hey, can I fly out this morning?' And he was like, 'Yep, you can come visit.' So I flew out Wednesday morning, visited. At the airport on my way home, I called him back back, and I was like, 'Yeah, this is where I want to go.' So it was my very last visit."
A shot at state
First, though, Ludvigsen has the remainder of her senior season and is hoping to reach the one goal she hasn't attained in her high school basketball career at Union Grove, reaching the State Tournament.
For years, the Broncos have had one of the best programs in the area under Domagalski. With Ludvigsen and Rampulla, a commit to NCAA Division I UW-Milwaukee, on the varsity roster the last four seasons, Union Grove has compiled an incredible overall record of 85-13 going into this weekend.
The Broncos entered Friday night's SLC finale at home against Delavan-Darien — that game was postponed from Thursday to Friday because of the snow day — at 13-0 in conference play and had long since wrapped up the outright SLC title.
In Ludvigsen's four seasons, the Broncos have gone a remarkable 51-4 in SLC play (entering Friday's game), with at least a share of four straight conference titles. Going into Friday's game, they were on a 29-game SLC winning streak, dating back to Jan. 22, 2021.
But the Broncos have still never made that breakthrough to the WIAA Division 2 State Tournament. They were upended in regionals in 2020 and 2021 (they were in Division 1 in 2021 because of pandemic-forced playoff realignment). Last season, they got one step away from state before falling to Reedsburg in a Division 2 sectional final.
This season, Union Grove has as good of a chance as ever to finally reach the State Tournament, scheduled for March 9-11 at the Resch Center in Green Bay.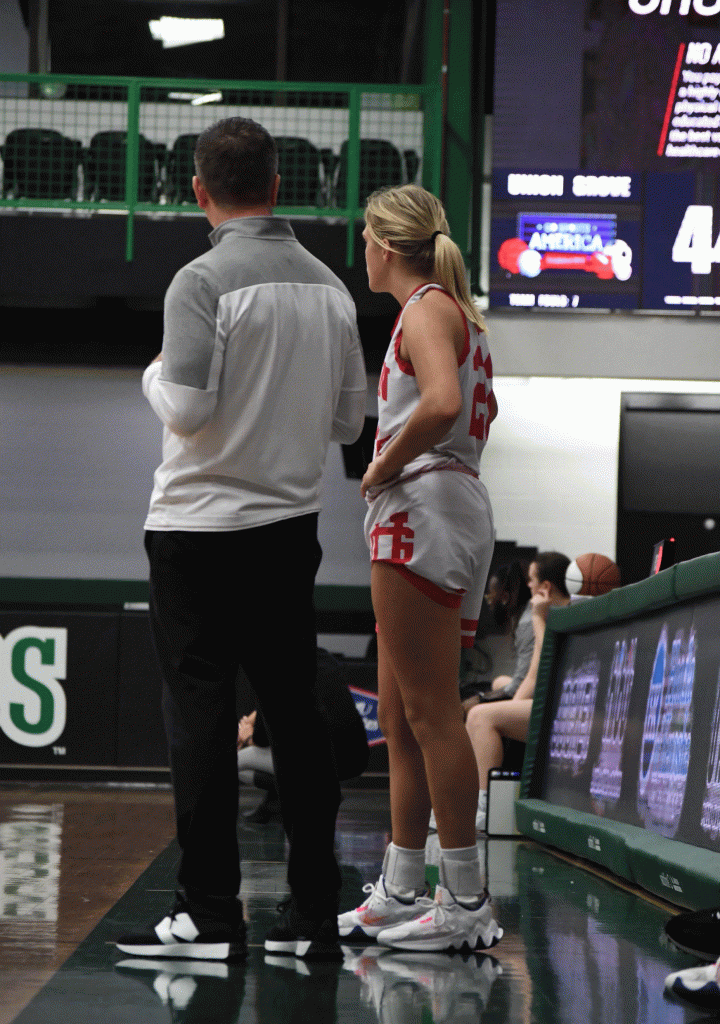 With a 21-1 overall record entering this weekend, Union Grove was ranked No. 3 in Division 2 in this week's WisSports.net state coaches poll and received a No. 1 seed — and a first-round bye — in its Division 2 playoff bracket. Sitting at the bottom of that side of the bracket is nemesis Waukesha West, the No. 2 seed and ranked No. 4 in the latest state coaches poll.
But Ludvigsen and her Broncos teammates are ready to meet any challenge.
"I feel like this is definitely our best shot (to reach state), and with the talent that we have, I feel like we definitely could do it," she said.
The hopes and dreams of making that elusive State Tournament appearance, however, haven't caused Ludvigsen to get out of the moment.
She's enjoying every second of her senior year, even if she doesn't know about all the records she's breaking.
"Every single conference game that we've had, we look at each other and we're like, 'Guys, this is our last time playing at Waterford,'" Ludvigsen said of she and her fellow seniors.
"Just stuff like that, so it's just kind of surreal thinking about it, because it's definitely gone by super fast."
"5 QUESTIONS WITH" SYDNEY LUDVIGSEN
Favorite food? "Rocky's pizza (Rocky Rococo)."
Favorite movie? "My favorite movie is probably 'My All-American' (2015 biographical sports drama film about the real-life story of college football player Freddie Joe Steinmark)."
Favorite musical artist? "My favorite band is probably Journey, but my favorite genre is country."
Favorite athlete? "I would say Larry Bird, just because he's a shooter, and I am."
Where do you see yourself in 5-10 years? "I plan to become a nurse, study nursing at Walsh (University in North Canton, Ohio). I haven't decided if I want to become a PA (physician assistant) yet. So nursing first, and then if I want to go back to school for my PA license."