As with any high school over a period of 25-plus years, many teachers, coaches, administrators and, obviously, students have come and gone at Bradford High School since 1997.
But in all that time, there's been one man consistently roaming Bradford's hallways and, during football and basketball seasons, its sidelines.
Officially, Shawn Gross' job title at Bradford is educational support professional. But there isn't really any single job title that applies to all the things Gross has done for students at Bradford — and the Kenosha Unified School District, in general — since being hired at his alma mater in 1997.
Gross is a teacher, mentor, coach, friend, motivator — whatever his kids need him to be. And it's accurate to say "his kids," because that's literally how Bradford students see Gross, with appropriate nicknames applied, such as "Unc" and, now, "Pops."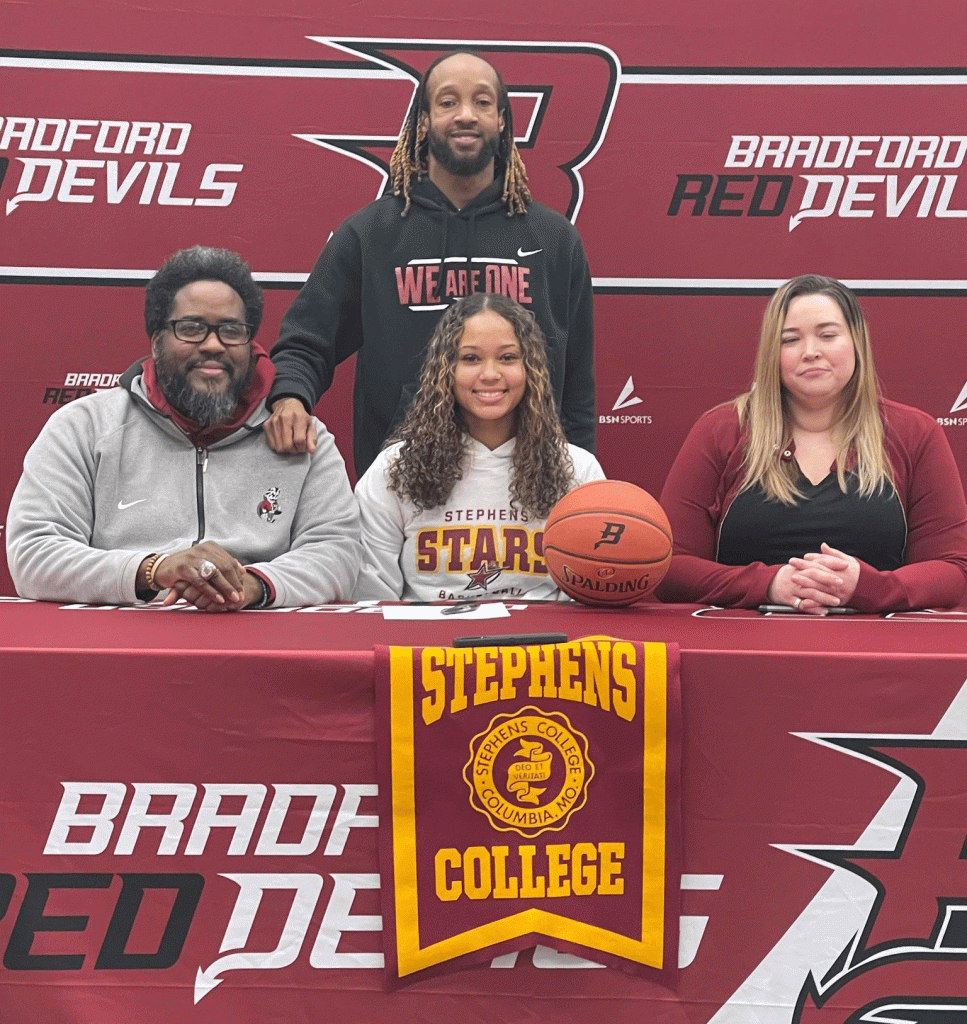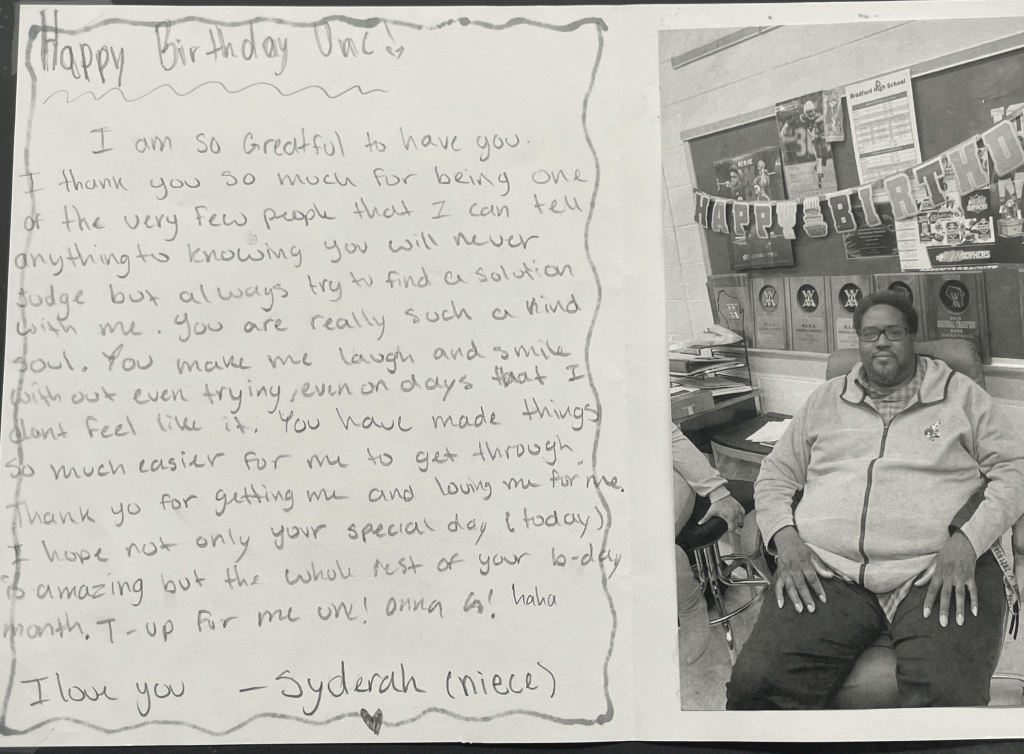 "Everybody says I'm all their dad, so thousands, thousands, thousands," answered Gross, 47, at Bradford on Wednesday, just after school, when asked how many kids he has (for the record, he "officially" counts eight adopted children of his, six boys and two girls).
"… 'Unc' is still very common. I've got several kids now calling me 'Pops.'"
And what does Gross see as his role for all these kids?
"To be a mentor," said Gross, who's also on the executive board for KUSD's African American Youth Initiative. "Whatever I have to do to make sure that they're successful, whatever that looks like.
"Whether it's a job or workforce or college, or whatever it may be, it's to be whatever they need me to be, that amoeba. I just want to make their experience here the best experience."
Gross is also an assistant coach for Bradford's football and varsity boys basketball teams and the director of operations for both programs. Numerous head coaches have come and gone for those teams since 1997, but Gross has always been part of the staff to work with student-athletes.
"Just helping them out with home, making sure that our kids are OK outside of school," Gross said of his coaching role.
" … I'm connected with the kids beyond the four walls of the school. I've built relationships over the years with them and their families, generational relationships. So I think I'm a wealth of knowledge when it comes to how to work with our kids and what they're dealing with everyday."
Truthfully, Gross could be recognized any and every week for all he does for Bradford students. But given that it's Black History Month and a great time to recognize Black leaders in our community, Gross is a perfect choice for this week's Kenosha.com Kenoshan of the Week honor.
Crossing generations
Gross has Bradford in his blood.
A lifelong Kenoshan, he grew up in the Wilson Heights neighborhood and attended Wilson Elementary and Bullen Middle School (then junior high school) before attending Bradford, where he graduated from in 1993.
Four years later, Gross began working at Bradford, where he's been ever since. Long enough, in fact, that he admitted he's mentoring children of those he mentored in his earlier years.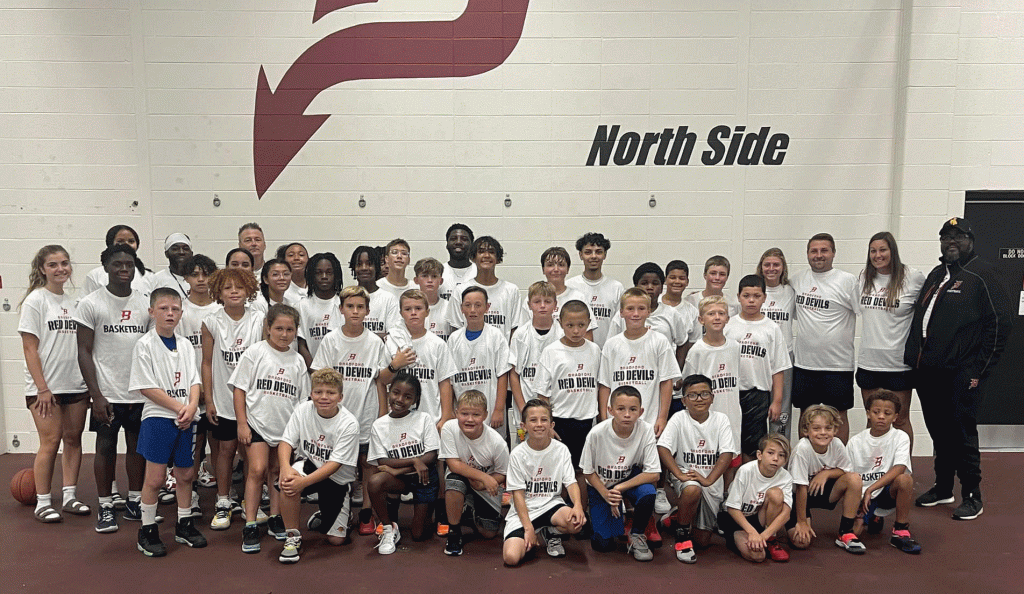 "I've got a couple kids that I'm dealing with right now," Gross said. "And it's like a spitting image (of their parents). … 'Boy, you're acting just like your mom. I remember having to pick your mom up and take her to the other side of the building, because she was upset. Now you're the same way.'
"… Being able to have that connection with the kids, to work with them, makes it a lot easier. Again, here I am now, I'm seeing generations of kids come in, 'I had your momma in school! I had your dad in school!.' Or, 'My mom says she knows you.' I've got parents sending me brownies and cookies, 'Tell Mr. Gross I say hello.'"
Occasionally, Gross said, he'll run into a former student who's all grown up and thanks him for his guidance when they were younger. Even if maybe they didn't see it that way at the time.
"I just ran into an individual (Tuesday) night," Gross said. "We were in Milwaukee at a game, and he was a former student here. His exact words were, I was really hard on him. And he says, 'I know why you were hard on me.'
"His son goes to school here right now. And so he's like, 'I know why you were hard on me. I can see why.' And thanked me. Because without doing what I've done, maybe he wouldn't have turned out the way he did."
Gospel music
Gross is also a talented singer who's been belting out gospel hymns on Sundays for 30-plus years at Kenosha's Blessing Center Outreach Ministry, located at 1925 65th St., in the Brass Elementary/Lincoln Middle School neighborhood.
Additionally, Gross sings and preaches with a local group of worship leaders called Kingdom Oasis, and he's also been a big draw over the years when asked to belt out the National Anthem at local sporting events.
Gross said he once started a gospel choir at Bradford, which essentially ended because he was a victim of his own success. He said so many of his gospel choir singers were drawn into KUSD's fantastic theater program that they didn't have time for gospel choir anymore.
Gross, of course, didn't mind.
"Whatever I can do to help, whether it be school or the theater department, whatever I can do to offer some assistance," he said.
In fact, Gross says that if he didn't get into teaching and mentoring, maybe he would've pursued a professional career in gospel music, which he's had opportunities to do.
But working with students is his calling.
"The path that I chose was this path, education and mentorship," Gross said. "I've done this all my life. But I sing gospel music and had several opportunities to take another path into that. Had I taken that path, I would have never gotten to this point.
"… This is what I was meant for."
Remembering Wilma
It's pretty much impossible to discuss Gross' time and impact at Bradford without discussing Wilma Johnson, who was a legend in those halls.
Employed for many years as a security guard by KUSD, Johnson worked at Bradford and knew generations of students, too. She died on Jan. 31 at age 82, but her impact on Bradford will never be forgotten.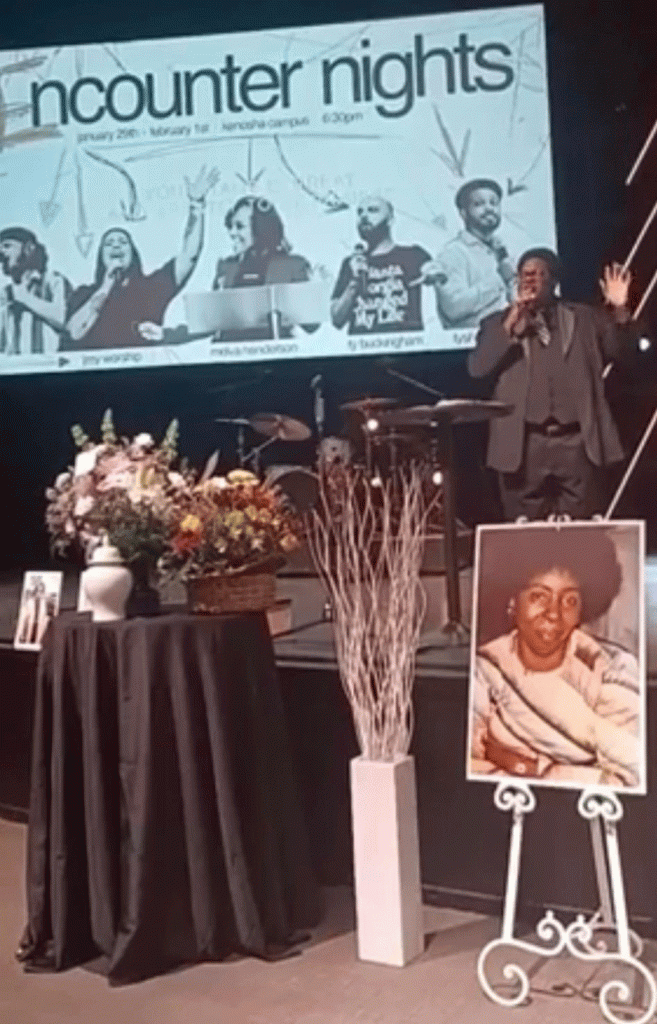 "She was a wonderful woman," Gross said.
Gross, in fact, knew Johnson all his life. She was a Girl Scout troop leader at Wilson Elementary, and Gross said his family grew up three houses down from Johnson's family in the Wilson Heights neighborhood. Gross said Johnson was his "neighborhood mother."
That motherly relationship stayed the same when Gross walked the halls of Bradford as a student and then worked there, all the while with Johnson at the school until she retired around 2010.
"For years, people thought that she was my mother," Gross said. "Because she would always call me over, no matter what I was doing — whether it was coaching, or it was down the hallway with someone in school — 'Come here. … I want to introduce you to my son.' And I'm like, 'What? Who's your son?' … 'Boy, shut up. Come here. You're my kid.'
"… They thought it was just my mom. I'm like, 'You've got to understand. I've known her all my life. … That's not my real mother. However, that's my mom.'"
Gross was grateful that he helped to make one of Johnson's final wishes come true. He said she's always loved Melvin Gordon, who starred for the Bradford football team and just recently completed his eighth NFL season by winning a Super Bowl ring after being picked up by the Kansas City Chiefs as an insurance running back.
Gross helped to hook up Gordon and Johnson with a FaceTime call just before Johnson died and Gordon won a Super Bowl ring.
"Her thing was, 'I want to see him,'" Gross said. "And knowing where we were at in her process and everything that was going on, I just knew that him coming back home was probably not a possibility at that time.
"And so he actually said, 'Unc, whatever I've got to do to make her dream come true.' And so we FaceTimed each other."
Cheering success of others
Gross has helped so many students over the years, but it's definitely Gordon and Trae Waynes that stand out the most in the athletic field of life.
Close friends who starred together at Bradford — Waynes attended Harborside Academy for school — Waynes and Gordon were both selected in the first round of the 2015 NFL Draft, four picks apart, in Chicago on arguably the most memorable night in Kenosha sports history.
Gross was there in Chicago for every second of that amazing night, and he said he still keeps in regular touch with Gordon and Waynes.
"I just talked to Melvin right before the Super Bowl," Gross said.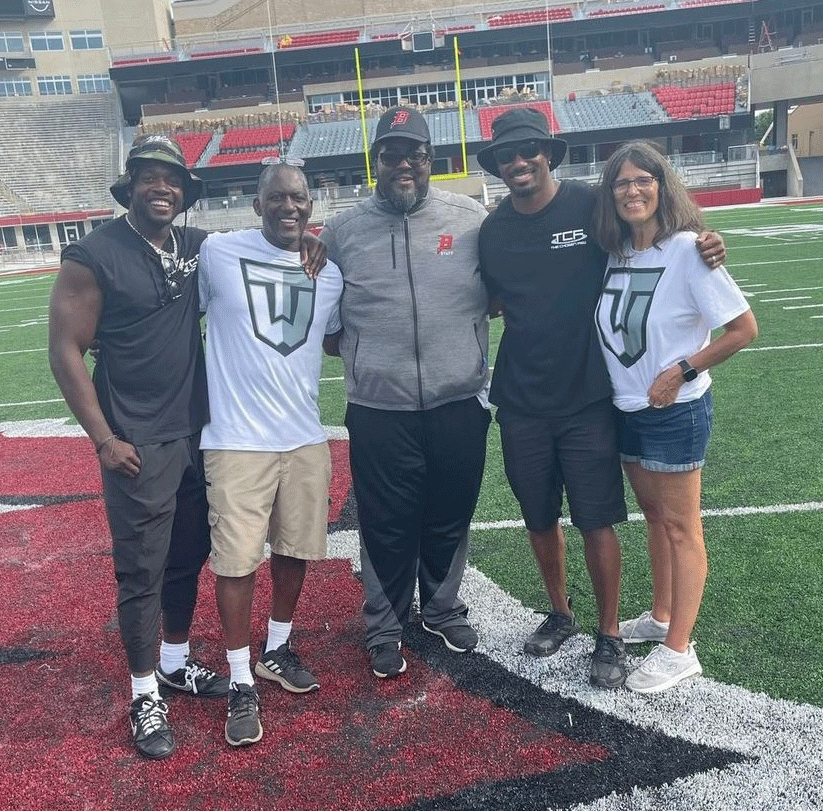 Waynes, meanwhile, played seven NFL seasons for two teams and hung up his cleats following the 2021 season, in which he played in the Super Bowl for the Cincinnati Bengals. Waynes, an outdoorsman and family man at heart, now spends his time with his wife and three daughters and operates several hunting and fishing endeavors.
Gross said Waynes seems happier and more content than ever.
"He's in his element," Gross said. "He's loving it. He's loving every moment of it. Outdoors, he's got his children there, his girls.
"… When you know who he is as a person, he loves that alone time and just having good time to spend with the family. … He's just in heaven right now."
Currently, Gross' big student-athlete "project," so to speak, is Bradford senior Keany Parks, who will be honored Sunday at Holy Rosary Sports Night as the Outstanding Male Athlete of the Year. Gross will be there Sunday and beams with pride over how hard Parks has worked to get to where he is now, which is headed to play football next season at the University of Wyoming, an NCAA Division I Football Bowl Subdivision program.
"That's him. That's his spot, right there," Gross jokes about Parks while pointing to a spot of gray hair on his head.
"… It's very, very pleasing to the soul, to say the least, that he's getting what he's getting. He deserves it."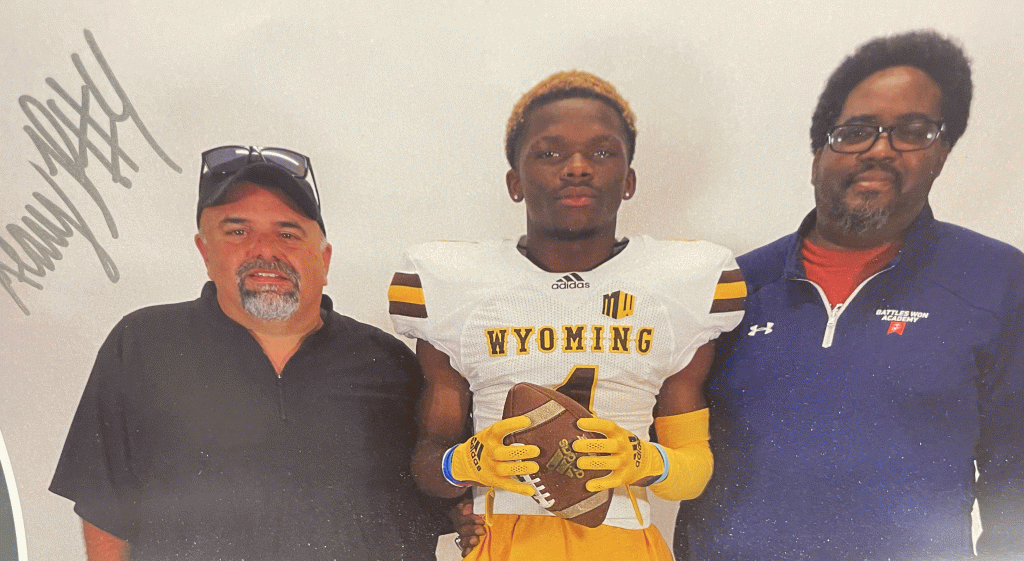 Indeed, it's watching students like Gordon, Waynes, Parks and countless others have success that serves as the payoff for Gross. And he wants nothing in return.
"When you're successful — those guys will tell you — I don't call you, 'Hey, I was there for you. I'm going to need you to do something for me. Hey, I need some money,'" Gross said. "They've got enough people to do that.
"When I do this, I do this with no strings attached. That's the reward, and that's all I want. No strings attached. You do what you do."
When asked how long he'll do what he does, Gross replied, "As long as the Good Lord allows me to do it."
And while he said he couldn't imagine working anywhere but Bradford, Gross mentors students from Tremper, Indian Trail, Harborside, LakeView Technology Academy and wherever he's needed, regardless of whether they play sports or not. Without asking for recognition or without mentioning it to others, Gross said he may even help to make sure people have their rent paid, have warm houses to go to or have a bite to eat at school if their stomachs are empty.
"I just want to be a resource to our people, to our community, period," Gross said. "With that way, you're not in the front. I'm in the trenches trying to work and not trying to get notoriety."
Gross says he's a "biblical man," so he believes the reward for all his kindness, help and sacrifice will be waiting for him in the end.
"I believe that what I do here is an eternal work," Gross said. "My blessing, although I may get something down here, my blessing's going to come when I see God. When I see Jesus face-to-face, and he lets me into heaven, then I get my reward."
NOTE: To nominate a Kenoshan of the Week click here or email Andrew@Kenosha.com.