On Friday, Feb. 10, the Parkside wrestling team completed its first undefeated season in program history with a 38-0 victory over Minnesota State. The Rangers also secured their first-ever Northern Sun Intercollegiate Conference championship. For the success of the regular season, the Parkside wrestling team is this week's Kenosha.com Ranger of the Week!
After a 36-6 victory over MSU Moorhead on Thursday, Feb. 9, the Rangers entered their final NSIC dual having clinched at least a share of the conference title, holding a one-win lead over St. Cloud State, who the Rangers defeated 20-19 on Jan. 12.
The Rangers made swift work of Minnesota State at DeSimone Arena. The Rangers jumped out to a 12-0 lead as the Mavericks did not offer athletes for the 125- and 133-pound bouts. Cayden Henschel earned a 4-3 decision, and was followed up with a 5-3 decision victory by Jalen Spuhler. Ben Durocher closed out the first half with a 4-3 decision and the Rangers went into intermission with a 21-0 lead.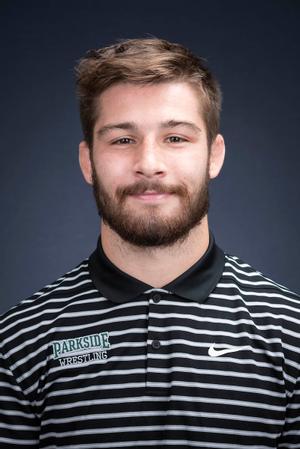 Top-ranked Shane Gantz earned a 4-1 decision at 165 pounds to open the second half, capping his second consecutive undefeated regular season. Following his victory, Gantz earned a standing ovation from the Parkside faithful for his final appearance at DeSimone Arena. Eric Bauer kept the action rolling for the Rangers, earning a 3-1 decision at 174 pounds. Reece Worachek won by (21-3) in the fifth minute of his bout, earning five points for the Rangers and boosting the lead to 32-0. Kaden Hooker earned a 7-3 decision at 197 pounds to earn three more points.
The final bout of the night at 285 pounds featured Parkside's Lloyd Reynolds against defending national champion Darrell Mason. Locked in a 0-0 stalemate after the first period, Mason took a 1-0 lead in the second period after earning an escape. Reynolds tied it up with an escape of his own in the third. Reynolds then earned the go-ahead point when Mason was called for locked hands late in the third. Reynolds held off Mason the rest of the way and pulled off the upset to finish off the shutout victory for the Rangers.
Up next
The Rangers will return to action on Saturday, Feb. 25, as the team will travel to Aberdeen, S.D., to compete in the NCAA Super Region V Championships. Parkside will look to send multiple wrestlers to the NCAA Division II Championships, which will take place on March 10-11 in Cedar Rapids, Iowa. For more information, visit parksiderangers.com.