"Tár" is a compelling drama about the downfall of an imperious, globally-renowned symphony conductor named Lydia Tár, played by Cate Blanchett in a powerhouse performance. Some movies are dominated by a single performer, and this is certainly one of them.
From the first moment you see her, Blanchett commands the screen like few can do. Her Tár is a genius, and she knows it. Whether it is lecturing a fellow conductor about his lack of artistic vision, or bullying a young college student about his obtuseness in his music world-view, she immediately establishes this woman as brilliant, passionate, controlling, arrogant and remorseless.
As the movie begins, Tár is juggling multiple projects. She has recently completed an autobiography, and is preparing for the launch and subsequent publicity tour. She is beginning preparations to conduct the Berlin Symphony in a rare taped live performance of Gustav Mahler's Symphony No. 5. She is also in a committed relationship with Sharon (Nina Hoss) with whom she has a young daughter. She also has personnel issues with the Berlin Symphony surrounding the Assistant Conductor who is an older man she inherited from the previous Lead Conductor who was a mentor of hers, and her personal assistant who clearly has designs on being the Assistant Conductor. And she has been receiving emails and texts from a young woman named Krista with whom she had an unclear relationship, and whom Tár is clearly now ghosting. All of these threads converge throughout the film into a crisis that threatens Tár's position not just with the Berlin Symphony but her standing in the music world.
The movie, written and directed by Todd Field, immerses you into the this singular world of genius, and how that very nature of genius can convince someone of their own indestructability. Tár is loved, respected, feared and fawned over. She commands the stage and attention, and she is very much aware of her standing, and unafraid to leverage it in any situation. In one very telling scene, she even threatens a classmate of her daughter's, showing just how much she feels she is above normal human rules of behavior. Her arrogance and pride will lead her into very dangerous waters — sexual attractions that affect her professional judgement, personnel decisions that will open her to ridicule and recrimination, and taking for granted her wife.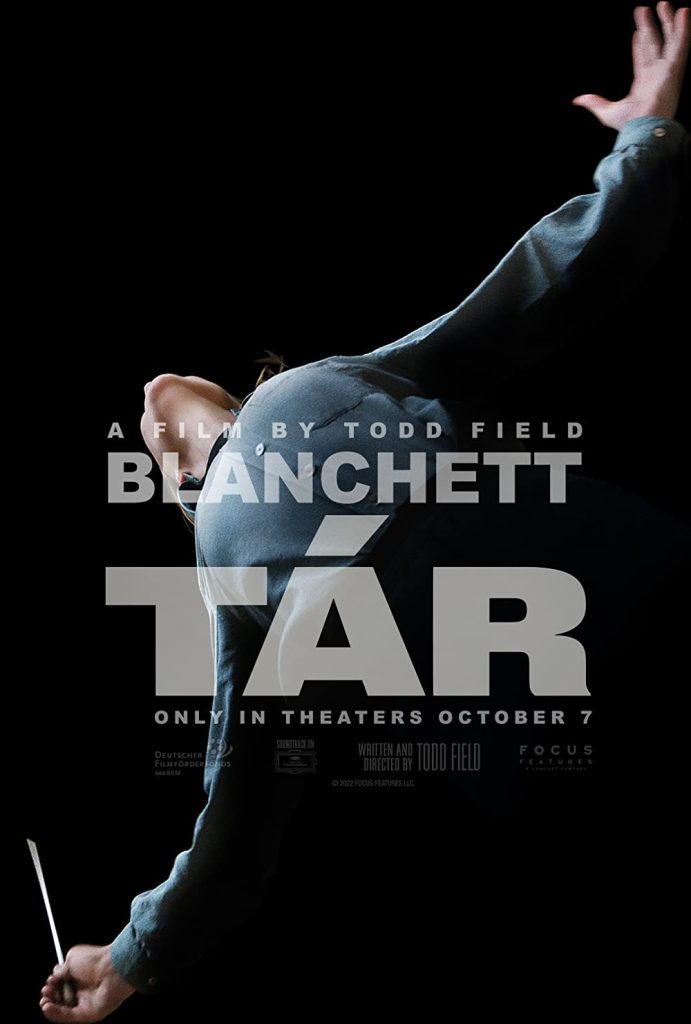 Hoss is beguiling as Sharon, the wife. When first seen she is very vulnerable, suffering an anxiety attack, so your impression is of weakness. But as the film progresses you realize that in many ways Sharon is more than a wife to Tár — she is an advisor, a critic, a confessor. But more than that, you realize she is also an observer, and no one knows Tár better than her. Nothing escapes her, and Hoss underplays her beautifully, showing her as aware, patient, knowing and finally, brutally honest and strong.
But the film belongs to Blanchett. She is mesmerizing from first to last, whether playing the brilliant, arrogant Tár at the beginning, or the stressed-out diva who finally explodes in indignation. In anybody else, you might say this is a career-defining performance, but in Blanchett, who has already been excellent previously ("Elizabeth," "The Aviator"), I suspect there is much more yet to come. And I can't wait to see it.