The unexpected loss of Professor Yuri Maltsev is being felt throughout the Carthage College community and worldwide.
The longtime faculty member and global economic thought leader passed away Jan. 25 at age 72. He is survived by his wife, Rita Nicholson, children, mother, sister, and other family members.
Professor Maltsev offered unique insights as perhaps the only person to brief governments on both sides of the Cold War in the waning days of the Soviet Union. Raised and educated in Russia with a growing disdain for the communist system, he served on a senior economics team that developed Mikhail Gorbachev's perestroika reforms package.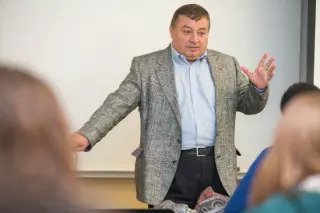 Fearing for his safety after openly criticizing the Soviet regime and its sluggish pace toward reform, Professor Maltsev made an impromptu decision to defect during a 1989 business trip to Finland. He described a remarkable "James Bond-ish" journey that brought him to Sweden and, ultimately, the United States.
"Yuri Maltsev's incredible life story — especially his intimate, firsthand experience with the failures of governance and economics under communism in the Soviet Union — made him a truly outstanding faculty member and mentor," Carthage President John Swallow said. "Carthage students and, in fact, students of political economy around the world all valued his perspective. He will be greatly missed."
Quickly integrating into American life, Professor Maltsev initially worked for a federal research agency in Washington, briefing congressional and executive branch officials on national security and foreign economic issues. He joined the Carthage faculty in 1991, teaching a range of economics courses.
Drawing on his extensive connections, Professor Maltsev also led J-Term study tours to South Africa and surrounding countries. There, Carthage students explored developing economies, visited historical sites, and soaked in the natural beauty.
Alumni from the 1990s to the 2020s cite him as a major influence. Established in the professor's honor, the Yuri Maltsev Distinguished Scholars in World Business and Free Enterprise fund provides scholarships for returning business, economics, and international political economy (IPE) students.
Jim Padilla, founding dean for the School of Business and Economics, calls him an "irreplaceable" part of the community.
"Yuri Maltsev was an incredibly vital economics faculty member for Carthage whose knowledge, background, and stories are unmatched. He added a level of expertise to our campus that blessed everyone and impacted decades of Carthage students," Padilla said. "All of our thoughts and prayers are with Rita and their children."
With deep knowledge and dry humor, Professor Maltsev drew frequent invitations to lecture worldwide. Media outlets such as CNN, Fox News, C-SPAN, and PBS sought him out as a guest expert.
A prolific author, Professor Maltsev wrote five books and hundreds of articles for U.S. and foreign publications. Active in several national and international think tanks, he received the first Luminary Award from the Free Market Foundation in 2013.
Arthur I. Cyr, director of the IPE program and professor of political science, came to know Professor Maltsev as an intelligent, colorful, and straightforward man.
"Yuri was a popular teacher, loyal colleague, and valued friend," he said. "His background and heritage from Russia, and experiences in various places on the globe, added value to our community. This was true not just in the classroom. I shall miss him a lot."
Alternate arrangements are in place for students who had Professor Maltsev as a faculty advisor or who registered for his spring courses. Staff from the Office of the Registrar will contact the affected students in the near future.
Funeral services for Professor Maltsev were held on Monday, Jan. 30. 
Those who knew Prof. Maltsev are invited to share their stories and memories HERE.
If you would like to make a gift to the Yuri Maltsev Distinguished Scholars in World Business and Free Enterprise fund, please contact Bridget Haggerty in the Office of Advancement at 847-702-1446.