On the night of a major winter snowstorm, Kenosha Unified School District had a difficult decision to make on the status of local musical tradition.
With little time to spare, school officials gathered as much information as possible and came to a conclusion: The show must go on.
A capacity crowd of 2,100 cheered on over 1,500 local students and educators at the 65th Kenosha Unified Band-O-Rama music festival on Saturday (Jan. 28) at Indian Trail High School and Academy.
The packed bleachers came as a surprise for many in the midst of one of Kenosha's biggest snowstorms in several years. An additional 300-plus people watched the performance from a remote video feed at Indian Trail.
"It wasn't a surprise to me," said Scott Plank, Kenosha Unified Coordinator of Fine Arts. "This is an amazing tradition in the community.
"There's generations of family members that have been a part of this thing. The synergy that is created when you get this many people in one space is incredible."
From the opening Star Spangled Banner to The Stars and Stripes Forever finale, students in grades 5-12 entertained an appreciative crowd for the one-hour performance.
Dr. Scott R. Corley, Interim Director of Bands at the University of Wisconsin-Milwaukee, served as the guest conductor.
Popular songs included Randall Standridge's "Choose Joy" performed by the high school concert and symphonic band and a combined high school production of Jay Bocook's "Jurassic Park."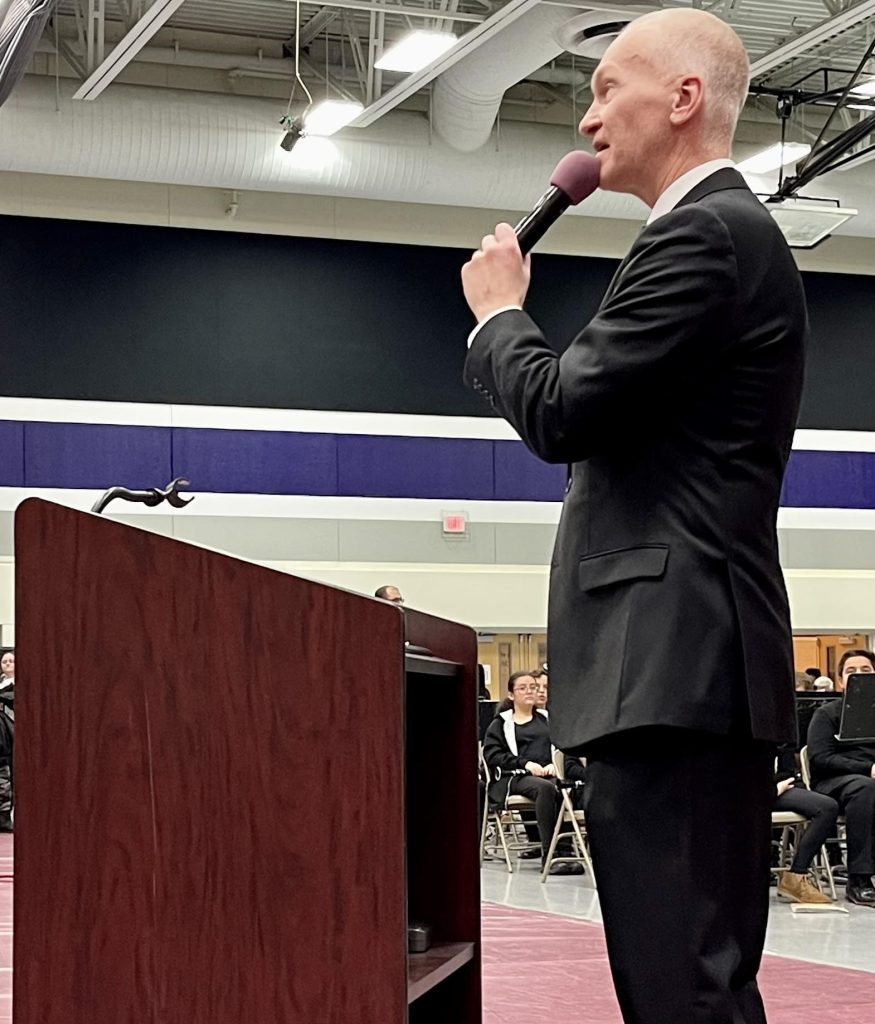 The elementary beginning band — performing for the first time in front of an audience — opened with "The Frog's Song" and "London Bridge."
The youngsters provided one of the highlights of the evening when they had to restart "Now Let Me Fly" in their second round of songs. They recovered brilliantly to the tune of a standing ovation.
"We're excited with the younger levels," Plank said. "We were up to 1,800 students a few years before COVID. Our numbers are down since then, but we should be right back there again."
Considering the untimely weather and last-second decision, the performance went down without a hitch. Plank said school officials considered postponing the event to 1:30 p.m. Sunday (Jan. 29).
"We really did not want to postpone it," Plank said. "We tried to wait until the last minute to make sure we felt we actually could get everyone here and make it happen."
Band-O-Rama is one of three major KUSD fine arts festivals performed every year, including Choral Festival (Feb. 18) and Orchestra Fest (March 11).
"These events are heavily attended," Plank said. "When I tell people from other districts how many people show up for our festivals, they are blown away by it."