When asked what her favorite thing about competing in taekwondo is, Sarah Grabot delivered a succinct and hilarious answer.
"Kicking someone clean in the face, I guess," she replied, which made this interviewer immediately burst into laughter.
Despite that simple and descriptive response, however, there is obviously far more to taekwondo than just kicking someone in the face, though that is the ultimate goal during a match (don't worry, the competitors wear protective equipment).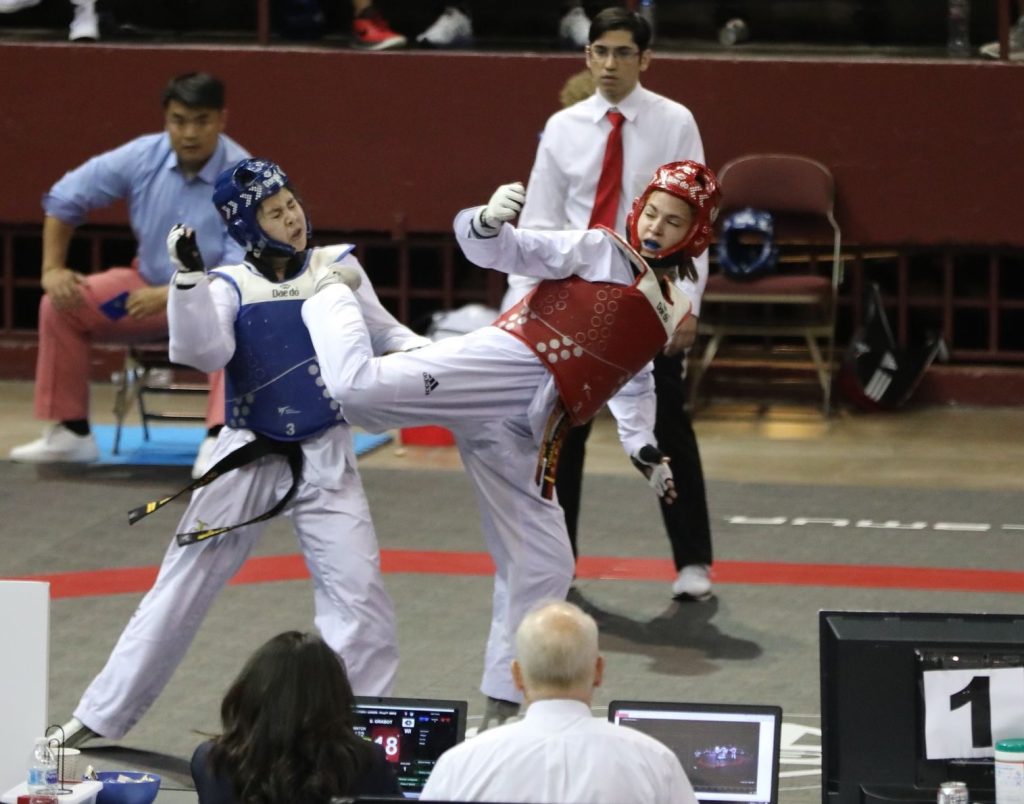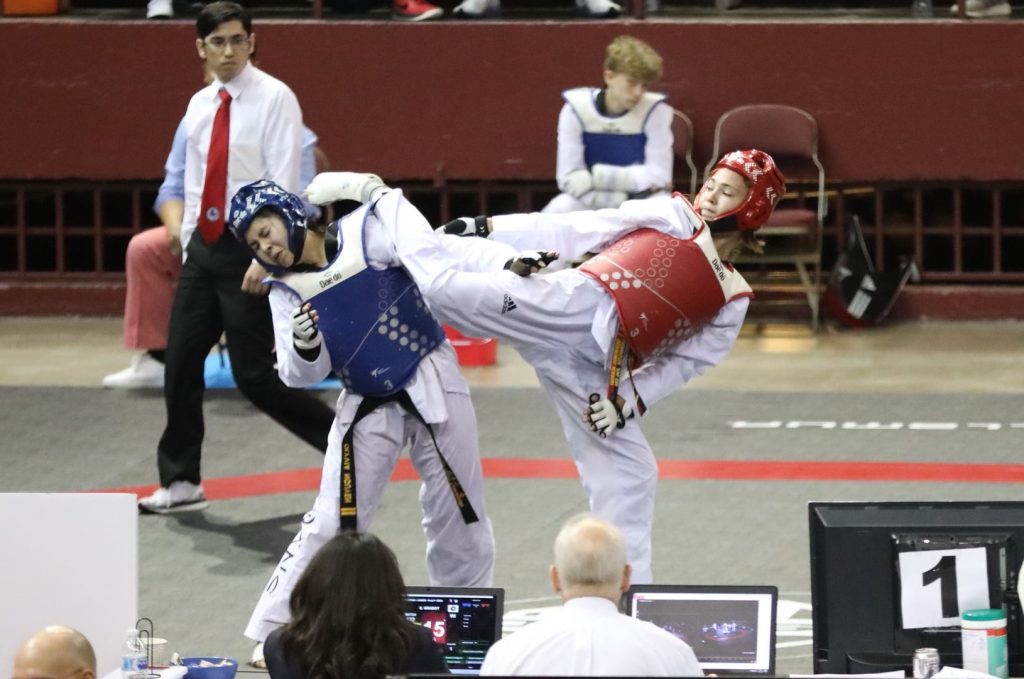 Grabot, a 17-year-old senior at Indian Trail High School and Academy, has become quite a successful student-athlete, even though her sport might not always gain her the recognition of other student-athletes walking the halls of their respective high schools.
Nonetheless, Grabot's taekwondo career has taken her all over the country and will now take her across the Atlantic Ocean. She has earned a spot on the AAU/USA National Taekwondo Team and this March will travel to the Netherlands with the national team to compete in the Dutch Open.
This will be Grabot's first time representing the United States overseas for taekwondo and also one of her first competitions in the Seniors Division, which is for ages 18-32.
"It's just a blessing to be able to go represent this sport and this country in a completely different part of the world," Grabot said in a phone interview Thursday afternoon. "It just shows that hard work and dedication and self-discipline really pays off in the long run."
For her success in taekwondo, Grabot has been named the Kenosha.com High School Athlete of the Week.
Finding her sport
Grabot admits she has never been one for team sports, which is why she started in gymnastics and then moved into taekwondo, a Korean form of martial arts that involves punching and kicking techniques, with an emphasis on head-height kicks.
"I like to be in control," Grabot said of her preference for individual sports. "I feel like when I'm in a team sport and other people don't do what I want, I would get very stressed."
Grabot did competitive gymnastics from the ages of six to 10, but she said she tired of that sport and got into taekwondo, a sport her mom and both of her brothers also earned black belts in.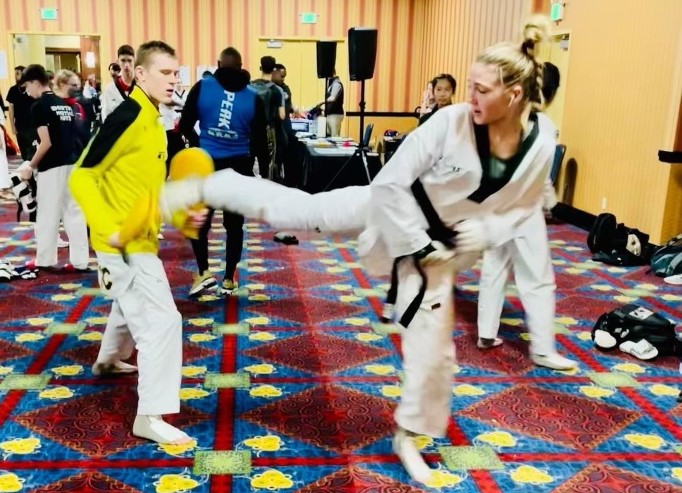 Taekwondo features two main aspects, one that focuses on its form and history and the other that focuses on actually sparring with opponents. There are competitions for the part of taekwondo that focuses on forms and patterns, called poomsae, which Grabot said is similar to a floor routine in gymnastics.
However, it's the sparring aspect of taekwondo that Grabot has always much preferred.
"I got into the sparring," she said. "I just loved the fighting."
Still, to earn her black belt, Grabot had to also demonstrate the form aspects of taekwondo and gain proper knowledge of the sport. Once she earned her black belt in the middle of her seventh-grade year in school, Grabot said, she started competing in sparring tournaments beyond the area and the state of Wisconsin.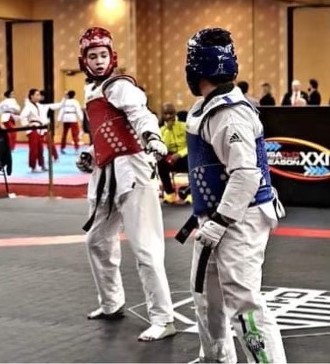 Grabot achieved early success in the sport, medaling at a state event in seventh grade that qualified her for nationals in Salt Lake City in 2018.
In February 2019, when Grabot was in eighth grade, she competed in the Cadet Division (ages 12-14) at the U.S. Open in Las Vegas, winning three of four matches to take third place in her weight class. She then went to nationals in 2019 in Minneapolis, where she won another match in her weight class.
Then, as a ninth-grader at Indian Trail during the fall of 2019, Grabot achieved a high enough ranking to be invited to compete in the U.S. Grand Slam at the then-new Team USA Taekwondo National Center of Excellence, located in the Garden of the Gods area of Colorado Springs, Colo.
In early 2020, however, the pressures of being a first-year high school student and training and traveling so much for taekwondo got to be too much for Grabot.
"I had actually quit," she said. "I was like, 'I need to be done. It's just too much right now.'"
Suddenly, however, the COVID-19 pandemic hit, and Grabot — like everyone else — had to find a way to keep her mind and body occupied.
"Once COVID hit, I became very, very bored not being able to do anything," she said. "I got back into taekwondo.
"… It was definitely one thing that helped me remain on the positive side, being able to look forward."
A new coach
There were no taekwondo sparring competitions, of course, for a time during the pandemic, but once those returned, Grabot said she attended a training camp in Florida in April 2021 "to get back into the swing of things."
By that point, USA Taekwondo had shifted from holding state tournaments to holding more regional ones. Grabot competed in the Central Grand Prix, which was her first tournament in the Juniors Division, for ages 15-17. She took first place in her weight class, which qualified her for nationals in San Antonio.
Grabot was also invited back to the U.S Grand Slam in November 2021, where this time she finished second in her age division and weight class.
All this time, Grabot had been training out of Kenosha's US Taekwondo Academy.
In December 2021, however, she attended a camp in Texas, where she met Jeffery Williams, a U.S. Marine Corps veteran and taekwondo master who co-founded Xcellent Taekwondo Center with his wife, Talatufi, in Palos Heights, Ill.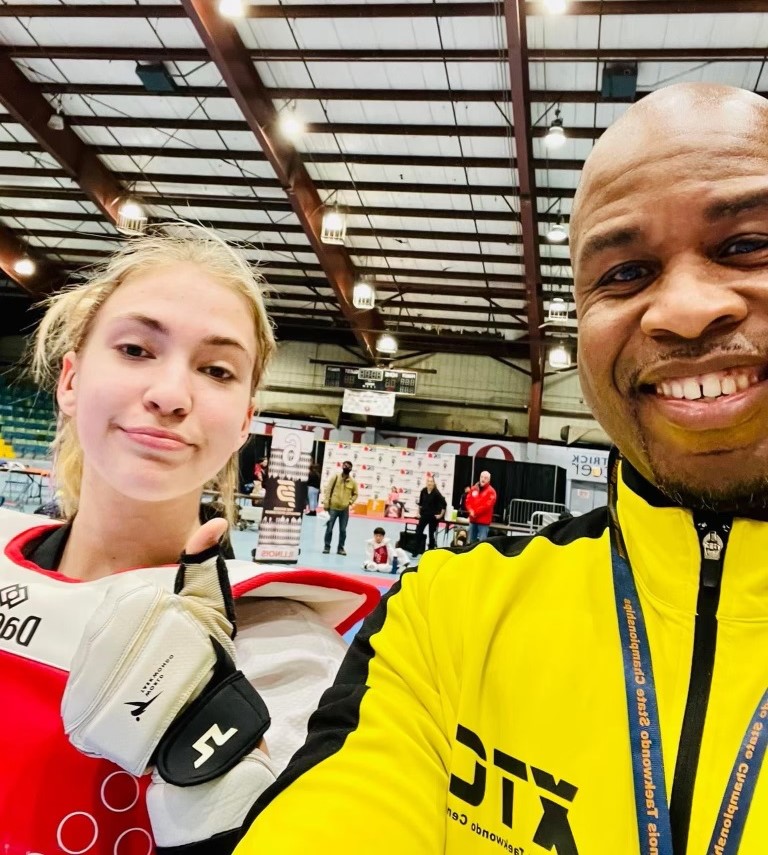 Grabot attended Xcellent Taekwondo Center in February 2022 and decided to have Williams become her coach. Palos Heights is southwest of Chicago, so Grabot and her parents make the 90-minute – sometimes more – drive to Xcellent multiple times per week after school so she can train with Williams.
"It's definitely a haul," Grabot said. "But the training there, as intense as it has been, it's been just amazing."
Since joining Williams, Grabot's taekwondo career has really flourished.
Last summer, despite suffering from an illness throughout the event, Grabot gutted through the AAU Nationals in Las Vegas to secure a third-place finish and a spot in the U.S. Team Trials in North Carolina the first week of August. It was through the Team Trials that Grabot qualified for the upcoming trip to the Netherlands.
"It's pretty amazing, what I've been able to accomplish in such little time," she said of working with Williams. "It hasn't even been a year yet with my new (taekwondo) school. All of a sudden I'm going to the freaking Netherlands?
"It doesn't happen very often."
Olympics a goal
To give a quick crash course on taekwondo competitions, each competitor wears a helmet and protective body vest outfitted with an electronic scoring system of magnets that are attached to each competitor's feet.
While punches to the body can be used as tactical maneuvers, Grabot said, kicks to the head are what earns points via the electronic apparatus and magnets fixed to the competitors' gear.
Each round lasts two minutes, plus stoppages for things like penalties and challenges. Previously, points were just totaled up throughout three rounds, but World Taekwondo recently switched to a best-of-3 system in which each round is scored, with whoever wins two rounds winning the match.
The goal, on its surface, is simple.
"Just kick them in the head as you want," Grabot said.
Achieving that, however, takes immense training and work. Grabot said making weight can sometimes be harder than the match itself and that preparation is just as much mental as it is physical.
"The day of the fight, it's all mental," Grabot said. "If you're scared going into the fight, then you're kind of screwed. With a coach or a teammate, or even by yourself, you kind of warm up on the mat in the holding area. You wait for your number to get called, your bout number, and then you go get your gear on.
"… Once you're out on that mat, the stage is yours. You can only do what you prepare yourself to do."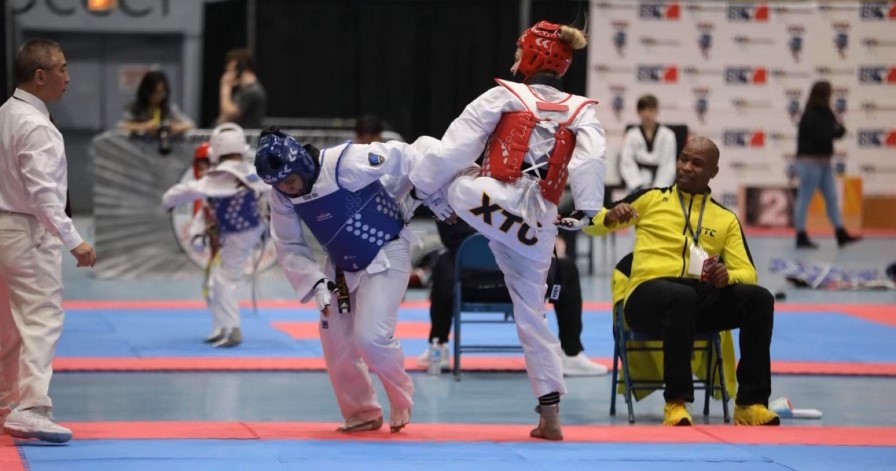 Despite the opponents trying to kick each other in the head, taekwondo is based on mutual respect. Opponents bow to each other and their coaches before the match, and they're usually friends after.
"A lot of the athletes that fight each other constantly, they'll fight, and then they'll be friends right after," Grabot said.
Grabot said she stays pretty quiet in school at Indian Trail and spends most of her time outside school training for taekwondo and watching film of other fighters to see how she can improve.
"School for me is just, I go to school, do my classes, and then come home and go to work or go to the gym," Grabot said. "That's about it."
As for her future, Grabot said she plans to attend college next fall and has already been accepted into several schools. She recently applied to the University of Colorado Boulder, which has a national collegiate taekwondo program.
Ultimately, Grabot said, she wants to compete in taekwondo as long as she can. The ultimate goal would be to someday represent her country in the World Championships or the Olympics.
She's already got a good start on that, and she doesn't lack confidence.
"Of course I think I can," Grabot said when asked if she thinks she can be a world champion or Olympian one day.
"I have to think that I can do that, because if I don't think that, then I'm failing myself."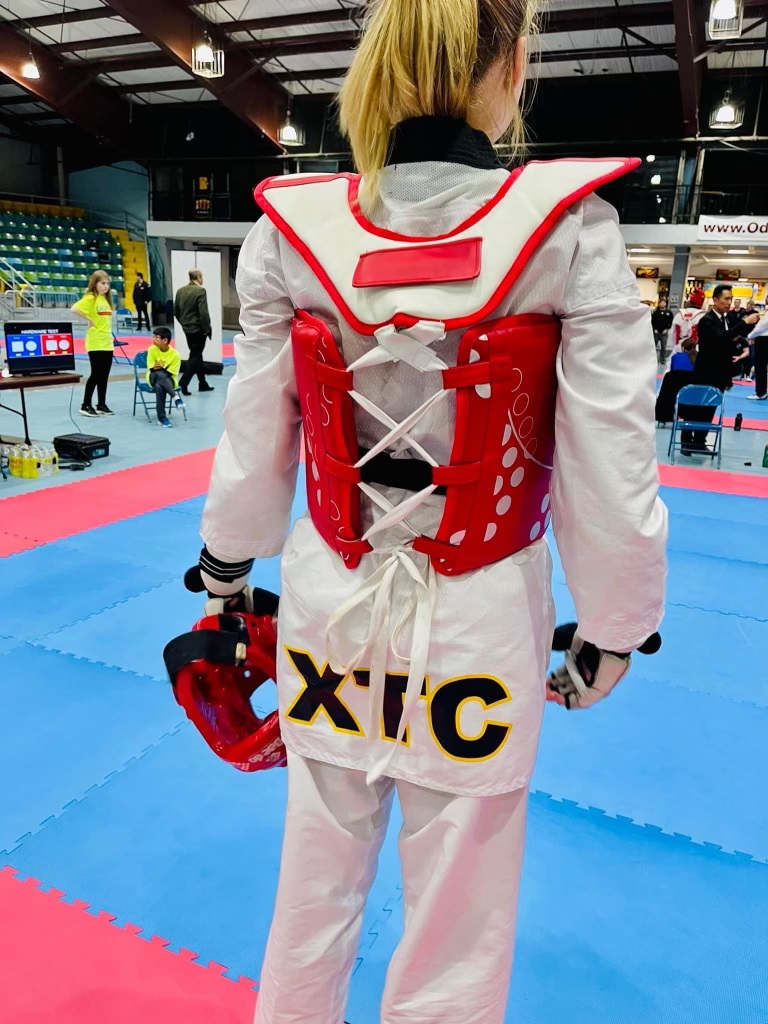 "5 QUESTIONS WITH" SARAH GRABOT
Favorite food? "I'd have to say, probably, pasta."
Favorite movie? "I've got two, is that OK? My favorites would be 'Elf' or 'The Notebook.'"
Favorite musical artist? "Oh gosh, this might be controversial. I'd have to say Kanye (explains she just likes the music he's made)."
Favorite athlete? "I'd say Jade Jones (Welsh female taekwondo star who won Britain's first Olympic gold medal in taekwondo's 57-kg category in 2012 and won another Olympic gold medal in 2016)."
Where do you see yourself in 5-10 years? "I definitely want to go to college. I don't have an idea of what I want to go for specifically, but probably something to do with business management. I would also absolutely love to be able to do taekwondo full-time. I think it would be cool to become a world champion at some point."