On Thursday, Jan. 12, the Parkside wrestling team traveled to St. Cloud, Minn., for a Northern Sun Intercollegiate Conference dual against St. Cloud State. The Rangers, ranked No. 9 in the country, came in and stunned the wrestling world by defeating the No. 3 Huskies, 20-19.
The SCSU defeat snapped a 53-match home winning streak dating to 2010. SCSU also saw its 88-match NSIC dual win streak cut short dating to 2011.
For their impressive win, the Parkside wrestling team is this week's Kenosha.com Ranger of the Week.
UPSET CITY
The Rangers got the party started in the 125-pound class when freshman Shane Corrigan, ranked ninth in the country, defeated sixth-ranked Paxton Crees in an 11-3 major decision to put the Rangers up 4-0. The Huskies took 6-4 lead after the 133-pound match as Parkside sophomore Matthew Chi was defeated by 12th-ranked Caleb Meekins. The Rangers retook the lead with back-to-back decisions from Cayden Henschel, who defeated eighth-ranked Alyeus Craig at 141 pounds, and 10th-ranked Jalen Spuhler, who defeated fourth-ranked Joey Bianchini with a 12-6 decision at 149 pounds. The Huskies got three of those points back in the 157-pound match as Nick Novak defeated Ben Durocher in a 5-2 decision. At intermission, the Rangers held a 10-9 lead.
Coming out of the break, the Rangers got on the board again at 165 pounds with top-ranked Shane Gantz earning an overtime victory to remain undefeated as the Rangers led 13-9 with four weight classes to go. The Huskies would not go away quietly, though, with SCSU's Abner Romero defeating Crosby Schlosser by technical fall at 174 pounds to earn five points for the Huskies and put SCSU back on top, 14-13. Tenth-ranked Reece Worachek helped the Rangers regain the lead with a 6-3 decision over Bryce Fitzpatrick at 184 pounds. At 197, Joe Swanson lost by technical fall to Dominic Murphy to give the Huskies another five points and a 19-16 lead heading into the final match.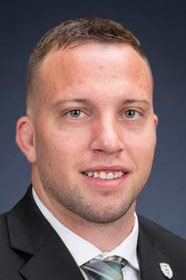 In a must-win matchup at heavyweight, Parkside's 10th-ranked Lloyd Reynolds and SCSU's Elijah Novak were tied 1-1 at the end of regulation. Reynolds was able to come away victorious after he was able to keep his foot in the circle while earning a takedown as time expired. The Rangers earned three points to tie the dual at 19-19. The decision came down to criteria, and the winning point went to the Rangers since Parkside had taken six of the 10 bouts. The jubilant Rangers returned to Wisconsin with a 20-19 victory.
"Thursday was an incredible moment for these guys and our program," Parkside coach Nick Becker said. "A lot of head-to-head ranked matchups and we were able to come out on top. I couldn't be more proud of the fight they brought and how they battled. Although the battle was won in the months leading up to this match. How these guys live their lives is what won them this dual meet. 
"We have 20-plus guys back home who I want to thank for pushing our starters. Sometimes it's not easy being the backup and we couldn't have won without our entire team. I have a ton of respect for Coach Costanzo and his program. They have built a dynasty over the years and that is what we look to do here. We won the battle tonight but there is a lot more wrestling to go this season. Lastly, thank you to all our families, alumni, and fans for your continued support!"
THE WORK IS NOT DONE
The Rangers return to action this weekend at DeSimone Arena with a pair of NSIC duals. The Rangers host Augustana on 7 p.m. Friday (Jan. 20). The first 100 pre-ordered tickets will receive a Ranger Bear Bobblehead presented by Lee Mechanical. To pre-order yours, visit parksiderangers.com/tickets. The Rangers will then host Southwest Minnesota State 2 p.m. Saturday (Jan. 21). The Rangers are excited to welcome back their alumni for this dual and will be recognizing three former national champions. For more information, visit parksiderangers.com/wrestling.