There was no better example of a servant leader for humanity than Dr. Martin Luther King Jr.
So honoring servant leaders was the theme of Monday's 29th annual Dr. Martin Luther King Jr. Celebration at Kenosha's Gateway Technical College, as Dr. King's wonderful message of servant leadership was spread with joy on the day commemorating his life and impact. The theme of the program to honor Dr. King at Gateway's Madrigrano Conference Center-Haribo Hall was "Recapturing the Dream to Make it a Reality."
Elizabeth Rosiles-Zavala, Gateway's director of Hispanic student programming, gave a wonderful keynote address, new Gateway President and CEO Ritu Raju delivered inspiring remarks and Gateway Vice President of Human Resources Jacqueline Morris opened and closed the ceremonies as the emcee.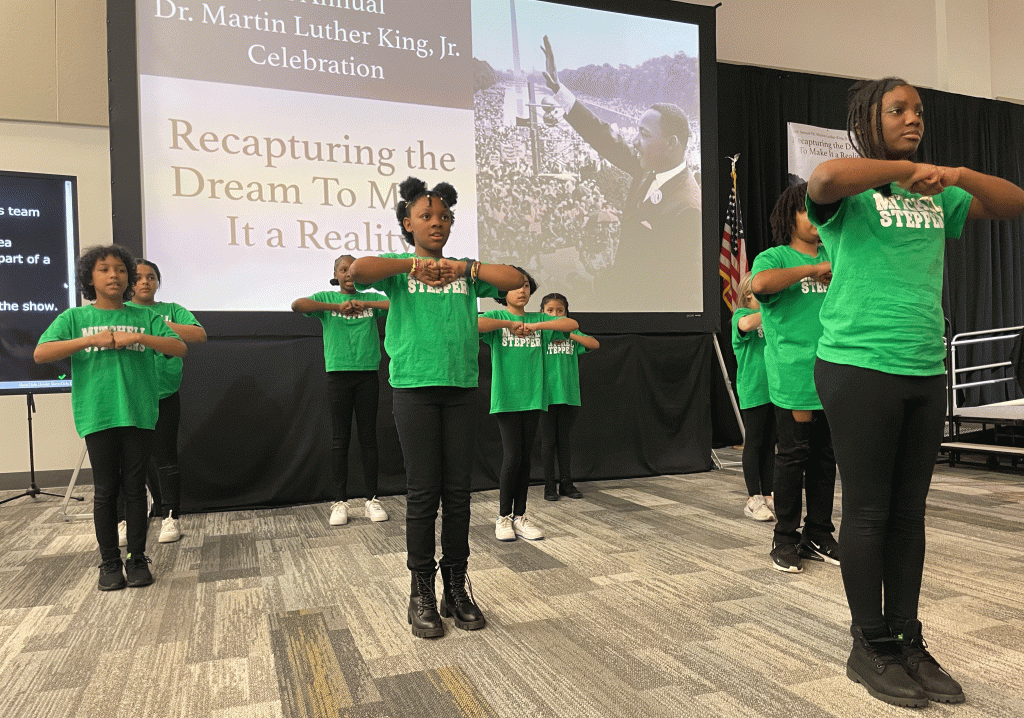 Additionally, three community servant leaders, Tamarra Coleman, Dr. James Kinchen and Scott Terry, were honored as the 2023 Humanitarian Award recipients.
And perhaps the best part of the program were the two stellar performances by the The Mitchell Steppers, a group of students from Mitchell School in Racine — coached by eighth-grade special education teacher LaMarquez Luckett — who perform stepping, a type of dance that originated in Africa but is also used as a form of discipline and an opportunity for bonding.
The Mitchell Steppers did a routine honoring Dr. King during their performance, saying "Our love will never die, Martin Luther King fly high."
Returning in-person
Monday's program marked a return to an in-person ceremony for the Dr. Martin Luther King Jr. Celebration for the first time since the COVID-19 pandemic forced it to go virtual.
Right away, Morris called up the recently retired Zina Haywood, longtime Gateway executive vice president/provost, who was honored last year but wasn't able to be recognized at an in-person ceremony until Monday.
"Dr. King was a model, and we should be following his model," Haywood said in a brief speech, imploring the audience to follow the example of Dr. King.
"… Peace is the only way, because we know that only love can drive out hate."
Next, Raju gave some remarks, as she has stepped into the role as Gateway's president and CEO following the retirement of Dr. Bryan Albrecht.
"I've always asked myself the question, 'Who am I not serving that I need to serve?'" Raju said. "I look forward to attracting all of you to learn more about our community's needs, to learn more about our students' needs, and to make sure that we, as Gateway, are not only a gateway for education, but are also a gateway for economic prosperity for the southeast Wisconsin region."
Humanitarian Awards
Following Raju's remarks, the three Humanitarian Award honorees were introduced, with a video of each accompanying their introductions.
First was Coleman, the executive director of the Shalom Center who also serves as board chairperson for the Kenosha Community Health Center/Pillar Health, a board member for the Kenosha Area Business Alliance and a board member for Building Our Future. In her varying roles, Coleman has secured many grants and services for the underserved in Kenosha County.
Coleman echoed a famous quote of Dr. King's: "Life's most persistent and urgent question is, 'What are you doing for others?'"
Answering that question, Coleman said, is why she's constantly driven to serve her community.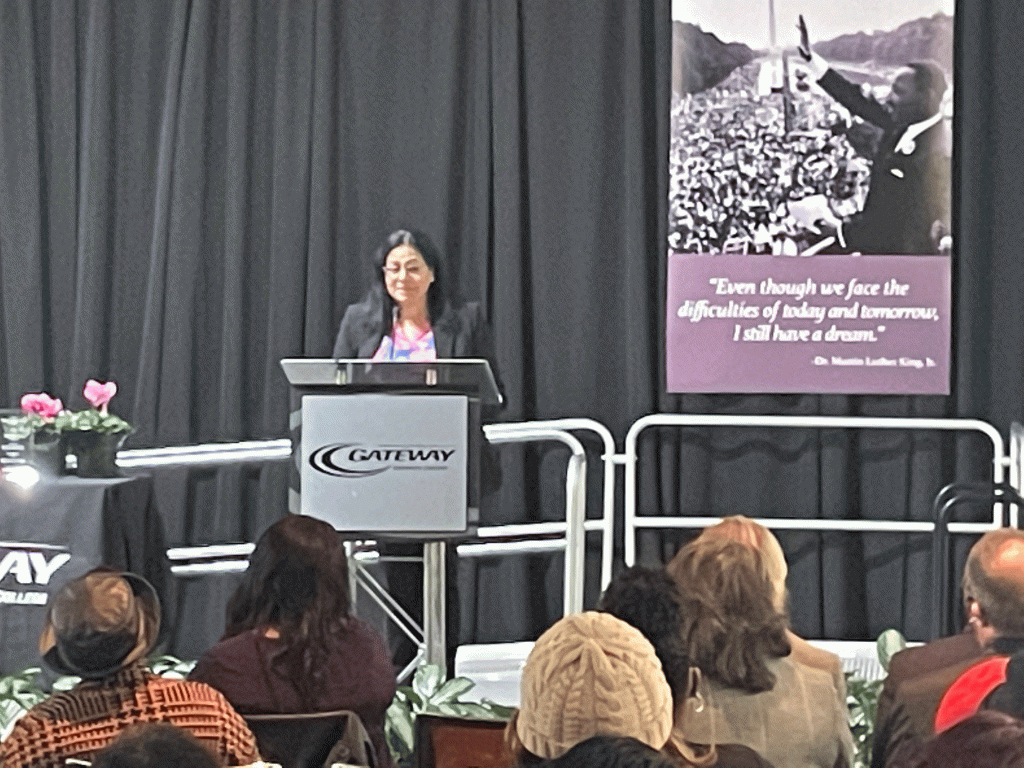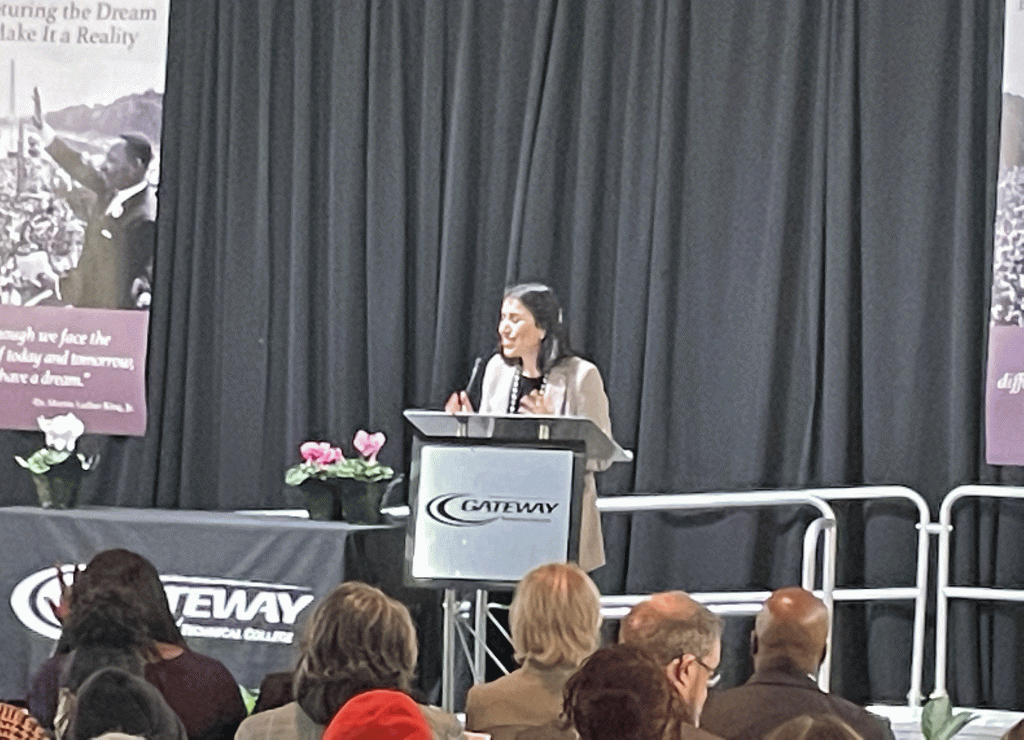 That is also true of Terry, who owns Mahogany Gallery, a commercial fine-arts center in Racine, and created the Black Arts Culture Center, Racine County's first African-American history museum, which preserves, exhibits and researches African-American contributions to Racine County.
Terry talked about how Racine County has always been a major destination point for Black entrepreneurs and also pointed out that Dr. King was not a perfect person, like all of us, but his relatability was instrumental in helping to convey his message to others.
"He was a man of peace, he was a man of love, he was a man of support," said Terry, emphasizing Dr. King's humanity and how his mission resonated with others.
"… Everyone can participate. Everyone can lead. Their voice is just as important as any other."
Finally, Kinchen was honored for his long service to the community. Kinchen is a music professor at UW-Parkside and also serves as the school's director of choral activities. A longtime music educator, Kinchen has helped bring many people together through music and recently received the prestigious Morris D. Hayes Award from the Wisconsin Choral Directors Association for his exceptional contribution to choral art.
Kinchen recalled growing up in Jacksonville, Fla., and the support and wisdom he received from his parents and teachers in schools that were then segregated.
"They saw a better and brighter tomorrow for us," Kinchen said.
Kinchen also said he was alive to hear Dr. King's words as they were spoken and recalled being in church to hear the news of Dr. King's tragic assassination on April 4, 1968. Remember Dr. King for his actions and all he advocated and worked for, Kinchen told the audience, and don't just reduce him to a few poetic words.
"It was more than 'I Have a Dream,'" Kinchen said. "It was more than 'I've Been to the Mountaintop.'"
Keynote speaker
Finally, Rosiles-Zavala gave an upbeat keynote address that focused on inclusion and education and how to serve the community through volunteer work and mentoring.
With the support of her family, Rosiles-Zavala earned an Associate of Arts degree from the College of Lake County and went on to receive a bachelor's degree and a master's degree from Northeastern Illinois University.
Throughout her career, Rosiles-Zavala has focused on creating a welcoming and supportive educational environment and fostering diversity through programs and services that promote student success, awareness and social justice.
"My dream as the director of Hispanic student programming here at Gateway Technical College is to bring awareness to our communities, cultivate positive experiences throughout diverse populations and then to find the barriers and remove them," Rosiles-Zavala said.
"… I want all our students to feel welcome here."
Rosiles-Zavala then implored the audience to become active servant leaders by volunteering at the area's many non-profit organizations and by mentoring others.
"Role models come in all shapes and sizes, and you could be a perfect fit," Rosiles-Zavala said.
Finally, she echoed the famous words of Dr. King.
"We all know Dr. Martin Luther King Jr. had a dream," Rosiles-Zavala said. "I will say to you, if you have a dream, make it a reality. Your future is yours. Let's be creative. Let's build a safe and healthy community together."
To close out Monday's program, Morris told everyone to go out and be servant leaders, as Dr. King was.
"We want you to go out and serve," Morris said in her closing remarks, before she and Hamilton led an inspiring rendition of the song "Lift Every Voice and Sing.