SOMERS — A self-proclaimed "nuclear nerd" better known as Miss America, Wisconsin native Grace Stanke felt right at home on Thursday (Jan. 12) at the University of Wisconsin-Parkside.
The UW-Madison nuclear engineering student delivered her first keynote speech since becoming Miss America by empowering a group of 450 local middle school girls at the 10th annual Girls Empowered by Math & Science (GEMS) Conference.
Stanke, 20, entertained the crowd with stories of her rocky path to becoming the 95th winner of the Miss America competition — overcoming a variety of hurdles along the way — and bonded throughout the day with a group of Science, Technology, Engineering and Mathematics (STEM) teachers and students.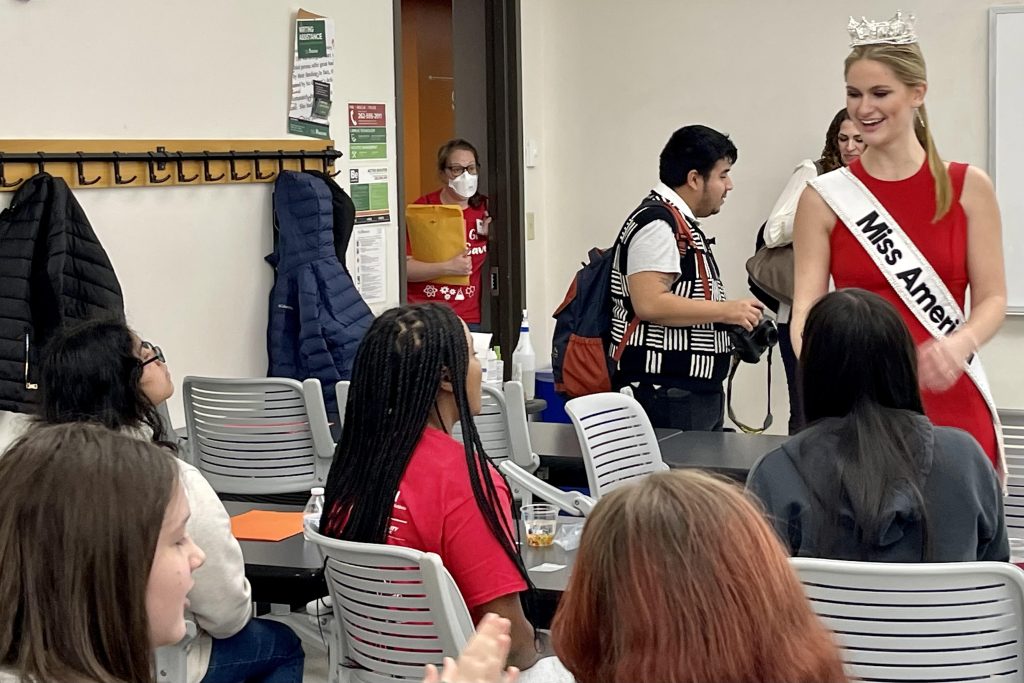 "Being here is so important to me," Stanke said. "As a woman in STEM, I wish I had opportunities like this when I was in seventh and eighth grade. I'm so excited to be a part of it to share my story as a nuclear engineering student, as a future engineer and as Miss America 2023."
Behind her clean energy platform and tantalizing violin skills, Stanke became the third Miss Wisconsin to win Miss America joining Kenosha's Laura Kaeppeler (2011) and De Pere's Terry Meeuwsen (1972).
Stanke joined the middle schoolers — primarily Racine Unified School District students — as they toured Parkside, interacted with a college student panel and engaged in three STEM workshops.
For the first time, Stanke got a full dose of what it means to be Miss America and the impact she has on others, including a star-struck group of STEM students.
Stanke reminded the girls to follow their dreams, pursue their passions and to care less about what others might think.
"Be comfortable with who you are," Stanke said. "That, in itself, is a powerful thing. You don't need to rely on what other people think about you. When I was in middle school that's all I cared about. What do they think of me? Am I the cool person? It doesn't really come from other people, it comes from within themselves.
"When I was talking to these 450 young girls that I really wanted to focus on. That is where empowerment comes from. That's where our future in STEM and powerful women come from."
Parkside Chancellor Debbie Ford said the event offers an opportunity to showcase diversity in the STEM fields.
"Events like the GEMS Conference are crucial in inspiring the next generation of girls to pursue their passions in these fields," Ford said. "We look forward to continuing this partnership and making a positive impact in the lives of these girls and in the STEM field."
Through her social impact initiative "Clean Energy, Cleaner Future," Stanke looks to eliminate misconceptions surrounding nuclear power and encourage young girls to get into the STEM fields.
Stanke was awarded a $50,000 scholarship and a six-figure salary to serve as Miss America. The Wausau native plans to complete her bachelor's degree following her one-year reign and pursue a master's degree.