The search for a new athletic director quickly led Carthage College to Ryan Kane, who has already built a strong resume in a remarkably similar setting.
Accepting the position, Kane will take charge of the Firebirds' thriving athletic program beginning April 1. He's been involved in NCAA Division III sports for more than 25 years as a student-athlete, coach, and now senior administrator.
Kane is currently the athletic director and head men's basketball coach at Ripon College.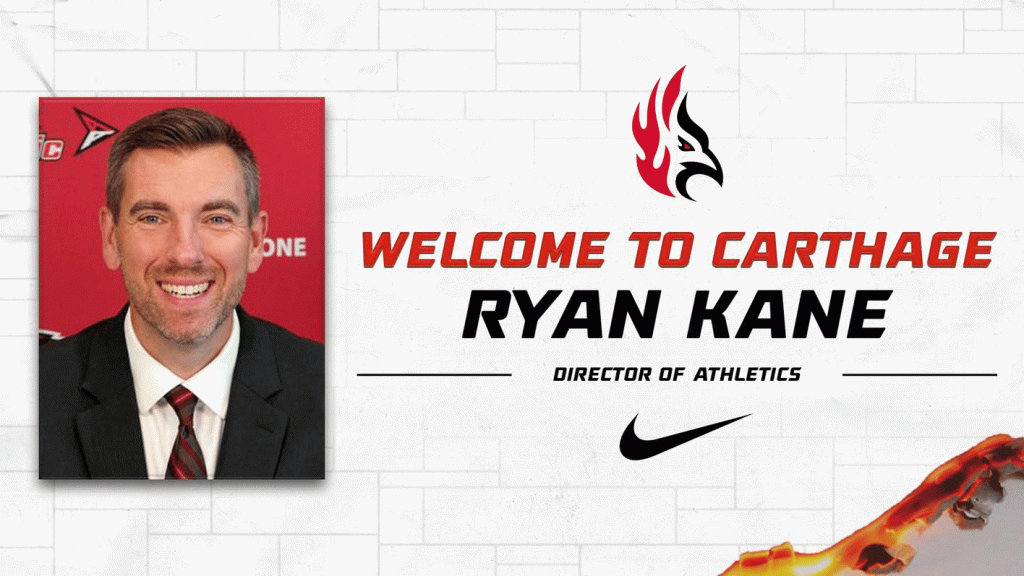 "Ryan's success as both a coach and athletic director at small, private Division III schools in the Upper Midwest made his candidacy exceptionally strong," Carthage President John R. Swallow said. "His expertise in leadership, management, recruiting, fundraising, and more will allow him to hit the ground running and keep Carthage Athletics on a trajectory toward even greater strength and impact."
At Carthage, he'll replace Nate Stewart, who is leaving after 2 1/2 years as athletic director to begin a new career path in higher education. Stewart has accepted a job as chief operating officer of development and alumni engagement at Centre College in Kentucky.
About 40 percent of Carthage students compete in 28 varsity sports. The Firebirds reached new heights over the past year, as the men's volleyball team won its second straight NCAA championship, shot putter Joseph White captured the college's 19th individual national title, and the coed esports team enjoyed a breakout first season.
Kane has admired the program — and the College Conference of Illinois and Wisconsin, which he considers "the gold standard" of D-III leagues — from afar.
"Athletically, Carthage has established a tremendous brand — not just in the region, but nationally," he said. "I wanted to be a part of that."
As Ripon's athletic director since 2019, he's overseen the growth of 18 sports. In 2022 alone, the Red Hawks set school records with seven Midwest Conference championships and 195 academic all-conference honorees.
There, Kane created an orientation and leadership program for all student-athletes, with informational sessions tailored to the distinct needs of wide-eyed freshmen and job-hunting seniors alike. He also helped to secure major gifts that will support the school's future mixed-use stadium.
"I love the private liberal arts approach to education and the skillset it provides," he said. "Carthage has struck the right balance between competing at a championship level and setting the environment for learning."
Raised in Green Bay, Kane competed in basketball and golf while studying communications as an undergraduate at nearby St. Norbert College and then earned a master's in sports administration from Valparaiso University. He and his wife, Paige, have three daughters.
To begin his coaching career, Kane spent nine years as an assistant at three other D-III schools in the region: Dominican University, Lawrence University and Loras College. Arriving at Ripon in 2012, he reached the 100-win mark faster than anyone in program history.
In his 11 seasons as head coach, Kane has led Ripon to a 158-84 overall record, which includes an 118-50 record in conference games, placing him eighth all-time in conference career coaching wins. The Red Hawks have appeared in the four-team MWC Tournament eight times during Kane's tenure, winning the MWC Tournament in 2017 and 2020 and advancing to the NCAA Tournament in both years. During the 2021-22 season, Kane led Ripon to its first MWC regular season championship in 23 years, earning hosting rights for the MWC Tournament for the first time since 1999.
In 2017, Kane received the school's Presidential Award for General Excellence, which is reserved for a singular staff member each year. The award recognized both the service opportunities he developed for his players and his concerted effort to engage team alumni.
He'll join Carthage full time at the end of the 2022-23 basketball season, his 11th as coach of the Red Hawks. Associate Director Kelsey Stoltz will capably lead the Firebirds' athletic operations in the interim.