Self-identity. Culture. Acceptance. Fitting in. Anxiety. Shame. Terror. Language. Family. Love.
These are some of the poignant feelings and themes expressed in a richly-layered, award-winning essay by Indian Trail High School and Academy junior Aryana Olivera.
And she expressed it all within just 100 words.
In a remarkable accomplishment, Olivera, 16, penned one of 82 essays to be selected as a finalist this month out of 12,448 submissions from around the world in the New York Times' 100-Word Personal Narrative Contest.
Using a storytelling form popularized by the New York Times' Modern Love's Tiny Love Stories series, the 100-Word Personal Narrative Contest asked students around the world to submit 100-word essays describing moments from their lives.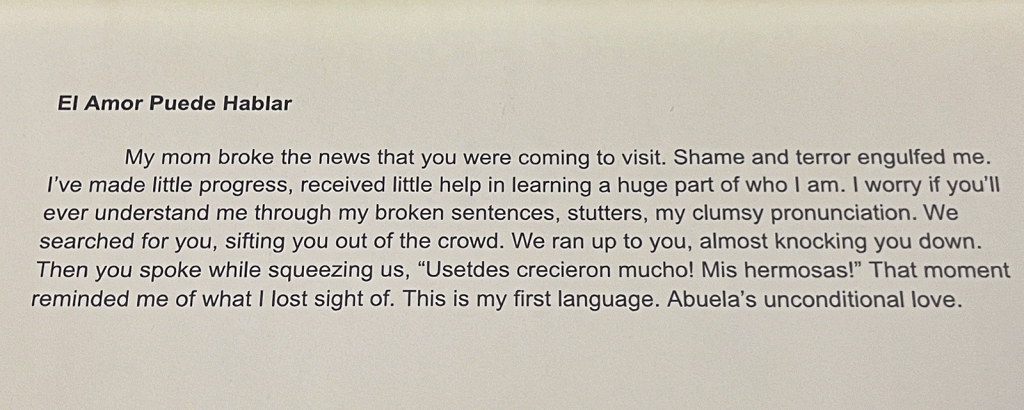 From those thousands of submissions, a panel of judges selected 13 winning essays that were published in the New York Times, along with 23 runners-up and 46 honorable mentions. Olivera's essay, titled "El Amor Puede Hablar," was among those selected in the honorable mention category.
The essays were submitted Oct. 14, with the award-winners announced Dec. 7. Indian Trail students submitted 102 essays via an assignment from the class of Advanced Placement Language teacher Allison Walton.
"My math teacher, she looked it up, and my name was on there, and I was like, 'There's no way this is real,'" Olivera said during an interview Tuesday afternoon at Indian Trail when asked what her reaction was upon learning her essay had been selected for honor in the worldwide contest.
"And I still can't believe it, me doing all this. I've never done this before."
The essay
Translated to English, the title of Olivera's essay means "Love Can Speak." In the essay, Olivera describes the anxiety she felt leading up to a reunion with her grandmother after Olivera had grown up.
Olivera was born and raised in Kenosha, so she is fully American by birth. However, her father emigrated to the United States from Mexico, and she has both Honduran and Mexican bloodlines in her family, so obviously much of Olivera's extended family speaks Spanish as a first language.
But Olivera, born in the United States and with English as her primary language, did not grow up speaking Spanish from an everyday, conversational standpoint. So when she was prepared to meet her grandmother, Olivera was gripped by shame and anxiety that she didn't speak her family's native language and that this would cause confusion and place a barrier between her and her grandmother.
Upon meeting her grandmother, however, Olivera writes that her grandmother squeezed the children in the family that greeted her and said, "Ustedes crecieron mucho! Mis hermosas!" Basically, that translates to, "You guys have grown up so much! My beauties!"
Then, Olivera concludes her essay: "This is my first language. Abuela's (Grandma's) unconditional love."
In other words, Olivera need not have worried about any language barriers. She and her grandmother have always spoken the most important language together, that of love.
The meaning
In just 100 words, Olivera does an amazing job conveying a complex range of emotions and feelings in her essay.
The core of it, though, touches upon the identity crisis that many immigrants or children of immigrants face when they're trying to assimilate into a new culture. They can get caught between feeling "too foreign" for their American peers and friends, yet "too American" for their own family.
Olivera, for example, is as "American" as anyone else. She's lived her whole life in this country. But her parents come from a completely different culture.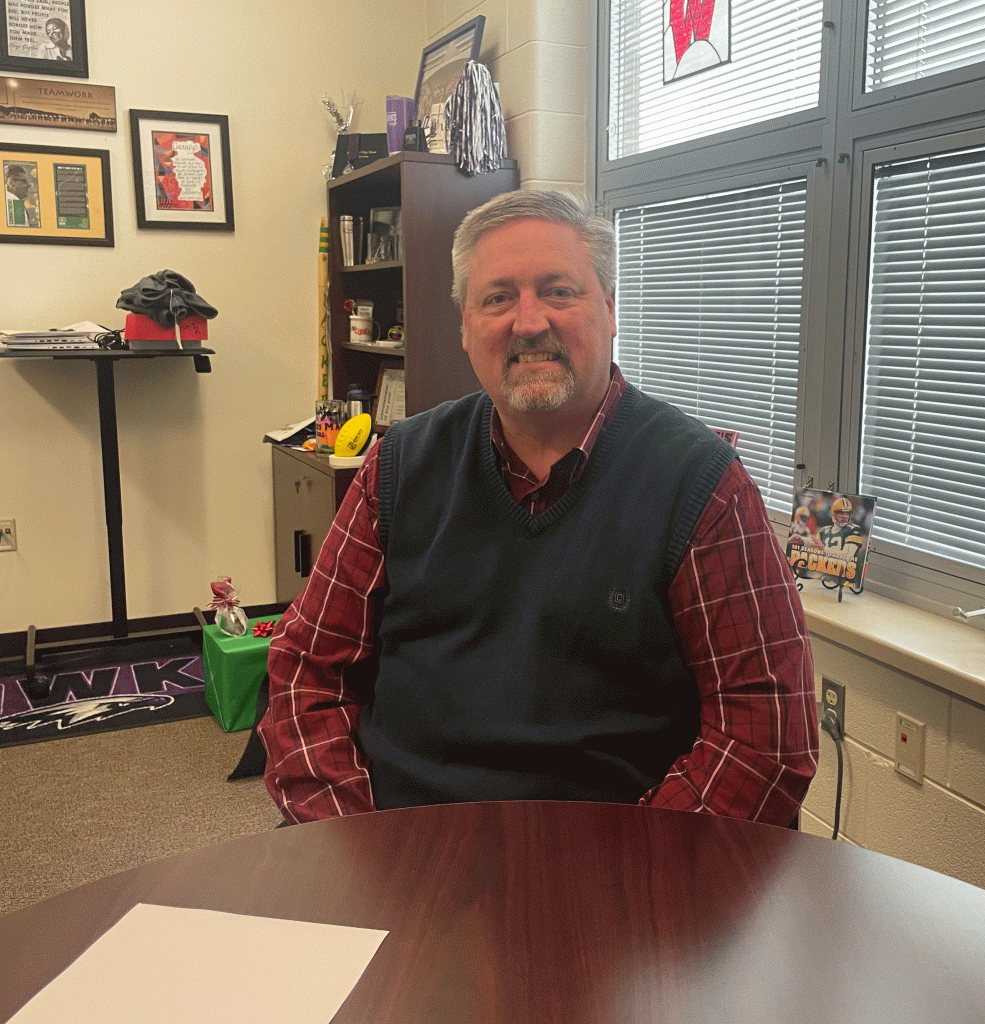 "I try my best to connect with my parents' culture," Olivera said. "It can be very conflicting within myself, trying to find my place here, fit in here, but also (fit in with) my family. My family, I'm, like, 'too American,' or some kids will say 'whitewashed' or something. I can feel sometimes that I'm not Mexican or Honduran enough. And so I can struggle with, 'Where's my place?'
"… It truly makes me think about, 'OK, where am I sitting when it comes to both sides?' And I can learn to combine both and just find self-identity within both."
When her grandmother came to visit, Olivera said she wanted to learn to speak Spanish more fluently and was gripped by the fear that she wouldn't be able to do so for her grandmother.
"I've always struggled with forming sentences and speaking to family, because I always have this thing of, 'I don't want to mess up,'" Olivera said. "That's how you learn a language. That's how you get the practice in.
"So I made sure to include that (in the essay) by saying that I was scared of her coming, but this is my chance to practice and get to know the language more and to speak to her."
And Olivera realized that just trying was still a great expression of love for her grandmother and her family's cultural background.
"Especially with my family's always talking about, 'Oh, they don't know Spanish yet. They're not fluent yet,'" Olivera said. "But trying at all is better than refusing to speak Spanish. When (my grandmother) was here, I tried to do as much as I could, so that I can better connect with learning Spanish and being closer with my culture."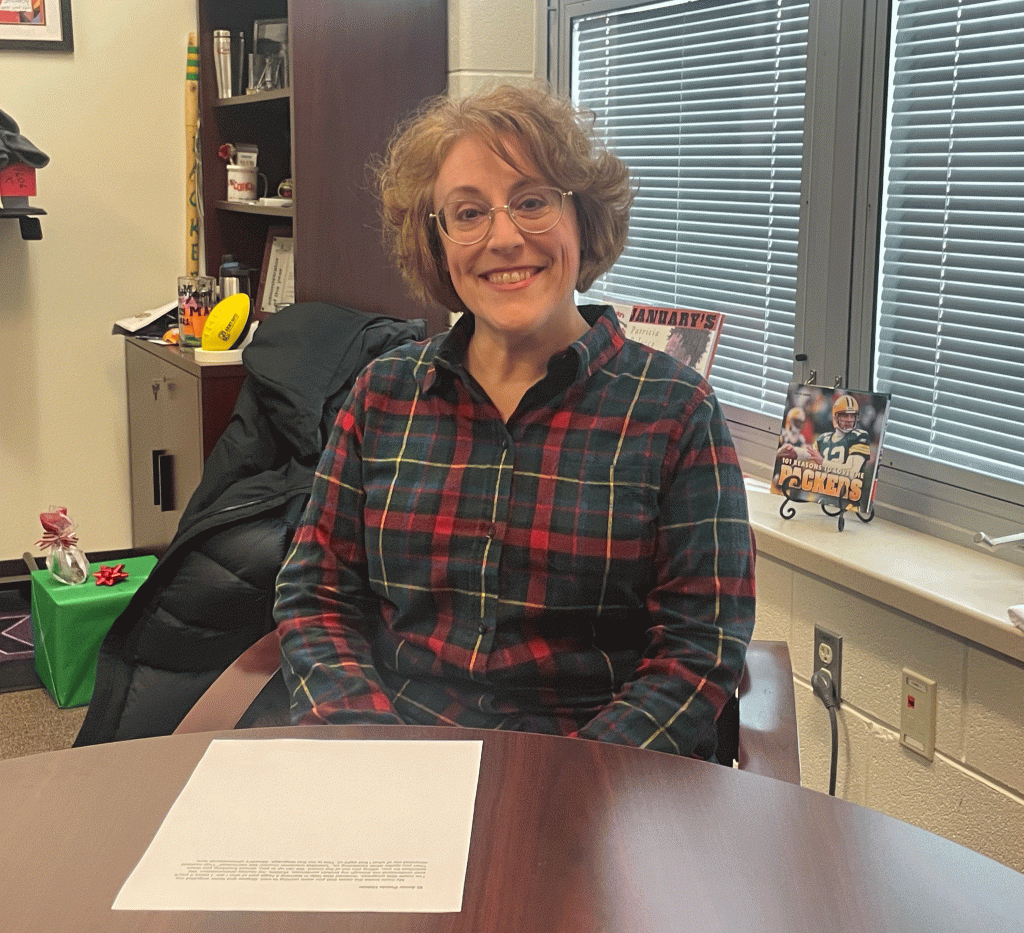 For the teacher who gave Olivera and her classmates the essay assignment, Olivera's powerful words are a great message to the many fellow students with various cultural backgrounds who may be suffering from the same type of confusion with their self-identity.
"I am (proud), and I'm glad that she was comfortable enough to share that story," Walton said. "Sometimes our kids feel uncomfortable and ashamed with speaking their native language, and that should never be the case."
Indian Trail Principal Scott Kennow agreed with that assessment and said he was just blown away when he first read Olivera's essay.
"What really struck me about this is that it really speaks to the fact that kids are always striving for acceptance," Kennow said. "They want to please their parents, they want to fit in with their peers, and this is a great example of where that conflict comes in.
"She values family, she wants to do a great job, and yet being around her peers, she feels like she's pulled to be one person versus the other."
But, as the end of Olivera's essay demonstrates, unconditional love shatters all language barriers and self-identity questions.
"It shifts to — this is where it really hits me — where it's Grandma's unconditional love," Kennow said. "'She's going to love me no matter what, and I'm just going to keep on working hard.'"
The assignment
Of course, the beautiful end product that was Olivera's essay doesn't adequately describe what a challenging assignment it was.
The idea for the assignment came from a group of AP Language teachers that Walton shares ideas with. She figured it would both challenge her students and be a good way for her to get to know them when the school year started back in the fall.
"A lot of kids, they're not used to using the first-person voice in their writing, and so I thought this would be cool," Walton said. "They can learn to get into this class (by) showcasing one of their stories in their own voice, I can get to know them, they can learn to be economical with words.
"The whole point of the class is learning to write for a specific audience. Oftentimes, most kids at school with their writing assignments, their audience is the teacher or their classmates. And so this is an authentic audience, so an opportunity to write for a national — or really an international — audience with the New York Times."
As any writer can attest, compiling lengthy copy and flowing prose actually isn't the most challenging assignment. But finding a way to distill what you want to say, and do it the most effective way possible, in only 100 words is much, much more difficult.
To demonstrate the process to her students, Walton said she wrote her own 100-word essay that she "failed" on, giving her students an example of something that needed to be vigorously reworked and edited to reach a finished product.
"It's a difficult assignment," Walton said. "Part of it was, there's the audience, but again, being economical with words and picking a topic that they felt strongly about. Another piece of this was revising and learning how to take something from a first draft to a second revision to a third revision to a final copy, and really working on difficult things each step of the way."
The assignment certainly challenged Olivera.
"It was very difficult," she said. "I had to take some stuff out and revise as much as I could."
While Olivera's essay won the honor, the most rewarding part of Walton's assignment was that all 102 of her AP Language students completed it and submitted their essays to the New York Times for review.
"It was really fun," Walton said. "They were very excited. We submitted them all on the same day in class. The excitement was palpable in the classroom as they were sending them off."
As proud as he is of Olivera, Kennow said the assignment was another great indicator of how great his staff at Indian Trail is.
"We have an amazing staff," Kennow said. "The first thing I did was I went to Allison, and I said, 'How did you get (Olivera) to do this?' She said, 'I just got out of the way. I taught her what needs to be taught. I let her think and be who she wanted to be, and this came out.'
"It's just amazing."
Having now proven her considerable talents in a worldwide venue, you may think Olivera has already decided to go on and become a famous writer.
But she is, of course, still just a junior in high school.
"I still have to figure out my path, I guess," Olivera said with a shy smile when asked what her future plans may be.
"… I don't know where, but college for sure."
For Kennow, meanwhile, Olivera's essay is yet another reminder of how many diverse, talented and amazing students walk the halls of Kenosha County schools each and every day.
"Kids want to be successful," Kennow said. "Kids want to be great, so we just really have to provide more opportunities for them to shine in their own strengths. It's not always the basketball court or the football field or soccer, or whatever. It can be theater, it can be writing, it can be speaking, it can be anything.
"So it's great that a high school of our size gives kids an opportunity like that."