Elizabeth "Betsy" Brown calls Kenosha Christmas Charities, Inc. — commonly known as The Goodfellows — "the oldest game in town."
That's because The Goodfellows have been raising money to provide coats, toys and food to children in need in the Kenosha County area since the Great Depression days of the 1930s.
"I don't know of any other organizations (in Kenosha) which have been raising money consistently for that long," said Brown, current president of The Goodfellows, in a phone interview Wednesday morning.
Brown, whose husband was the late Howard J. Brown, longtime president and publisher of the Kenosha News, was in a jovial mood on Wednesday morning following The Goodfellows' annual fundraising dinner and gala on Tuesday night.
Held at the University of Wisconsin-Parkside ballroom, Tuesday's dinner was The Goodfellows' first in-person fundraiser in two years, due to the COVID-19 pandemic.
Evidently, it was great to be back.
"It was an enormous success, it really was," Brown said enthusiastically. "The in-person event, we did not have it for two years. So we were back, so to speak. The in-person event marked a celebratory comeback after this two-year hiatus."
Despite not having an in-person event for two years, however, The Goodfellows still raised a lot of items for children in need. Brown said last year's efforts resulted in toys being given to 4,156 children.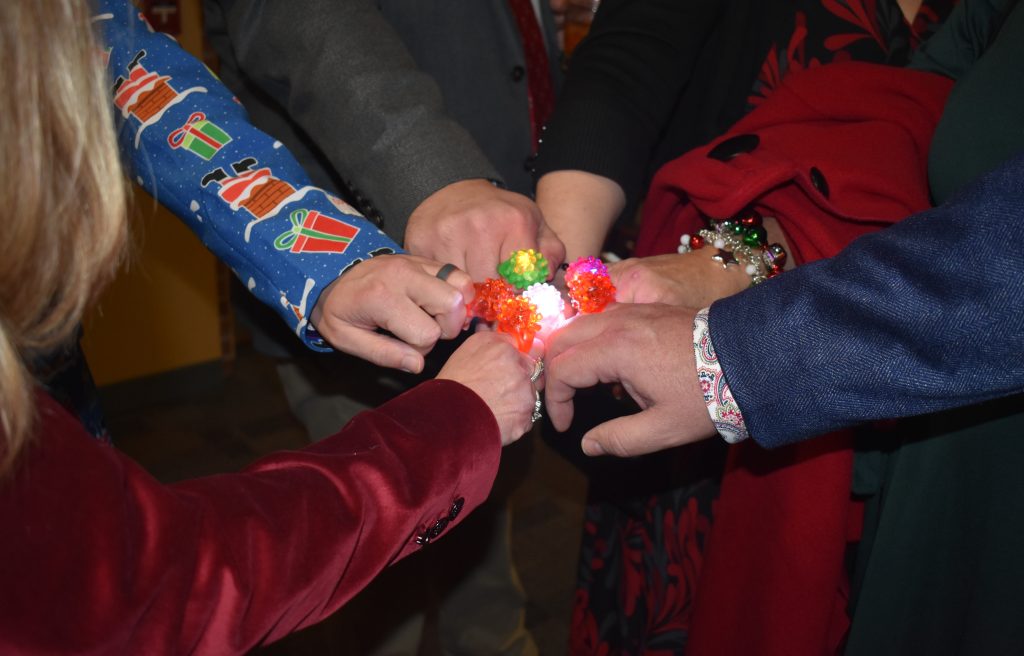 The numbers aren't in yet for this year, of course, but Tuesday's dinner portends a successful charity drive.
"I have every reason to believe this year is going to be equal, and may exceed, the numbers that we've had in the past that we've given to (families in need)," Brown said. "(Tuesday) night's event was really, really, financially, very successful.
"We had an enthusiastic audience that wanted to bid on the items that we had (and) were anxious to make contributions. This made it just a stunning evening."
Additionally, Brown made a point to say the staff at Parkside delivered when it came to the food.
"(Parkside) provided a very tasty meal," Brown said.
Raising money
Each year, The Goodfellows provide toys, food and winter outerwear to thousands of children in need during the holiday season.
Brown said it takes about $100,000 for the organization to provide the new coats, new toys and carts of food that it distributes to families. A massive list of contributors at different financial levels helps to reach that financial goal, and Tuesday's dinner kicked in a bunch more.
"We get this marvelous help, just from the community at large," Brown said. "We have donors who give amazing, to me, amounts of money. We have our Patrons, we have our Sponsors, we have all of these people who help us, in addition to those who came (Tuesday) night.
"… It was very successful. I was very, very happy."
The Goodfellows was founded in the early 1930s — when all communities were hit so hard by the Depression — by then-Kenosha News President and Publisher Ralph S. Kingsley, who gathered a small group of prominent Kenosha businessmen and industrialists to provide assistance to children and families in need in the Kenosha area.
That group founded the "Christmas Basket Fund," which was later renamed The Goodfellows, to help families in need, especially during the Christmas season. The organization has only grown and expanded its efforts and today is composed of many local businesses and organizations to help families in need.
Howard and Betsy Brown have taken the reins for many years to spearhead the charity efforts started by Kingsley and his group, and a quote by Howard — who was one of the most quotable Kenoshans ever — on The Goodfellows' website states perfectly what the organization stands for.
"Those who contribute to the less fortunate recognize that man is a fragile creature buffeted by the winds of fate," Howard Brown said. "Behind the mirth and merriment of the Kenosha Christmas Charities is a sensitivity to the human condition and the realization that donating to the disadvantaged is, indeed, giving of one's self to one's self.
"For there are few activities more gratifying than serving humanity. To be a Goodfellow is to strive for understanding and to enjoy giving."