Off all the wonderful superlatives you could say about any "Shop with a Cop" event, Lt. Joseph Nosalik of the Kenosha Police Department said it best.
"This event, there's just something special about it," said Nosalik, KPD's Public Information Officer, on Saturday morning, Dec. 3, at Kenosha's Meijer store, 7701 Green Bay Road.
"Something special about the season."
Nosalik is right on the money.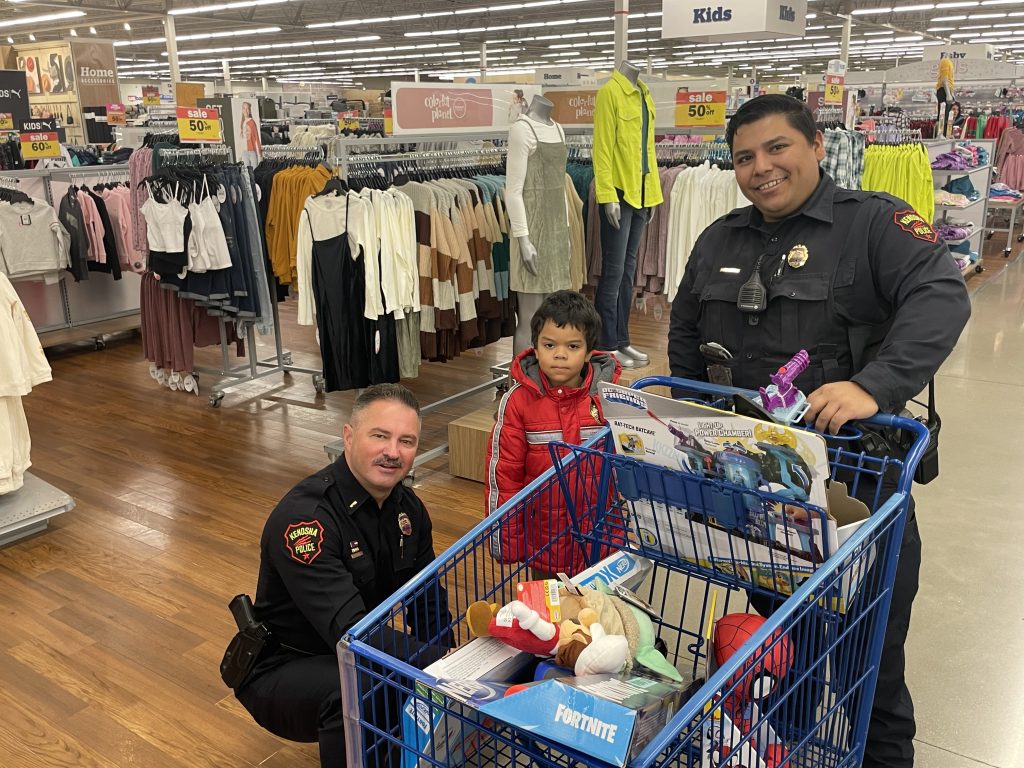 This past Saturday morning, KPD held its annual "Shop with a Cop" event at Meijer, in which students selected from Kenosha Unified School District schools were able to shop with a KPD officer and pick out Christmas gifts for family members and themselves.
It was, indeed, a special morning, as about 50 kids participated in shopping with KPD officers and then had their gifts wrapped. Paielli's donated 10 dozen donuts, and Meijer was packed with a contingent of KPD officers, support staff, parents and children, all with huge smiles on their faces.
"These cops are having a great time," Nosalik said. "These kids are having a blast. And (picking out gifts) is not influenced by their parents. Their parents are hanging out having coffee and donuts over there.
"So this is truly about the cop-kid relationship. It's really wonderful."
And, fortunately for the community, that was just the first of three "Shop with a Cop" events this holiday season.
Other events
This Saturday, Dec. 10, the Pleasant Prairie Professional Police Association is holding its 17th annual Pleasant Prairie "Shop with a Cop and Firefighter" event, which will also be at Meijer, beginning at 9 a.m.
Then, on Saturday, Dec. 17, the Kenosha Sheriff's Department will hold its annual "Shop with a Cop" event, also at Meijer, starting at 8 a.m.
This year is a special milestone for KSD, says Det. Tim Hackbarth, as it's the 30th anniversary of KSD's "Shop with a Cop" program.
Since it covers a wide area, KSD has an expansive list of schools participating in the event throughout the city and county. According to Hackbarth, the list includes Wheatland Center School, Randall Grade School, Trevor-Wilmot Grade School, Paris Grade School, Brighton Grade School, Bristol Grade School, Frank Elementary, Pleasant Prairie Elementary, Prairie Lane Elementary, Christian Life School, Riverview Elementary, Lakewood Elementary, Somers Elementary and Wilson Elementary.
Participating students will go into Meijer with a KSD deputy or detective and pick out gifts. Like KSD's "Shop with a Cop" event, kids pick out gifts for their families first, but then they're told they can pick some out for themselves, too. There will be a station to get them wrapped afterwards, as well.
Also, the KSD "Shop with a Cop" event includes an appearance by Santa, who will visit with the kids and hand out goodie bags as they shop. In addition to the shopping spree, Hackbarth said, each kid will receive a $100 gift card from Meijer so their parents or guardians can get food for the family, too, if they'd like.
For this Saturday's Pleasant Prairie "Shop with a Cop and Firefighter" event, meanwhile, 100 percent of every donation goes toward the event.
According to a news release on Pleasant Prairie's website, "'Shop with a Cop and Firefighter' is a way to help local families who may not otherwise be able to celebrate the holidays in a traditional manner." Children will pair up with a Pleasant Prairie police officer or firefighter to select gifts for their family members, and the event also gives kids and their families the opportunity to interact with first responders outside of a crisis event.
"This program is an excellent way for children to interact with emergency responders in a positive way," Pleasant Prairie Police Chief David Smetana said in the release. "More importantly, though, the program enables struggling families without our community to share the joy of the holiday spirit."
Great event for all
As this past Saturday's KPD event at Meijer proved, "Shop with a Cop" events are beneficial on multiple levels.
For one, since kids first come in under the pretense of shopping for gifts for their families, they get into the spirit of giving before they pick out something for themselves.
"It's awesome to see the kids excited," said Capt. Patrick Patton, who will officially take over as the City of Kenosha's newest Police Chief on Jan. 1.
"They talk about their sister, their brother, 'I want this for my uncle,' or whatever."
Usually, the kids have to be prompted by the officers to pick out something for themselves, because they're so excited to shop for others.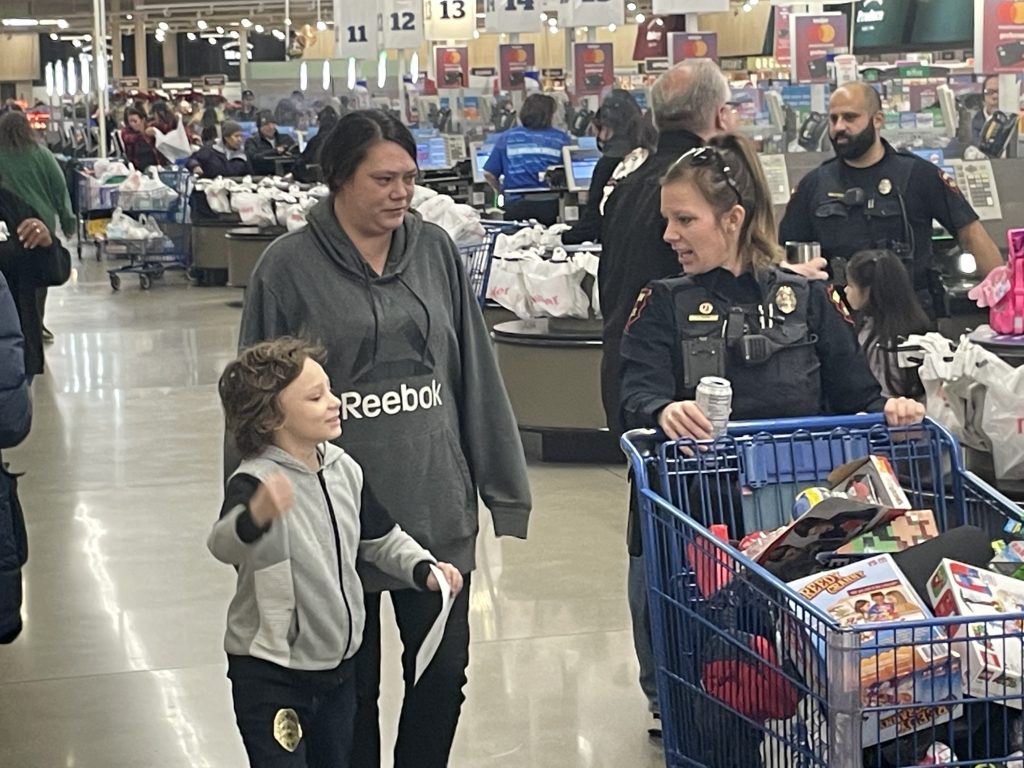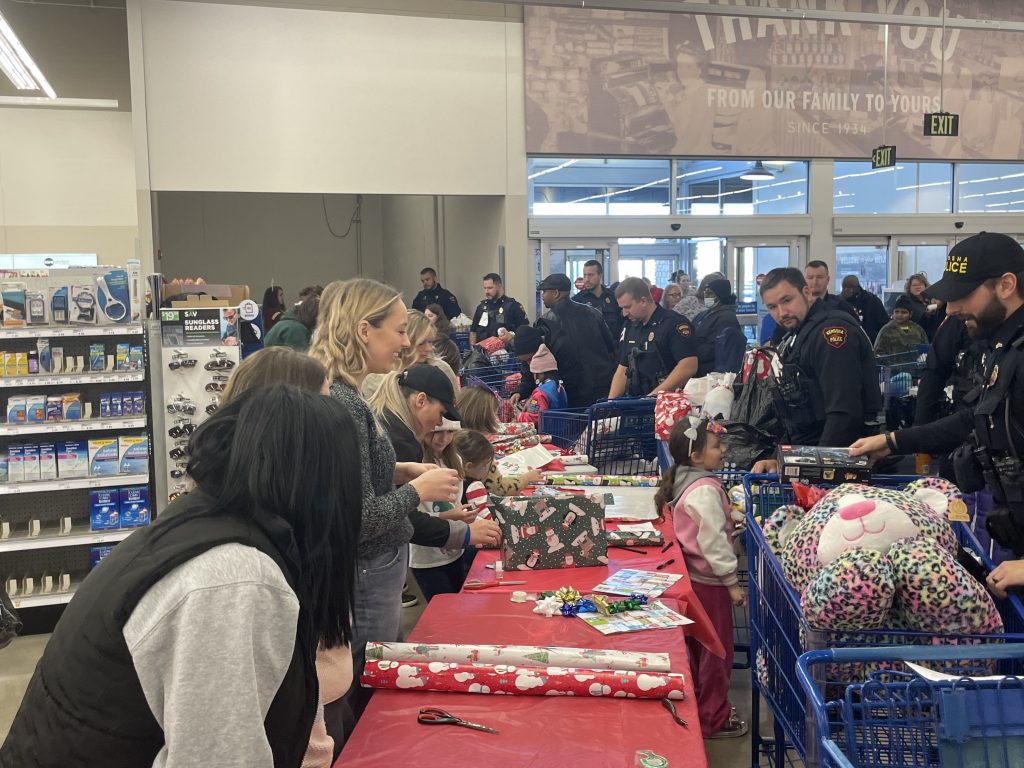 "The innocence of this, the innocence of the holiday season — it really, really is a joy to watch these kids come out here and enjoy themselves," Nosalik said. "What's really, really eye-opening and heartwarming is most of these kids are out here to buy gifts for somebody else in their family. They're not filling their cart for themselves.
"The officers usually have to convince the children, 'Make sure you pick something out for yourself.' They deserve it. They earned it."
But while the event is such a treasure trove for the kids and their families, the biggest gift is the positivity that law enforcement officers gain from it.
KPD's "Shop with a Cop" event is organized by the department's union, the Kenosha Professional Police Association. All of the officers who participated in Saturday's event volunteered for it.
Det. Pete Deates, president of the KPPA, says events like "Shop with a Cop" are a welcome respite for law enforcement officers, since their job usually requires them to deal with people under trying circumstances.
"We do it because we want to give back to the community, and we want to try to have a positive impact on kids' lives," Deates said. "But what it means to us and the impact it has on us is by far more than the impact it has on the kids and the families that we're helping.
"… It's part of the gig, but it's unfortunate that there's so much negativity. People don't normally call the cops because they want them to come over and have a cup of coffee and sit down and have a conversation. People don't call us unless it's usually their worst day. It's a lot of accumulation of negative events that happen with us, and this is just a way to kind of take a step back and take a breath and have positive interactions.
"It's a very cool event that we can help out the kids and the families (with). That's the purpose of it, but I guess the unintended consequence is how it helps us."
Deates also pointed out how many people and organizations work hard to make "Shop with a Cop" possible. He singled out KPD office associate Morgan Shepperd, who spearheaded the organization of Saturday's event.
"She's phenomenal," Deates said. "She does all the behind-the-scenes stuff, all the organizational stuff."
Meijer, of course, was integral to Saturday's event, hosting it and donating coffee, milk, orange juice, wrapping supplies and $5,000. And a long list of Kenosha businesses also donated money to facilitate the shopping spree for the kids.
In the end, the best part of "Shop with a Cop" events is the opportunity for law enforcement personnel to connect with the community at a young age. Patton pointed out that his predecessor, Chief Eric Larsen — who's retiring at the end of this month after a nearly 30-year career with KPD — has made a strong push for the department to make inroads with the community, which includes events like "Shop with a Cop" during both the holidays and for back-to-school supplies.
Judging by all the smiles at Meijer this past Saturday, that mission was accomplished. And there's more to come during each of the next two Saturdays at Meijer.
"It's a wonderful event," Nosalik said. "It's a pleasure to be here."