What makes a "holiday movie?"
I think we can all agree that it has to have at least some tangential relationship to the holiday season (Thanksgiving and Christmas). But I would go farther than that. For me, a holiday movie has to impart a spirit of the season.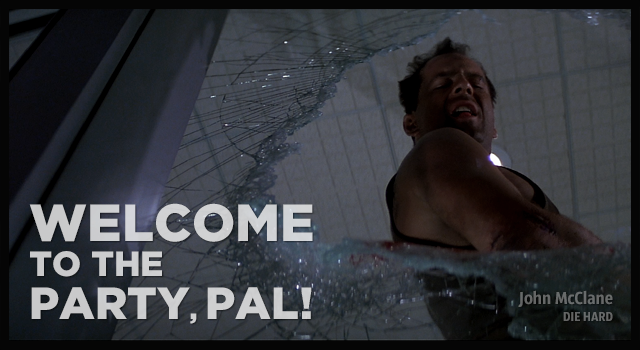 It's not enough to be merely set at Christmastime (Die Hard) or to include a holiday tune (Meet Me in St. Louis). The season has to be a central focus of the film. Furthermore, the movie has to be inspirational. It doesn't have to be religious, but it does need to come firmly down on the side of goodness and decency and motivate us to be good and see good in the world around us.
I'm not opposed to movies that choose to emphasize cynicism and sarcasm in their worldview surrounding the holiday; certainly there is a place for such films. But when I sit down to watch a movie during the holidays, usually with family and friends, I want a movie that will emphasize joy, love and fellowship. Save the cynicism for the rest of the year.
My five favorite holiday films:
It's A Wonderful Life (1946)
This should come as no surprise to anyone who read my article on my favorite films. This classic film, directed by Frank Capra and starring James Stewart, Donna Reed, Thomas Mitchell, Ward Bond, Henry Travers, Gloria Grahame, Beulah Bondi and Lionel Barrymore is the quintessential holiday movie.
The first part of the film introduces you to George Bailey (Stewart) as first a young boy and then a grown man, who at almost every turn of his life has sacrificed his own self-interest to that of the greater good. Then, on one fateful Christmas Eve, when he is at his lowest point, he is given the chance to see what life would have been like if he had never been born.
History is made by the "great" men and women, but community is made by the little folks who give of themselves every day to make their corner of the world a better place. These are the moms and dads who serve on school boards, the church ladies who cook for and serve at parishioner funeral luncheons, the employees who volunteer for food and clothing drives and other charitable endeavors and the business managers who actively support such efforts, and the countless other ways everyday people make a difference in the communities where they live.
This movie is a celebration of them. My Christmas is empty if I don't have at least one viewing of It's A Wonderful Life, and if you have never seen it, I encourage you in the strongest of terms to sit down for a couple hours with the richest man in town.
Most heartwarming scene — the ending, of course.
Miracle on 34th Street (1947)
Another classic, featuring Edmund Gwenn's Oscar-winning turn as Santa Claus. Note I did not say as a man who claimed to be Santa. Nope — I am all in that Gwenn's Kris Kringle was Santa Claus, and I don't need the Post Office to tell me so.
Maureen O'Hara stars as a modern woman who isn't prone to flights of fancy, and when she hires an old man named Kris Kringle (Gwenn) to play Santa Claus in the Macy's Thanksgiving Day parade, and then to be Santa greeting kids in the store during the season, she is resistant to the fantasy that he might just be the real thing, no matter how much anecdotal evidence supports it.
When he is committed as a lunatic, her boyfriend lawyer (John Payne) takes the case against her wishes and that of his law firm and attempts to prove in court that Kringle is Santa Claus, in one of the most delightful movie courtroom sequences of all time. Look for a very young Natalie Wood as O'Hara's daughter.
Most heartwarming scene — Kris Kringle/Santa converses with a little Dutch girl in her native language.
White Christmas (1954)
Not many movies are made from songs, but that is just what this is.
The song White Christmas debuted in the movie Holiday Inn, and became such a monster hit for Bing Crosby (still the highest selling record of all time) that Paramount decided to create a movie around the song.
The result is a wonderful, funny musical romp about a pair of showbiz entertainers (Crosby and Danny Kaye) meeting the sisters of any old army acquaintance (Rosemary Clooney and Vera Ellen), and then traveling to a snow-free Vermont where they are reunited with their old Army general (Dean Jagger) and decide to put on a show to help him out. Featuring great dancing and several new songs from Irving Berlin and of course the title number, which bookends the film.
Most heartwarming scene — has to be the finale with the title song and a stage full of green Christmas trees and red costumes.
A Christmas Carol (1938)
There are so many film versions of Charles Dickens' A Christmas Carol that it is almost impossible to count.
I've seen any number of them, including the 1951 version with Alastair Sim (considered by most critics to be the best), a 1984 version with George C. Scott, the musical Scrooge starring Albert Finney, the comedy Scrooged with Bill Murray, even an American version with Henry Winkler.
My favorite, though, is one of the earliest sound versions, starring Reginald Owen as Scrooge, Gene Lockhart as Bob Cratchit and Leo G. Carroll as Marley's ghost. This is a very economical version of the story, checking in at just 69 minutes in length, but what it saves in time it most certainly does not lose in the quality of the storytelling.
Owen makes a wonderful Scrooge, and his transformation from cantankerous miser to open-hearted benefactor is quite believable and joyous. Lockhart is heartbreaking as Cratchit; the put-upon clerk desperately trying to keep his head above water to support his family, and especially their ill little boy Tiny Tim. The home scenes of Cratchit and his family are the heartbeat of the film.
Most heartwarming scene — certainly the transformation of Scrooge and his making amends to his nephew and clerk, but for me, the fortitude Cratchit displays when he tries to hide from his family his misfortune so that it doesn't ruin their Christmas celebration.
A Christmas Story (1983)
I still cannot get over that this movie was made by the same guy who directed Porky's. If there was ever a more incongruous filmography I can't think of it.
This movie perfectly captures a place and moment in time, a small, midwestern city in WWII-era America, and the special anticipation of a young boy at Christmastime. The movie is sentimental, nostalgic and very funny, and those who have seen it can easily recall any number of classic scenes (the "Italian" special prize, the Christmas dinner in a Chinese restaurant, etc).
Peter Billingsley is Ralphie, the 9-year-old son of parents played by Melinda Dillon and Darren McGavin, who is desperate to get a Red Ryder BB gun for Christmas, but finds opposition wherever he turns ("You'll shoot your eye out!").
As someone who grew up in a small, midwestern city in a house not too unlike the one shown in the film, certain elements of the film ring so true, especially the numerous extension cords used for the Christmas tree. And while my father was a much more mild-mannered man than the father in the film, not prone to expletive-laced tirades when something broke down, I certainly could identify with the many times he had to intervene to keep an aged house running. And I am not so removed from childhood that the overwhelming desire to get a specific toy doesn't resonate.
Most heartwarming scene — Ralphie sees his mother in a new light when she calms him down after a fight and then downplays it when she tells his father.
Here are some other favorites:
Planes, Trains and Automobiles (1987)
More a comedy than a holiday film, it is the rare movie set at Thanksgiving and concerns the efforts of Neil (Steve Martin) to get home for Thanksgiving after a business trip.
One of the funniest movies I have ever seen, as Neil is foiled in his attempts to get home at every turn and just cannot seem to shake the annoying, overbearing Del (John Candy, in one of the greatest comic performances in all the movies).
Frankly, the Thanksgiving theme only loosely holds the various comic episodes together, and truly the film is memorable for the comedy and not because it is set at the holidays. Not recommended for small children as the language in one (hilarious) scene can be quite vulgar.
Home Alone (1990)
Wow, I never realized how many lovers of Home Alone 2 there are. The reaction to my last article from my own family was so intense I had to lobby to be invited to Thanksgiving dinner.
Maybe I can make amends by reiterating how much I loved the original Home Alone.
A perfect combination of slapstick comedy and sentiment, it stars Macauley Culkin as Kevin, a precocious kid left alone at Christmastime when his family unwittingly leaves him behind when they go on vacation to Paris, and his efforts to foil two hapless robbers (Joe Pesci and Daniel Stern).
One of the very few movies to mention Kenosha, as the great John Candy plays the leader of a polka band called the Kenosha Kickers who help out Kevin's mom (Catherine O'Hara) as she tries desperately to get home to her abandoned son.
Love Actually (2003)
A funny, romantic, even sad episodic ode to the holiday season that follows eight loosely-connected couples in the weeks before Christmas as they seek out love and connection.
The movie has a great cast, including Hugh Grant, Emma Thompson, Alan Rickman, Colin Firth, Laura Linney and Liam Neeson.
This movie might actually have made my top five if not for a head-scratching decision to include a sub-plot involving body doubles in a movie sex scene; the scenes involving this couple are so totally out of place to the rest of the film (and enough to discourage showing to minors) that it tarnishes all the other wonderful parts of the film.
Elf (2003)
I am not a big Will Farrell fan, but this movie makes great use of his talent.
Farrell plays Buddy, an elf who as an orphaned baby ended up in Santa's sack and was taken to the North Pole, where he was raised by Santa and Mrs. Claus. Now grown, Buddy travels to New York to find his biological father (James Caan), who is a jerk that had no idea he had a child.
Essentially a fish out of water film, the film follows Buddy as he tries to adapt to the big city and its denizens, and they try to relate to this oversized innocent. Farrell quite frankly is fantastic at portraying this man-child's naivete and at the slapstick comedy that ensues. And of course (this is a holiday movie) along the way he melts the old man's heart.
The Shop Around the Corner (1940)
This movie made my top 10 favorite films, so it might seem odd it is not included in my five favorite holiday films. I can only explain that I am on the fence as to whether it actually qualifies as a holiday film, and so for that reason I didn't include it in my top five.
The connection to Christmas is tenuous, as the film is set in Budapest at Christmastime. The main plot of the film involves a pair of pen pals who unwittingly are department store co-workers who don't like each other, and their eventual realization that the other is the person they have been romantically fantasizing about.
Simply one of the best love stories Hollywood ever made.
It is really not until the end that the holiday becomes part of the film, as the final scene is set in the store during the Christmas Eve rush. However, the main reason I think it might be included as a holiday film is a wonderful moment when the store owner, Mr. Matuschek, desperate not to be alone on Christmas Eve, asks each of his employees what they are doing for Christmas, and eventually finds a companion when a newly hired young delivery driver excitedly accepts his dinner invitation. A heartwarming scene that beautifully captures the essence of the holiday season.
I would like to extend my heartfelt best wishes to all for a healthy and happy holiday season!