Chiappetta Shoes is just about the perfect location to honor Small Business Saturday in Kenosha.
And, of course, you can also pick up some fantastic deals on quality footwear while you're there.
Located at 6821 39th Ave. — for just another couple months before it takes residence in its new, bigger location along Highway 50 — Chiappetta Shoes was bustling with activity on the afternoon of Small Business Saturday, which was also the second day of the store's Black Friday Sale.
The sale, featuring 20 percent off a number of quality footwear brands, along with some other huge doorbuster deals, runs Saturday through 4:29 p.m. — more on that unique closing time later — and on Monday from 9:30 a.m. to 5:30 p.m. The store is closed on Sundays.
For more on Chiappetta Shoes' Black Friday Sale, see this story at Kenosha.com.
Chiappetta Shoes has operated in Kenosha since 1921, providing high-quality, personalized customer service to generations of area residents. That makes it the perfect embodiment of Small Business Saturday.
"Small businesses are the lifeblood of a community," said Tony Chiappetta, a fourth-generation co-owner of Chiappetta Shoes who operates the store with his brother, Nick, and their parents, third-generation owners Fred and Lori.
"We employ a lot of people, mostly from Kenosha, but a lot of people from all over the place. It's awesome to see people focusing on that. Yeah, sure, you're going to be picking up plenty of things from Amazon and Costco and everywhere else, but small businesses are going to give a lot of the culture, a lot of the traditions that a community is going to uphold.
"… We've been around for 101 years. One of the number-one things that has kept us going throughout that whole time period was offering good, quality customer service, sitting down with people one-on-one and just finding out how we can solve problems. That's been a winning solution for 101 years. We're doing the same thing the whole time, and I think it's working out all right."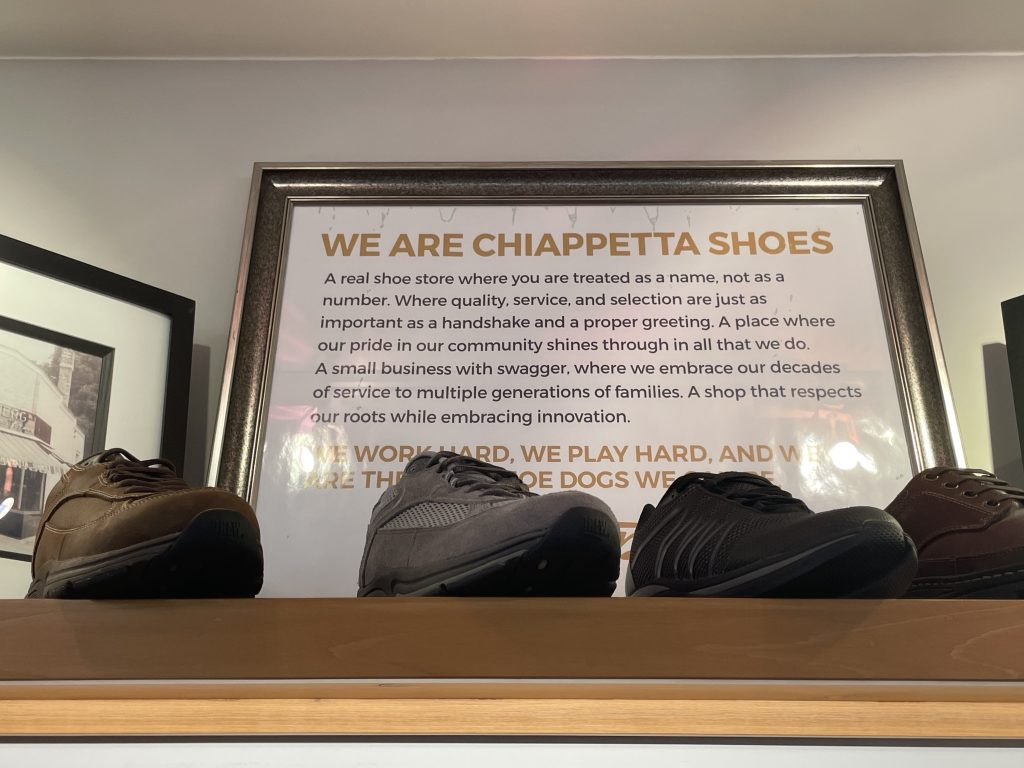 Stories and traditions also build the culture and uniqueness of small businesses, and Saturday's 4:29 p.m. closing time at Chiappetta Shoes is due to such tradition.
According to Tony, his grandmother, Helen, ran out of the number 3 one year when posting the store's closing time, so she couldn't post 4:30 on the store.
"It goes back to the '90s," Tony said. "We were on 22nd Avenue, where Computer Adventure was (and still is, at 6201 22nd Ave.).
"My grandma ran out of those little numbers. She ran out of 3, so we went with 4:29, and it stuck."
And what if a customer were to come into Chiappetta Shoes at 4:30 on Saturday?
"We're pretty flexible," Tony said with a laugh.
New location
While traditions are so important to small businesses like Chiappetta Shoes, they also must keep adapting and expanding, if necessary, to meet growing needs and different customer demographics.
Chiappetta Shoes has always been on the cutting edge of such changes. The store has a fantastic and informative website, updates its product line to keep the top brands in stock and keeps up a strong social media presence to tell its story to customers everywhere.
It will also be moving to the fourth location in store history soon at 4820 75th St., right along a high-traffic area on Highway 50.
Tony said the new location is scheduled to open Feb. 1 with a soft-date launch. That will make it a calendar year, from February 2022 to February 2023, in which Chiappetta Shoes took to purchase a new store location and move into it.
"Moving 30,000 pairs of shoes is going to be fun, but it's going well," Tony said Saturday. "We're working with Witico Development. They've been solid guys, helping us push through everything. We've got our signs up, if anybody's driving by, definitely honk during the day. The construction guys like hearing that."
"… We wanted to continue what we're doing, customer service, offering a world-class shoe shopping environment. The new store's going to have some really neat elements to it. Our workshop is going to have a giant 20-foot-plus window in the front of it, so you can look right into it. Just a lot of what's worked so far, high-touch-elevated designs. It's going to be good."
In the meantime, Tony and the staff at Chiappetta Shoes were plenty busy on Small Business Saturday selling merchandise and, most importantly, taking time with its customers to make sure they received the quality service they've come to expect from the store.
With winter just around the corner — despite the splendid 50-degree weather on Saturday — boots are a popular item at Chiappetta Shoes during its Black Friday Sale. 
"Seasonal boots have been doing really well," Tony said. "Still a lot of athletic (wear). Since COVID (in) 2020, a lot of people have moved to a more casual lifestyle, a more active lifestyle. It's a good thing.
"So still a lot of athletics are being pushed out. We carry New Balance, Hoka, Saucony, On (Cloud). We've got some good deals, 20 percent off a number of different companies. People are still dressing up, too, so we have a good mix."