While Danielle Weybright was pouring some gasoline into a generator to prep the mechanical needs of a mobile food truck, Jeanette Kelly was on the other side of the truck busily stacking a delicious assortment of pies.
It was a busy Thanksgiving morning in and around Captain Mike's Galley, the mobile food truck offshoot of Kenosha's famous Captain Mike's Beer & Burger Bar, and Weybright and Kelly were in high gear.
You have to be if you're planning to feed a full Thanksgiving meal to something around 200 people that need somewhere and something to eat.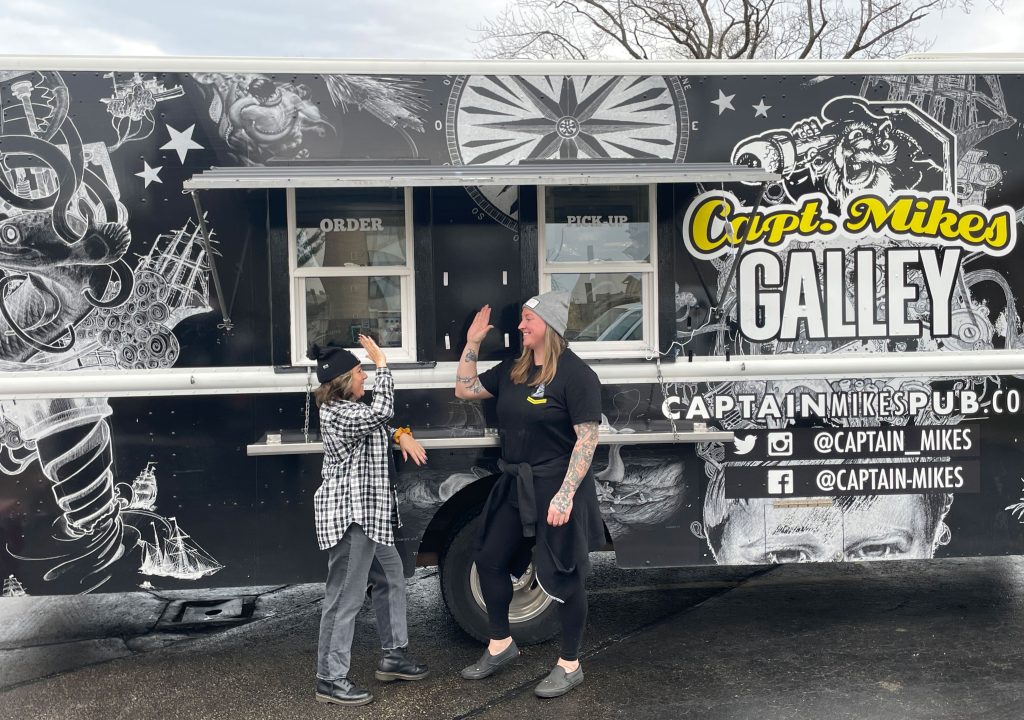 Kelly and her husband, Michael, own and operate Captain Mike's and its affiliated businesses. Weybright is the executive chef for Captain Mike's Galley and Portside Catering, which is also owned and operated by the Kellys.
Jeanette Kelly and Weybright were in high spirits Thursday morning downtown at Library Park in preparation for the third "Galleygiving," a wonderful event that appears to be a growing Thanksgiving tradition. Captain Mike's Galley parked in Library Park and dished out free Thanksgiving meals from 11 a.m. to 1 p.m. Thursday, with Kelly and Weybright leading the efforts.
"This is my favorite event that we do," Weybright said as she prepped the generator. "And we do events five times a week. It's really awesome. Everyone's so grateful, and it's really sweet.
"I love the company I work for, that they're able to do this for everybody else."
For their splendid Thanksgiving efforts in spearheading the third "Galleygiving," Jeanette Kelly and Danielle Weybright have been named the Kenosha.com Kenoshans of the Week.
Started during pandemic
Understandably, it's easy for everyone to focus on the challenges and negative impacts the COVID-19 pandemic has had on society.
But the adversity caused by the pandemic has given rise to many positive and inspiring stories, and "Galleygiving" is certainly one of those.
With their ability to take food anywhere, food trucks have really exploded in popularity in the aftermath of the pandemic, and Captain Mike's Galley has been no exception. During Thanksgiving in 2020, when the pandemic was really at its height, many soup kitchens were forced to close, leaving needy people in search of a hot Thanksgiving meal.
So, Jeanette Kelly figured, why not take the food to the people? Thus was born "Galleygiving."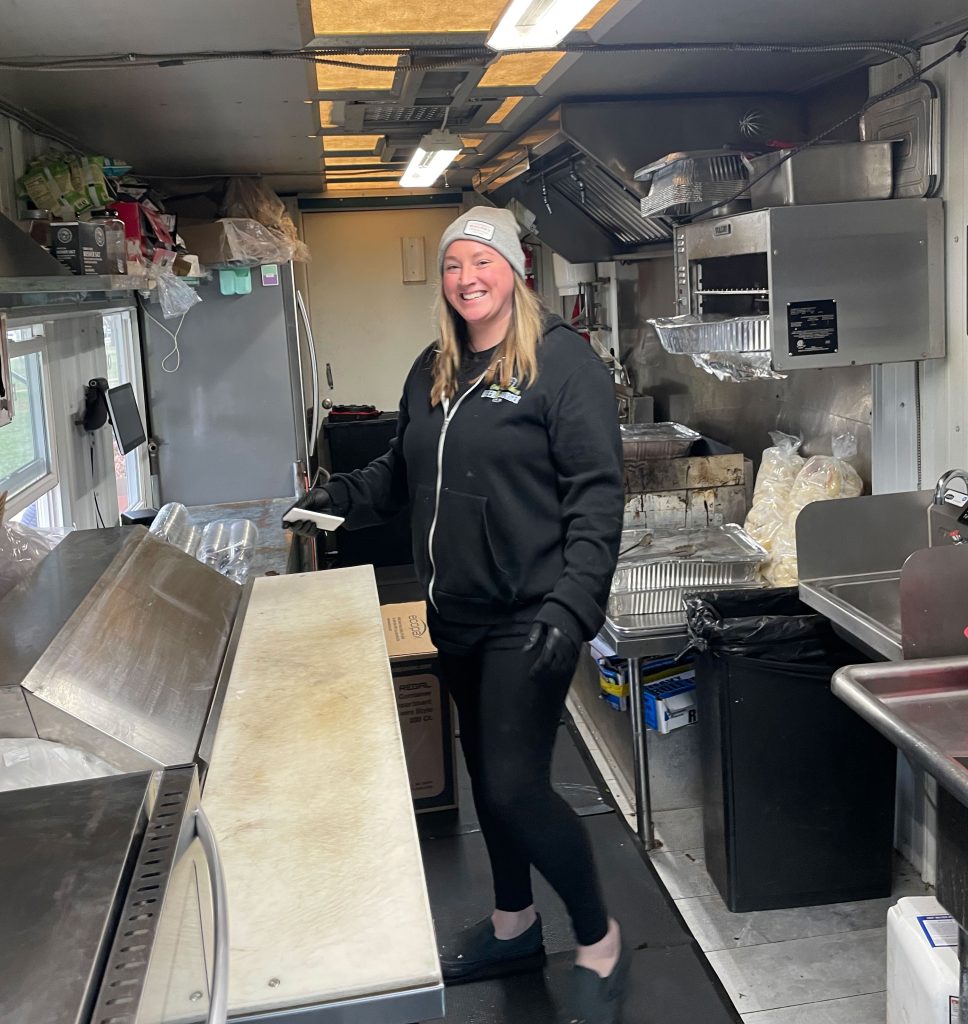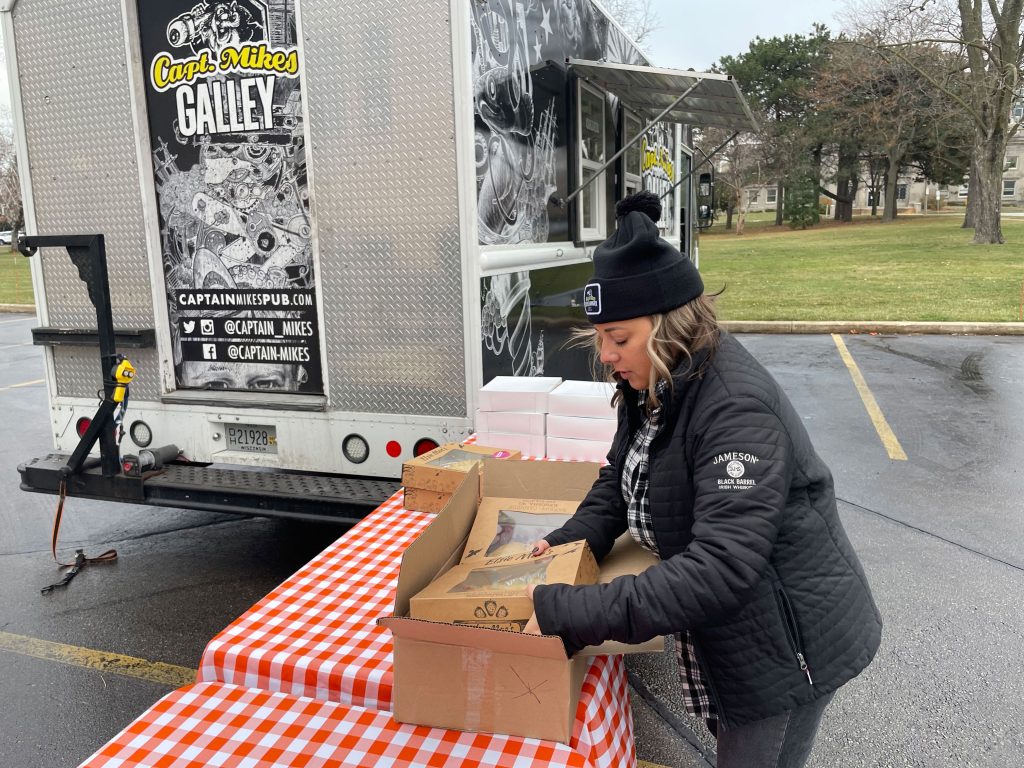 "The first year we did this, it was during COVID," Kelly said Thursday morning. "We knew that a lot of the soup kitchens weren't going to be open. We thought, 'We have a food truck, which is a mobile kitchen. We can turn that into a soup kitchen for the morning of Thanksgiving.' So we contacted the Public Library, and we just thought, 'Let's see if this will take off.' And the first year we served over 150.
"It's something that we can give back to the community. We're busy all the time, and this is something that we can do."
Weybright worked her first "Galleygiving" in 2021 and was happy to be back doing it again this year.
"They just want to give back to the community," she said of the Kellys and their businesses. "They always have. The company's pretty great about that. Jeanette and Michael have always been super generous."
Added Jeanette: "It's kind of sad, as well, that there's so many people that do need the meal (on Thanksgiving). And so it's like, 'OK, we can provide that and give back to the community.'
"We're happy that we can do it and we have the ability to do that, because not everyone is able to."
Volunteers, donations
While Captain Mike's Galley provided all the main food Thursday, the community has pitched in to provide other valuable assistance to "Galleygiving."
Jeanette Kelly said six volunteers planned to help get food passed out Thursday, while realtor Laura Stoner of Berkshire Hathaway donated pumpkin pies and Elsie Mae's also donated some of its delicious signature pies.
People seem to be eager to help out.
"We have this lovely lady — her name is Jackie — she is just a local person, and she saw what we were doing and wanted to donate the drinks," Kelly said. "And we donate all the food.
"… We've had a lot of volunteers this year that were inquiring. I have a teacher and her 13-year-old son that are coming, and they're going to help hand out the pies. I have a husband and wife that are coming, they're going to manage the crowd.
"And we've had so many people come and donate money throughout the week. Just, thank you so much for what you're doing. It's growing, and it's crazy."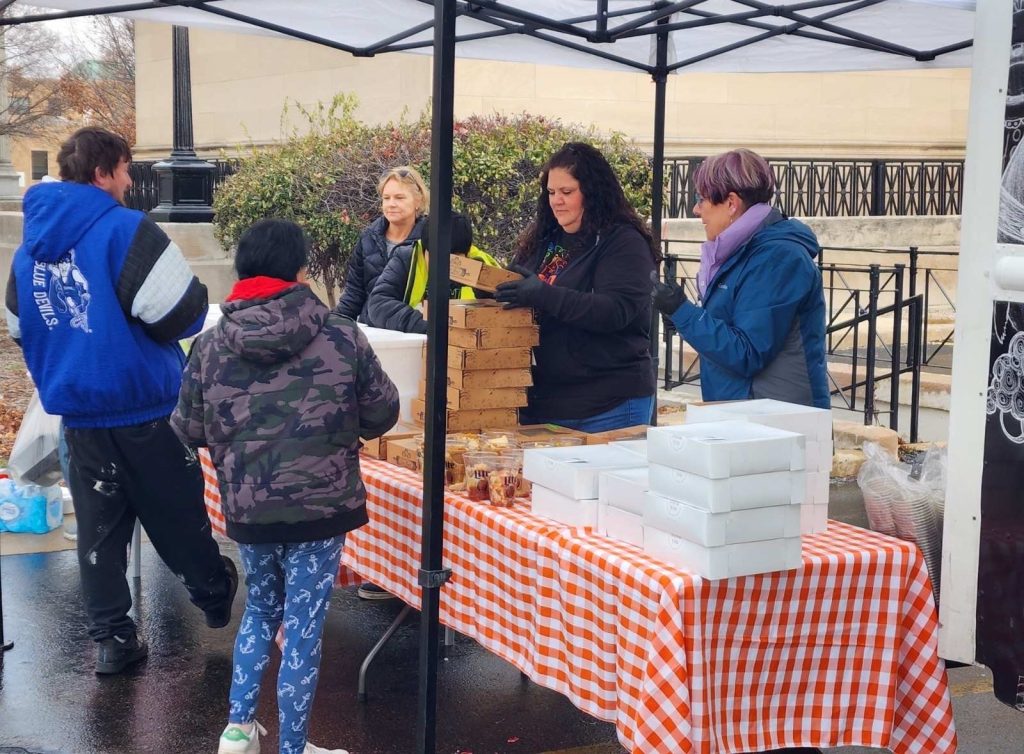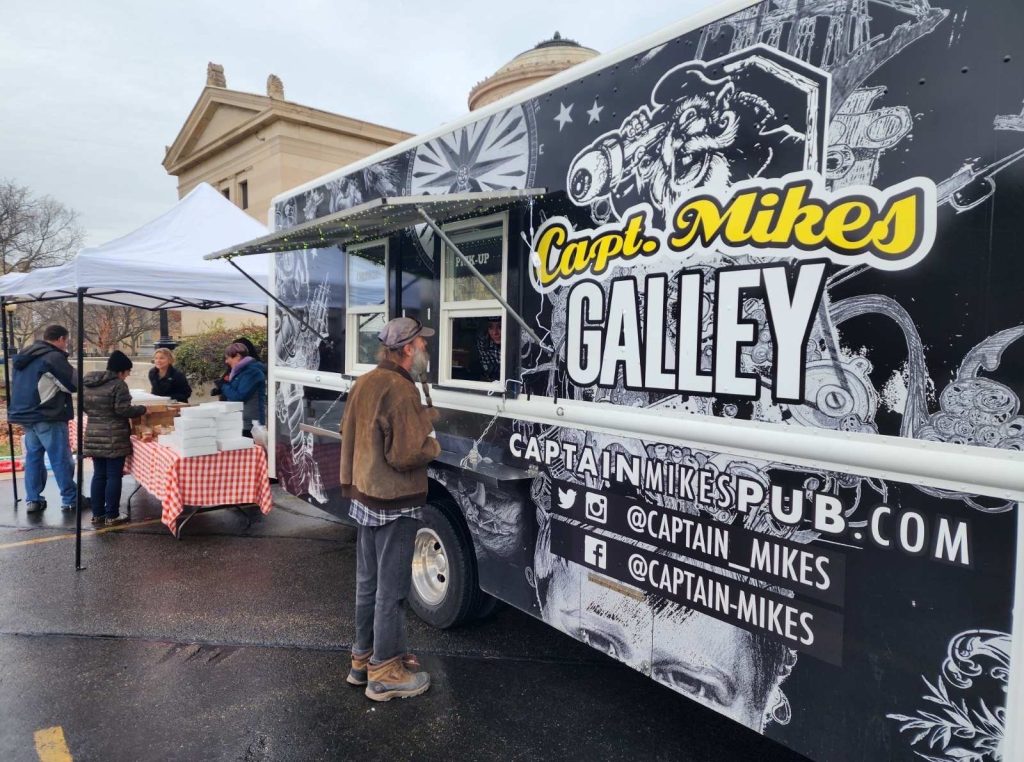 Kelly also said Captain Mike's Galley had arranged to get meals to those who couldn't make it to Library Park on Thursday.
"We've had a few people that have already messaged in that they have COVID at the moment, and so their aunt is going to come and pick it up," Kelly said. "They're like, 'Can we get four for a household?' 'Absolutely.'
"And then we have someone that stopped in at Captain (Mike's) this morning. They're like, 'I have a son and my grandson. Can I (pick up food for them)?' 'Absolutely.' It's usually one per person, but I'm not going to deny it."
Meanwhile, responsible for cooking all that food was Weybright, who started working as a chef in the area for Grease & Honey — the Kenosha restaurant group that includes The Buzz Cafe, Sazzy B, The Garage and The Apis — before coming on board with Captain Mike's Galley and Portside Catering.
Weybright said she prepared 10 whole turkey breasts, roasted in herbs and stock, to serve a full turkey dinner, which included gravy, homemade mashed potatoes, green beans, rolls and, of course, mac and cheese, which is Captain Mike's signature dish.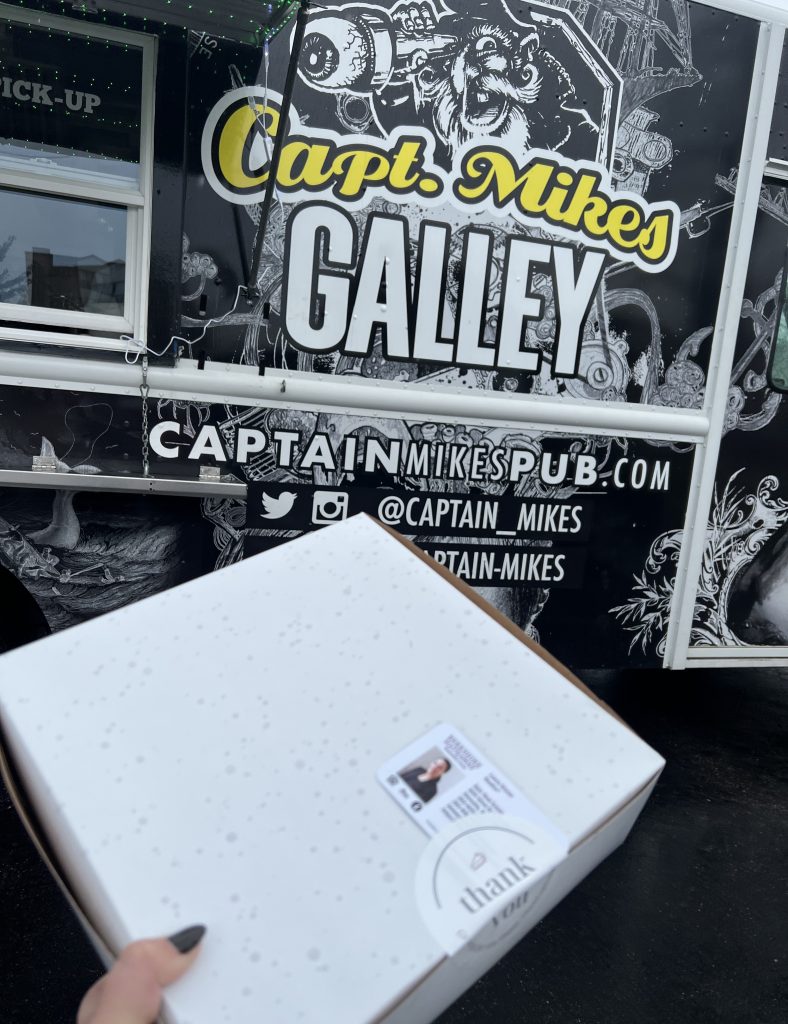 And, like a true Thanksgiving meal, there were pies for dessert.
"It's just a traditional dinner, for someone to have a hot meal," Weybright said.
After all, if you have the resources, why not share them?
"For us, it's a mobile kitchen," Kelly said of Captain Mike's Galley. "We have everything we need to cook everything. We have an oven, we have a fryer, we have a grill, we have refrigerators. It's nuts.
"Everything that you need in there."
NOTE: To nominate a Kenoshan of the Week click here or email Andrew@Kenosha.com.