Just one week on the calendar was enough to demonstrate how rapidly the weather can change in Kenosha this time of year.
From nearly 80 degrees last week Thursday to about 30 degrees with snow flurries this week Thursday, Kenoshans had to utilize just about every item in the closet over seven days.
But while people with adequate food, shelter and clothing can adapt to rapidly-changing weather conditions with minimal complaining — well, mostly minimal — for the hungry and homeless in our community, simply getting through each day is no easy task, no matter the weather.
"When you're homeless, the weather doesn't dictate," Shalom Center Executive Director Tamarra Coleman said Thursday afternoon.
So that's why awareness is so critically important.
Coleman and a group of other community leaders and volunteers braved the cold Thursday afternoon for a Community Awareness Walk of about one mile, from the Kenosha Human Development Services office at 3536 52nd St., to the Shalom Center at 4314 39th Ave., to raise awareness for homelessness and hunger.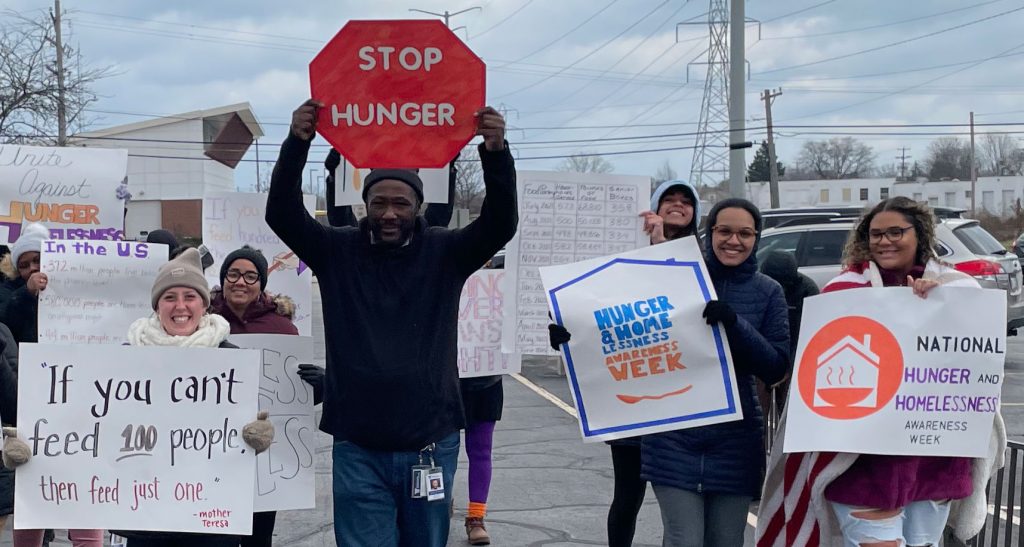 Thursday's walk was part of National Hunger and Homelessness Awareness Week from last Saturday (Nov. 12) through this Sunday (Nov. 20), a nationwide campaign aimed at bringing light to and advocating for the homeless and hungry.
Thursday's group organized in the lobby of KHDS, with many of the walkers carrying signs to advocate for the homeless and hungry. After gathering and warming in the lobby of KHDS, it was time to head out into the cold to walk west down 52nd St. and then turn north down 39th Ave. to the Shalom Center.
"For us to be able to go out and experience this, this is what our unsheltered folks are (experiencing)," Coleman said. "We're going to go out there in the cold, and we're going to walk."
Raising awareness
The local contribution to National Hunger and Homelessness Awareness Week has been spearheaded by the Kenosha County Emergency Services Network, which brings together community-based agencies serving low-income and indigent residents of the county, with the goal of creating better coordination of services and eliminating duplication.
One of the subgroups of the Emergency Services Network is Homelessness Awareness Prevention Partners, which includes the Shalom Center, Women's and Children's Horizons, the Kenosha County Sharing Center and KHDS.
Including Thursday's Community Awareness Walk, the National Hunger and Homelessness Awareness Week activities in Kenosha started Monday with a documentary at the University of Wisconsin-Parkside and conclude Friday with "Shine A Light," in which local residents can light a candle and place it in a window as a sign of solidarity.
The point of the week's events is to raise awareness for homelessness and hunger. These are problems that will always require assistance and support from the community, but for those who don't need to worry about food and shelter on a daily basis, the problem can be easy to not think about.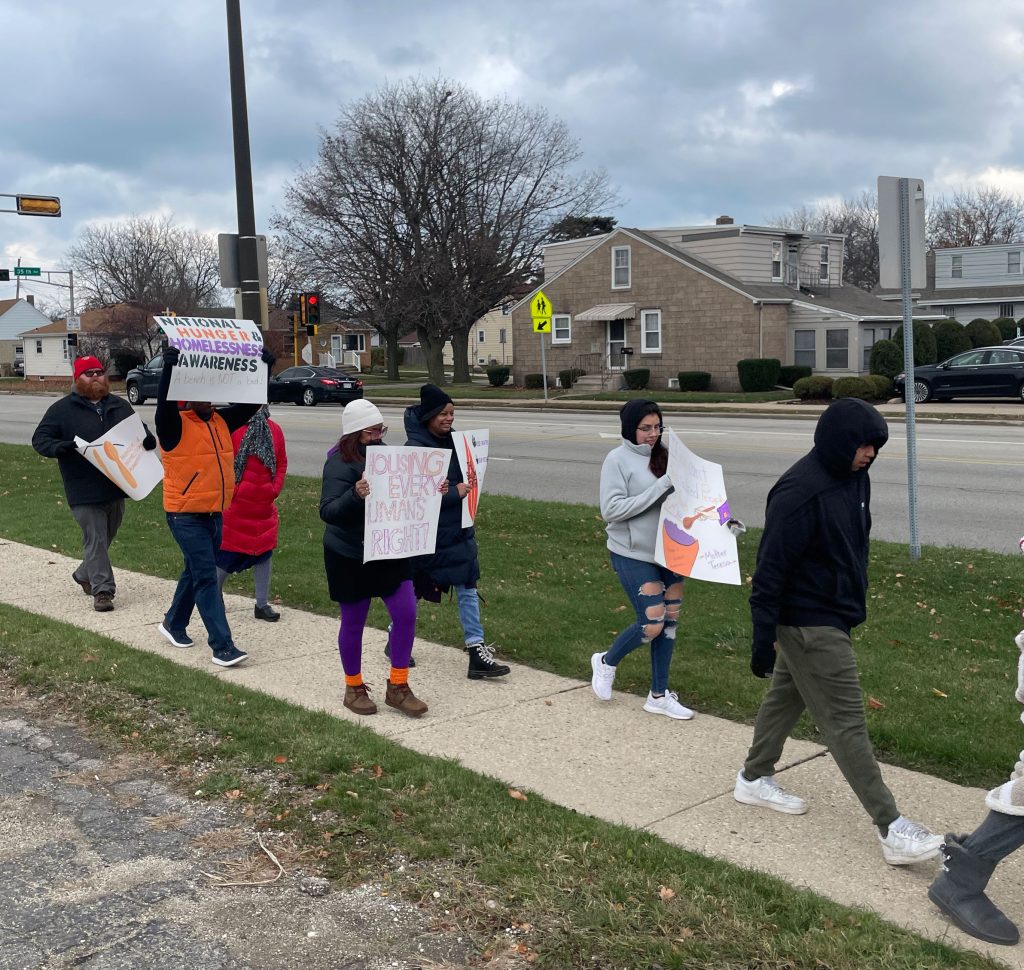 "Those are high needs, and everyone that's participating (Thursday) and all week has a variety of different resources to meet those needs," said Abby Kestler, Homeless Assistance Program Manager for KHDS, following Thursday's walk. "It is A), to bring awareness to a lot of difficult things in the community, and B), to put some faces with resources that are available.
"If we're not aware of things, we can't make any change to help. That's part of what we do, is reminding people what the need is and being there to help meet that need."
And with the holidays fast approaching and the cold weather settling in on Kenosha, now is a very appropriate time – though it's always appropriate, of course — to raise awareness for hunger and homelesses in our community.
"When things get colder, of course, that's where things get a little trickier for people, things get a little bit harder," Kestler said. "So we have resources available."