SOMERS — There was a degree of tragicomedy about the manner in which University of Wisconsin-Parkside head men's soccer coach Jason Zitzke had to watch the end of arguably the biggest win in program history.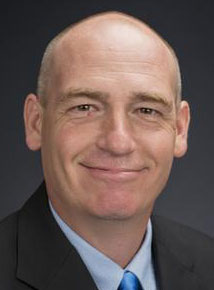 Zitzke has put in nearly 28 full seasons with the Rangers — four as a player, 12 as an assistant/associate head coach and now just about 12 as the head coach — so it seems almost unfair that he didn't even get to be on the field as Parkside finished off the first NCAA Division II Tournament second-round win in program history.
But it does make for quite a story.
On Sunday (Nov. 13), in Parkside's second-round match at host school Ashland (Ohio), Zitzke was ejected when he received a red card in the match's 35th minute. So he was relegated to watching the rest of the match from about a hundred yards away inside Ashland's Niss Athletic Center.
And it wasn't long before Zitzke had some company, as redshirt junior center back Mike Howell also received a red card in the 38th minute and had to exit the match.
"I got up there, and like two minutes later, our center back, Mike Howell, walks up the steps," Zitzke recalled on Tuesday evening from Parkside's Sports and Activity Center. "I asked him, 'What are you doing here?' And he said, 'I'm here to join you.'
"So, obviously, not only am I not out there, which isn't that big of a deal, now we're a man down. So the task just got that much more difficult."
Yes, in soccer, when a player receives a red card, his team must play the rest of the match down a player. So Parkside was forced to play over one half against Ashland — seeded No. 2 in the region — in a 10-on-11 situation, minus its head coach, too.
Improbably, the Rangers rallied from two one-goal deficits, tying the match twice and taking a 3-2 lead on redshirt sophomore forward Osvaldo Sanchez Arellano's second goal of the season in the 87th minute. Parkside held the lead from there to advance to the NCAA Division II Sweet 16 for the fourth time in program history, but for the first time since the national tournament field expanded to 40 teams.
Meanwhile, the events transpiring inside the Niss Athletic Center between Zitzke and Howell while the Rangers were battling on the field were worthy of a sports movie script.
"It's an obstructed view, so as the ball is going from one side of the field, we're running to one window, and then it would go to the other," Zitzke said. "We're going back and forth. He's watching the live-stream on his phone, but it was like a minute behind.
"And then we scored the goal to tie (at 1-1). I'm running up and down the hall, we're hugging, he's being kind of loud. The (Ashland) coaches are coming out of their offices, 'What's going on here?' … 'Sorry, we're supposed to be out there, but we're in here.'"
As they say, all's well that ends well, and Parkside — seeded 10th in its 10-team region — advanced to a Sweet 16 matchup against third-seeded Maryville (Mo.) at 1 p.m. Thursday (Nov. 17) in St. Louis. The winner of that match will advance to the regional final at 1 p.m. Saturday (Nov. 19) in St. Louis against either fifth-seeded Illinois Springfield or eighth-seeded Lake Erie (Ohio), who play each other Thursday morning prior to the Parkside-Maryville match.
Whoever emerges Saturday as the regional champion moves on to the Final Four, scheduled for Dec. 1-3 at Interbay Stadium in Seattle.
Overcoming adversity
Zitzke recalled the events of Sunday's wild second-round match at Ashland as his program was receiving a nice send-off from supporters and fellow Parkside student-athletes in the SAC. The Rangers departed for St. Louis on Tuesday evening.
Zitzke declined to specify why he and Howell received red cards late in the first half of Sunday's match, rather emphasizing the job that graduate assistant coach Buran Huseini did in taking over the reins for the rest of the match in a 10-on-11 situation.
"When we got to halftime … he organized the team, kind of simplified the plan, changed some things, and just said, 'If we believe that we can do this, we can do this,'" Zitzke said. "His positive energy just kind of sent them out there (saying), 'Let's make some history here.' And they did.
"… I didn't see much from that window, but when I got home at 1 in the morning, I rewatched the game on video, and at times it looked like we had an extra guy, when actually we were a man down. The energy, the desire, it was a very proud moment. Wish I would've been out there, but to see the way that they played, and then they talked about overcoming adversity, it was a pretty special moment for the program."
Parkside also overcame an early 1-0 deficit in last Friday's first-round match against the seventh-seeded University of Indianapolis, rallying for a 4-2 victory, so the Rangers have proven to be resilient thus far in the NCAA Tournament.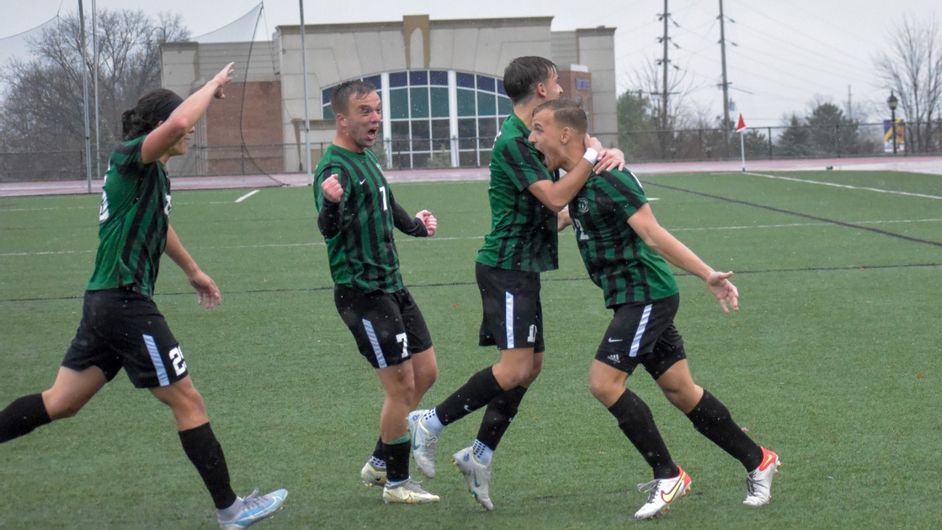 "We always talk about adversity and how to face it," senior defender Marcos Calderon said Tuesday. "At halftime (of Sunday's second-round match), we all were sure that we could still do it. There was this feeling on the team that we are able to overcome adversity, doesn't matter (what) the adversity is.
"We talked about it, said we had to work harder, and that was the key for success. And then we went on the field, and we just did it."
Unfortunately, due to NCAA rules, Zitzke and Howell also have to sit out Thursday's match against Maryville, though the Rangers will get to play with a full 11 men on the field. But Zitzke is confident Huseini and fellow assistant coach Marco Fabiano can hold down the fort while he finds another building to watch Thursday's match from.
As always, though, once the match starts, it's about the players, not the coaches.
"I think it's about them," Zitzke said. "As much as those two guys and myself can prepare them over the next two days, I think that's the most important thing. They're going to be on the field. This is their time.
"Yes, I'd love to be out there sharing the moment with them — especially all the time that I've spent, it's a pretty big moment — but it's about them."
Making history
Speaking of overcoming adversity, it was just a couple weekends ago that the Rangers thought they may have blown their chance to reach the NCAA Tournament for the third straight season — excluding the season interrupted by the COVID-19 pandemic in 2020 — and the seventh time in program history.
Though Parkside — which now has a record of 12-3-4 — was ranked No. 15 in the Nov. 1 United Soccer Coaches NCAA Division II poll, the Rangers suffered a shocking 3-0 upset loss to Davenport in the semifinals of the Great Lakes Intercollegiate Athletic Conference Tournament on Nov. 4 in University Center, Mich.
Parkside finished second behind Saginaw Valley State in the GLIAC regular-season standings, so without the automatic bid teams get by winning the conference tournament — and without even reaching the championship of the conference tournament — a national tournament berth suddenly seemed in peril for the Rangers.
So everyone breathed a sigh of relief on the Monday following the GLIAC Tournament when Parkside got a No. 10 seed, the final seed in its region, into the NCAA Tournament.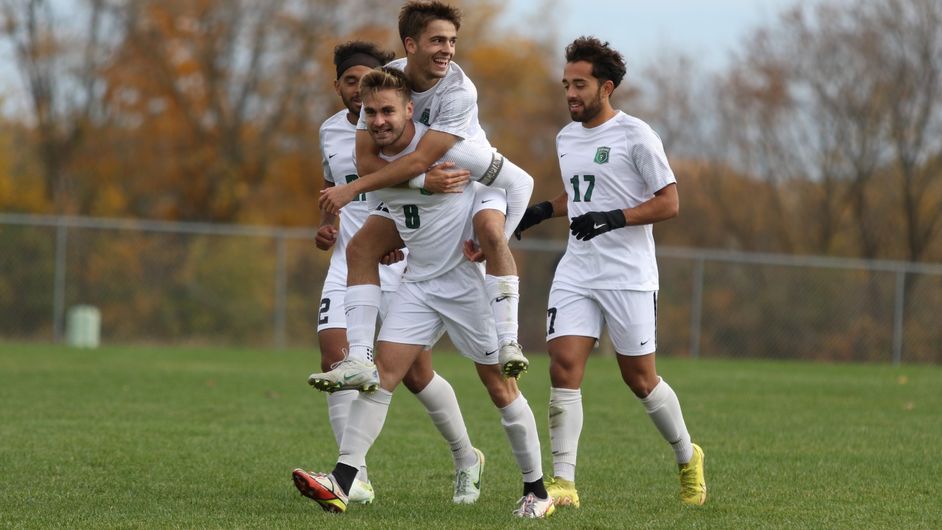 "We felt maybe it was a second chance," Zitzke said. "We had an opportunity to take care of it ourselves. We didn't, but we felt pretty fortunate to have a second chance. And I think maybe we were able to refocus."
The Rangers have certainly made the most of their second chance.
The program reached the NCAA Division II Sweet 16 three times under legendary head coach Rick Kilps, in 1994, 2000 and 2004. However, the Rangers never won a national tournament match in regulation prior to this season.
The national tournament only had 12 teams in 1994, and the Rangers got into the national quarterfinals that year after receiving a first-round bye, but they lost their match in that round. The tournament then expanded for Parkside's next two appearances. The Rangers lost their first match in 2000, when it was a 16-team tournament, then they won their first match via penalty kicks in 2004, when it was a 24-team tournament, before losing their next match.
Therefore, last Friday's first-round win over Indianapolis was the first non-PK NCAA Tournament victory in program history. Then the Rangers did it again Sunday, despite the significant challenges they faced.
Zitzke said Tuesday that when you lose in the first round of the national tournament, the whole experience goes so fast that it doesn't even feel like you were in it. This season, however, the entire program has had some time to relish the situation.
"When you win one, now you've got something to talk about," Zitzke said. "And then we got the second one now, so I think — whether it's the team, the support from the athletic department has always been great, you can feel the energy on campus.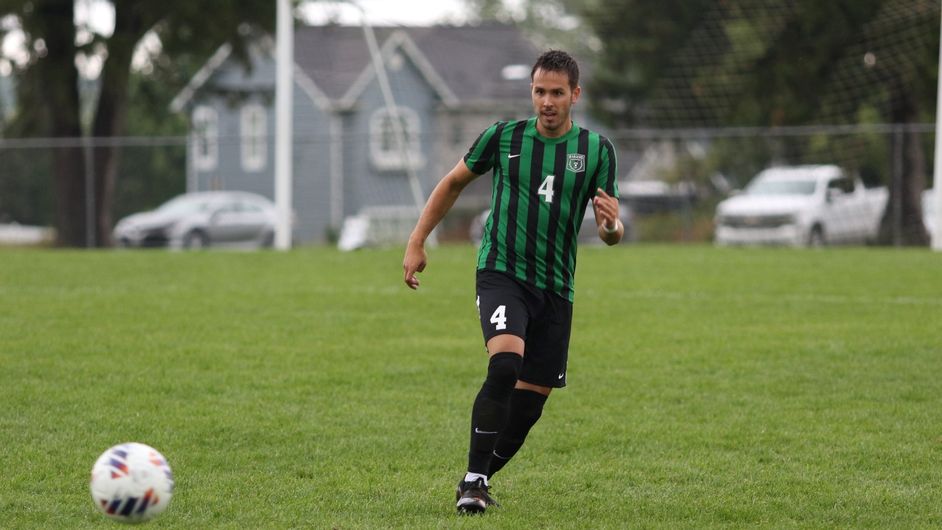 "The Wisconsin soccer community has reached out. There's a lot of messages and 'Go get 'em' and all that stuff. As you take the next step, the momentum builds."
As every opponent is this deep into the tournament, Maryville will be a big challenge on Thursday. The Saints won both the regular-season and tournament titles in the Great Lakes Valley Conference — Parkside's former conference — and have won at least 10 matches for seven straight seasons under head coach David Korn. They enter Thursday's match with an 11-4-5 mark.
"They're the cream of the crop of the region," Zitzke said. "They've repeated it year in and year out. You look at a team like that, and you want to reach the heights that they have. It certainly won't be an easy task. It's the Sweet 16.
"The teams that have made it here have earned their way here. Every match is going to be difficult. We'll try to have the best account of ourselves on Thursday. That's our goal, is to be our best selves on Thursday and see what happens."
Whenever this ride ends for Parkside, there will be nothing but fond memories. The players say the team is truly a family, and Calderon — who hails from Zumaia, Spain — emphasizes that's not just a saying.
"My experience back home has always been different," Calderon said Tuesday. "I've been on many teams, and it's always like, 'This is the team,' but then you have your own life separated from the team life.
"But here, you live with your teammates, you study with your teammates, and you do everything with your teammates. So I feel like when we say, 'Family,' it's just not a word. It's a feeling that we have."