If you were a northside Kenosha resident traveling west from Lake Michigan, and you were fortunate enough to survive the landing after going airborne over the elevated railroad tracks long known as "Pepsi Hill," a barber pole was one of the first sights that greeted you as your front tires touched back on solid earth.
For many, many years, that signature red-white-and-blue-striped pole marked the corner of 14th Ave. and 35th St., a corner that's home to both one of the smallest businesses in Kenosha by square footage but one of the largest if measured in memories.
Now, the famous barber pole is back.
The Hideaway Barbershop, an appointment-only barber location owned and operated by Kenosha native Michael James, opened for business on Nov. 1, bringing back a legacy of barbering long famous to the little corner.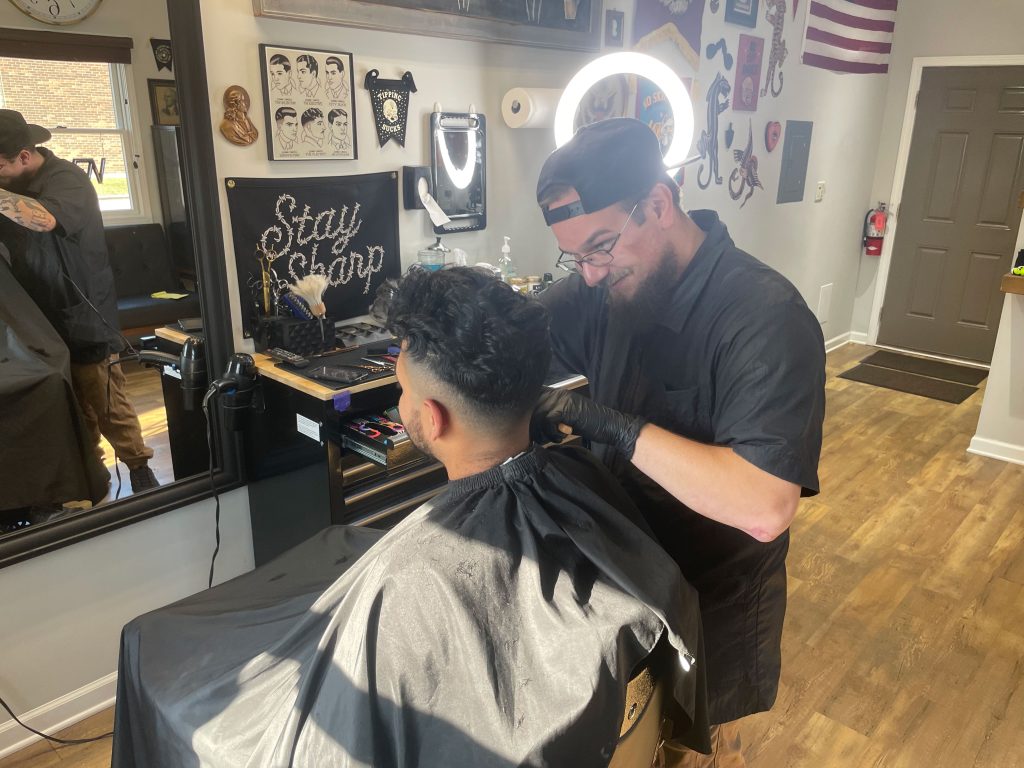 One longtime Kenosha northsider, Cathy Savaglio, got a wonderful blast from the past when she drove over "Pepsi Hill" recently and saw the barber pole. Her grandfather and father owned and operated the original barbershop at the location for many years.
"I got the biggest grin — because I'm a northsider, I grew up on the north side," said Savaglio, a 1979 Bradford High School graduate who immediately reached out to The Hideaway via Facebook to share her story, in a recent phone interview.
"When I came down that 'Pepsi Hill' and saw that barber pole on that building on Nov. 1, I (had) like, oh, this great, big smile."
Located at 3424 14th Ave., in the tiny building on that notable corner just over "Pepsi Hill" — named as such after the Pepsi bottling plant once located at the base of the hill — The Hideaway is a throwback to the glory years of old-school barbershops. Those were the days when barbering was truly a craft and the customers went for full service and great conversation, not just an in-and-out express stop.
That's the experience James is bringing back to his customers, including the classic straight-razor shave.
"A lot of people have forgotten about the old-school feel of barbershops," James said on Wednesday afternoon while giving a fresh cut and shave to Shamoon Mian, a customer of James for the last three-plus years.
"… For me, personally, I want that personal, old-school-feel barbershop. I do straight-razor shaves, still. A lot of people call me and say, 'Nobody does straight-razor shaves, man.' So that's what I provide them. I want that old-school feel.
"It's a craft. I want it to be an actual experience when you come in, instead of just, next, next, next, haircut after haircut after haircut."
Family history
When Cathy Savaglio saw that the corner of 14th Ave. and 35th St. again housed a barbershop, she consulted an aunt for a history lesson on her family's involvement with the original barbershop at the location.
In fact, Cathy might literally not even be here if not for that barbershop. It's because of that business' location that her father, Gabriel, first met her mother, Joan.
"My parents actually met at that corner," Cathy said Wednesday. "My dad was the barber in the barbershop, and my mom was going to high school and caught the bus there. He would look out and see her, and then eventually he started taking her and her friends to school so she didn't have to take the bus.
"She loves to tell the story."
According to Cathy, the original building on that corner was actually constructed elsewhere and moved to that location. Her grandfather, Frank C. Savaglio, and his brother, Alex Savaglio, were barbers that had emigrated to Kenosha from Italy. They first worked together at a different location in Kenosha, but Frank wanted to go out on his own and thus started the business at the corner of 14th Ave. and 35th St.
"He wanted to go out on his own and start his own business," Cathy said of her grandfather. "… The reason that they selected that corner is they lived across the street at the time."
Eventually, Frank and his wife, Carmella, built the house that's still to the immediate west of the lot where Frank's barbershop was located.
Cathy said her grandfather opened his barbershop in the late-1940s or early-1950s. At that time, during Kenosha's manufacturing heyday, being located on that corner of the northside provided plenty of business. Factory workers at places like Dynamatic, MacWhyte and Peter Pirsch and Sons were always in need of haircuts and barbershop chatter.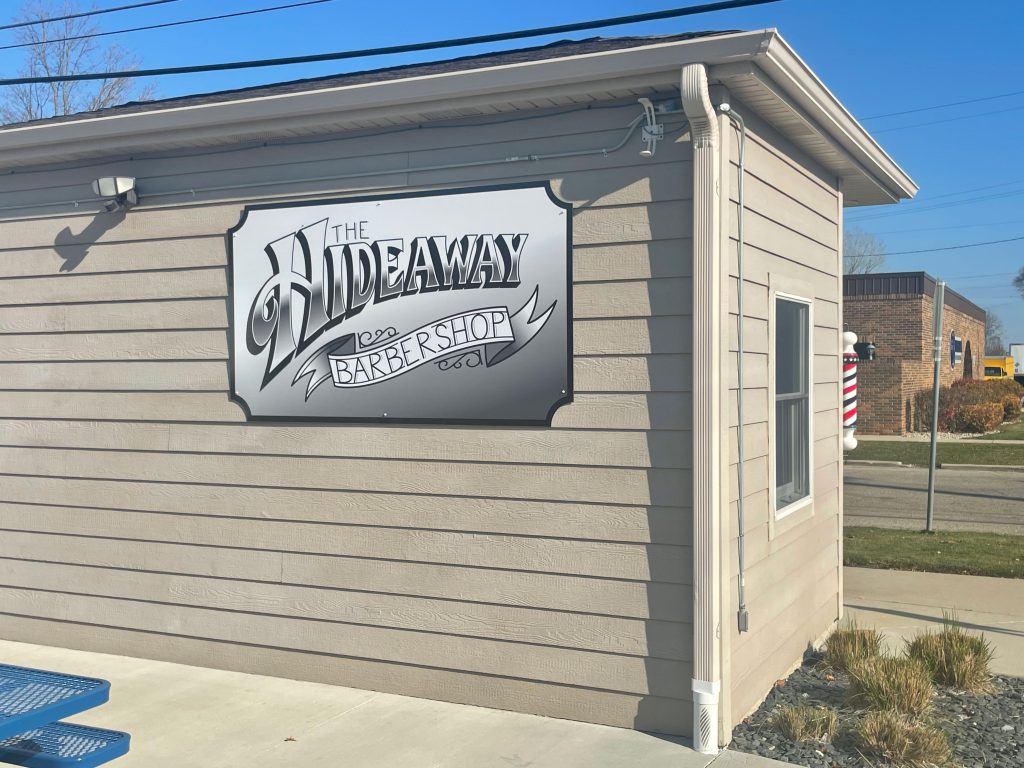 Meanwhile, Cathy's father, Gabriel, attended barber school and joined his father in the family business. Although Cathy said her father had to retire early due to rheumatoid arthritis, her grandfather operated the business until selling it to another barber, Frank Gallo, who then ran the shop.
Eventually, Gallo moved on, and so did the original building at the corner of 14th Ave. and 35th St. A car crashed into it, so the structure was torn down in 2008.
That was the year Cathy's father died, and she recalled that in October of 2008, the month her father passed, she went to the rubble of the old barbershop looking for some type of memento to gather.
"I remember the day they buried him, I went walking over there, and it was just rubble," Cathy recalled Wednesday. "There was nothing left. But I wanted to find a brick, or something."
A new life
A new structure of basically the same size replaced the old one at 3424 14th Ave., and it was an ice cream shop that really brought the building back to life.
Sweet Corner Ice Cream was founded by Kenosha couple Dan and Felicia Pavlica. Felicia is the founder of the Kenosha real-estate team Go Felicia and Dan is an expert building renovator, so they refurbished the location into a perfect little corner ice cream shop, which opened in 2017 and brought customers teeming back to the little building on the corner.
"My mom and I would stop in there," Cathy Savaglio said. "We called it the 'Barbershop Ice Cream Shop.' To us, it will always be a barbershop, no matter what."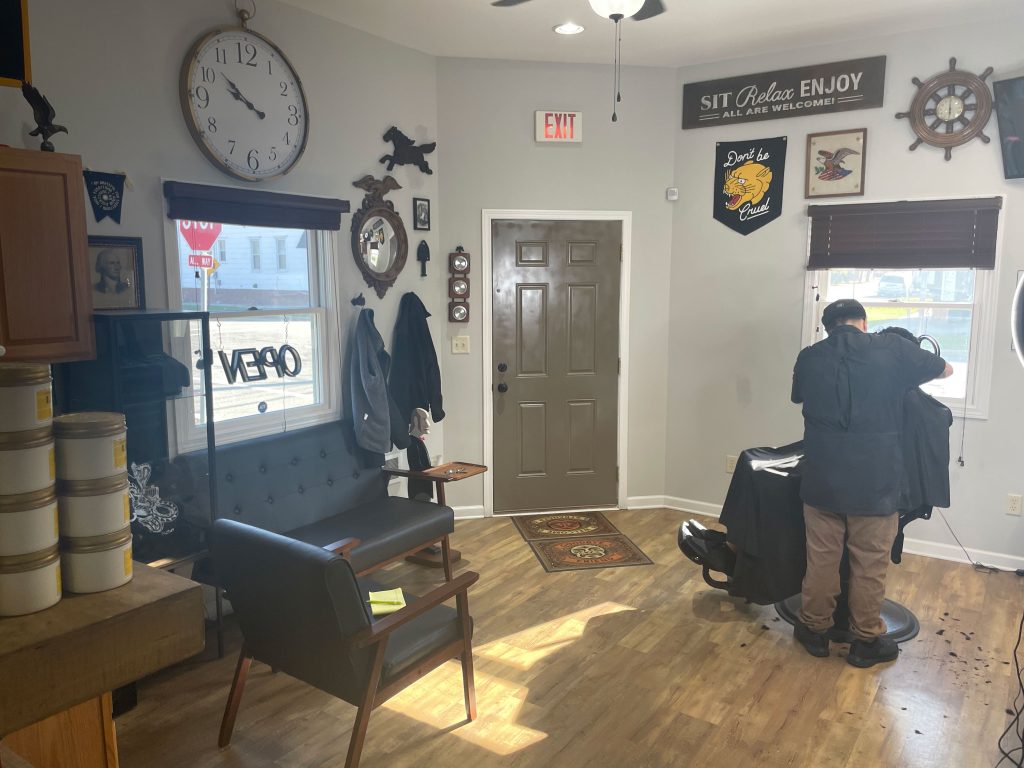 Though the Pavlicas sold Sweet Corner, which now operates just out of its second — and much larger — location at 4919 60th St., they still actually own the building at 3424 14th Ave. You could say that Sweet Corner's time there really made the corner a destination once again, especially for northsiders.
For a while, the Pavlicas rented out the building to Marty Perez, the owner of Smarty's Sweets & Treats. However, that business now operates downtown at 5821 6th Ave. A. Perez confirmed last week that Smarty's simply "outgrew the space" at 3424 14th Ave.
So, that left the small building open for a new occupant once again, which is where Michael James and his barbering talents stepped in.
A perfect fit
James' barbering career began modestly enough.
He had grown up watching his grandmother style hair, so he knew something about the trade, and at age 16, he began cutting the hair of four buddies once a month in his kitchen. His girlfriend, Natalie Nemec, happened to see James cutting his friends' hair one month and asked if he'd ever thought of barbering as a career.
"She watched me cut hair, and she said, 'You ever thought about being a barber?' And I said, 'No. This is just for my buddies,'" James, who attended Washington Middle School and graduated from Bradford in 2011, recalled. "I was the only guy who owned a clipper in my friend group.
"Ten months later, I was in barber school. Seven months after that, I was working in a barbershop. Eight years later, I have this. It happened quick."
For the last three years, James increased his clientele while working out of Sola Salon Studios, 6020 Green Bay Rd.
"Sola was always meant to be the buffer to get to here, to be in my own place," James said. "I just needed to wait for the perfect spot."
And that spot opened up at 3424 14th Ave. when Perez was looking to move out.
"This literally fell into my lap," James said. "I reached out to the owner of (Smarty's Sweets & Treats) and said, 'Hey, if you ever want to get out of there, I would love to get in there.' She replies, 'Call me now.' So it just happened quick."
The Pavlicas, meanwhile, were thrilled to see James move The Hideaway into the building they still own.
"Dan wanted to see a barbershop back there and was so happy it worked out," Felicia said.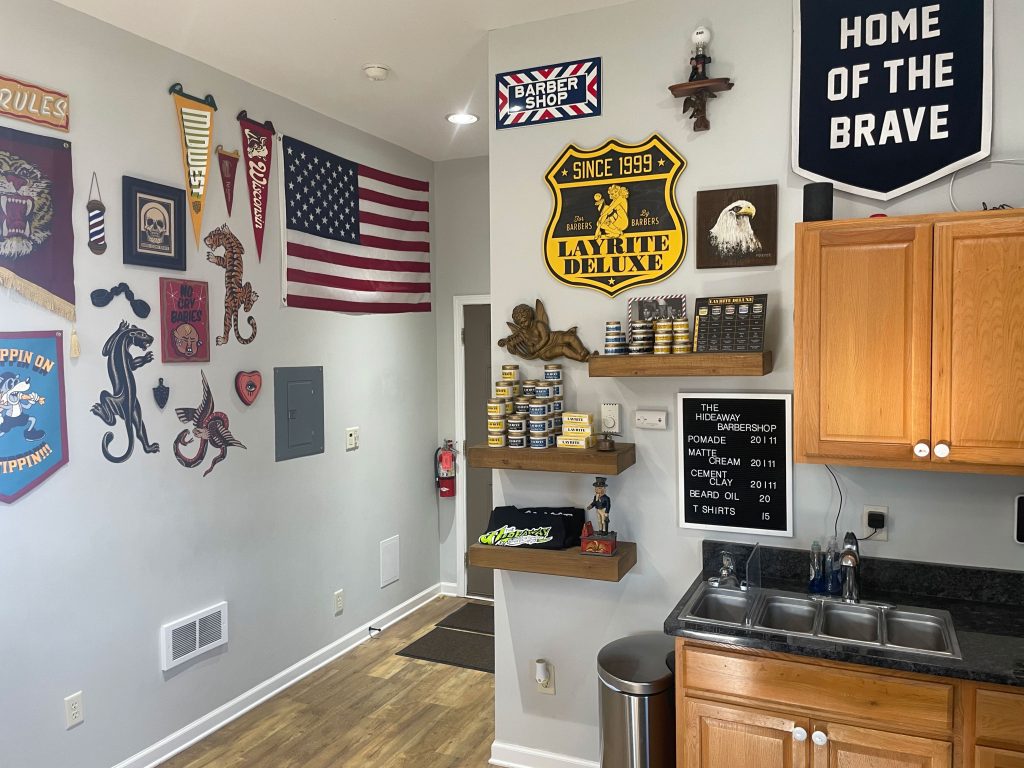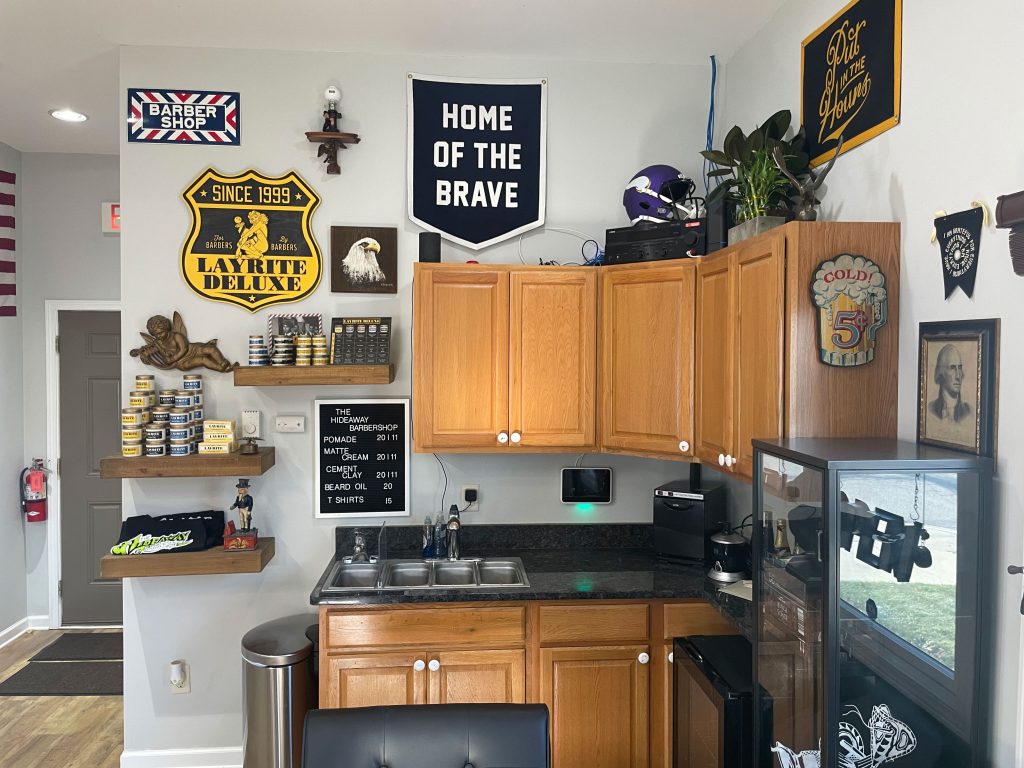 James has certainly made The Hideaway feel like a classic, old-school barbershop since moving in. The customary barber pole, of course, adorns the front door, while the interior is filled with all sorts of memorabilia, photos and decorations that make it feel like a neighborhood joint.
James is happy to add anything else that gives his shop that old-school feel.
"This is the (spot) that I wanted the most, because of the history of it being a barbershop prior," James said. "I was just super intrigued in being local, being a part of the community, and being right here on the corner in a great spot."
Right now, James is doing appointment work only, because he already has so many clients requesting his services.
"I will warn everybody: I am booked out for two months," James said Wednesday. "So if you want me, you've got to wait a little bit. But, hey, I'm willing to cut anybody that wants to come in."
Appointments may be booked on the booking app Booksy at Thehideaway1.booksy.com. You can also visit The Hideaway's Facebook page for more information.
Meanwhile, for anyone driving up and down "Pepsi Hill" or in the area, whether they need a haircut or not, that vintage barber pole will remind them of a little slice of Kenosha's past while also signifying more to come in the future.
As Cathy Savaglio put it, "Something that's close to all of our hearts."