The Kenosha County Emergency Services Network (ESN) brings together community-based agencies serving low income and indigent residents of the county, with the goal of creating better coordination of services and eliminating duplication.
The agencies involved with the network provide such key resources as: food, shelter, clothing, and some limited medical care, as well as counseling and referral to other resources in the community.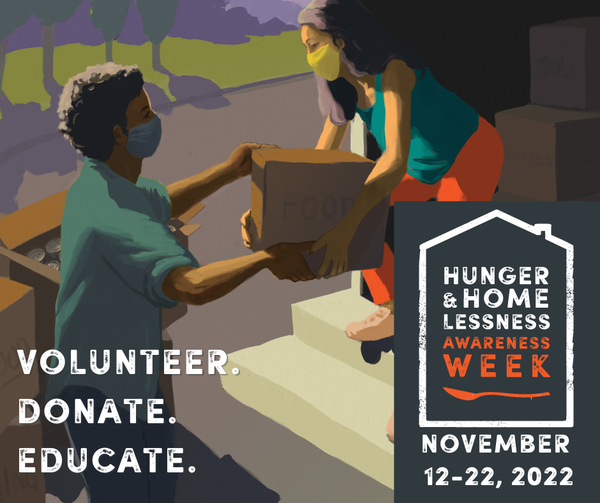 A sub-group within the ESN, Homelessness Awareness Prevention Partners, will be hosting an array of events to highlight the week and we hope you'll take a moment to reflect on what it means to be homeless, hungry, and without basic needs.
Below is a list of events that will take place in Kenosha County during the National Hunger and Homeless Awareness Week (Nov. 12-20) as we "Shine a Light" on the impact and disparities that exist:
Monday (Nov. 14)
Local Documentary: "What We're Hungry For: How Food Pantries Fed Rural Wisconsin During the Pandemic" documentary by Jim & Parker Winship, 5:30 p.m. to 7 p.m. at University of Wisconsin-Parkside Student Cinema; 930 Wood Road.
Tuesday (Nov. 15)
Resource Day: Hunger and homelessness resources distributed throughout the community.
Wednesday (Nov. 16)
Solidarity Day: Turn the town orange or purple in solidarity. Orange represents hunger, purple represents homelessness.
Thursday (Nov. 17)
Community Awareness Walk: Event begins at 2 p.m. at Kenosha Human Development Services; 3536 52nd St. and ends at Shalom Center, 4314 39th Ave. Participants are asked to wear purple and/or orange.
Friday (Nov. 18)
"Shine a Light": Local residents can light a candle and place it in a window as a sign of solidarity.
To learn more visit www.esnkenosha.org