The Restaurant:
Cut Stone, 5925 Sixth Avenue A, is a fire truck food truck during summer, and a counter service pizzeria and wine bar when the weather gets colder.
The Featured Dish:
Calabrese Pizza — House-made red sauce, shredded mozzarella, hand-sliced hot capicola, Calabrian chili paste, red onion, and Calabrian chili-infused hot honey.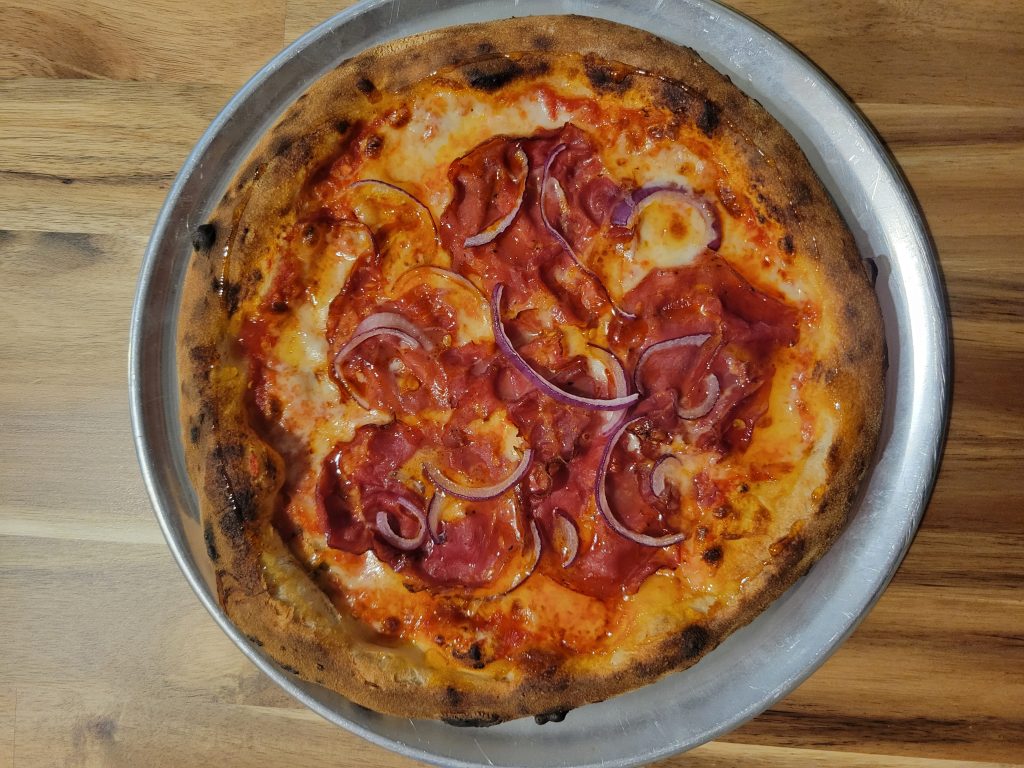 The Flavor and The Story:
Full disclosure: This is shameless self-promotion.
Cut Stone is owned by my wife Jandel and myself, and, yes, I'm writing about our own food.
The fact is … it's delicious, and I want to share it with all of you.

During the spring and summer months you can find us at Kenosha's best events, including regular appearances at Petrifying Springs Biergarten, cooking fresh, wood-fired pizzas from a fire truck.
Our pizza is a little different from the famous offerings of local legends. Inspired by our travels to Italy, our individually sized pizzas are hand-stretched and fired to order over oak at nearly 1,000 degrees in the style of the birthplace of pizza — Naples.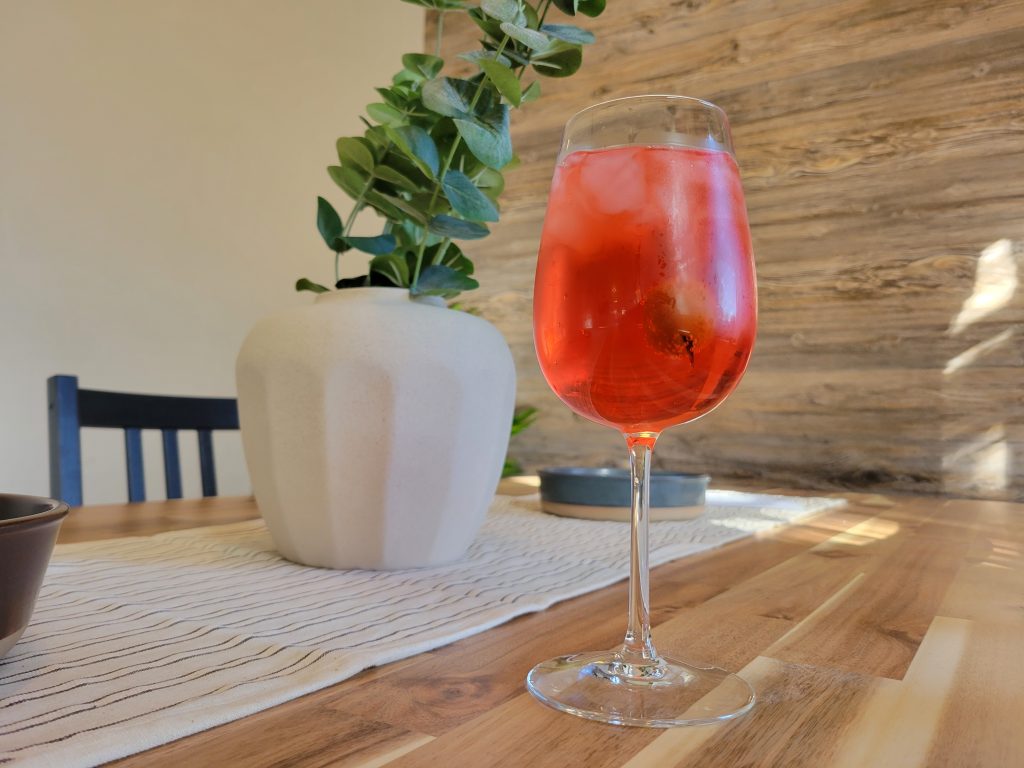 Now that the seasons have changed, we have moved indoors for the very first time to continue to serve our handcrafted Neapolitan-style pizzas all year long.
We've converted our downtown Kenosha storefront and kitchen into a cozy, counter service dining area and are now opening up for service every Tuesday and Thursday night. 
With a bit more elbow room than the back of a fire truck provides, we've also significantly expanded our menu and added wine by the glass or bottle to our nightly offerings. 
While you can still order a classic pepperoni, we've added some more exciting specialty pizzas to our menu as well as an option to build your own pizza masterpiece.
An early favorite from the new specialty menu is the Calabrese.
Inspired by an aftershift staff favorite, this pizza is full of flavor with just the right amount of heat. 
Like all of our pizzas, it all starts with the most important factor, the crust. 
Our pizza dough recipe is the result of innumerable experiments and alterations that have led to a light, airy, and tasty crust that serves as the perfect foundation for fresh flavors. 
All of our dough is made fresh daily, completely by hand, resulting in a very thin center with puffy and delicious edges.
Next up is the second-most important ingredient, the sauce.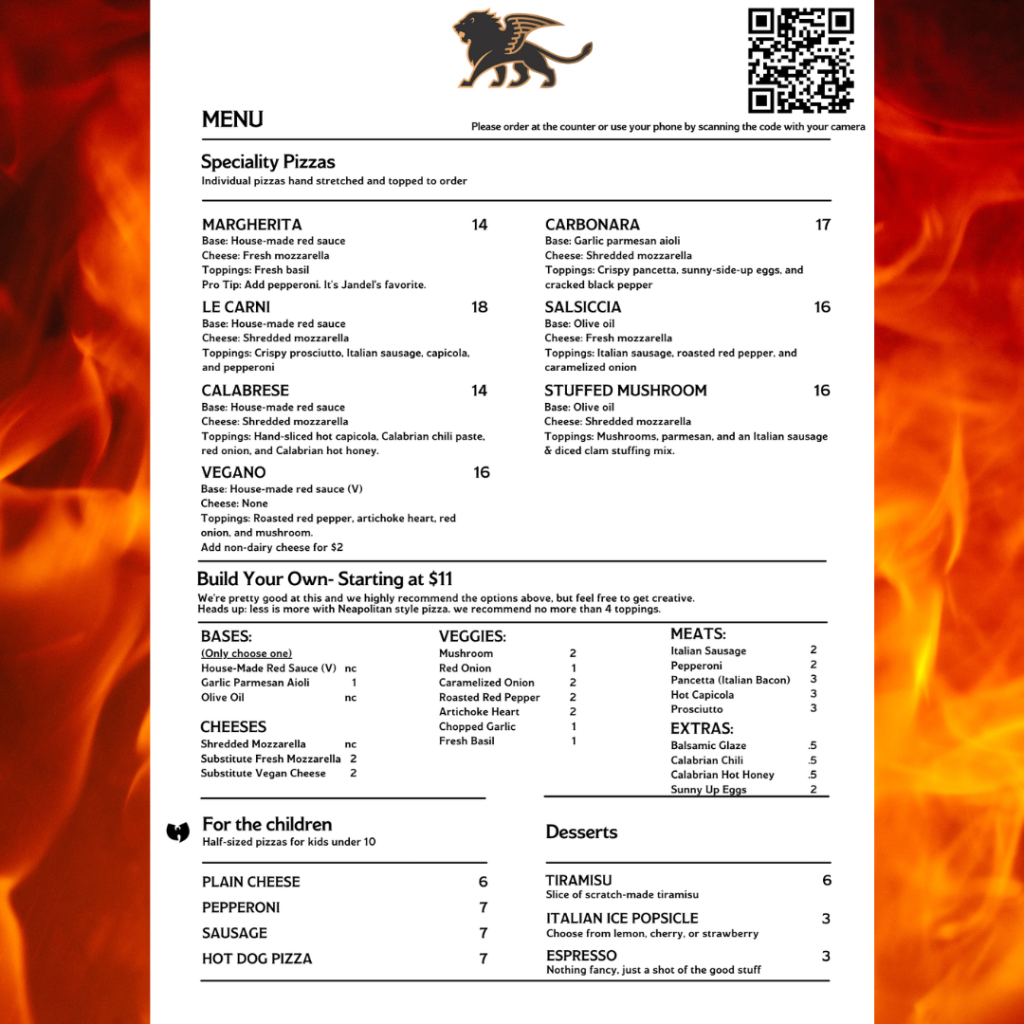 Our red sauce is truly homemade. It's created fresh from real tomatoes every day and provides the perfect flavor, acidity, and garlic to complement fresh toppings. 
Next up is shredded whole-milk mozzarella and a bit of Calabrian chili paste for a flavorful kick with just a bit of heat. 
The hot capicola is added next after being sliced fresh in house. When exposed to the high temperature of the wood-fired oven, the southern Italian style cold cuts become slightly crispy, adding texture as well as rich flavor. 
It's all balanced out with red onions to help cut the rich flavors and a drizzle of house-infused hot honey for a sweet and spicy final layer of flavor. 
Despite all of its spicy ingredients, when they all come together the result is a deliciously balanced bite with a noticeable but not overwhelming kick of heat. 
The Calabrese Pizza is available every day for $14.
Cut Stone is currently open for dine-in and carry-out every Tuesday and Thursday night starting at 4:30 p.m. You can view this dish and the entire menu as well as order online at CutStoneFoods.com.