When Tremper High School senior Teiya Brewster tells others that she's a diver, she often gets a well-meaning but incorrect response.
"They're like, 'Oh, whoa, like scuba diving?'" Brewster says. "And I'm like, 'No, not quite.'"
Brewster is a competitive diver for the Tremper girls swimming and diving team, and it's a unique sport that she's well-suited for.
Standing on the end of a diving board can be a lonely place, with just you, the board, the water beneath and a panel of judges waiting to scrutinize your every movement. It's a sport that requires a fearless mindset and a short memory.
"High pain tolerance, also," Brewster pointed out while standing outside the Tremper pool on Wednesday afternoon before she practiced.
Well, Brewster handles these challenges well. So well, in fact, that she's among the best divers in school and Kenosha County history.
Brewster will conclude her standout Tremper diving career this Saturday (Nov. 12) with her second consecutive appearance in the Wisconsin Interscholastic Athletic Association Division 1 Girls State Swimming and Diving Meet at the Waukesha South High School Natatorium. The Division 1 diving competition begins at 9:30 a.m. Saturday.
For making her second straight State Meet appearance and her outstanding high school career overall, Brewster has been named this week's Kenosha.com High School Athlete of the Week.
Unique sport
When asked how she got into a sport that requires flying and twisting through the air, Brewster said she started with two years of dance and 14 years of cheerleading.
So moving into diving was a pretty natural transition for her.
"I was just at the YMCA one day, and I was just jumping off the board, and one of the lifeguards asked me, 'Oh, we have a diving program. Would you be interested in trying it? You're really good,'" Brewster recalled.
"I was like, 'I'm open to it.' And I started there. That was like in sixth grade. I've just been diving since then."
When asked what the most difficult thing about diving is, Brewster said it's learning how to get past failure and move on quickly. You're not going to succeed on every single dive.
"The hard part is kind of just being able to move on after a bad dive," Brewster said. "Not being afraid to smack (the water or board). It's kind of dangerous sometimes.
"It's part of the sport, really just having an open mind to trying harder things and wanting to be better. That's kind of really hard to get over. It's all you. It's not a team thing. When you do bad, that's you doing bad."
Tremper diving coach Justin Bublitz, who's in his seventh season coaching with the Trojans and was a diver himself, agreed with Brewster's assessment.
"I think it takes, for lack of a better word, a short-term memory," Bublitz said Wednesday. "If you have a bad dive, it's like, 'OK, that didn't go well. But now I have 10 more opportunities to make it better.'
"I would also say just staying in the moment is what it takes to do really well at state."
Ready for state
Speaking of state, Brewster will get a second crack at the WIAA State Meet after nearly posting a podium finish as a junior in 2021. She finished seventh at state last year with an 11-dive aggregate score of 402.55, just one place off the top six that make the podium in the State Meet.
Brewster said she's going into the State Meet this year with less nerves.
"Definitely a lot less nerves," she said. "I feel like last year I was going into it really blind, and I didn't know what to expect. So I was kind of not ready to see who the real competition was out there.
"… It's just more thinking about yourself and how you're going to do, or how you want to do."
Brewster is also going into this year's State Meet in a little different position from last season. Last year in a Division 1 sectional, Brewster posted a score of 436.9 to break the Tremper girls school record and qualify for state for the first time.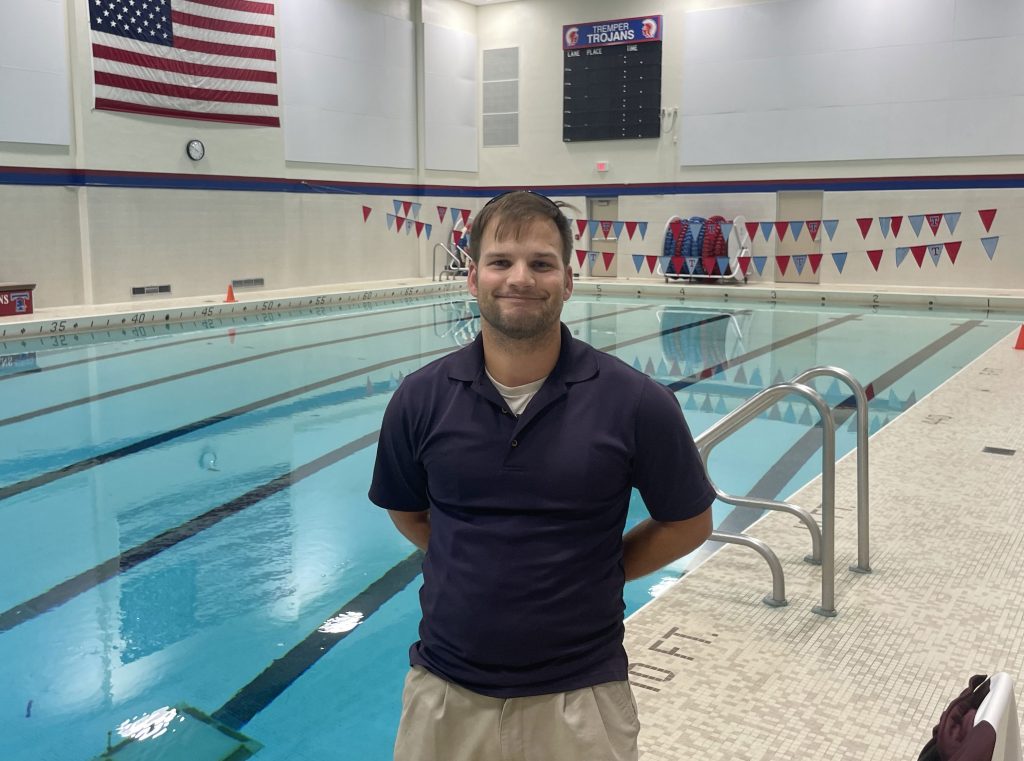 When asked Wednesday if Brewster is the best girls diver he's coached at Tremper, Bublitz pointed to her sectional score last year.
"She is the best that we've had, and she's got a record to prove it," he said. "That record hasn't been broken, I think, since the '90s."
This year, Brewster isn't going into the State Meet off quite as high of a sectional score. She posted a 413.2 in a Division 1 sectional on Nov. 4 at the Racine Unified Aquatic Center, second behind Badger Combined junior Wylde Chupich in the sectional but good enough to qualify for Saturday's 24-diver State Meet field.
But despite a lower sectional score this year compared to last year, Bublitz said Brewster is as confident as ever going into her final high school meet.
"She's seeded a little bit lower, but I would say this year, this week of practice, she looks more confident than I've ever seen her," Bublitz said. "She seems really, really ready, I would say, for state this year."
Impressing the judges
One of the things that makes diving unique, of course, is that the competition is judged. It's not a make-or-miss sport, for example, like basketball, so managing expectations is imperative, because you're not always going to get the score you think you deserve.
It's also important, Brewster said, not to compare yourself to other divers.
"There's obviously people who will be better than you and have those higher scores," she said. "It's just kind of not wanting to be like them, because you kind of won't (be). You're you, and they're them. They have a completely different background, different everything.
"So it's kind of just wanting to be better for yourself, not to be another person. Which is something I definitely had to learn over my whole four years (at Tremper). Freshman year and now, it's a completely different mindset."
In Saturday's competition, the divers will each do 11 dives. There are seven judges on the panel, but for each dive, the top two scores and the bottom two scores are thrown out. The remaining three scores are then multiplied by the degree of difficulty for the dive, giving each dive a final score. The 11 scores are then added up for the final total score.
The State Meet field of 24 divers will be narrowed down to 20 after the first five dives and then down to 16 after the first eight dives. The last three dives will then go in reverse order, from 16th place to first place, to determine the final State Meet placements. So those final three dives on Saturday will be when each diver does their toughest routines.
"Overall, we've tweaked some of her lineup to be the hardest dives at the end, but that's also where you can get the most points," Bublitz said. "So it's high-risk, high-reward, and we're just going to roll with it and see how it goes."
Brewster, who attended Lincoln Middle School before going to Tremper, said she wants to attend college online after high school and get into interior design.
"Interior design's just my thing," she said. "I love decorating. My whole house is, like, all me. It's something I'm into."
In diving or design, Brewster is happy to share her unique talents with others.
"It's just cool to show them my little thing," she said of competing in a sport that a lot of people don't know much about. "I guess it's an impressive thing to be able to do, because not a lot of people would want to do that.
"So it's nice and fun that I'm able to share it with people."
"5 Questions with" Teiya Brewster
Favorite food? "I love French fries. That's probably my favorite."
Favorite movie? "Probably '10 Things I Hate About You.'"
Favorite musical artist? "I listen to a lot of Frank Ocean. He's probably my favorite."
Favorite athlete? "I like, I guess, Giannis from the Bucks. I watch basketball a little bit."
Where do you see yourself in 5-10 years? "I want to get into interior design for school. Probably just in college."