When Peter Stapleton, a senior outside linebacker/tight end for the St. Joseph Catholic Academy football team, came across two car accidents while driving recently, he had no hesitation over what to do.
He stopped and helped.
Exercising the composure and first-aid knowledge he acquired by learning from his dad, a retired paramedic, and from his own time in the Boy Scouts, Stapleton did what he could to assist the accident victims.
Stapleton's instinct is to stay calm and help others when they're in danger, so it's probably no surprise that he one day wants to become a firefighter and paramedic, and perhaps maybe even a physician's assistant.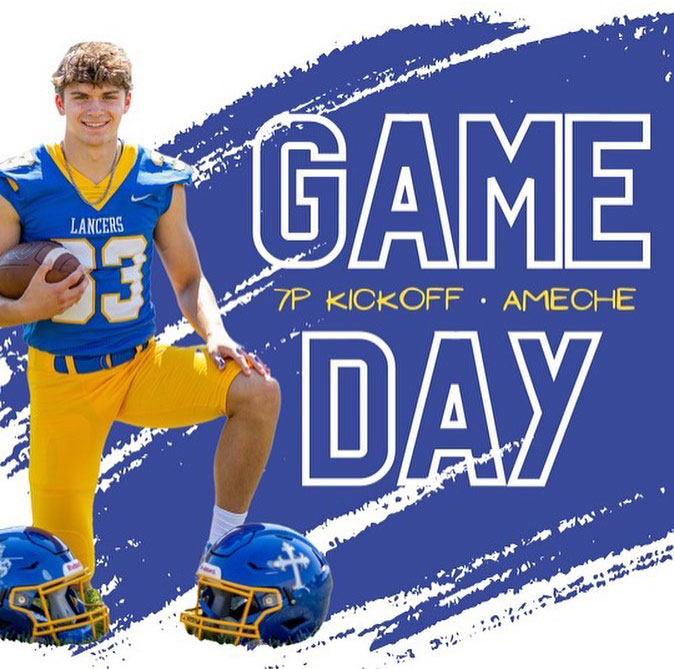 "I've got a little bit of first aid under my belt," Stapleton said in an interview at Ameche Field on Wednesday afternoon during the St. Joseph football team's practice. "My dad's taught me a thing or two.
"I just want to help others. … Just no hesitation. If someone's in trouble, you want to help them."
Given that answer, then, it's hardly a mystery why Stapleton is regarded as such a good teammate on the football field for a program that's had a tremendous amount of success with him as one of its leaders.
St. Joseph, seeded No. 1 in its part of the playoff bracket, will put its 11-0 record on the line against No. 2 seed Darlington in a Wisconsin Interscholastic Athletic Association Division 6 state quarterfinal game at 7 p.m. Friday (Nov. 4) at Ameche Field.
For his performance this season and throughout the playoffs so far for the Lancers, who will attempt to keep moving on their drive to a state championship Friday night, Stapleton has been named this week's Kenosha.com High School Athlete of the Week.
Unsung standout
Over the last two seasons, St. Joseph has racked up an overall record of 22-1 — so far — with two undefeated Midwest Classic Conference titles and four WIAA Division 6 playoff wins. With that level of success, the Lancers have had a number of offensive standouts who continue to post impressive statistics and have received much-deserved recognition and media attention for their talents.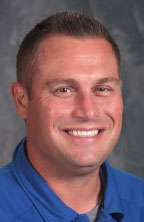 But football games are not won by statistics alone, and Stapleton is the perfect example of a player who does all the little things to help his team win.
"He's really one of our unsung heroes who just does all of the little things right, from leadership to character to bringing up the young guys to (being) a coach on the field to bringing up the practice equipment to being the first-one-in-last-one-out type of kid," SJCA President and head football coach Matt Rizzo said on Wednesday.
"Just not enough good things to say about him. His play definitely does enough of the talking. It usually gets overwhelmed by another offensive stat or something like that, but it's one of those variables that (he) just doesn't care (about stats). He's a selfless person. 'Whatever the team needs to win' … is usually his response. Not enough good things to say about a kid like him."
An edge defender who was named first-team All-Midwest Classic as a junior in 2021 and is almost certain to get that nod again this season, Stapleton is a key cog in a St. Joseph defense that has posted an eye-popping six shutouts in 11 games this season and has allowed just 61 total points, a miniscule average of 5.5 per game.
Stapleton, a superior athlete who's listed at 6-foot-2, 195 pounds, leads the Lancers' defense with team highs in solo tackles (54), sacks (10) and tackles for loss (17) and has also forced two fumbles. In St. Joseph's first two playoff games, he totaled 17 tackles and two sacks, including an impressive chase-down sack in last week's 35-6 second-round victory over Lancaster.
With Stapleton setting one edge and 6-4, 210-pound senior Luke Schuler — who's one of the top tight ends in the state on offense and has committed to play in college at NCAA Division I FCS program St. Thomas (Minn.) — setting the other, St. Joseph's opponents have grim choices on where to go with the ball.
Factor in the interior defensive lineup of senior Marco Matteucci (6-0, 215), junior Viator Grandt (6-1, 215) and junior Adrian Als (6-1, 220), among others, and there's little room to operate within the Lancers' defense.
And it's Stapleton on one edge who's been a rock the last two seasons.
"He sets the edge with the best of them," Rizzo said. "Our defensive line has been great all year, but he definitely gives us a peace of mind that we know we can count on him on any single rep of the game. He'll be there when we need him, he'll be there to stay home, he'll be there to check for reverse-boot-counter, as we say, RBC.
"Most teams have been running away from him. Unfortunately for the other teams, it's just been they're going to run to Luke, or they're going to run to Pete. And then with Marco and Viator and Adrian in the middle, it's hard to get past our front line. With Peter on the edge, it definitely has been a blessing for the last few years."
Stapleton said the Lancers' defensive unit has developed a great trust and cohesion in their time playing together for so long.
"We just have such a good bond," he said. "We trust each other. We're really a family. Even if the offense turns it over, we're like, 'We're going to get it back.'
"… We just all play together and work hard in the weight room, work hard in practice, study a lot of film, and just go out there and take care of business."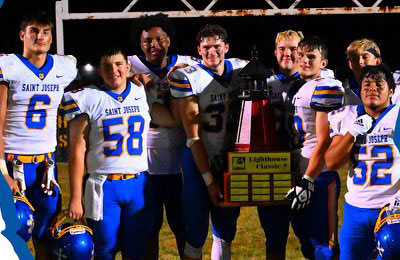 Offensively, meanwhile, Stapleton is part of the Lancers' receiver rotation and also plays back-up tight end to Schuler. There aren't many pass-catching opportunities with Schuler being such a dominant target and Rizzo using the legs of junior quarterback Eric Kenesie, a first-year starter and dangerous dual threat, as much as possible this season, but Stapleton is there to block if needed.
As St. Joseph advances deeper in the playoffs and the opponents get stronger and more physical, Rizzo said he's using Stapleton as a blocker more and more on offense. The senior is happy to contribute in any role.
"Everyone has to contribute," Stapleton said. "Football is a game of, everyone does their job, you'll be successful. So you just kind of go out there, set an example, do your best, give 100 percent effort each play, even if you mess up.
"Coach Rizzo says, 'If you make a mistake, as long as you make it 100 percent, it's going to be all good.'"
Stapleton, who was also a key reserve last season on the St. Joseph boys basketball team that won a WIAA Division 4 regional title and will be one of the Lancers' most experienced players on the hardwood this winter, can also be described as something of an "honorary Kenoshan."
Stapleton actually lives with his family just over the border in Gurnee, Ill., but he's attended SJCA since first grade and said he spends most of his time in Kenosha.
"I spend a lot of my time out here," Stapleton said. "It's a good town. … You know everyone (at SJCA), I'll tell you that. It's a good deal."
Playoff experience
Friday night will be a huge test for St. Joseph, which faces a Darlington opponent steeped in tradition.
While the Lancers are the No. 1 seed in the playoff field, Darlington was actually ranked higher in the latest WisSports.net state coaches poll, clocking in at No. 3 to the Lancers' No. 4. The Redbirds are 10-1 and won the difficult Southwest Wisconsin Activities League title. In their history, they've appeared in the WIAA playoffs 34 times, with four state championships and seven runner-up finishes.
Last season, Darlington reached the Division 6 state semifinals.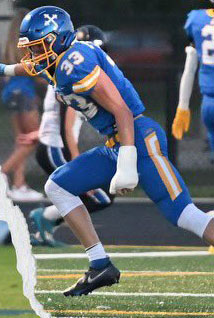 "As we know, they are a perennial powerhouse, and we respect them a lot, and we know we're going to get their best shot," Rizzo said. "And they can expect the same thing from us."
St. Joseph is also hoping to apply a tough playoff lesson learned last season.
Just like this year, the Lancers were a No. 1 seed in the playoffs in 2021 and took an 11-0 record into the Division 6 state quarterfinals, where they ran into a state powerhouse with even more playoff success historically than Darlington, Fond du Lac St. Mary's Springs.
From the get-go in that game, St. Joseph just didn't look quite ready for St. Mary's Springs' physicality, and the Lancers had their season end at Ameche Field with a disappointing 29-6 defeat.
While Friday's game has no actual correlation to last year's state quarterfinal loss to St. Mary's Springs, the Lancers have carried the lessons learned from that tough loss throughout this season.
"The St. Mary's game kind of humbled us in a way, and we kind of figured out what it takes," Stapleton said. "They hit pretty hard right out of the gates.
"I feel like we're prepared for that (this year). Last year, making it decently far was good, but now we kind of know what it takes, and we're just bringing it."
In addition to the playoff experience, St. Joseph has more experience this season in general than last. Right after the season-ending defeat to St. Mary's Springs, Rizzo pointed out that while the Lancers had a fantastic run in 2021, they were still quite young and inexperienced compared to other playoff teams.
This season, St. Joseph has started just two sophomores. The rest are juniors and seniors who have the experience of three playoff runs now, if you include the two postseason games the Lancers played in 2020 in the COVID-altered format that year.
Upperclassmen aren't just more experienced, they're also bigger and stronger.
"They've been there, done that, they understand what it takes," Rizzo said. "The older guys that have been there have been able to share that experience, and the younger guys are embracing that experience.
"Everybody's really just falling into place with their role. But that game and being there on this road before definitely should pay off as we get through the next 48 minutes on Friday night."
Whatever happens for the rest of this postseason, Stapleton said he plans to continue his football career in college, most likely at the NCAA Division II or III level.
But that can wait. This Friday night, Stapleton is ready for the tough challenge of playing Darlington. And like helping others in a time of need, he won't be afraid to jump right into the fire.
"We're excited for this," Stapleton said. "We want some competition, and we're excited to go out there and battle and just take care of business and give it all we've got."
"5 Questions with" Peter Stapleton
Favorite food? "I'm going to have to go with pasta. Lots of carbs, carb-load you up, pack on the pounds."
Favorite movie? "Probably the first 'Captain America.' I like the excitement, the action."
Favorite musical artist? "I'm going to go with Morgan Wallen."
Favorite athlete? "Probably going to have to go with (former Minnesota Vikings linebacker) Chad Greenway. My childhood favorite linebacker. I am a Vikings fan. Both parents are from Minnesota."
Where do you see yourself in 5-10 years? "I plan to continue my football career in college. Not sure where yet. Focused on the high school season right now. I plan on becoming a firefighter/paramedic, like my dad, perhaps maybe transition over to a PA (physician assistant). Just helping others and being great."