While jamming out with my fellow passengers to "Don't Stop Believin'" on a Lakeshore Pedal Tours public Ghost Tour last week, it occurred to me right away what Journey's classic rock anthem was telling me not to stop believin' in this time.
Ghosts.
First, let me be honest: While I have a healthy respect and enjoyment for Halloween and all of its tales and traditions, the occult and the spirit world have never really been my thing. To my recollection, I have never been haunted. I've tried out a Ouija board once or twice, but evidently, no spirits spelled out for me what it is they're searching for.
If I was tired enough, I could sleep in the middle of a cemetery on Friday the 13th. I'll walk under a ladder if I need to, the only thing that scares me about black cats is that I'm allergic to all cats, and if I ever saw a ghost, I'd probably just tell it not to block the television, though I imagine that wouldn't be a problem.
Now, that all being said, I do love a good time. And just because I'm not a "true believer" in ghosts doesn't mean that others can't be. So the chance to pedal along on one of the Lakeshore Pedal Tours Ghost Tours, which are currently available for public and private rides — and have been extended through the second week of November — was an easy "yes" for me.
So, I headed down to the Kenosha Yacht Club Thursday night, Oct. 20, to see what the Ghost Tours are all about. 
I was not disappointed.
Warm greetings
When I arrived at the Yacht Club parking lot, where the Lakeshore Pedal Tours depart from and return to, I received a warm, enthusiastic greeting from Angela Preston, the Lakeshore Pedal Tours operations manager.
She was extremely accommodating and informed me that I would be on a public Ghost Tour, for which anybody can book a seat on the pedal trolley, as long as at least six riders are booked.
This meant that my tour would be family-friendly, something that Lakeshore Pedal Tours loves to emphasize. While the trolley allows riders to bring up to three 12-ounce cans — no glass — of beer, wine coolers or hard cider and makes multiple stops at Kenosha bars, the Lakeshore Pedal Tour experience is for everyone, not just those wanting to drink alcohol.
I was informed right away Thursday night that there would be kids going on my ride and that the trolley would be making a stop at the downtown ice cream parlor Scoops, in addition to some usual bar stops.
Which was more than fine by me.
"If you can reach the pedals, we invite you to join along," Preston told me. "It's for everybody. Everybody likes a good ghost story."
Captain Mike
As we pedaled out of the Yacht Club parking lot for a tour that I was told would take about two hours — the Ghost Tours, I understand, take a bit longer than the usual 90-minute tour — our pedal trolley driver and leader for the night, Mike Shauman, took control of the festivities.
We all referred to him as Captain Mike, and he did an excellent job facilitating our tour. Plus, he was wearing a "Ghostbusters" uniform, which really sealed the deal.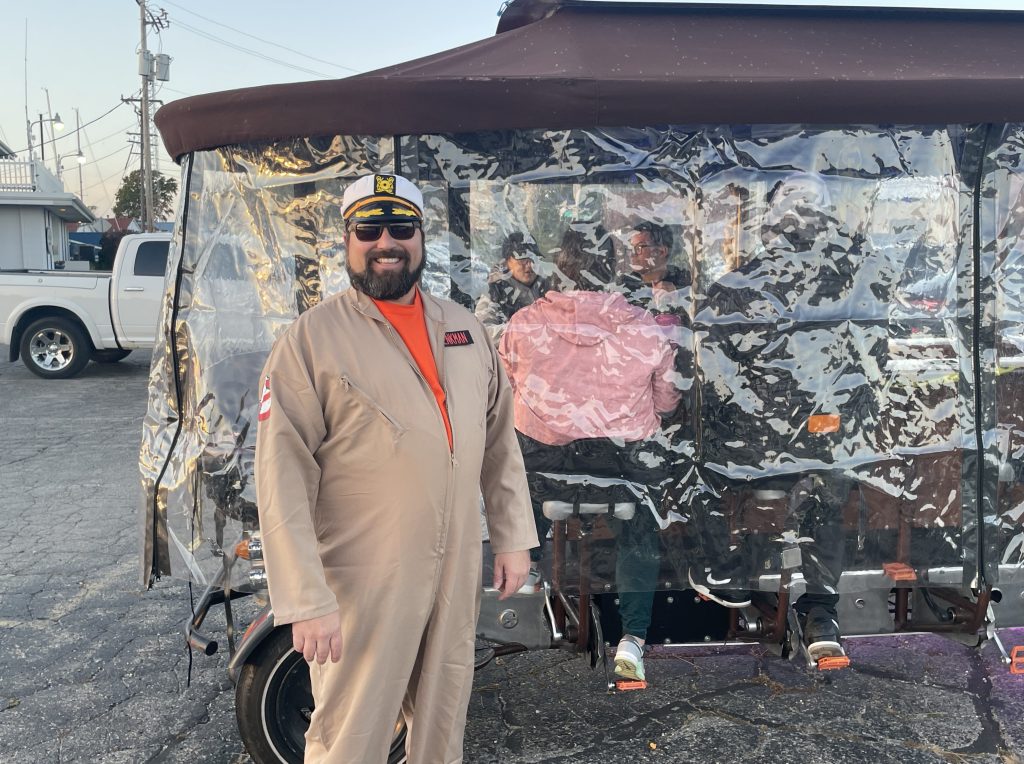 On came the lights and music. Including myself, this tour started with 10 passengers, plus Captain Mike and Angela, and we picked up another rider along the way.
So there was plenty of pedaling power, but let me tell you, it does require a little work. It was a very balmy October night, so I worked up a little sweat right away as we started pedaling uphill to go around Simmons Island.
As we pedaled along, Captain Mike informed us of the Native American burial practices that once took place at Simmons Island.
Two spirit "entities" have been seen in the area, Captain Mike said, one a man searching for his wife and another a female figure with antlers. He also told us of Navajo "skinwalkers," a type of harmful witch who can possess, turn into or disguise itself as an animal.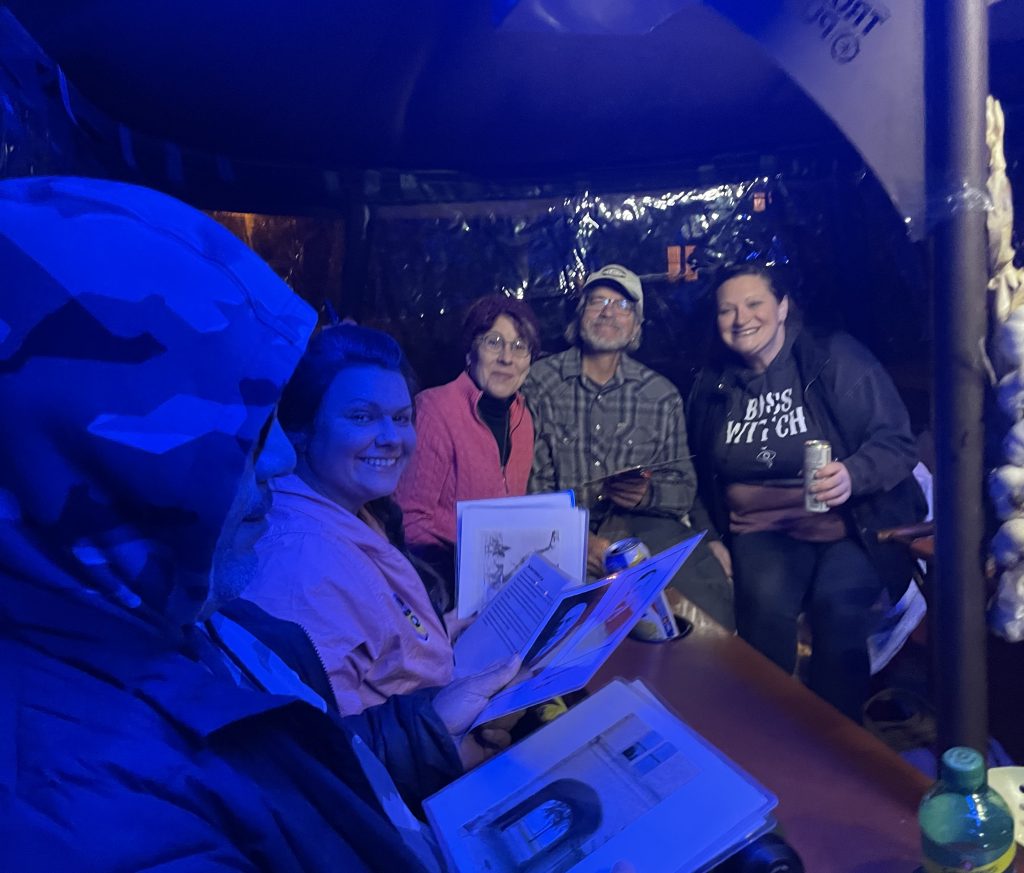 After Captain Mike had sufficiently spooked us, we pedaled the trolley across the bridge over the harbor to exit Simmons Island and began making our way toward downtown.
At this point, Captain Mike gave us a brief, interesting lesson on the history of shipwrecks in Lake Michigan, eventually telling us that there are more shipwrecks in the "Lake Michigan Triangle" than in the "Bermuda Triangle."
One of those involved the SS Wisconsin, which sank off the coast of Kenosha on Oct. 29, 1929. To this day, the ship's wreck site is a popular destination for historians and divers.
Whether I believe the crew of the ill-fated SS Wisconsin continues to haunt the Kenosha coast to this day or not, I always appreciate a good history lesson.
Lavender Lady
Next up, we passed by what's reputedly among the most haunted locations in Kenosha, the famous Rhode Center for the Arts, 514 56th St.
Paranormal activities have long been reported at the Rhode Center, most notably sightings of the "Lavender Lady," a woman who supposedly appears in the dressing and powder rooms backstage. An old piano is often heard playing without explanation, and floral scents drift into backstage rooms with no apparent source.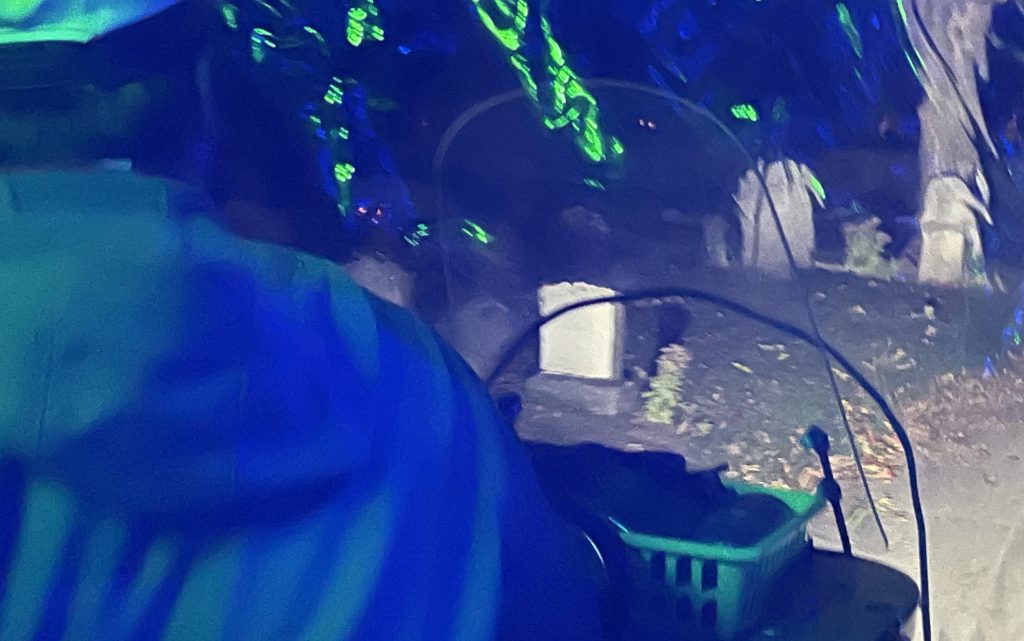 Right before my tour last week, Preston informed me that the "Lavender Lady" has been active lately at the Rhode Center.
"She's been active within the last week," Preston claimed. "We've heard from someone taking out the garbage and locking up. One of the Lakeside Players has seen her recently, so I don't know what's in store."
Alas, we couldn't stop to find out, but we did make a stop right after passing the Rhode Center for something that I believe to be even better than ghosts.
That's right, the pedal trolley swung by Scoops, 5711 8th Ave., to drop off the kids on board — or anybody who wanted to stop — for some fantastic ice cream. In the meantime, Captain Mike took the rest of the crowd for a bar stop over at Tavern on Sixth, 5712 6th Ave.
After about 15 or 20 minutes, Captain Mike rounded everybody up again to continue our Ghost Tour.
Things get serious
Immediately, with the night now fully dark, I knew it was time to get real serious, because Captain Mike cranked up Michael Jackson's "Thriller" right as we began pedaling away from Tavern on Sixth.
With all the lights glowing around the pedal trolley, it truly turned into a festive, party atmosphere.
Captain Mike's next ghost story, meanwhile, involved the sad and true tale of Bridgett and John McCaffary of Kenosha. Convicted in 1851 of the brutal murder of his wife, Bridgett, John McCaffary was sentenced to execution. But the hanging was botched, and he was unintentionally strangled until he died. The botched execution of John McCaffary led to the abolishment of capital punishment in Wisconsin.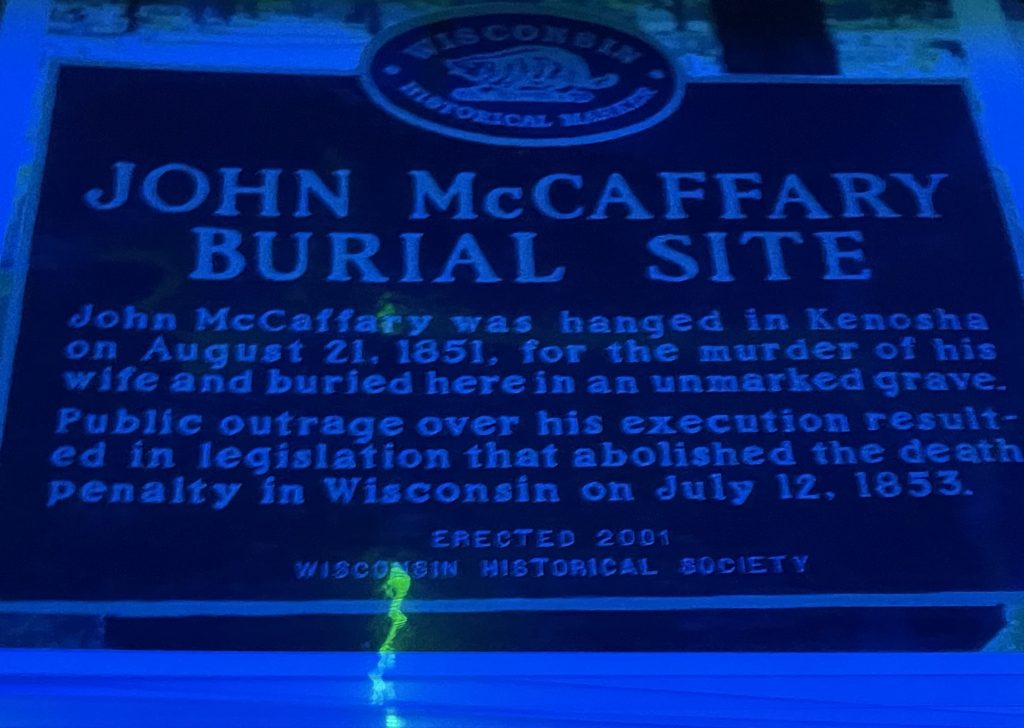 That's the factual part. Now, whether Bridgett McCaffary's ghost still haunts downtown Kenosha, well, that's up for you to believe or not.
At any rate, Lakeshore Pedal Tours offered a nice touch with the McCaffary story, as well as its other tales and historical accounts, by passing around laminated cards with text and photos that passengers can read for more detailed information if they so choose.
Next up, we rode past the Kemper Center, 6501 3rd Ave., which any Kenoshan knows is reported to be one of the most haunted places, if not the most haunted place, in town.
Captain Mike regaled us with the tale of a nun who was pushed down the stairs when the Kemper Center was an all-girls school and another nun who went crazy and drowned herself in Lake Michigan behind the Kemper Center.
We continued past the Kemper Center to the next stop on our Ghost Tour, which for me was the most fun. We turned the pedal trolley into Green Ridge Cemetery, 6604 7th Ave. — the oldest cemetery in Kenosha — and pedaled along the pathway through the massive graveyard as Captain Mike dished out more spooky Kenosha history.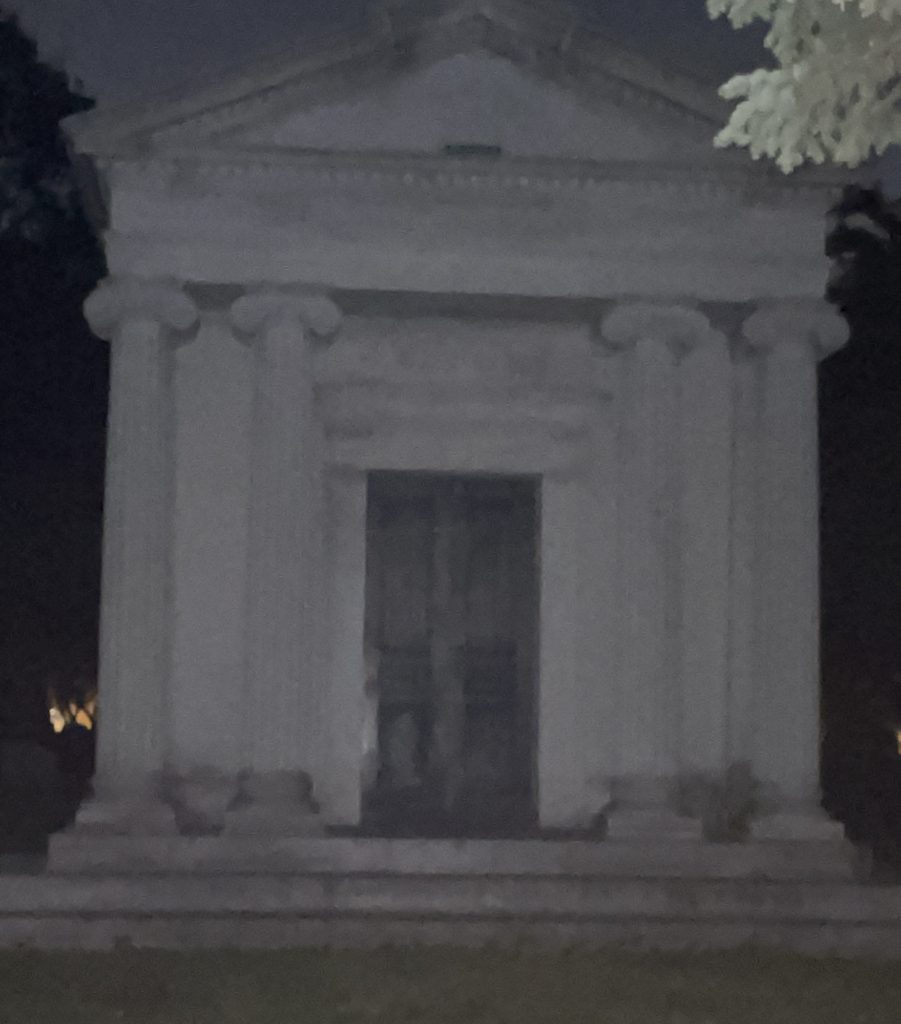 We made a stop in the middle of the cemetery at the Jeffery Mausoleum and exited the pedal trolley. Captain Mike told us that if we knocked gently on the mausoleum, a voice inside might say, "Hello."
We knocked, but there was no answer. I concluded that Jeffery was sleeping or watching Thursday Night Football.
Anyway, we moved out of Green Ridge Cemetery and headed for the home stretch. After Captain Mike told us of the haunted history of the old Simmons Library, 711 59th Pl., which was built with two crypts and reportedly has a female spirit haunting its lower level, we headed to our final stop on the Ghost Tour.
Captain Mike parked the pedal trolley on 57th St., giving passengers a choice to head into Kaiser's Pizza & Pub, 510 57th St., or Interlude II Bar and Grill, next door to Kaiser's at 514 57th St. I opted for Kaiser's and some delicious mozzarella sticks before climbing back aboard the pedal trolley.
From there, we pedaled back to the Yacht Club, but not before some sage was passed around and burned so that we could ward off evil spirits.
Thankfully, I can report that if any evil spirits did attach themselves to me, the burning sage has seemed to do the trick to get them away.
But more than anything, I had a wonderful time. Whether you believe in ghosts or not doesn't really matter, because the Lakeshore Pedal Tours Ghost Tour is a fun, fantastic, family-friendly experience for everyone, no matter your age or inclination to the spirit world.