Parkside Athletics will host the 2022 Athletics Hall of Fame Induction ceremony 6 p.m. Saturday (Oct. 29) in DeSimone Arena. In celebration of the 50th anniversary of Title IX, the 2022 Hall of Fame class will be dedicated to celebrating the history of women's sports at Parkside.
"In honor of the 50th Anniversary of Title IX, we are excited to induct the 2022 Hall of Fame class in celebration of our proud history of women's sports at Parkside," Director of Athletics Andrew Gavin said. "We are excited to welcome some of our best student-athletes, coaches, and staff alumni back to campus to honor their amazing accomplishments."
The induction ceremony for the Class of 2022 will take in the newly renovated DeSimone Arena for the first time ever. Tickets for the dinner at $50 each and can be purchased HERE.
Hall of Fame Week:
Tuesday (Oct. 25) — Volleyball vs. Purdue Northwest
Wednesday (Oct. 26) — Men's soccer vs. Northern Michigan
Friday (Oct. 28) — Volleyball vs. Lake Superior State and women's soccer vs. Purdue Northwest
Saturday (Oct. 29) — Volleyball vs. Davenport and 2022 Hall of Fame Induction Ceremony
What is Title IX?

Title IX of the Education Amendments Act of 1972 is a federal law that states, "No person in the United States shall, on the basis of sex, be excluded from participation in, be denied the benefits of, or be subjected to discrimination under any education program or activity receiving Federal financial assistance."
Inductees: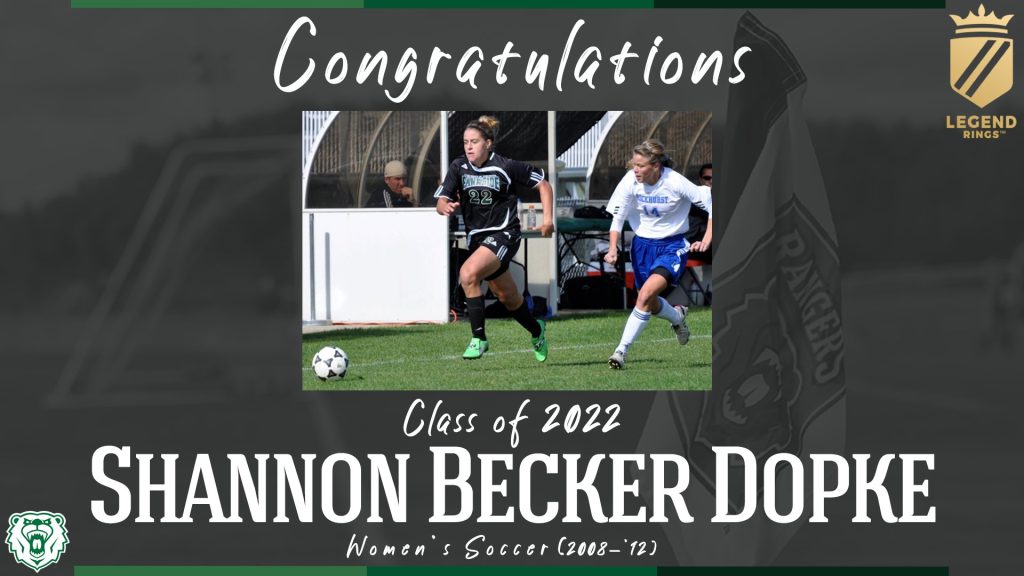 Shannon Becker Dopke '12 (2008-12), Women's Soccer
Becker Dopke's name is all over the record books for Parkside women's soccer, ranking first in career points (131), goals (42), and assists (47). During her four-year career, Becker Dopke helped the Rangers to a record of 59-12-9, two conference championships, and the 2008 regional championship. Becker Dopke was an All-American and in 2010 was the Region Player of the Year, GLVC Offensive Player of the Year, and the GLVC Scholar-Athlete of the Year.
Becker Dopke: "I am incredibly honored and humbled to be inducted into the Parkside Hall of Fame alongside Parkside's best athletes. It means even more to me to be inducted alongside my teammates from the 2008 season as none of this is possible without them and the coaches I was privileged to play with and for."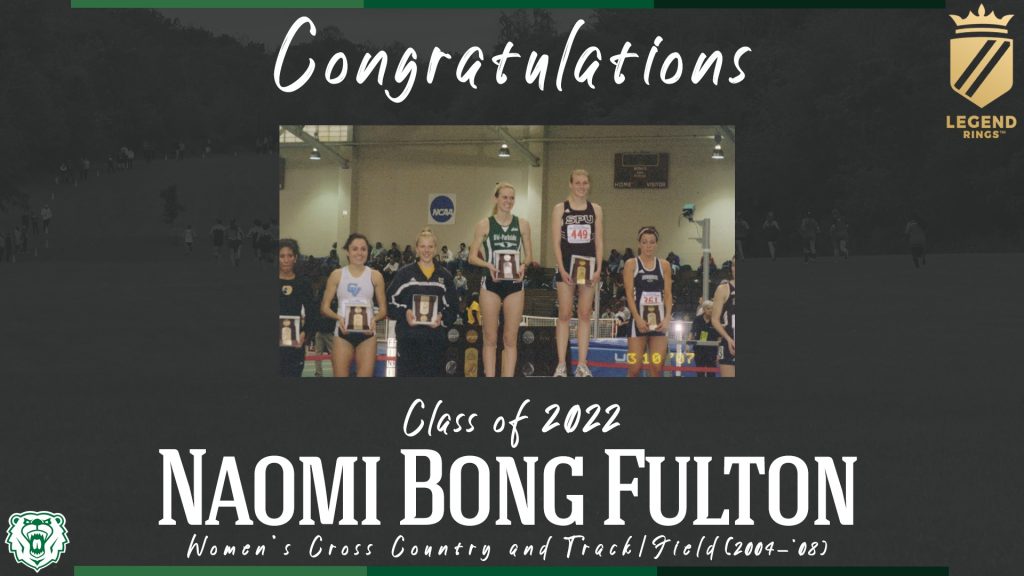 Naomi Bong Fulton '08 (2004-08), Women's Cross Country/Track & Field
Fulton was a nine-time NCAA Division II All-American, including five times in indoor track & field, three times in outdoor track & field, and once in cross country. A 12-time NCAA qualifier, Fulton was All-GLVC nine times and won the conference championship in the mile at the 2006 and 2008 indoor championships. In her post-collegiate running career, Fulton finished 18th overall at the 2018 Boston Marathon and qualified for the 2020 Olympic Marathon Trials.
Fulton: "I am so honored to have been selected for the Hall of Fame. My years of running at UWP are filled with incredible memories and I loved every moment of being on the cross country and track teams. The camaraderie, commitment, sportsmanship, and perseverance that was part of every practice and competition molded me into the person I am today. I am so grateful for my family and coach who always supported me."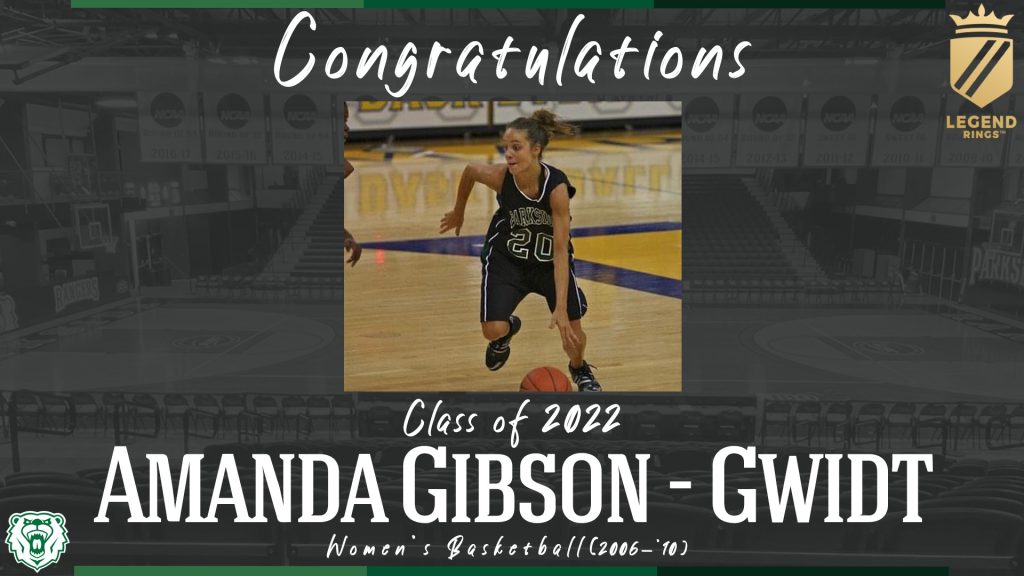 Amanda Gibson-Gwidt '10 (2006-10), Women's Basketball
Gibson-Gwidt is currently sixth all-time in career points, tallying 1,322 points in her career. She also ranks second all-time in career assists with 512. During the point guard's four years in the program, the Rangers went 73-41. The Rangers reached the 2010 NCAA Tournament after finishing with a 23-8 record. The appearance was the first of four consecutive NCAA trips under Hall of Fame head coach Jenny Knight-Kenesie.
Gibson-Gwidt: I am so honored to be inducted to the Parkside Athletics Hall of Fame; especially during such a special year celebrating women's sports and the 50th anniversary of Title IX. My years with Parkside and the women's basketball program continue to be some of the most influential and special years of my life. I will always be grateful to the Ranger Family for the life lessons learned, relationships created and opportunity to succeed in the sport I loved!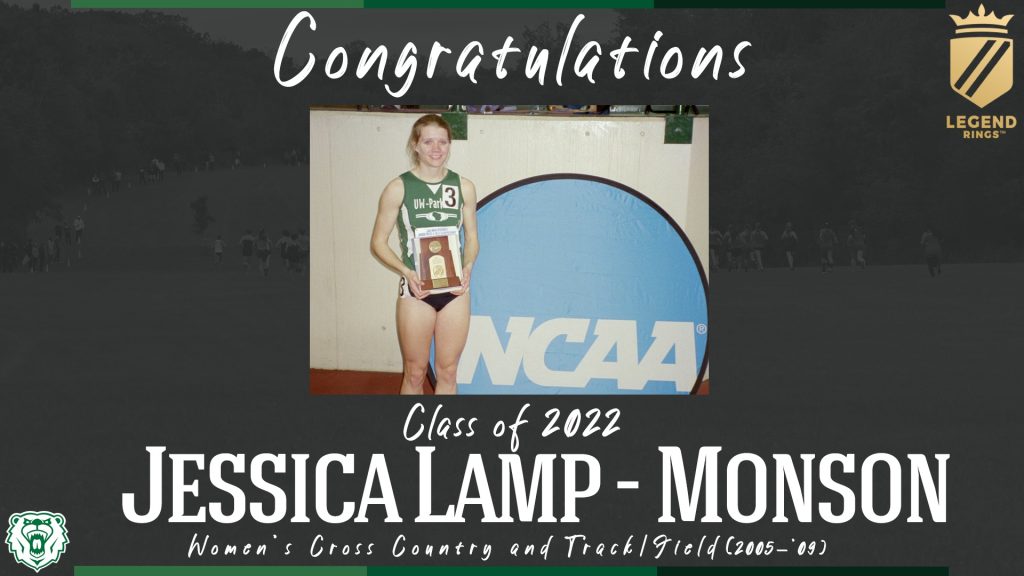 Jessica Lamp Monson '09 (2005-09), Women's Cross Country/Track & Field
Jessica Lamp Monson was a 14-time NCAA Division II All-American during her standout career with the Rangers (7 indoor, 4 outdoor, 3 cross country). She finished fifth in the NCAA Cross Country Championships, the highest place by a Parkside runner in program history. Lamp Monson was a two-time national runner-up in the 1,500 meters, a two-time GLVC cross country champion, and an 11-time GLVC champion in track and field. The Westosha Central graduate was a three-time Parkside female athlete of the year, and has continued her impressive running career post-graduation. She was a 2020 Olympic Marathon Trials Qualifier.
Lamp Monson: "It is an extraordinary honor and privilege to be named to the Parkside Hall of Fame. This path was not traveled alone, it is only with the support of my family, friends, coaches, and teammates that this was made possible. I will always be extremely proud of what I accomplished as a student athlete at UW-Parkside and look back on those memories fondly."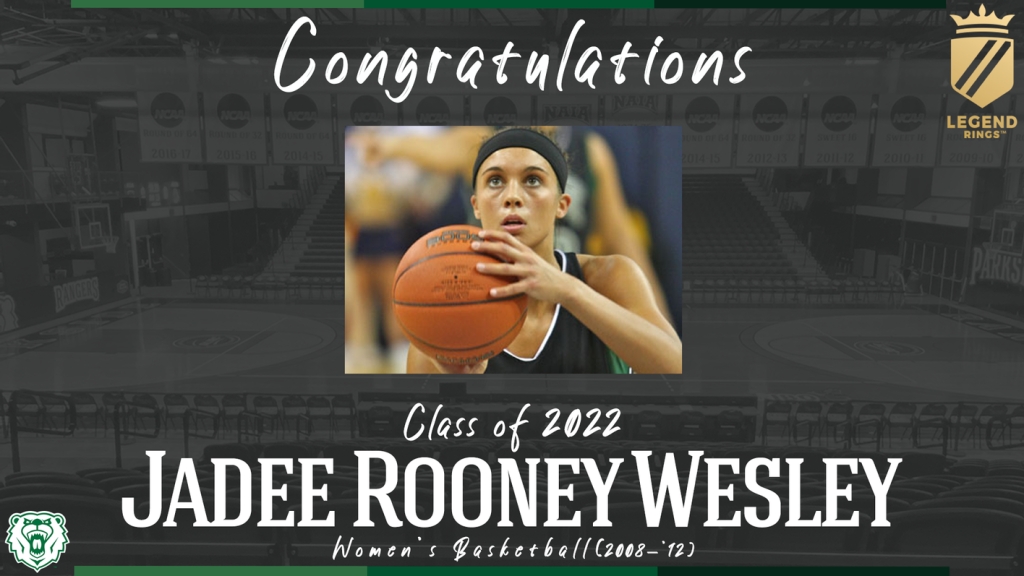 Jadee Rooney Wesley '12, Women's Basketball
Jadee Rooney is third all-time in Parkside women's basketball history in scoring, totaling 1,685 points during a standout career. Rooney led the Rangers to an overall record of 89-31 with two GLVC divisional titles and three appearances in the NCAA Tournament. Rooney was the 2009 GLVC Freshman of the Year and a 2008-09 Freshman All-American. She earned All-Conference, All-Region, and NCAA Tournament All-Midwest Region accolades during her career.
Rooney: "Parkside was the best four years of my life. The amount of joy it has brought to me is unmatched. I had the most amazing teammates and coach that I could have ever asked for. My teammates and I had an incredible four-year run at Parkside. It will forever be the best college in my eyes."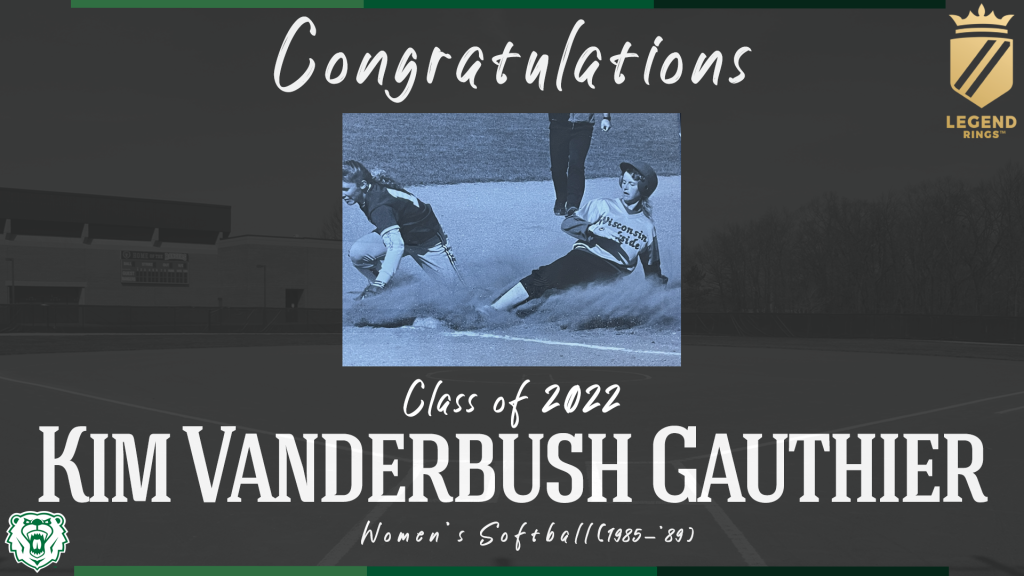 Kim Vanderbush Gauthier '89, Softball
During her standout career as a first baseman for the Rangers, Vanderbush Gauthier helped the Rangers to an overall record of 166-94-2 with four district championships and three top-10 finishes in the NAIA National Tournament. She batted over .300 three times, including .391 in her senior campaign when she also stole a school-record 48 stolen bases. In her career, Vanderbush Gauthier batted .329 with an on-base percentage of .974 and a school-record 114 stolen bases. Vanderbush Gauthier also competed in one season of tennis for the Rangers.
Vanderbush Gauthier: "Coming from a family of eight children meeting basic needs and parents that did not drive, college wasn't necessarily the main focus post high school.  UWP softball coach Linda Draft did some research in our conference, and someone mentioned my name as a player with potential.  Her phone call back in 1984 was a game changer.  An athletic scholarship (especially for a girl) opened a whole new world."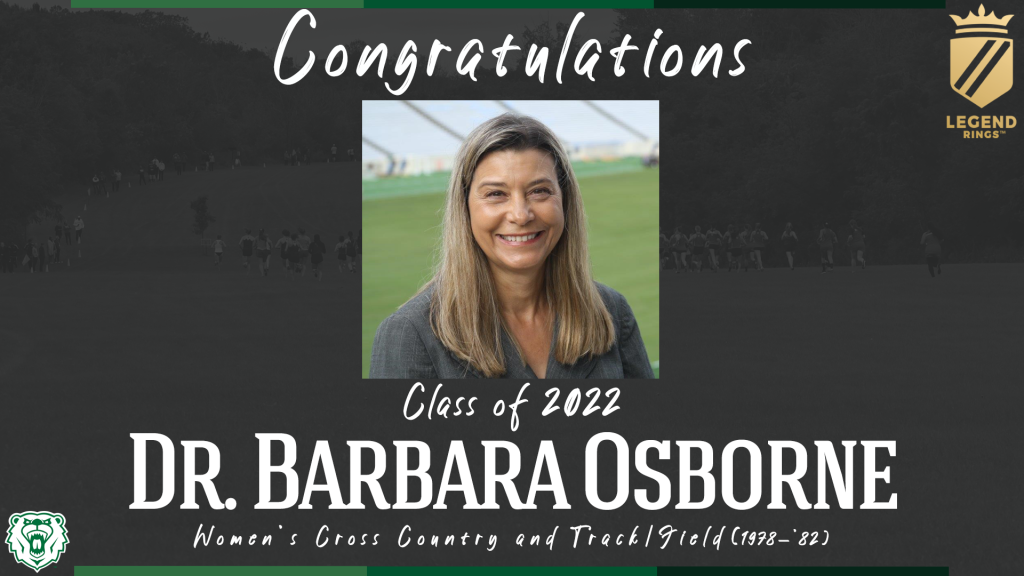 Honorary: Dr. Barbara Osborne '82, Women's Cross Country/Track & Field
A recent winner of the UW-Parkside Distinguished Alumni Award, Dr. Barbara Osborne is a Professor with a joint appointment in Exercise and Sport Science and the School of Law at the University of North Carolina at Chapel Hill. She directs the graduate program in Sport Administration, which was the first in the U.S. to focus solely on college sport.  She also started the undergraduate program in sport administration and a dual degree program in law and sport administration. 
Osborne works as a consultant for school systems, schools and athletics programs providing Title IX education, evaluations and audits, and as a court-appointed Title IX compliance monitor. Osborne's current academic research focuses on legal issues in intercollegiate athletics, gender equity and discrimination in sport, and medical issues in sport.  She is the co-author of three books (including the most widely used sports law textbook, now in its 5th edition). She has written 33 book chapters for various sport law and sport management texts, published 44 articles in academic journals, with another 38 invited publications. 
A life-long athlete, Barbara was inducted into the Kenosha Sports Hall of Fame in 1999 for her pioneering achievements in cross country and track at Mary D. Bradford High School and the University of Wisconsin-Parkside Athletics Hall of Fame in 2010 as a member of the 1980 National Championship cross country team. In addition to her degree in communications from Parkside, Dr. Osborne also has a sport management degree from Boston University and a law degree from Boston College.
Osborne: "I am truly honored to be chosen as an honorary inductee with the amazing group of women UW-Parkside is honoring as they also celebrate 50 years of Title IX.  When I was recruited to Parkside, I was one of only two women on Parkside's first women's cross country team, and eight women on the track team.  We were able to grow and excel, winning the first NAIA women's cross country championship just two years later.  The end of my Parkside track career was marked by a seventh-place finish in the marathon at the NAIA track and field championships — I flew home that night and walked at graduation the next day.  The opportunities Parkside provided and the teammates who became lifelong friends were just the beginning of a life and career in sport, and for that I will always be grateful."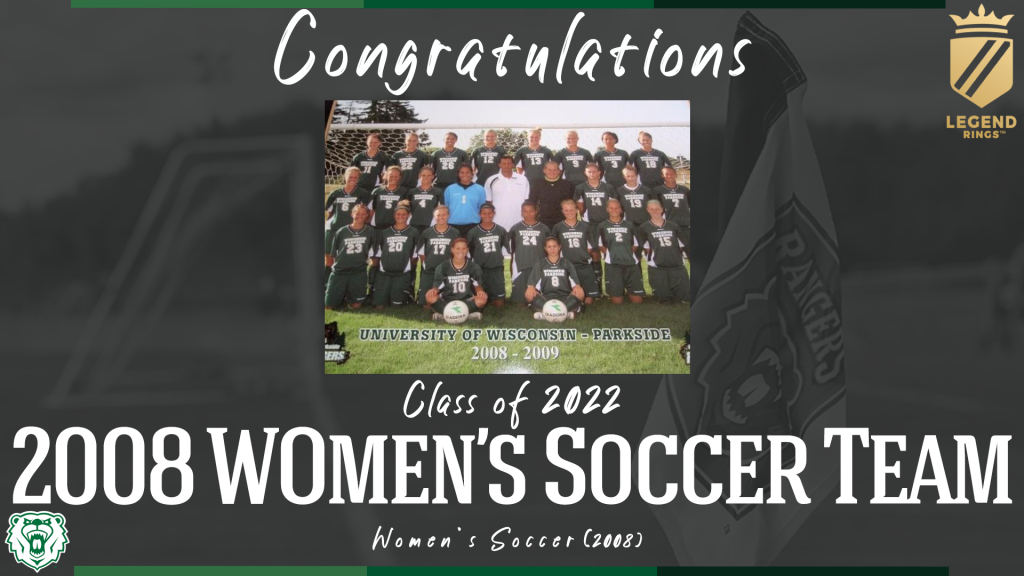 2008 Women's Soccer Team
Coached by Parkside legend and current University of Kentucky head coach Troy Fabiano, the 2008 Rangers posted an 18-1-2 overall record and a 9-0-2 mark in conference play. The team won the GLVC regular season and tournament championships, defeating Northern Kentucky in the opening round. Advancing to the NCAA Tournament, the Rangers defeated both Northern Kentucky and Grand Valley State with shutout victories to win the NCAA Midwest Regional. Meredith Novak and Lauk'i Cheng were both named All-Americans while Novak, Cheng, Cassie Glodowski, Shannon Becker, and Becky Zirlin were All-Region. Cheng was selected as the GLVC Defensive Player of the Year.