The Kenosha Literacy Council will honor local literacy leaders at its Read to Succeed Award Celebration on Thursday, Nov. 10 at Circa on Seventh in Kenosha.
The Howard J. Brown Family Leader of Literacy Awards are presented annually. One award is given to individuals and another to a business or organization.
"The recipients of these prestigious awards epitomize what is good about Kenosha," KLC Executive Director Cheryl Hernandez said. "They have displayed a history of support for our mission and have partnered with us to make our community stronger by supporting KLC's education programs."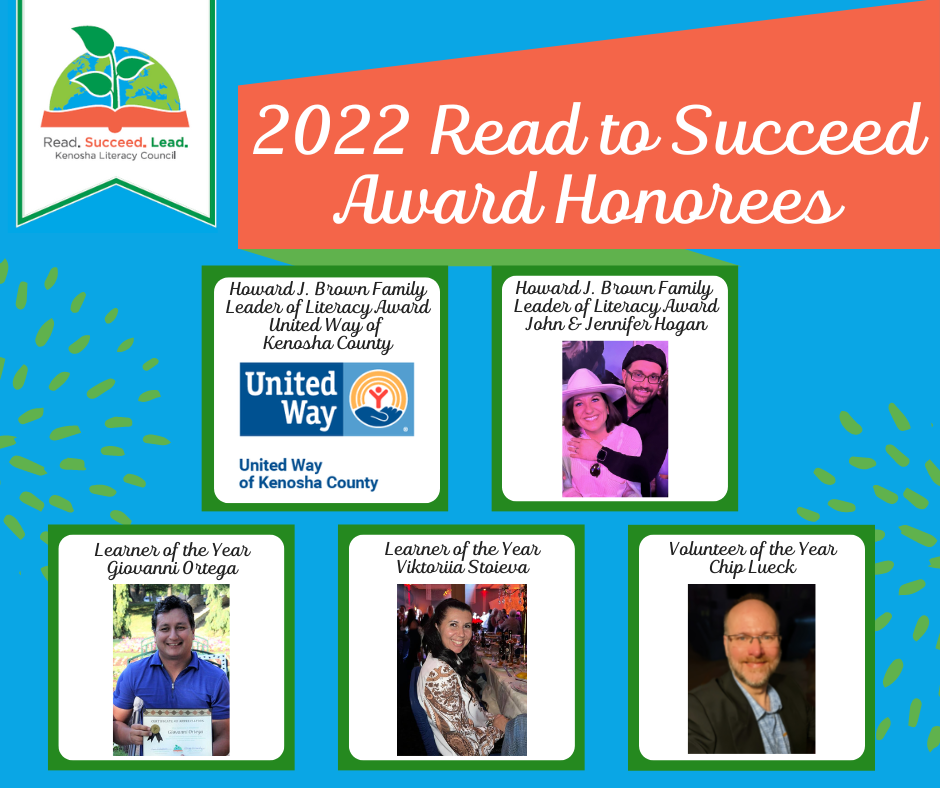 This year we are pleased to announce that the United Way of Kenosha County has been chosen as the 2022 Organization Leader of Literacy recipient. Through their support of the Kenosha Literacy Council and their programs including the Readers Are Leaders Tutoring Program, Read Across Kenosha Day, and Dolly Parton's Imagination Library they promote literacy across Kenosha County.
The 2022 Individual Leader of Literacy Award will be presented to John and Jennifer Hogan. This award recognizes individuals who have positively influenced the community by serving as an advocate for education.
Giovanni Ortega and Viktoriia Stoieva will both receive the 2022 Adult Literacy Learner of the Year Award.
Chip Lueck will receive the Tutor of Year Award.
In addition to Literacy Leaders, awards to KLC volunteers will also be presented and we will celebrate a successful year of changing lives through education.
A limited supply of tickets are available on a first-come, first-served basis to the general public. Tickets are $50 per person or $375 for a table of eight. For more information, call the Kenosha Literacy Council at 262-654-7323. Direct online purchases are available at kenoshalit.org/rsvp.
Established in 1965, the Kenosha Literacy Council helps adults and families in Kenosha County improve their English reading, writing and speaking skills with the assistance of trained volunteers. Last year, nearly 500 learners from 40 different countries were better able to care for their families, get a job, and become more active in our community because of their improved literacy.