Emma Schattschneider, a senior standout on the girls volleyball team at Shoreland Lutheran High School, was a good sport when asked jokingly how a team could possibly fit her last name on an athletic uniform if required to do so.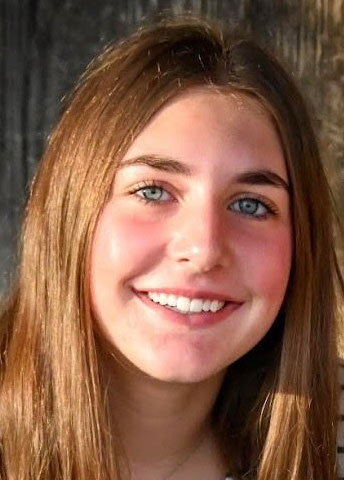 "Oh, goodness, we have had struggles putting our last name on jerseys and things," said Schattschneider — whose fraternal twin sister, Lily, is also on the Shoreland girls volleyball team — with a laugh during a phone interview Thursday afternoon.
"They have to make my font size smaller. Or they, like, curve it around the back of the jersey."
Well, opposing teams have at least as much trouble stopping Emma Schattschneider on the volleyball court as a seamstress might have stitching her last name on the back of a uniform.
Schattschneider, who plays setter for Shoreland but can also be a ferocious hitter when rotated along the front, has led the Pacers to a fantastic 2022 season that's still going strong.
Shoreland went a perfect 8-0 in Metro Classic Conference matches to claim the outright conference title and is now a win away from reaching the Wisconsin Interscholastic Athletic Association Division 3 sectionals for the second year in a row.
Seeded No. 2 in its sectional, Shoreland — which received honorable mention in Division 3 in the latest WisSports.net state coaches poll — cruised to a pair of postseason home wins this week, defeating No. 15 seed Milwaukee Juneau in a regional quarterfinal on Tuesday and No. 7 seed Cedar Grove-Belgium in a regional semifinal on Thursday, both via three-set sweeps.
Next up for Shoreland is a familiar opponent, as the Pacers host No. 3 seed The Prairie School, another Metro Classic team, in a regional final at 7 p.m. Saturday (Oct. 22) at Shoreland, 9026 12th St. in Somers.
Shoreland has already defeated Prairie twice this season, so if the Pacers make it a third time, they'll advance to sectionals next week and move two victories away from their first WIAA State Tournament berth since 2008.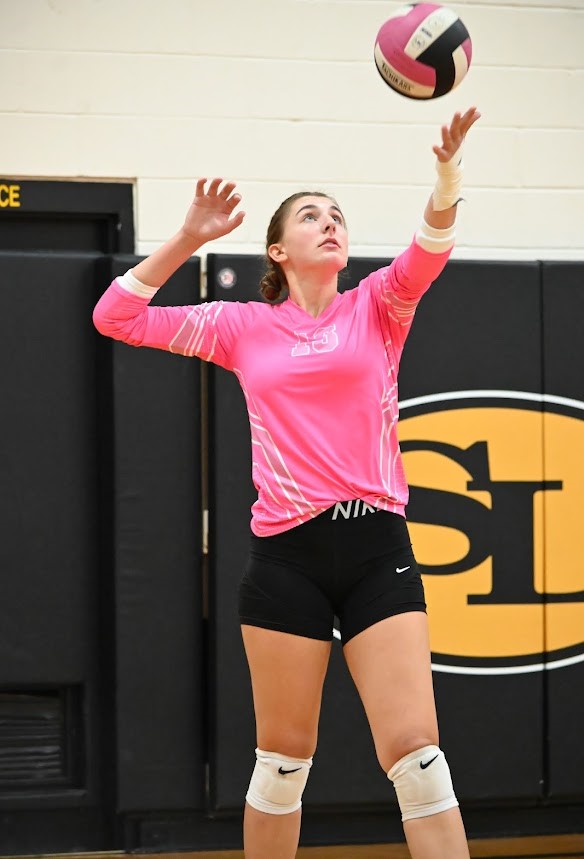 The leader all season for Shoreland has been Emma Schattschneider, who was named first-team All-Metro Classic as a junior in 2021 and has a great shot at being named the conference Player of the Year this season.
For her performance on and off the court and leading the Pacers to a conference title and the regional finals, Schattschneider has been named this week's Kenosha.com High School Athlete of the Week.
"It is so much fun being on this team," Schattschneider said Thursday, hours before Shoreland's regional semifinal sweep of Cedar Grove-Belgium. "… (Early on), it was a rough start, but we definitely came together as a team and really worked well together and worked with each other and had a good team camaraderie that ultimately allowed us to have such a successful season.
"… It's so much fun to play with my team and not lose a (Metro Classic) match. That was awesome."
Starting young
Schattschneider, who lives with her family in Caledonia, in Racine County, said she was fixated on volleyball-like activities from a young age.
"At a real young age, I started playing with a balloon over like a broomstick set up on some chairs," she said.
Schattschneider played volleyball, basketball and soccer while attending Trinity Lutheran, a feeder school for Shoreland, in grade school and middle school. But by the time she got to Shoreland, it was down to just volleyball.
"My dad was also really into volleyball, so he also got me introduced to it, and then my neighbors played club volleyball, and so they introduced me to club, where I started playing club volleyball," Schattschneider said. "And I just really loved it, so I just kind of stuck with volleyball."
Outside the high school season, Schattschneider plays for Epic Volleyball Club, based out of Union Grove.
"You get to meet a lot of new people playing volleyball," Schattschneider said when asked what she likes most about the sport. "You become super close with them, because you spend a lot of your time with them. On the court, it's really important that you kind of jive with your teammates.
"That's a really fun part of the sport, is making friends and getting to win with them. It just makes it so much better."
Team leader
Schattschneider plays outside hitter in club volleyball and certainly has the height and athletic ability to spike the ball and rack up kills.
But Shoreland head girls volleyball coach Kara Kassulke, also a science and STEM teacher at the school, likes having a floor leader at the setter position, and Schattschneider perfectly fits that description.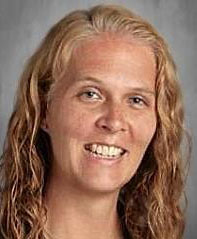 "She's just got great hands," Kassulke said in a phone interview following Thursday's regional semifinal victory. "I'm a huge fan of the setter as the person that runs the floor. Because of that, she is that heart of the team, and she has no problem being that leader. She runs the floor.
"… I've known her since fifth and sixth grade when she'd come to our high school camps, and she had great hands back then already."
But Kassulke can also move Schattschneider to a hitting position when she needs to.
"Literally, that girl can play every position, and she's just so smart," Kassulke said. "I honestly think she is the smartest player I've ever coached. She sees the court on the other side. She knows what the other team's going to do.
"We'll watch film, and she has already watched it so many times that she has the game memorized. … She's just such a smart player on top of having that ability, it creates a duo that is just unstoppable. Teams try to purposely stop her, and they can't."
Twin sister
It also helps that Emma literally has an extension of herself on the court in her twin sister Lily, a senior outside hitter for the Pacers.
Both Emma and Kassulke said that Emma is the more advanced volleyball player of the two, since she's been playing longer and also plays at the club level, but Lily is also a huge part of the team's success the last couple seasons.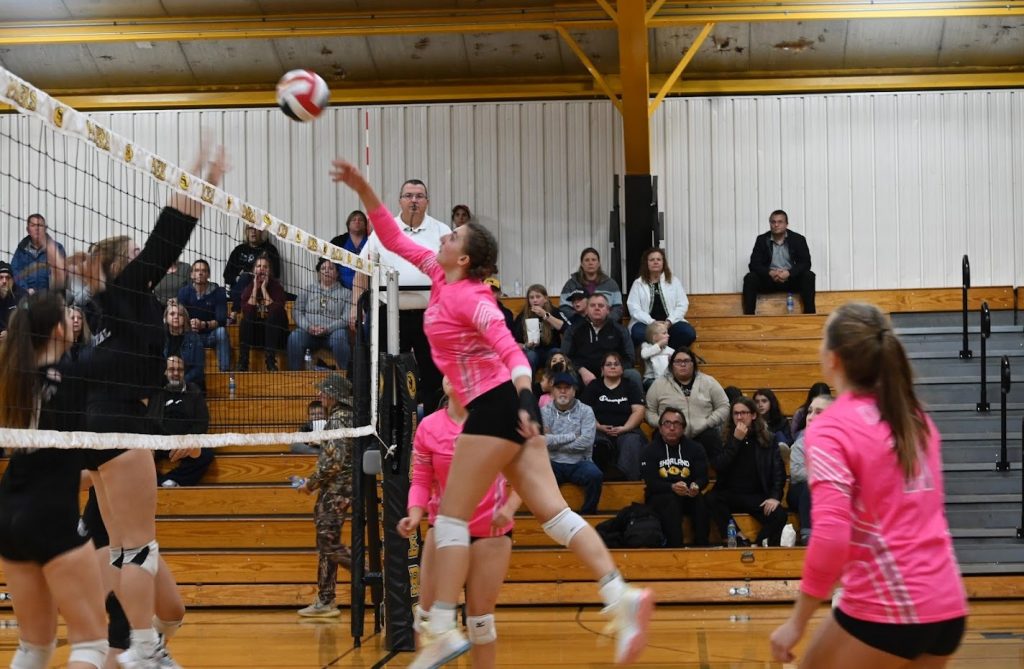 "They're the dynamic duo, like literally," Kassulke said. "They complement each other. … You can tell that they have a good bond between the two of them. Typical sisters, right? They're both great leaders."
Like you might expect from a pair of twins, Emma said she and Lily have pretty much done everything together growing up. But she said they are planning to go to different colleges next season. That will help them progress as people individually, but it also won't be easy to be apart.
"That will be hard to be away from her," Emma said. "… Definitely, it will give us an opportunity to grow apart from each other and grow ourselves, because we've been with each other our whole lives.
"It'll be neat to see how I can depend on myself without having her around."
Future plans
Speaking of the future, Emma Schattschneider is literally the exact type of high school senior who her teachers and peers can predict to be successful in the future without hesitation. She's a member of the National Honor Society and was also voted Shoreland's Homecoming Queen this fall.
Shoreland is one of the top schools possible for technology and STEM education, so it's been a perfect place for Schattschneider, who says she wants to pursue a career in construction engineering management or architectural engineering.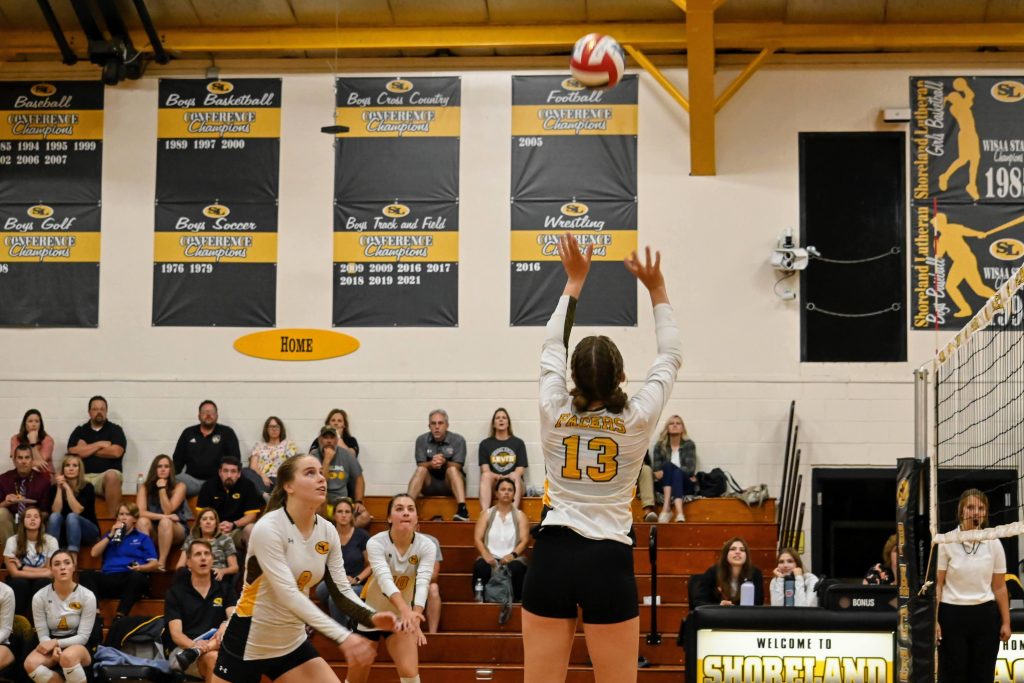 As far as volleyball, she said she has offers to play at the next level from NCAA Division II and III schools and is still considering whether she wants to play the sport in college. She's so focused on her academics, however, that it's not likely she'll forgo a chance to attend a larger institution just because she can't play intercollegiate volleyball there.
Her coach, for one, thinks there's a great way for Schattschneider to stay involved in volleyball well into the future.
"I honestly hope to see her be a coach some day," Kassulke said. "I think she'd be an amazing coach. She knows the game so well. I don't see it ever going away from her."
Whatever she does going forward, you can bet Schattschneider will do it well.
"She's just an amazing senior leader that we have here at Shoreland, and I know that she's going to be extremely successful when she heads on to her next venture, whatever that might be," Shoreland Athletic Director and Social Studies teacher Matt Grow said on Thursday. "She's got the numbers in her classes to go, really, wherever she wants to go. She's going to be successful wherever she goes.
"… She's just a great example of a Shoreland Lutheran High School student that is involved on the court and in the classroom, and then outside of the classroom, too. We're definitely proud to call her a Pacer."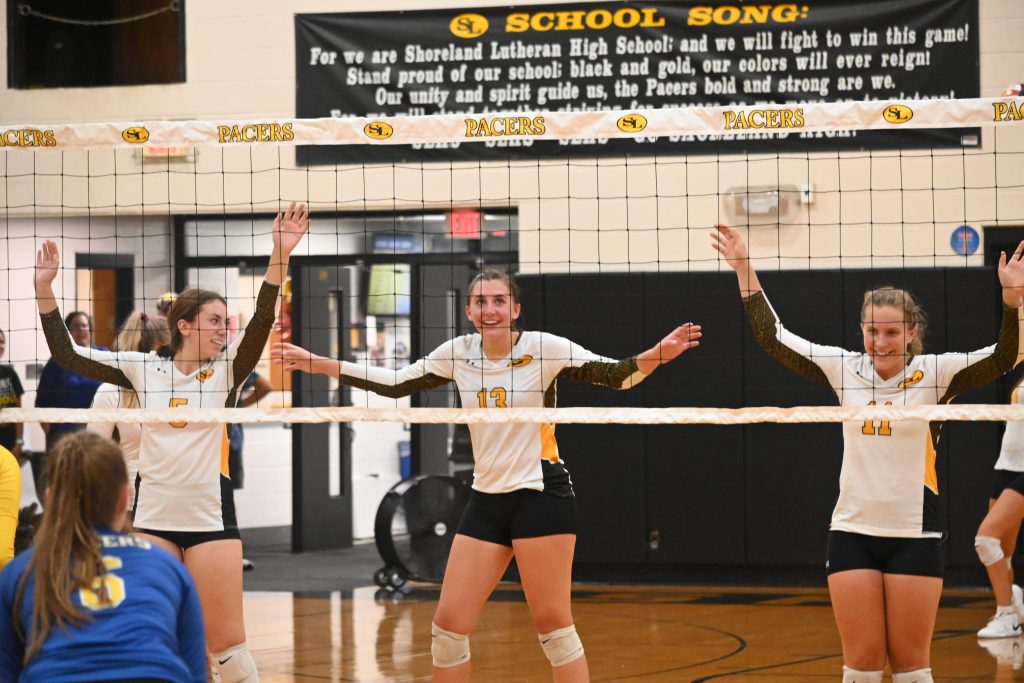 "5 Questions with" Emma Schattschneider
Favorite food? "My favorite food is probably pineapple. … (But) I've never tried it on pizza before."
Favorite movie? "My favorite movie is (Dr. Seuss') 'The Lorax.'"
Favorite musical artist? "Oooh … ummm, probably One Direction."
Favorite athlete? "I would say Sydney Hilley or Dana Rettke from the Badgers (the 2021 University of Wisconsin national champion women's volleyball team). … I went to matches and went to some of their camps and met the players. It was so much fun."
Where do you see yourself in 5-10 years? "I'll probably go to college, have a degree, and then have a family and kids."