The Restaurant:
Saigon Panda, 3105 80th St., is a cozy cafe setting serving a full espresso bar menu alongside expertly prepared Vietnamese and Chinese cuisine.
The Featured Dish:
Grilled Pork Chop Bánh Mì Sandwich — Marinated and grilled pork chop with fresh cilantro, pickled carrot & daikon, cilantro, mayonnaise and a slice of fresh jalapeño.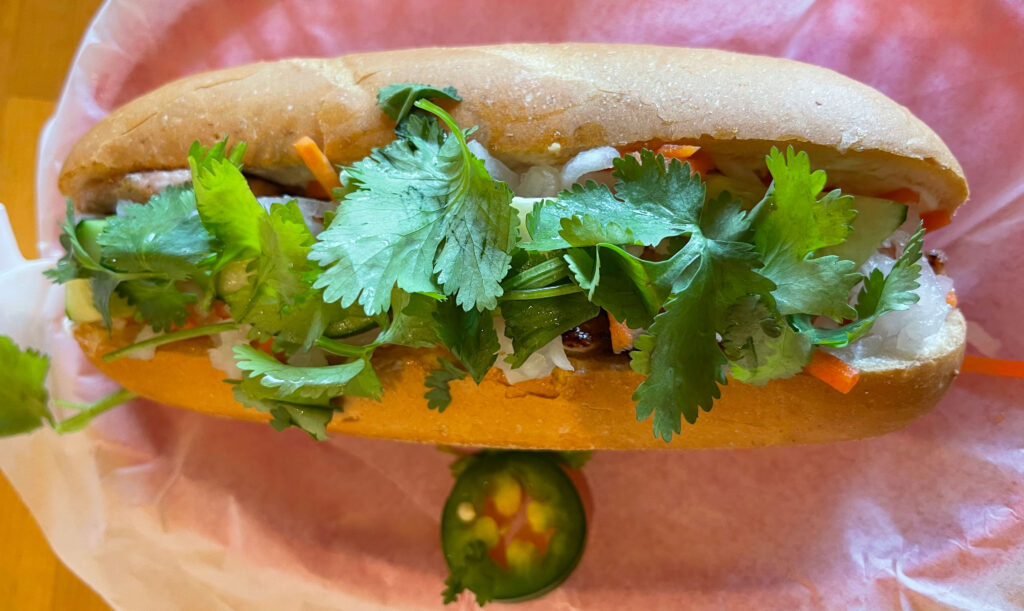 The Flavor and The Story:
Saigon Panda is owned and operated by Yi and Tanya Lee and their individual heritage and mutual culinary creativity is evident in every item on their menu.
Whether you need a morning pick-me-up, a flavor-filled lunch, or a full on word tour of a dinner, Saigon Panda has you covered from their drive-thru window, cozy dining room, and full delivery service.
While there are many places to get a coffee or some Chinese favorites, Saigon Panda's Vietnamese menu offerings are a rarity in our city and truly stand out as stars of the Kenosha culinary scene.
A great example of this is the Grilled Pork Chop Bánh Mì Sandwich.
A great bánh mì starts off with good bread and this particular baguette is a great example. This crusty, flavorful bun is the perfect foundation for all of the amazing fresh flavors contained inside.
The pork chop is absolutely delicious. The marinade not only creates a wonderful, succulent texture, but adds great flavor and a hint of sweetness. Also, the time it spends on the grill adds a crisp caramelization.
To balance out the savory goodness of the protein, the sandwich is absolutely loaded with fresh and pickled vegetables, adding a plethora of texture and crisp, clean flavors.
The sandwich is also served with a single slice of fresh jalapeno that when broken up and added to every bite adds the perfect amount of heat to make this your new favorite lunch.
The Grilled Pork Chop Bánh Mì is available every day for $6.99 and you even get a fortune cookie.
Saigon Panda is currently open for dine-in and also accepts carryout and delivery orders. The full menu including this dish can be viewed online at SaigonPandaKenosha.com.