Kenosha public schools, you got a good one.
The new Kenosha Unified School District Superintendent, Jeff Weiss, is a good man, in it for the right reasons, and a strong leader who very much understands the role of great local schools in defining a strong community.
He was the right leader at the right time in South Milwaukee, and I'm confident he will be the same in a city I have come to love.
I say this from my perspective as a proud parent of two South Milwaukee High School students, as the husband of a South Milwaukee School Board member, and as the former mayor of the City of South Milwaukee — a community Jeff embraced from day one and made better in his too-short time here, despite some incredibly challenging times for everyone in public education.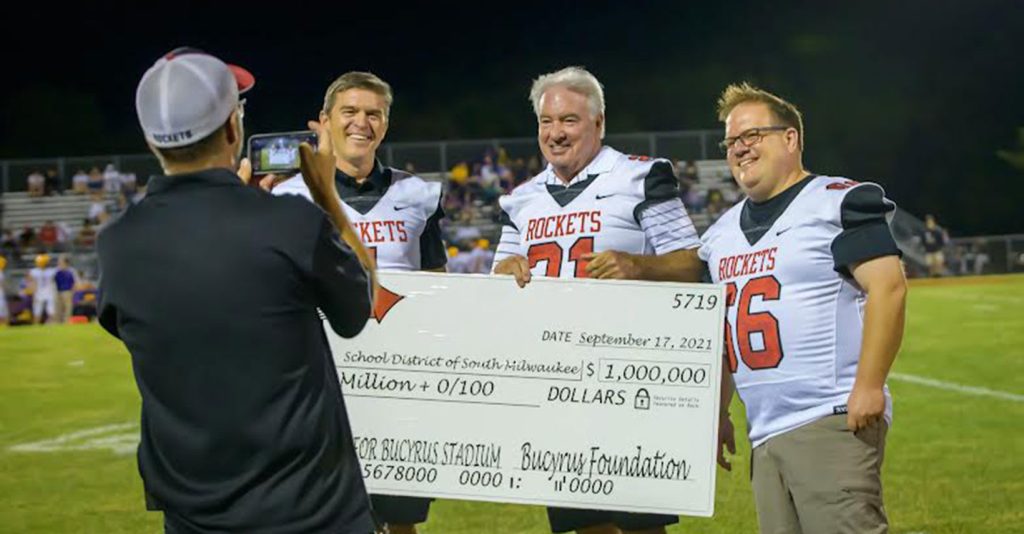 I will miss him as a community partner, leader and friend. I will also miss him as a fighter, from advocating together to stave off reductions in Milwaukee County bus service in 2019 to the district's strong advocacy for fairer funding for public schools. During Jeff's time as superintendent, the district took a very public position with lawmakers against the "haves and have nots" reality of the state's broken funding formulas on education. I hope he continues that fight in Kenosha.
I am certain Jeff's love of community will shine through in his new role, as he returns to the city he once called home and where he began his career in education.
South Milwaukee schools have a long history of embracing the community, and Jeff did the same. Some of this was simply continuing to invest in what was already in place when he arrived in 2019 — efforts like our joint funding of school resource police officers, community events like the Homecoming Parade, or the shared use of school facilities.
Voters demonstrated this spirit of collaboration when they approved a $42.5 million referendum to build a new high school almost 20 years ago — one that included a top-of-the-line professional performing arts center and community fitness center. The school district also operates the South Milwaukee Rec Department, which offers dozens of programs for residents throughout the year.
In September of 2021, Jeff built on this foundation with a new community promise: the announcement of a drive to upgrade the school's athletic facilities, including a new football turf and track, thanks to a $1 million contribution from the Bucyrus Foundation and additional fundraising.
And while he won't be around to see the $4 million Launching a Legacy campaign through — the effort officially kicked off last week with the announcement of more than $200,000 in additional donations and renderings of what will be one of the most unique fields in the state — it would not have happened without his leadership.
Seeking partnerships
Jeff's embrace of South Milwaukee began almost immediately.
One of my early memories of Jeff was a coffee meeting we had in the first few weeks of his tenure. It was the summer of 2019, and he had just started in his role as superintendent, coming from the Richmond School District and various stops in Racine before that. He was new to the city, replacing a strong leader who had spent decades in the district before retiring as superintendent. It didn't take long for us to talk business.
How can the school district and city work better together? An early answer, discussed over a vanilla latte that morning: a joint city-school district newsletter for the community, one that told the story of both equally well and lifted up the people, places, and programs that make South Milwaukee uniquely South Milwaukee.
Jeff understood then how the story of a community is often the story of its schools — and he showed it throughout his tenure.
That newsletter became a reality in the months that followed, and our partnership grew stronger as the crisis of a generation became clear.
Pandemic leadership
Jeff's leadership during the pandemic showed his commitment to a strong and healthy community as much as anything. To me, South Milwaukee set a standard when it came to the city-school collaboration during COVID.
This started at the top, and it started with immediate and mutual respect between the school district and the city's health department, with district leadership understanding how important it is to trust the perspective of local experts when making the difficult decisions related to the pandemic.
The schools quickly embraced local health information in creating its data dashboard, which it relied upon to make sometimes agonizing and almost always controversial decisions around in-person vs. remote learning and mask wearing. Jeff was at the forefront of that data-driven approach — one he leaned on to always act in what he thought was the best interest of students, teachers, staff, and the community as a whole.
This became increasingly difficult as anger grew, the voices grew louder, and the words became more threatening, but Jeff stood his ground. He let science — not political pressure — drive action around COVID. This is what good leaders do.
As the pandemic stretched into its second year, the schools were strong partners on community vaccination clinics and testing, opening their doors to encourage both as a way to reopen, and stay open, safely.
To me, these types of partnerships defined Jeff in South Milwaukee. And I'm confident he will drive new ones in Kenosha.
Jeff: Good luck to you as you embark on this new adventure.
Let's grab a Garbage Plate at Franks soon.