Watch any NASCAR race during the weekend from early February to early November, and you'll see the cars and drivers festooned with advertisements and logos from hundreds of corporate sponsors.
An inquisitive mind might ask, "Do the drivers even use the stuff they're advertising?"
Well, in the case of Jockey International — the world-famous clothing apparel company headquartered in Kenosha since 1893 — the answer to that question is a resounding, "Yes," as one of NASCAR's drivers attested to on Thursday afternoon.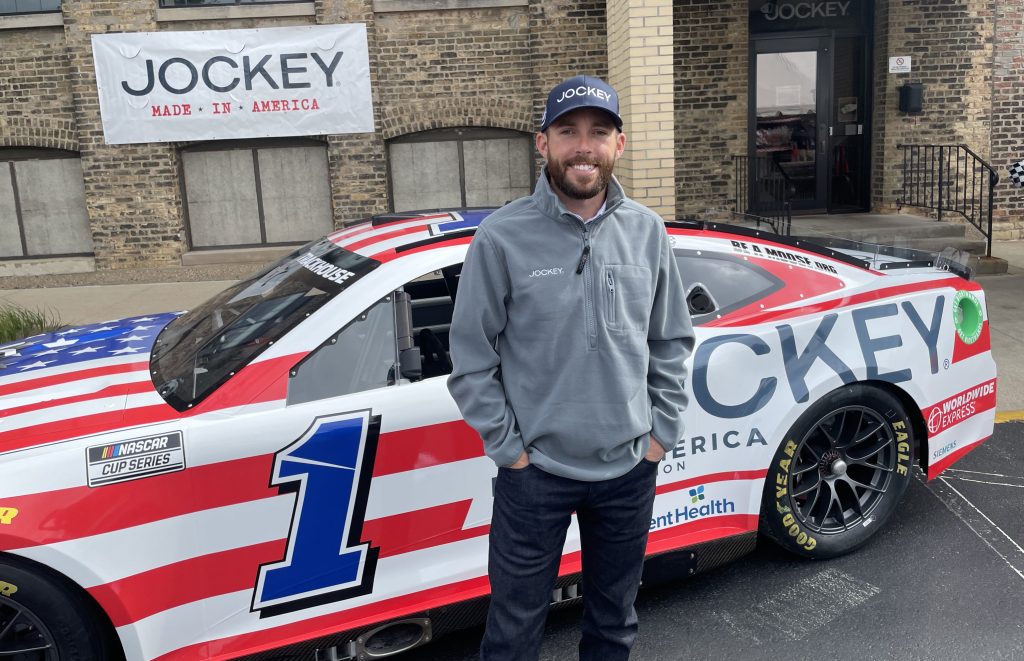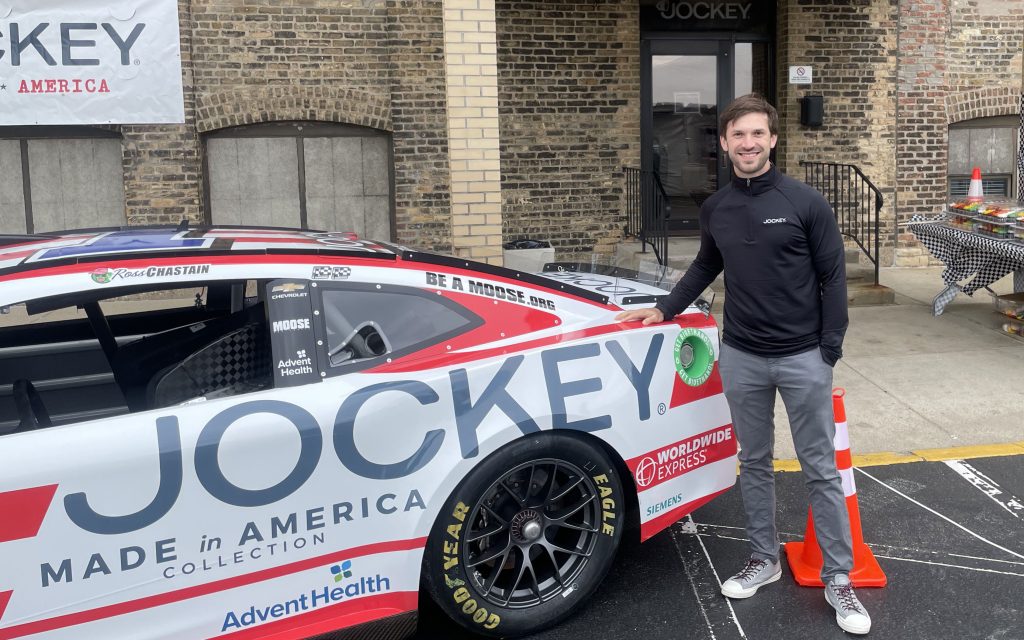 Daniel Suarez drives the No. 99 Chevrolet on the Trackhouse Racing team, which in April announced a multi-year deal to partner with Jockey as a primary sponsor. Suarez and Ross Chastain, who drives the No. 1 Chevrolet car for Trackhouse, have been making their mark on the NASCAR Cup Series all season while driving their unmistakable red-white-and-blue, American flag-themed cars.
On Thursday, Suarez and Chastain made a trip to their sponsor's headquarters, as both appeared at Jockey, 2300 60th St., for a meet-and-greet event.
When talking about the partnership between Jockey, which has been around for 146 years, and Trackhouse, a team that's just two years old but is already making waves in auto racing, Suarez said it's easy to market a product he loves to use.
"We're a very young team, and the partnership is also very young," he said. "But it's very organic. Jockey is really an amazing brand. It's been a brand that has been in this amazing country for many, many years. To be able to partner with a brand like Jockey is quite special, to be honest.
"… Everyone on our team loves the brand. We use their products extremely organically, and that's always an easier way to do things. When you are actually organically using the brand, it's just way easier to market the company. So it's been amazing. Our partnership is young, and we're looking forward to the future."
When asked what his favorite Jockey products are, Suarez said just about everything, from underwear to socks to T-shirts. He said he especially loves the ankle socks but joked that Thursday's brisk fall weather — Suarez is originally from Monterrey, Mexico, and said he's not used to Midwest weather — probably called for more heavy-duty footwear.
"I wish I had the long ones right now, but most of the time I use the short socks," Suarez said with a laugh. "Really, everything. Underwear, I have some really nice white T-shirts that I actually use like (as) an everyday kind of thing.
"It's just very organic. We use so much of their products."
Chastain, who has reached the Round of 8 in the NASCAR Cup playoffs as he chases his first series championship, echoed Suarez's sentiments on Jockey and said it was a pleasure Thursday to see "the people behind the brand."
"We know this brand is a storied American tradition and a partner that we're proud of at Trackhouse," Chastain said. "Selfishly, to come meet the people behind the letters on the race car and see the people that are behind this brand, that are building this brand into the future, it makes it all worth it."
And now he knows exactly where to go when he needs more Jockey apparel.
"My brother's jealous," Chastain said. "When he stays at my house and he borrows something, he's like, 'Oh, OK, yep.' I think he's slowly sneaking stuff out.
"It's OK, though, I've got the hook-up now. I know who to ask."
Perfect partnership
Before lunch was served in a massive tent in the parking lot outside the Jockey headquarters building, Jockey President and CEO Mark Fedyk and Trackhouse President Ty Norris gave brief speeches and talked about the perfect partnership between Jockey and Trackhouse.
Fedyk said the companies "shared values and commitment and wanted to make a difference," making them the perfect match.
"(Trackhouse is) all about hope and all about possibility," Fedyk said. "We're happy and blessed to have you as our partners."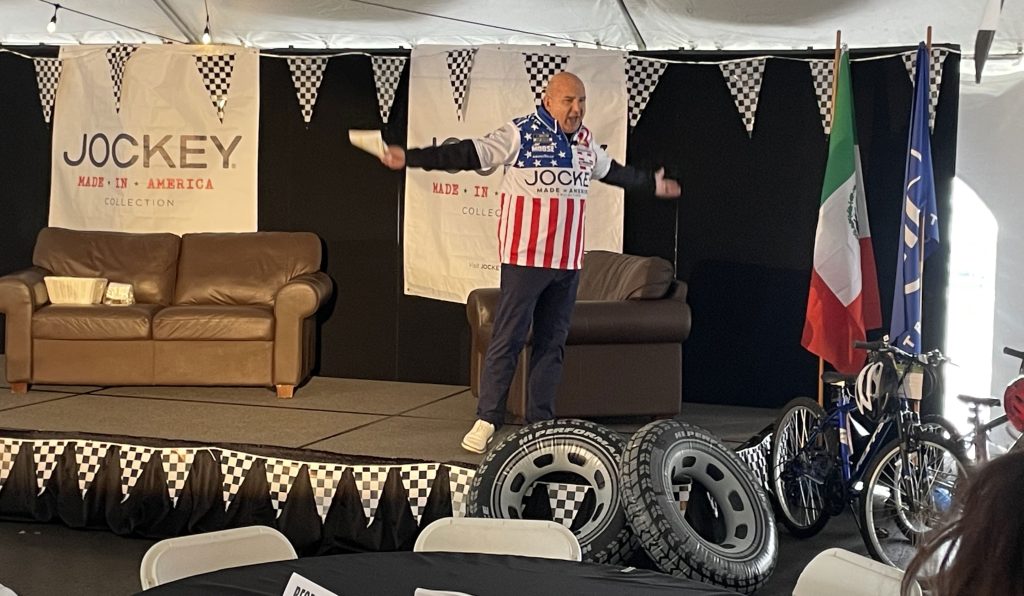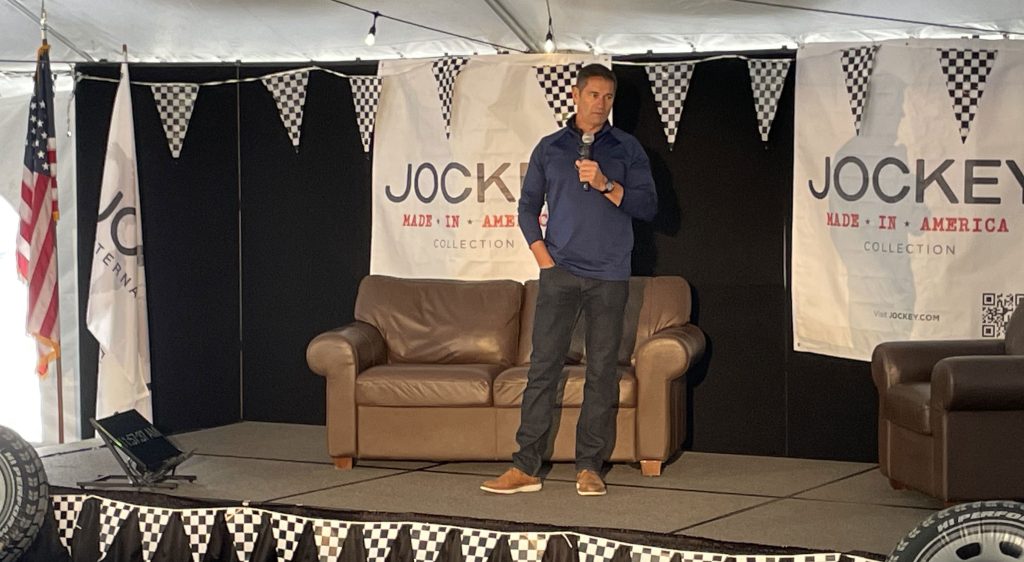 The feeling appears to be mutual.
"This is the kind of company that's going to take Trackhouse and put us on the national scene," Norris said of why the team gravitated toward a major international brand like Jockey as a sponsor.
Norris also talked about the significant role in the team of famous recording artist Armando Christian Perez — more commonly known by his stage name, Pitbull — a team partner of Trackhouse who helps run operations and community-service efforts with team owner Justin Marks.
After Fedyk and Norris spoke, Chastain and Suarez sat down for a question-and-answer session with Jockey Director of Advertising and Corporate Communications Matt Waller.
Big day for Lincoln students
While Thursday's event was held in large part for Jockey employees, including associates from around the country and the world who were able to join remotely, the best part of it was probably what it meant for the students and staff of Lincoln Middle School.
Jockey is heavily involved in helping to provide resources for adoptive families through its Jockey Being Family initiative, and the company has now "adopted" Lincoln Middle School to help out students and staff there with resources. So students and staff from Lincoln were invited to Thursday's event to eat lunch and participate in the proceedings.
Jockey Vice President and Chief Philanthropy Officer Jake McGhee raffled off three free bicycles to Lincoln students — the winners were Griselle Macias-Vera, Kacey Horak and Jackson Sizemore — and students were also able to submit questions to Chastain and Suarez for the question-and-answer session.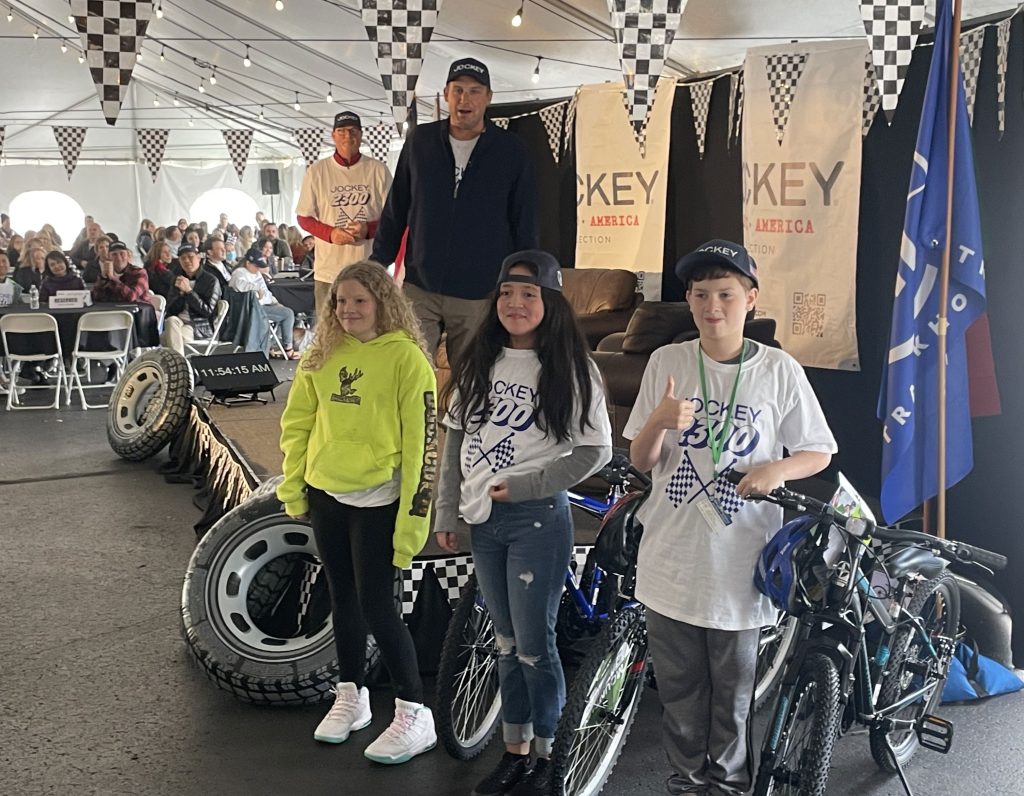 Said Suarez, to big laughs, when one Lincoln student asked if he ever crashes his car: "I never wreck. They wreck me."
"It's the funnest job I could ever imagine," Chastain said when one student asked if being a NASCAR driver is fun.
Suarez, who became the first Mexican-born driver to win a NASCAR Cup Series race when he won the Toyota/Save Mart 350 at Sonoma (Calif.) Raceway on June 12, told the Lincoln students they could achieve whatever they wanted with hard work and discipline.
"I can't tell you how many people told me it's not possible to be a race car driver," Suarez said. "… Don't ever let anyone ever, ever tell you you can't do it."
Some major laughs were had after the question-and-answer session when Suarez and Chastain squared off against Jockey employees and Lincoln staff in a three-wheeled bike race in the Jockey parking lot.
The NASCAR drivers won, of course, which allowed them to demonstrate their trademark victory celebrations.
Chastain, who hails from a family of watermelon farmers in Alva, Fla., near Fort Myers — Chastain is an eighth-generation watermelon farmer — is known on the NASCAR circuit as the "Watermelon Man" and smashes a watermelon in victory lane when he wins a race.
So, on Thursday, he smashed a watermelon in the Jockey parking lot, while Suarez did his own celebration by smashing a taco pinata full of treats, much to the delight of the Lincoln students.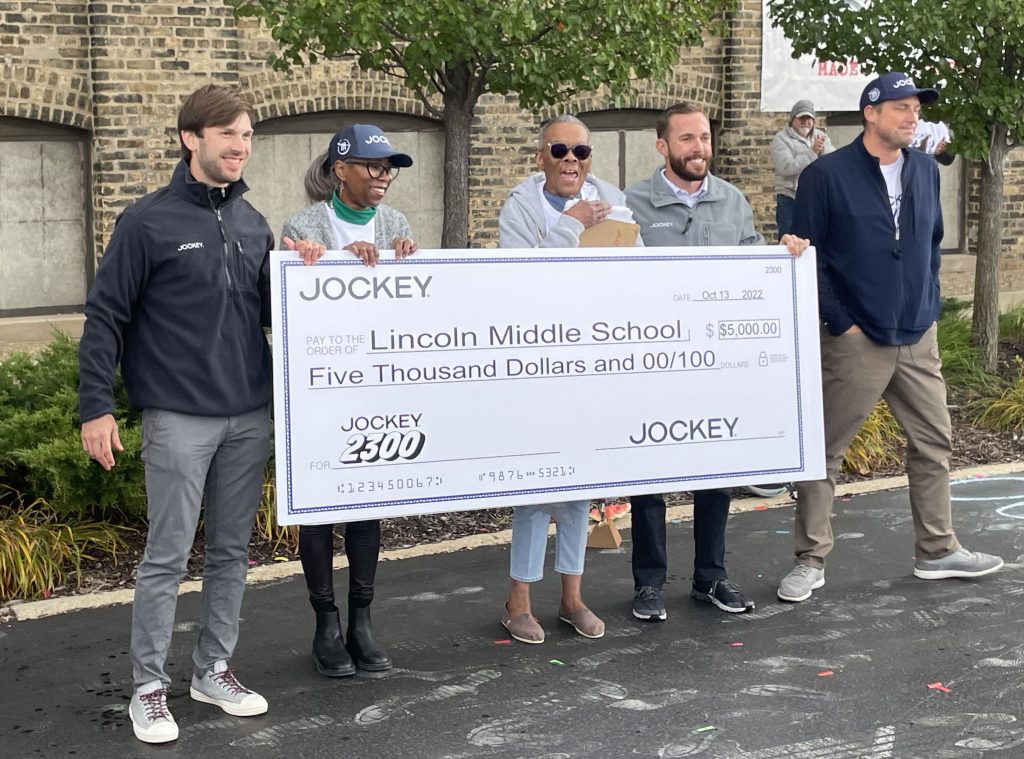 After that, Chastain and Suarez posed with oversized checks presented to community organizations on behalf of Jockey, one of them a $5,000 donation to Lincoln Middle School.
Yes, it was quite the day for Lincoln, which gets so much from its partnership with Jockey, according to principal Star Daley.
"Everything that they're doing means the world to Lincoln," said an elated Daley on Thursday. "It has such an impact on how our kids see themselves and view themselves. I would say exposure is so important. Some of these things that they're being exposed to, they might not otherwise be exposed (to).
"So it's awesome. And it changes our thinking, our kids. It changes the way they think and see themselves, and it's a big deal."
Vegas up next
Chastain and Suarez couldn't stay in Kenosha long, because they have another big NASCAR playoff race coming up, the South Point 400 at Las Vegas Motor Speedway on Sunday.
Chastain is among the Round of 8 drivers left in the playoff chase. With 4,021 points, he's in third place in the playoff standings, behind only Chase Elliott (4,046) and Joey Logano (4,026). There will be two more playoff races after Sunday before the field is cut to the Championship 4, who will vie for the title in the NASCAR Cup Series Championship on Nov. 6 at Phoenix Raceway in Avondale, Ariz.
"At the end of the day, that is all that matters right now, is advancing through these rounds and giving ourselves the best chance to compete for this championship and running as high as we can," Chastain said Thursday.
"That's all we're focused on."
Suarez, meanwhile, reached the Round of 12 in the playoffs before being eliminated from the championship chase, but he's still 10th in the points standings and will be racing the rest of the season both to win himself and to help his teammate in the playoffs.
However the season ends, it's undoubtedly been a wildly successful one for Trackhouse, which only added Chastain to its roster this year after starting with just Suarez last year. Together, the duo have combined for three wins — two for Chastain and one for Suarez — 17 top-fives and 29 top-10s so far in 2022, with Chastain still alive to win the championship.
Its partnership with Jockey has been a big reason Trackhouse has succeeded so quickly and has high hopes for the future.
"We're truly one team as Trackhouse, and Jockey bought into that and saw that early on in our talks with them, and we see that right back at them," Chastain said. "There's a lot of employees here and a lot of employees worldwide, but it's all one team, and as long as we're pushing in the same direction, then it's one big, bad-to-the-bone American flag car."