If last year's state championship was something of a pleasant surprise for the Westosha Central High School girls golf team, then this year's repeat was something of a coronation.
Because if there was any question who the best team in the state was all season, the Falcons put that matter to rest this week.
In a dominating performance Monday and Tuesday in the 36-hole Wisconsin Interscholastic Athletic Association Division 1 State Tournament at University Ridge in Madison, Central took a quick lead and just kept building it, running away from the field to win its second consecutive state team championship and the third WIAA girls golf state team title in Kenosha County history, including Bradford in 2005.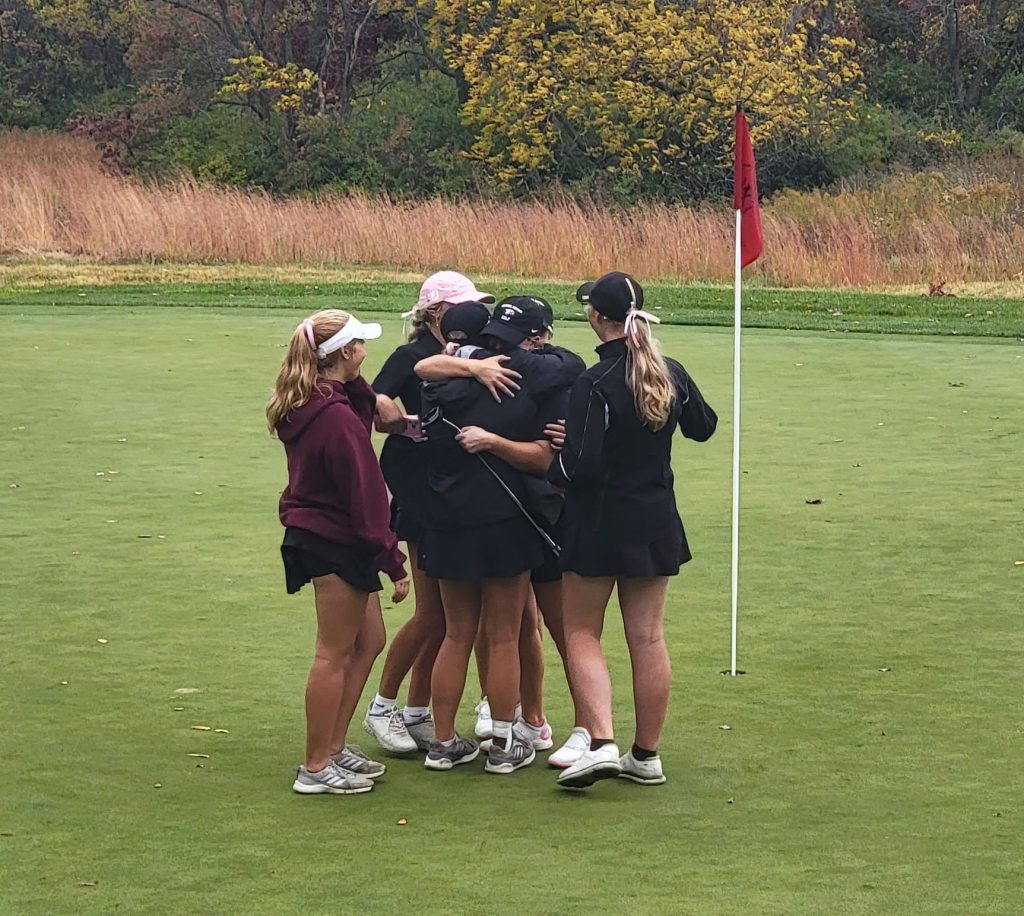 The Falcons finished with a two-day team total of 626 for a whopping 19-stroke victory over second-place Middleton. Central's score this week was 11 strokes better than the 637 it carded in winning the state title last season and the third-lowest 36-hole total in WIAA State Tournament history.
The Falcons were poised to shoot the lowest ever after a scorching front-nine performance Tuesday, but strong wind and rain during the tournament's closing holes caused scores to go up coming in.
No matter, though, because Central's second straight state title was never really in doubt.
"It means so much to us," said Central junior Kylie Walker, who finished second in the individual standings at 1-over-par 145 (69-76), two strokes behind Division 1 state individual champion Izzi Stricker of Waunakee, in a phone interview immediately after Tuesday's round.
"We're so excited that we pulled it off. Last year, we were just happy to be there. This year, we had a different mindset. We were coming in here playing aggressively, trying to make as many birdies as we could. Day 1, we put ourselves with a good lead, so we had a little bit of a cushion (Tuesday).
"It definitely means a lot to us, and we're going to go celebrate."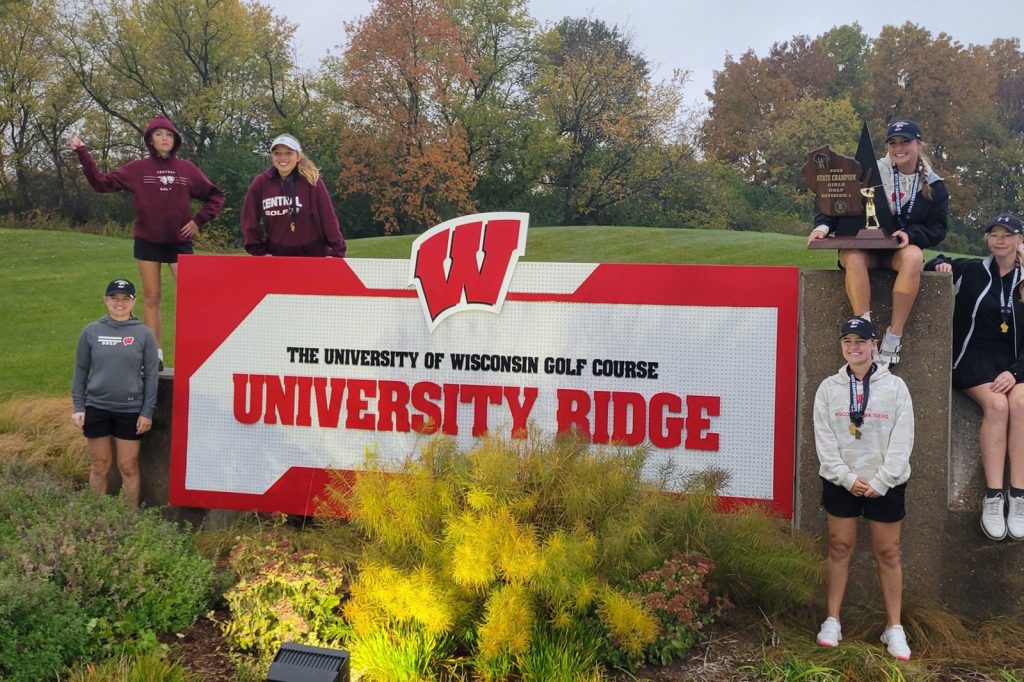 After winning the state title last season, Central returned all of its top four players this fall and was ranked No. 1 in Division 1 all season in the Golf Coaches Association of Wisconsin state poll. The Falcons backed that up by winning the Southern Lakes Conference title, placing second at regionals and winning both the sectional and state championships.
Central head coach Ryan Dahl said his players only got better by practicing and competing in tournaments over the summer. With girls players around the state only getting better and better all the time, the Falcons had to keep improving themselves to defend their title.
"The goal last year, obviously, was just to get here, so we could get experience and know that we could win it," Dahl said. "… They really bought into playing extra summer tournaments, practicing more, improving their games.
"You can see their scores dropped. Because everybody else was out there playing. Their scores dropped, too."
Team effort
While Kylie Walker, Central's No. 1 player, led the way for the Falcons this week with her second-place individual finish, it took great performances by everyone to cruise to the team title.
Junior Katelyn Walker, Kylie's twin sister and Central's No. 2 player, also had a top-five finish, tying for fifth at 7-over 151 (73-78). Senior Elle O'Reilly, Central's No. 3 player, had a fantastic finish to her high school career by tying for 18th at 16-over 160 (81-79) and junior Chloe Brown, Central's No. 4 player, rounded out the Falcons' team scoring by tying for 33rd at 26-over 170 (84-86).
Additionally, sophomore Emily Mallace competed at state as Central's No. 5 player and totaled a 202 (97-105). Only each team's top four scores are counted in the team standings.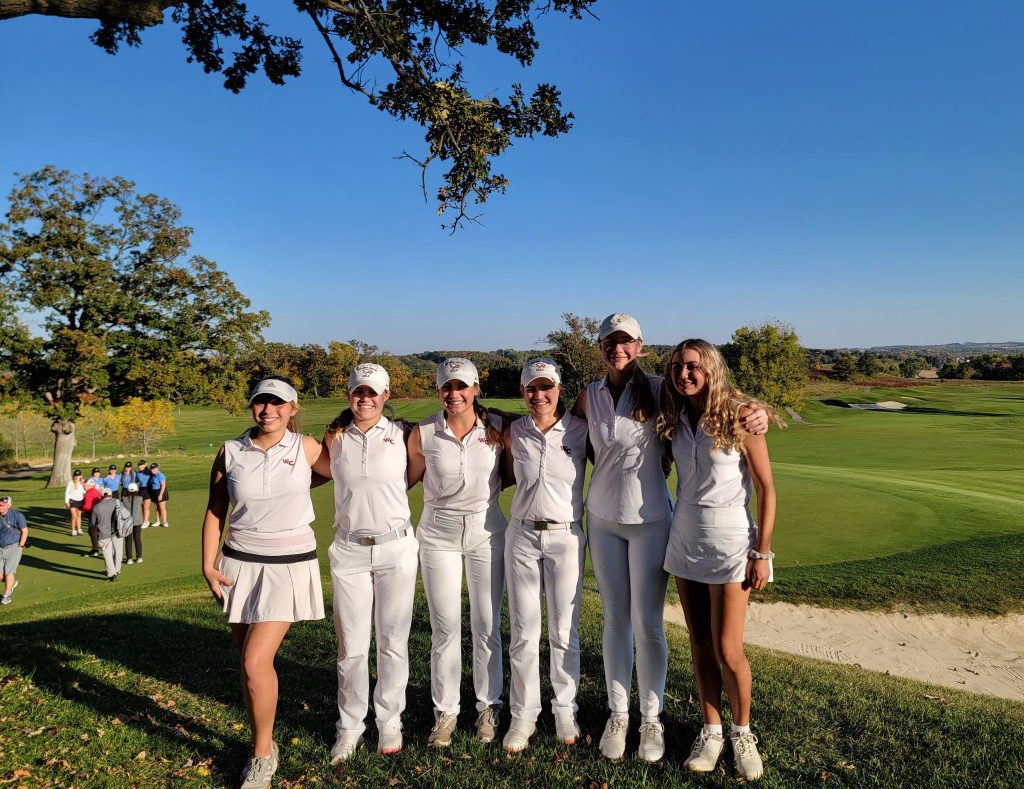 Just like last season, you can point to the performances of O'Reilly and Brown as the keys for Central to winning the team title, since a team can only be as strong as its No. 3 and No. 4 players.
The Walkers always lead the way for the Falcons, and their top-five finishes this week were indispensable. But it was O'Reilly breaking 80 with a 79 in Tuesday's second round and Brown breaking 85 with an 84 in Monday's first round that really helped Central pull away.
"They are amazing, to be able to help us out like that," Katelyn Walker said. "Elle, (Tuesday), she broke 80. She shot 79, and I'm just so proud of her. That's her last high school round, and it's just amazing that she could do that."
Spectacular front nine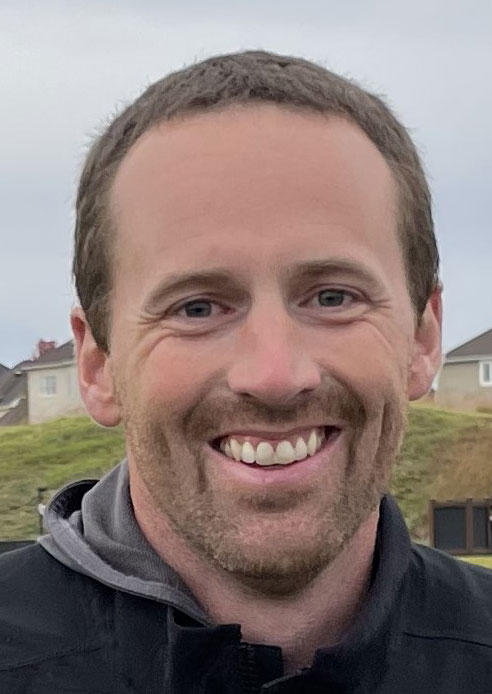 Central entered Tuesday's second round with a healthy eight-shot lead over Middleton atop the team standings, and the Falcons ended any potential drama as far as the team title was concerned quickly Tuesday.
They were white-hot on the front nine, as Katelyn Walker carded a 1-under 35, O'Reilly fired a 1-over 37 and Kylie Walker and Brown each carded a 41. By the time each player made the turn Tuesday, Central's lead was in the 20-stroke vicinity.
"Our front nine was about as good as I thought it could be," Dahl said. "… Chloe shooting 41, Elle shooting 37 and Katelyn shooting 35, you couldn't have asked for a better front nine there."
From there, it was just a matter of finishing things out. Though the conditions worsened and scores started to rise on the back nine Tuesday, Central was way too far out in front to have its lead threatened whatsoever.
"We pretty much knew we kind of had it in the bag, we just had to keep playing," Kylie Walker said.
Individual standings
While the team title was all but wrapped up by the back nine Tuesday, the Walkers were still both right in the thick of things for the individual state title.
After her 35 on the front nine, Katelyn — who entered the second round tied for third place — put herself in the thick of contention. Unfortunately, a pair of triple-bogeys on the back nine – she hit into two bunkers on No. 13 and into the water on No. 17 – took her out of it.
"Definitely a lot more tough than (Monday)," Katelyn said of the back nine Tuesday. "It was super windy."
But knowing the Falcons had a massive lead in the team standings certainly took some of the sting off the two back-nine triple-bogeys.
"It definitely made me feel better," Katelyn said.
Kylie, meanwhile, entered the second round tied for first place after firing a scorching 3-under 69 in Monday's first round.
However, while the rest of the Falcons were posting fantastic scores on Tuesday's front nine, Kylie was the lone exception, as she struggled to a 5-over 41.
"It was not ideal," Kylie said of her front nine Tuesday. "I would say that's definitely where I went wrong."
To her credit, though, Kylie battled back in tough conditions down the stretch. Starting with a birdie on No. 9, she played an eight-hole stretch in 3-under to stay in contention for the individual title.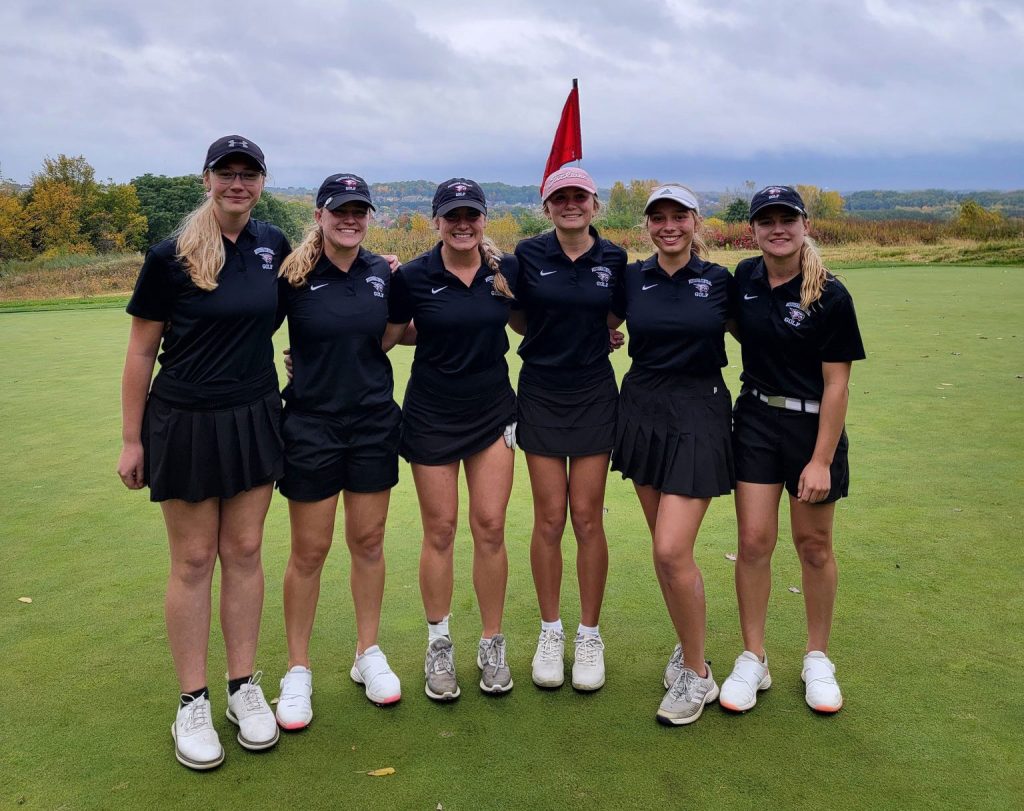 Back-to-back birdies on Nos. 15 and 16 got her to even-par for the tournament and within a shot of Stricker with two holes to play. But a bogey on the par-3 17th — a tough hole over water, with a tee shot into the wind Tuesday — put Kylie two strokes back with one to play, effectively sealing the individual title for Stricker, though Kylie's bid for a tying eagle on her second shot on the par-4 18th actually came pretty close.
After the round, Kylie gave all credit to Stricker, who fired a 2-under 70 on Tuesday.
"I'm very happy with the back nine," Kylie said. "I had two or three birdies, so I got my score back to where it's supposed to be. Just a little upset with my start, but it is what it is. Just happy to be where I am."
Stricker is a member of the first family of golf, so to speak, in Wisconsin. Her father, professional Steve Stricker, is probably the most accomplished golfer in state history, and her mother, Nicki, hails from the Tiziani family, also a big name in Wisconsin golf. In fact, Nicki caddied for Steve when he won the Ally Challenge in Michigan on the PGA Tour Champions in August.
Steve Stricker won the WIAA state boys individual title back in 1984, so Izzi's victory this week made them the first father-daughter tandem to both win WIAA state golf championships.
"She's a very humble person," Kylie Walker said of Izzi Stricker. "I enjoy playing with her, and I'm just really happy for her."
As for Central, while it's way too early to talk about a three-peat, it seems the Falcons should be a strong candidate for it, as the Walkers and Brown will all be seniors next fall. While O'Reilly will be tough to replace, Mallace and current sophomore Karen Pisano – the team's No. 6 player this season – will be back to provide depth.
For now, though, it's time to celebrate the repeat before work in the weight room and on indoor golf simulators begins the process of trying to get even better.
"The van ride home will be fun, might stop for some ice cream or get something to eat," Kylie Walker said Tuesday when asked how the team will celebrate.
"When we get home, I'm sure the school or the community will be out cheering for us, so that will be fun."