On a splendid, sunny fall afternoon, a long line of patrons stretched all around the parking lot and along the street on Eighth Avenue in downtown Kenosha, eagerly awaiting a tasty treat from Scoops Ice Cream & Candy, 5711 8th Ave.
You couldn't pick a more perfect day to try to break the Guinness World Record for largest ice cream social.
That was the goal this past Saturday, Oct. 1, when Scoops made an attempt to break the world record by serving about 1,000 people. Scoops owner Julie Soldenwagner, who purchased the business with her husband, Carl, in 2015, said the world record for largest ice cream social is 963 people served, set in Italy.
In its record-setting attempt, Scoops registered 1,500 people and hoped to dish out one scoop of free ice cream Saturday afternoon to at least 1,000 of them, which would set the record.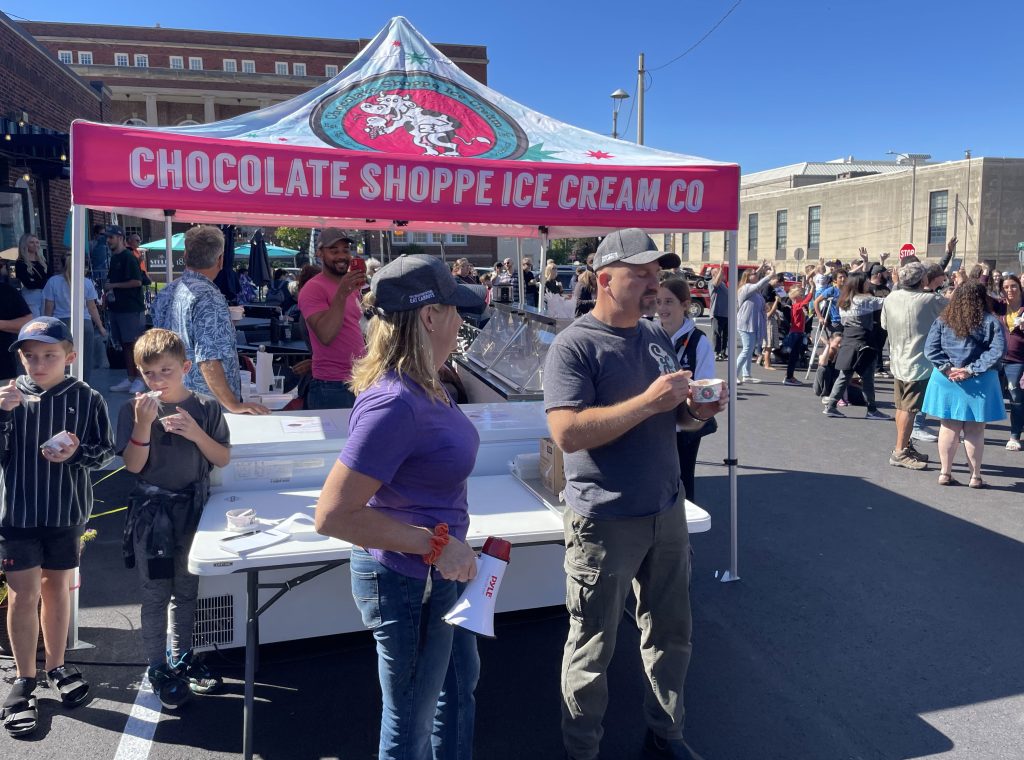 The delicious flavors, provided by Madison-based Chocolate Shoppe Ice Cream, were Zanzibar Chocolate (three different types of cocoa and really fudgy); This (Blank) Just Got Serious (salted caramel base with salted cashews and a sea-salt fudge); Cookie Dough (vanilla-based with chunks of chocolate chips and cookie dough); and Halley's Comet (milk chocolate and vanilla with caramel ribbons and caramel truffles).
Alas, Scoops fell just shy of breaking the still-standing world record for largest ice cream social – don't be surprised if they give it another attempt at some point – because there were more no-shows among the 1,500 people registered than expected.
Despite that, however, the smiles on everyone's faces as they devoured delicious ice cream on a picture-perfect fall Saturday were proof that the event was still a huge success.
"It was great," Julie Soldenwagner said Saturday afternoon. "It was good to see everybody coming out and enjoying ice cream. We love to see happy people."
A positive image
Soldenwagner said the idea to break the world record came about because she and her family wanted to show Kenosha in a positive light.
With the civil unrest from August 2020 and the COVID-19 pandemic – which affected every small town and big city, of course – imprinted on everyone's minds, Soldenwagner said she didn't want people from the outside to get a negative opinion of Kenosha.
So trying to set the world record for largest ice cream social was Scoops' way of generating some positive attention.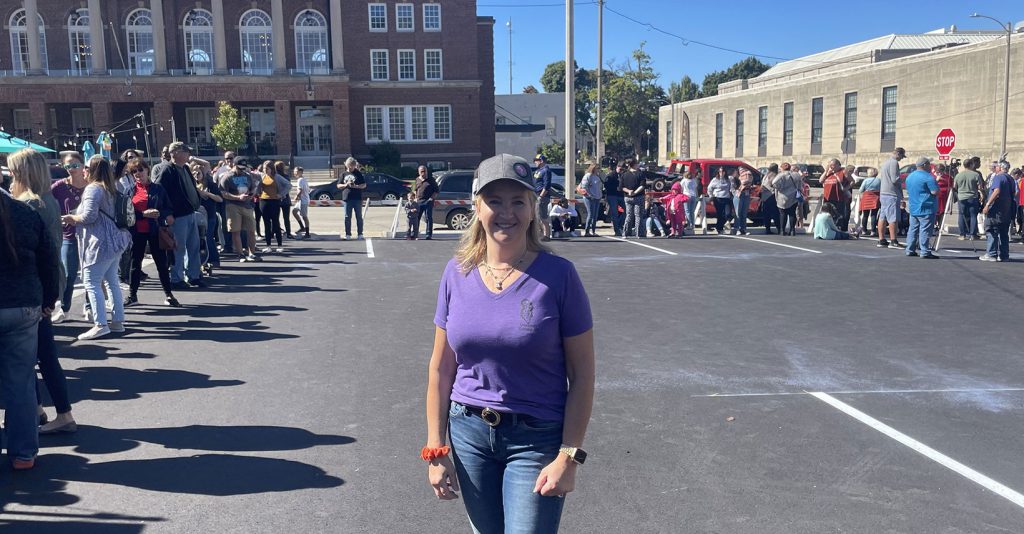 "I think it's really great, and it's great for Kenosha as a whole, just because we've had a couple rough patches with all the protests and stuff like that," Soldenwagner said. "We want Kenosha to be known for something great.
"And I think this is great for the community, getting people down here to see how great our downtown is. So I think it's great for all businesses down here."
Anthony Kennedy, Kenosha's 10th District Alderperson and the chair of the city's Transit Commission and Public Works, assisted Scoops' efforts Saturday by closing off the street around the business and making an agreement with the parking garage across the street to allow parking for those registered to help set the record.
Kennedy himself said he enjoyed a scoop of the Zanzibar Chocolate flavor and felt the event was a big hit, no matter the status of the record.
"Anything that can bring more people downtown, that can bring more awareness to what's happening down here, God bless," Kennedy said. "Very good."
Open all year
While the peak ice cream season of summer has passed by, Soldenwagner reminded everyone that Scoops is open all year, from noon to 8 p.m. on Monday through Thursday and Sunday, and from noon to 9 p.m. on Friday and Saturday.
You can always buy delicious Chocolate Shoppe Ice Cream at Scoops, but during the winter months they also sell quarts of frozen homemade soups and feature homemade fudge and other assorted treats.
"We have a lot of people that come in for that," Soldenwagner said.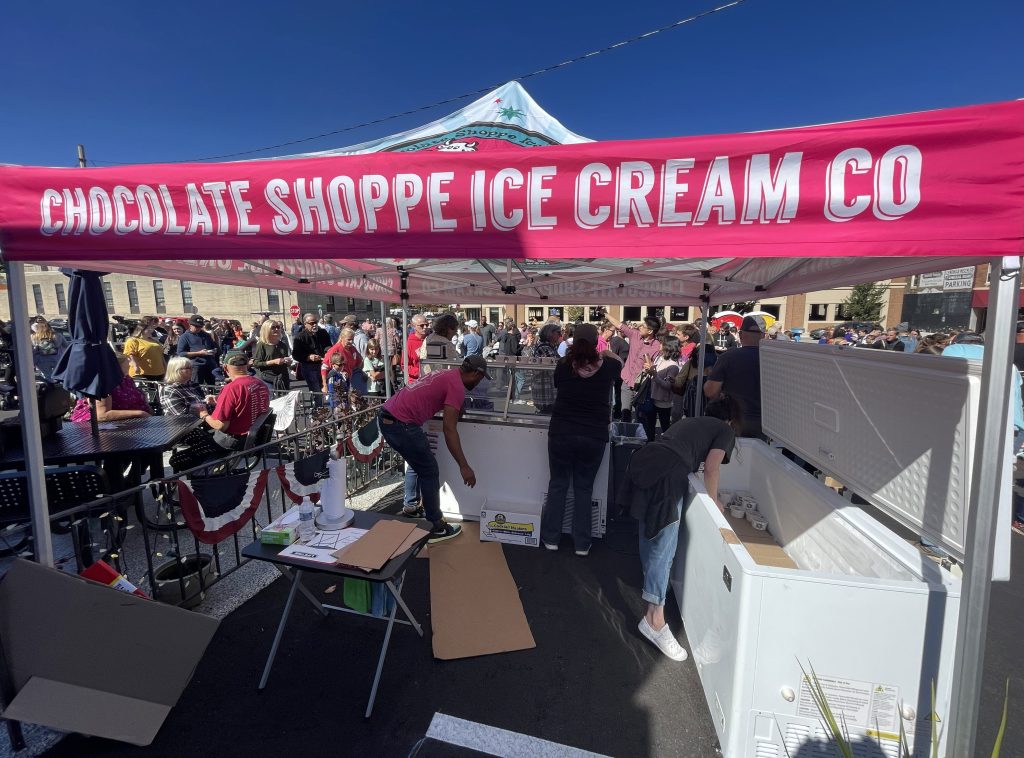 When the Soldenwagners initially purchased the business, Scoops was located at 5819 6th Ave. After losing the lease at that location, they moved into their current spot, which features outdoor seating and lighting and colorful signage everywhere.
Like all small businesses, Scoops was placed in a precarious position when the pandemic struck, but Julie Soldenwagner said the business was able to avoid closing, its customers kept supporting it and now things are as busy as ever.
"We did actually really well (this summer)," Soldenwagner said. "Things are looking better for us, for sure. We're really happy that we never had to close (during the pandemic). We have so many loyal customers that really, during the whole time, they were so supportive.
"And who doesn't like ice cream?"